Quick Facts
Region: Africa
Full Name: Union of the Comoros
Capital City: Moroni
Language Spoken: Arabic (official), French (official), Shikomoro (a blend of Swahili and Arabic)
Comoros Travel Insurance
Get travel insurance to Comoros from Direct Travel Insurance. We offer low cost and high quality travel insurance to Comoros and most of the world.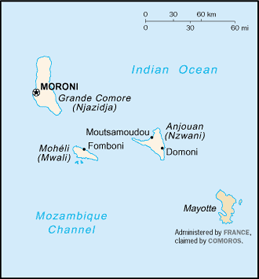 Geographic data
12 10 S, 44 15 E
Elevation Extremes
lowest point: Indian Ocean 0 m highest point: Le Kartala 2,360 m
Land boundaries
0 km
Natural hazards
cyclones possible during rainy season (December to April); Le Kartala on Grand Comore is an active volcano
Natural resources
NEGL
Land use
arable land: 35.87% permanent crops: 23.32% other: 40.81% (2005)
Environmental current issues
soil degradation and erosion results from crop cultivation on slopes without proper terracing; deforestation
Climate
The climate is tropical and very warm. Coastal areas are hot and very humid, interspaced with rains and seasonal cyclones (January to April). The upland areas are cooler, particularly at night, and have higher rainfall. The rainy season is from November to April. Required clothing Lightweight cottons and linens with waterproofing during the rainy season. Warmer garments and rainwear are needed for the mountains.
Time difference
time difference: UTC+3
Population
690,948 (July 2006 est.)
Age structure
0-14 years: 42.7% (male 148,009/female 147,038) 15-64 years: 54.3% (male 185,107/female 190,139) 65 years and over: 3% (male 9,672/female 10,983) (2006 est.)
Median age
total: 18.6 years male: 18.4 years female: 18.9 years (2006 est.)
Population growth rate
2.87% (2006 est.)
Birth rate
36.93 births/1,000 population (2006 est.)
Death rate
8.2 deaths/1,000 population (2006 est.)
Net migration rate
0 migrant(s)/1,000 population (2006 est.)
Sex ratio
at birth: 1.03 male(s)/female under 15 years: 1.01 male(s)/female 15-64 years: 0.97 male(s)/female 65 years and over: 0.88 male(s)/female total population: 0.99 male(s)/female (2006 est.)
Life expectancy at birth
total population: 62.33 years male: 60 years female: 64.72 years (2006 est.)
Total fertility rate
5.03 children born/woman (2006 est.)
Business Practices
Lightweight suits or shirt and tie normally worn for business meetings. French is the language of business and daily life in Comoros, although some Arabic and Swahili are spoken. English is seldom spoken. Office hours are generally 0730-1430 Monday to Thursday; 0730-1100 Friday; 0730-1200 Saturday.
Crime
Petty crime is a problem on all of the islands of Comoros, but violent crimes are rare. Visitors should carry only the cash and credit cards they need in a given day to protect themselves from pickpockets and purse-snatchers. Valuables should be stored in a hotel safety deposit box if available.
Hotels
The resorts of Le Galawa and Itsandra Sun, both on Grande Comore Island provide adequate accommodations, however, there are only a few South African-operated hotels, located mostly in Moroni, which handle the needs of traveling business people, government officials and other visitors. Hotel managers sometimes ask visitors to share rooms but this is not advised.
Communications
Outgoing international calls must be made through the international operator and the country code is 269. Fax and telex services are offered at some resorts. Mail to Western Europe takes at least a week and mail elsewhere may take much longer.
Electricity
is a 220 Volts AC, 50Hz. Electricity 220 volts AC, 50Hz. Electricity shortages occur.
Plug Types
C,E
Food And Dining
Restaurants serve good food with spiced sauces and rice-based dishes. Things to know: There may be restrictions on drink within Muslim circles.

National specialties:
? Cassava.
? Plantain.
? Couscous.
? Barbecued goat meat.
? Seafood.
? Tropical fruits. Tipping : Normally 10 per cent.
Entry departure requirements
Visa immigration information
Passports
Passport valid for at least six months required by all.
Visas
Required by all except those continuing their journey by the same or first connecting aircraft without leaving the airport and holding documents certifying onward/return travel.
Types of visa and cost
Ordinary: Euro ?10.
Validity
Two weeks .
Application to
Visas are issued on arrival in Comoros or by some of their diplomatic representations, such as Antananarivo, Cairo, Paris and London for ?10.
Application requirements
(a) Application form (provided at airport). (b) Valid passport with at least three months' remaining validity. (c) Two passport-sized photos for visas issued outside the country. (d) Fee (payable in Comoros Francs, Euros or US Dollars only). (e) Return/onward tickets.
Note: Single parents or other adults travelling alone with children should be aware that some countries require evidence of parental responsibility before allowing them to enter the country. For further information, contact the Comorian Embassy in Paris (see Passport/Visa Information).
HIV entry requirements
Test required for anyone applying for a work permit
Departure tax
None
Embassies
Abdulsamad Abdulrahim, Consular General
25 Lander Grove, Manchester, M9 6LN
Tel: 0778 724 0858
E-mail: comorosbritain@gmail.com
Facebook: Comoros Consulate Manchester
Twitter:@CosmorosConsulat


Honorary Consulate of the Comoros in the UK
Flat 6, 24-26 Avenue Road, London NW8 6DU, UK
Tel: (020) 7722 1146.
E-mail: kchehabi@blueyonder.co.uk


Permanent Mission of the Comoros to the United Nations
866 United Nations Plaza, Suite 418, New York, NY 10017, USA
Tel: (212) 750 1637.
Website: www.un.int/comoros


Most visits to the Comoro Islands are trouble-free but travellers should be aware of the global risk of indiscriminate international terrorist attacks, which could be against civilian targets, including places frequented by foreigners.
The Comoro Islands are generally crime-free, but travellers are advised not to walk around town centres unaccompanied at night and to take sensible precautions against pick pocketing and mugging. Travellers should keep a copy of their passport with them, and if possible keep the original in a safe place (such as a hotel safe or deposit box).
The Union of the Comoros is predominantly Muslim, and it is important for visitors to respect the customs associated with Islam. Whilst Comorians are tolerant towards other cultures (for example, alcohol is not banned and is available in hotels and restaurants), they expect moderate behaviour from non-Muslim visitors, such as non-consumption of alcohol in public places, and modest dress in public. Homosexuality is not illegal in Comoros. Sex with minors is. Anyone found guilty of drug smuggling or possession will be imprisoned for four to five years. On release, the person will be fined (in proportion to the quantity of drugs seized) and then deported.
This advice is based on information provided by the Foreign, Commonwealth & Development Office in the UK. It is correct at time of publishing. As the situation can change rapidly, visitors are advised to contact the following organizations for the latest travel advice:


British Foreign, Commonwealth & Development Office
Tel: (0845) 850 2829.
Website: www.gov.uk/foreign-travel-advice
US Department of State
Currency
Comoros Franc (KMF) = 100 centimes. Notes are in denominations of KMF10,000, 5000, 2500, 1000 and 500. Coins are in denominations of KMF20, 10, 5, 2 and 1, and 20 centimes. The Comoros Franc is part of the French Monetary Area and Euros are also commonly used. The Comoros Franc is tied to the Euro.
Currency restrictions
There are no restrictions on the import and export of either local or foreign currency.
Banking hours
Mon-Thurs 0730-1300; Fri 0730-1100.
Currency exchange
Foreign currency may be exchanged in banks in the towns. Banque Nationale des Comores is the only established bank on Grande Comore. Banking facilities are very limited on the other islands.
Credit cards
There is limited acceptance of most international credit cards (mainly in upmarket hotels), but check with your credit or debit card company for details of merchant acceptability and other services which may be available. Some hotels and restaurants will accept foreign currencies, mostly Euros and US dollars. Change may be given in local currency.
Travellers cheques
The Banque Internationale des Comores (BIC) is the only bank that will change travelers cheques. To avoid additional exchange rate charges, travelers are advised to take travelers cheques in Euros.
| City/Region | City/Area code | Followed by |
| --- | --- | --- |
| Anjouan Island | 71 | + 4 digits |
| Grande Comore Island | 7 | + 5 digits |
| Moheli Island | 72 | + 4 digits |