Quick Facts
Region: South America
Full Name: Republic of Colombia
Capital City: Bogota
Language Spoken: Spanish
Colombia Travel Insurance
Get travel insurance to Colombia from Direct Travel Insurance. We offer low cost and high quality travel insurance to Colombia and most of the world.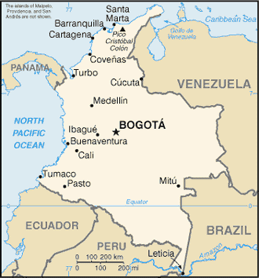 Geographic data
4 00 N, 72 00 W
Elevation Extremes
lowest point: Pacific Ocean 0 m highest point: Pico Cristobal Colon 5,775 m note: nearby Pico Simon Bolivar also has the same elevation
Land boundaries
total: 6,309 km border countries: Brazil 1,644 km, Ecuador 590 km, Panama 225 km, Peru 1,800 km, Venezuela 2,050 km
Natural hazards
highlands subject to volcanic eruptions; occasional earthquakes; periodic droughts
Natural resources
petroleum, natural gas, coal, iron ore, nickel, gold, copper, emeralds, hydropower
Land use
arable land: 2.01% permanent crops: 1.37% other: 96.62% (2005)
Environmental current issues
deforestation; soil and water quality damage from overuse of pesticides; air pollution, especially in Bogota, from vehicle emissions
Climate
The climate is very warm and tropical on the coast and in the north, with a rainy season from May to November. This varies according to altitude. It is cooler in the upland areas and cold in the mountains. Bogotá is always spring-like, with cool days and crisp nights. Required clothing Lightweight cottons and linens with waterproofing during rainy season in coastal and northern areas. Medium- to heavyweights are needed in upland and mountainous areas.
Time difference
time difference: UTC-5
Population
43,593,035 (July 2006 est.)
Age structure
0-14 years: 30.3% (male 6,683,079/female 6,528,563) 15-64 years: 64.5% (male 13,689,384/female 14,416,439) 65 years and over: 5.2% (male 996,022/female 1,279,548) (2006 est.)
Median age
total: 26.3 years male: 25.4 years female: 27.2 years (2006 est.)
Population growth rate
1.46% (2006 est.)
Birth rate
20.48 births/1,000 population (2006 est.)
Death rate
5.58 deaths/1,000 population (2006 est.)
Net migration rate
-0.3 migrant(s)/1,000 population (2006 est.)
Sex ratio
at birth: 1.03 male(s)/female under 15 years: 1.02 male(s)/female 15-64 years: 0.95 male(s)/female 65 years and over: 0.78 male(s)/female total population: 0.96 male(s)/female (2006 est.)
Life expectancy at birth
total population: 71.99 years male: 68.15 years female: 75.96 years (2006 est.)
Total fertility rate
2.54 children born/woman (2006 est.)
Business Practices
Business people are expected to wear suites and ties for meetings. English is widely understood in many business circles; the Colombian Ministry of Foreign Affairs has an official translation service, and there are a number of commercial interpreter services. A command of Spanish is always appreciated. Business visitors will sometimes be invited out to dinner, which may be preceded by a long cocktail party, with a meal starting around 2300. Working breakfasts and lunches at hotels and private clubs have become common practice in most Colombian cities. Colombians tend to be friendly, straightforward and direct in their business dealings. They understand the give and take of business and look to negotiate business arrangements that will be of mutual advantage to both parties. Colombian business people are generally punctual, yet flexible, and expect the same of their business associates. Most business customs are similar to those in North America and Europe. Given the proximity of the two countries and the long-term presence of U.S. firms in the market, Colombians are used to doing business with the U.S. Many of them have traveled or studied in the United States and have family members or friends there. Colombian executives and technicians, as well as government officials, travel frequently to the U.S. and Europe for meetings, conferences, trade fairs, training and tourism. Colombian trade associations, government entities and private firms are hosting an increasing number of national and regional conventions, conferences and seminars in the country. Despite the ever-present security concerns, these event present excellent opportunities for meeting Colombian business people and key government officials as well as for assessing market potential. Office hours are 0800-1200 and 1400-1700 Monday to Friday
Crime
Colombia is one of the most dangerous countries in the world. Based on Colombian government statistics, Colombia's per capita murder rate of 77.5 murders per 100,000 inhabitants is more than eight times higher than that of the United States. While narcotics and guerrilla-related violence account for part of this, common criminals are responsible for an estimated 75 percent of the reported murders. Minor crime is prevalent in cities, especially in the vicinity of hotels and airports. Theft of hand luggage and travel documents at airports is common, particularly at El Dorado Airport in Bogota. Taking illegal taxis, which are sometimes characterized by a driver and a companion and irregular markings, is dangerous. Getting into a taxi that already has one or more passengers is not advisable. Travel by bus is risky. Attempts at extortion and kidnappings on rural buses are not unusual. Violence occurs frequently in bars and nightclubs. Visitors are urged to exercise caution as they would in any large city. Criminals sometimes use the drug "scopolamine" to incapacitate tourists in order to rob them. The drug is administered in drinks (in bars), through cigarettes and gum (in taxis), and in powder form (tourists are approached by someone asking directions, with the drug concealed in a piece of paper). The drug renders the person disoriented and can cause prolonged unconsciousness and serious medical problems. Another common scam is an approach to an obvious tourist by an alleged "policeman," who says he wants to "check" the foreigner's money for counterfeit U.S. dollars. The person gives the criminal his/her money, receives a receipt, and the "policeman" disappears. As a general rule, visitors to Colombia should avoid remote areas of the country and travel in pairs. Residents should be alert to surveillance and vary their daily schedules, especially to and from work. Other general tips include: -Travel at night outside the city should be avoided; -Visitors are advised not to carry large amounts of cash or wear expensive jewelry; -Any jewelry that is worn, to include watches, should be concealed at all times; -Cash and identifying documents should be kept in secure place; -Purses should be tucked under the arm and held close to the body with one hand over the clasp. -Necklaces and other jewelry should be avoided or should be worn under a blouse or sweater so as not to be visible. Criminals have been known to pose as plainclothes policemen and carry false identification. They approach foreigners and attempt to lure them to a police station for questioning about narcotics trafficking or counterfeit currency. Once the person leaves, he is assaulted and robbed. If approached in this manner, one should immediately return to the safety of his hotel or walk towards a group of people.
Hotels
Facilities and services in major Colombian hotels are similar to those found in the North America. Prices vary, but generally range from US $130-$200 per night for a single room. Among well-known hotels located in Bogota are: the Tequendama Intercontinental, Forte Capital (near downtown and the airport), Howard Johnson, Holiday Inn, Embassy Suites, Victoria Regia, Bogota Royal, Hacienda Royal, Bogota Plaza, Fontana, Melia, Casa Medina, La Boheme, and Cosmos 100 (in the north of town). In Medellin: the Intercontinental Hotel, Park 10, Poblado Plaza and Las Lomas (Rionegro). In Cali: the Pacifico Royal, Dann Carlton and Intercontinental Hotel. In Cartagena: the Hilton, the Intercontinental, Hotel Caribe, Santa Clara and the Santa Teresa. In Barranquilla: the Cadebia and Dann. Many U.S. hotel chains (Hyatt, Marriott, and Sheraton) have plans underway and/or are currently building hotels in other parts of the country. All of these hotels provide shuttle services to and from the airport.
Communications
Telephone IDD service to most areas; calls to smaller centers must be made through the international operator. The country code is 57 and the outgoing international code is 90. Hotels have fax facilities. Post offices are marked Correos. Opening hours are 0900-1700 Monday to Friday; 0800-1200 Saturday. There are two types of service: urban post (green letterboxes) and inter-urban and international (yellow boxes).
Electricity
is mostly 110/120 volts AC, 60Hz. American-style 2-pin plugs are common. Electricity Mostly 110 volts AC, 60Hz. American-style two-pin plugs. Communications
Plug Types
A,B
Food And Dining
Entry departure requirements
Visa immigration information
Passports
Passport valid for at least six months required by all.
Visas
Required by all except the following for up to 180 days:
a) 1. nationals listed in the table above (except for nationals of the Czech Republic, Estonia, Hungary, Republic of Ireland, Latvia, Poland and Slovenia);
b) nationals of Andorra, Antigua & Barbuda, Argentina, The Bahamas, Barbados, Belize, Bolivia, Brazil, Chile, Costa Rica, Cyprus, Dominica, Ecuador, El Salvador, Grenada, Guatemala, Guyana, Honduras, Iceland, Indonesia, Israel, Jamaica, Korea (Rep), Liechtenstein, Malaysia, Mexico, Monaco, New Zealand, Norway, Panama, Paraguay, Peru, The Philippines, Romania, San Marino, St Kitts & Nevis, St Lucia, St Vincent & the Grenadines, Singapore, Switzerland, Trinidad & Tobago, Turkey, Uruguay and Venezuela.
Types of visa and cost
Tourist: US$43 (depends on nationality). Temporary visitor: US$103 Business: US$163 Student: US$43 Fees have to be paid in the form of bank deposit. For other types and costs contact the Consulate or Consular section at Embassy.
Validity
Tourist and Temporary Visitor: Valid six months (multiple entry). Business: Valid four years for multiple entries with maximum stays of six months each. Student: Valid five years with multiple entry.
Application to
Consulate (or Consular section at Embassy); see Passport/Visa Information.
Application requirements
(a) Valid passport with at least one blank page to affix the visa (two pages for business visas). (b) Three recent passport-size photos. (c) Two copies of application form. (d) Onward or return tickets. (e) Most recent bank statement as proof of sufficient funds to cover stay. (f) Fee, payable by bank deposit only. (g) Must call in person for interview. Tourist: (a)-(g) and, (h) Letter of Invitation from a Colombian national or resident, or proof of hotel accommodation. Temporary Visitor: (a)-(g) and, (h) Letter of invitation from a sponsoring organization or a Colombian national or resident. Business: (a)-(g) and, (h) Letter form company stating applicant's position, purpose and duration of visit, and taking responsibility for travel expenses, if self-employed, letter must also include purpose of trip, bank references and names of commercial contacts in Colombia. (i) Company's UK registration certificate.
Note: Photocopies of all the above documentation are required All documents will need to be translated into Spanish, and some of them will need to be legalized by the Consulate. Nationals will be required to undergo an interview prior to being issued with a visa. Contact the nearest Colombian Consulate or Consular section at Embassy for further details
Working days required
Depends on the visa issued. Five for Tourist and Business visas; one week for Temporary Visitors Visas. It is generally advised to allow plenty of time for applications.
Temporary residence
Enquire at Consulate or Counsular section of Embassy for further details; see Passport/Visa Information.
HIV entry requirements
Entry into Colombia for anyone who is HIV positive is prohibited unless they have obtained a waiver from the Colombian Embassy
Departure tax
Either collected upon ticket issuance or levied upon embarkation. Transit passengers continuing their journey on the same day are exempt. The price will be ?28 or possibly more - payable by cash only
Embassies
Embassy of the Republic of Colombia in the UK
Flat 3A, Three Hans Crescent, London SW1X 0LN, UK
Tel: (020) 7589 9177
Consular Section: Tel: (020) 7495 4233
Website: http://londres.consulado.gov.co/
Opening hours: Mon-Fri 0900-1800.
Colombian Consulate of the UK
West Cott House, 3rd Floor, 35 Portland Place, London W1B 1AE, UK
Tel: (020) 7637 9893.
Opening hours: Mon-Fri 0900-1330 (personal callers); 1500-1700 (telephone enquiries).
Embassy of the Republic of Colombia in the USA
2118 Leroy Place, NW, Washington, DC 20008, USA
Tel: (202) 387 8338.
Website: www.colombiaemb.org
Colombian Consulate in the USA
10E 46th Street, New York, NY 10017-2499, USA.
Tel. (212) 370 0004.
Travel Advice
Travelers are strongly advised against all travel to Putumayo, Meta, Arauca, Narino, Caqueta and Norte de Santander departments, and to rural areas of Sucre, Bolivar, Choco, Antioquia, Valle de Cauca and Cauca departments. There is a high risk to personal safety in these areas.
The threat from terrorism, especially Colombian domestic groups, is high. Travelers should be extremely vigilant, particularly in public places used by foreigners, such as hotels, bars, restaurants, nightclubs and shopping malls or avoid them all together. The Colombian authorities have increased security around government buildings and public transport.
There is a serious risk of kidnapping and crime.
This advice is based on information provided by the Foreign, Commonwealth & Development Office in the UK. It is correct at time of publishing. As the situation can change rapidly, visitors are advised to contact the following organizations for the latest travel advice:
British Foreign, Commonwealth & Development Office
Website: www.gov.uk/foreign-travel-advice
US Department of State
Currency
Colombian Peso (COP) = 100 centavos. Notes are in denominations of peso50,000, 20,000, 10,000 and 5000. Coins are in denominations of peso1000, 500, 200, 100 and 50.
Currency restrictions
The import and export of local currency is unlimited. The import of foreign currency is unlimited subject to declaration on arrival. The export of foreign currency is limited to US$25,000.
Banking hours
Bogota: Mon-Fri 0900-1500. In other cities: Mon-Fri, 0800-1130 and 1400-1630. On the last business day of every month, banks close at 1200.
Currency exchange
The exchange rate tends to be lower on the Caribbean coast than in Bogot?, Medell?n and Cali. The US Dollar is the easiest currency to exchange at hotels, banks, shops and travel agencies, but all establishments charge an exchange fee. Travelers are advised to only use reputable exchange houses.
Credit cards
All major cards are accepted, but check with your credit or debit card company for details of merchant acceptability and other services which may be available.
Travellers cheques
These are not always easy to change in the smaller towns, except at branches of the Banco de la Rep?blica. To avoid additional exchange rate charges, travelers are advised to take traveller's cheques in US Dollars which can be exchanged at banks, foreign exchange and large hotels.
| City/Region | City/Area code | Followed by |
| --- | --- | --- |
| Armenia | (0X)6 | + 7 digit subscriber nr |
| Bogot? | (0X)1 | + 7 digit subscriber nr |
| Cartagena | (0X)5 | + 7 digit subscriber nr |
| Cucuta | (0X)7 | + 7 digit subscriber nr |
| Medell?n | (0X)4 | + 7 digit subscriber nr |
| Pasto | (0X)2 | + 7 digit subscriber nr |
| Villavicencio | (0X)8 | + 7 digit subscriber nr |