Quick Facts
Region: Asia & Oceania
Full Name: Kingdom of Cambodia
Capital City: Phnom Penh
Language Spoken: Khmer (official) 95%, French, English
Cambodia Travel Insurance
Get travel insurance to Cambodia from Direct Travel Insurance. We offer low cost and high quality travel insurance to Cambodia and most of the world.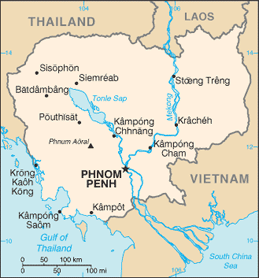 Geographic data
13 00 N, 105 00 E
Elevation Extremes
lowest point: Gulf of Thailand 0 m highest point: Phnum Aoral 1,810 m
Land boundaries
total: 2,572 km border countries: Laos 541 km, Thailand 803 km, Vietnam 1,228 km
Natural hazards
monsoonal rains (June to November); flooding; occasional droughts
Natural resources
oil and gas, timber, gemstones, some iron ore, manganese, phosphates, hydropower potential
Land use
arable land: 20.44% permanent crops: 0.59% other: 78.97% (2005)
Environmental current issues
illegal logging activities throughout the country and strip mining for gems in the western region along the border with Thailand have resulted in habitat loss and declining biodiversity (in particular, destruction of mangrove swamps threatens natural fisheries); soil erosion; in rural areas, most of the population does not have access to potable water; declining fish stocks because of illegal fishing and overfishing
Climate
Tropical monsoon climate. Monsoon season is from May to November. The most pleasant season is the dry season, from November/December to April. In the north, winters can be colder, while throughout most of the country temperatures remain fairly constant. There is often seasonal flooding in Phnom Penh and the rest of Cambodia in late-July and early-August; travel may be disrupted. Required clothing Lightweight clothing and cottons are worn all year. Rainwear is essential during the rainy season.
Time difference
time difference: UTC+7
Population
13,881,427 note: estimates for this country take into account the effects of excess mortality due to AIDS; this can result in lower life expectancy, higher infant mortality and death rates, lower population growth rates, and changes in the distribution of population by age and sex than would otherwise be expected (July 2006 est.)
Age structure
0-14 years: 35.6% (male 2,497,595/female 2,447,754) 15-64 years: 61% (male 4,094,946/female 4,370,159) 65 years and over: 3.4% (male 180,432/female 290,541) (2006 est.)
Median age
total: 20.6 years male: 19.9 years female: 21.4 years (2006 est.)
Population growth rate
1.78% (2006 est.)
Birth rate
26.9 births/1,000 population (2006 est.)
Death rate
9.06 deaths/1,000 population (2006 est.)
Net migration rate
0 migrant(s)/1,000 population (2006 est.)
Sex ratio
at birth: 1.05 male(s)/female under 15 years: 1.02 male(s)/female 15-64 years: 0.94 male(s)/female 65 years and over: 0.62 male(s)/female total population: 0.95 male(s)/female (2006 est.)
Life expectancy at birth
total population: 59.29 years male: 57.35 years female: 61.32 years (2006 est.)
Total fertility rate
3.37 children born/woman (2006 est.)
Business Practices
Although not required, small gifts with a company logo are appreciated, as are luncheon or dinner invitations. Sensitivity to politically related subjects in conversation is advisable. Avoid pointing your foot at a person or touching someone on the head. Women should wear long clothing that covers the body
Crime
Be aware of the risk of armed robbery and other crime (including sexual offenses) in Phnom Penh, Sihanoukville and Siem Reap after dark. Be on your guard against pickpockets and bag snatchers especially when travelling on local transport. Foreigners walking or traveling as passengers on motorcycle taxis in downtown Phnom Penh and other cities have had bags snatched or have been robbed at gunpoint after dark and increasingly during daylight hours. Traveling by car (with locked doors and windows) and in groups will significantly reduce the risk as will limiting night time travel around Phnom Penh, Sihanoukville and Siem Reap to well-lit public areas. Avoid isolated areas after dark, including beaches in the Sihanoukville area, where there have been an increasing number of violent incidents. Firearms are widely available, and guns are sometimes used to resolve disputes. Banditry and extortion, including cases involving poorly disciplined military and police personnel, continue in some rural areas, particularly at night in areas between Snoul, Kratie and Stung Treng in the northeastern provinces. Chinese investors are especially favorite targets of kidnappers in part because of their families' willingness to pay ransoms quickly without contacting local authorities. Kidnappers and street criminals are usually young and well armed. If approached, visitors are advised to adhere to all demands of an assailant as refusal may result in a violent response from the assailants. Keep a photocopy of your passport separate from the original and carry this with you at all times. Your passport, when not in your possession, should be stored in a secure location. Local police rarely investigate reports of crime against tourists and travelers should not expect to recover stolen items.
Hotels
Many hotels of various standards are available in Phnom Penh. Hotels of international standard include the Hotel Sofitel Cambodiana, the Royal Phom Peng, the Cambodiana Inn and the Pailin Hotel. Three-star hotels include the Alison and the Juliana Hotels and can be found in most provincial capitals. Hotel accommodations range in price from $5 per night at guest houses to $170 at the Hotel Sofitel Cambodiana. Reservations, while advisable, are not absolutely necessary because of the surplus of hotel rooms currently available.
Communications
Inward telephone IDD communications operate. The country code is 855. Phnom Penh 's area code is 23. International calls from Cambodia have to go through the operator. Fax is available. Airmail to Europe takes four to five days, and to the USA one week to ten days. The Post & Telephone Office (PTT) in Phnom Penh is located across from the Hotel Monorom at the corner of Achar Mean Boulevard and 126 Street and is open 0700-1200 and 1300-2300. The main post office in Phnom Penh is located on the western side of 13 Street between 98 Street and 102 Street, open 0630-2100. General post office hours: 0730-1200 and 1430-1700 Monday to Friday in Phnom Penh.
Electricity
is a 220 volts AC, 50Hz. Power cuts are frequent. Outside Phnom Penh, electrical power is available only in the evenings from around 1830-2130. Electricity 220 volts AC, 50Hz and two-pin plugs are in use. Power cuts are frequent. Outside Phnom Penh, electrical power is available only in the evenings from around 1830-2130.
Plug Types
A,C,G
Food And Dining
Restaurants and other businesses abound in Phnom Penh, although the city remains poor. Food stalls are also common in Phnom Penh and can usually be found in and around the Central Market, O Ressei Market and Tuol Tom Pong Market. Khmer cuisine is very similar to Thai, but with fewer spices involved.

National specialties:
? Popular dishes include soup and salad, almost always incorporating Cambodia's favorite flavors of coriander, lemongrass and mint.
? There are a plethora of sweet dishes, such as sticky rice cakes and pudding.
? Succulent fruits include banana, coconut, the durian fruit (known for its distinctive odour), jackfruit, longan fruit, lychee, pineapple and Rambutan (which has translucent white flesh) fruit, to name just a few.
? Grilled fish, or fish cut up, rolled in lettuce or spinach and dipped into fish sauce.
? Khmer cuisine is unique in its use of prahok, a fermented fish paste.
? Showing its French influence, also expect plenty of roasted turtle and frog legs.
? Rice noodles.
? The most common skewer or brochette is golden sapek: small pieces of pork tenderloin alternated with strips of pork fat and rounds of Chinese sausage, cooked on a grill over hot coals. National drinks:
? Palm wine.
? Tea.
? Choum (a rice-based spirit).
? The local beer is called Angkor.
? The most popular Khmer drink is soda water with a squeeze of lemon. Legal drinking age: There are no age-restrictions. Tipping : Tips are appreciated in hotels and restaurants where no service charge has been added, and by tour guides.

Nightlife
The major hotels offer entertainment, and weekly Apsara dance performances are often held from November to March in some hotel gardens. The Holiday International Hotel is a popular nightclub which also offers a karaoke bar and casino. For further information, contact Diethelm Travel (see Top Things To Do).
Entry departure requirements
Visa immigration information
Passports
Passport valid for at least six months at time of entry required by all.
Visas
Required by all except nationals of Malaysia, The Philippines and Singapore for between 21-30 days.
Note: Visitors arriving by air can obtain a visa for stays of up to 30 days on arrival at Phnom Penh International Airport, Phnom Penh or Siem Reap International Airport, Angkor. Visas are also available from Immigration at the border posts of Bavet, Poi Pet and Koh Kong. Visitors are advised to check current situation before traveling.
Types of visa and cost
Tourist (single-entry): US$26 (US$52 for express); Business (single-entry): US$43 (US$69 for express). Express visas are issued within 24 hours.
Validity
All visas are valid for a one month period, and visas issued by the Embassy must be used within three months of date of issue. Extensions of up to one extra month for Tourist visas or six or 12 months for Business visas (which can be multiple) may be granted by the Ministry of the Interior at the Immigration Office in Phnom Penh.
Application to
Consulate (or Consular section of Embassy); see Passport/Visa Information. Tourists on package tours will normally have their visas arranged by the tour operator.
Note
Applications by post will only be accepted through a recognized visa courier. For further details, contact the nearest Consulate (or Consular section of Embassy).
Application requirements
(a) One completed application form. (b) Two passport-size photos. (c) Valid passport. Children need a passport and visa also. (d) Fee in cash only. (e) Self-addressed prepaid envelope if applying by post.
Note: (a) Children traveling on their parent's passport must submit an extra photo. (b) Nationals of Afghanistan, Algeria, Bangladesh, Iran, Iraq, Pakistan, Saudi Arabia, Sri Lanka and Sudan also need a return ticket. They will also require a routine check-up. For Tourist visas, a letter of guarantee from the travel agent, and for Business visas, a business letter.
Working days required
Five from day of receipt of application form. Express visas are issued within 24 hours.
HIV entry requirements
No Test Required
Departure tax
US$25 levied on international departures at Phnom Penh and Siam Reap International Airports; US$20 elsewhere; US$15 for holders of Cambodian passports. Children less than 4 years of age are exempt.
Embassies
Royal Embassy of Cambodia in the UK
Wellington Building, 28-32 Wellington Road, St John's Wood, London NW8 9SP, UK
Tel: (020) 7483 9063 or 9064 (consular section).
Website: www.cambodianembassy.org.uk
Royal Embassy of Cambodia in the USA
4530 16th Street, NW, Washington, DC 20011, USA
Tel: (202) 726 7742.
Travel Advice
You should be aware of the global risk of indiscriminate terrorist attacks, which could be against civilian targets, including places frequented by foreigners. Public order is fragile; however, most visits to Cambodia are trouble-free.
The greatest risks to travelers are from road traffic accidents, armed robbery after dark, landmines and unexploded ordnance in rural areas.
There has been a renewed outbreak of avian influenza (bird flu) amongst poultry in Cambodia. Visitors to Cambodia are unlikely to be affected, but should avoid visiting live animal markets, poultry farms and other places where they may come into close contact with wild or caged birds; and ensure poultry dishes are thoroughly cooked.
This advice is based on information provided by the Foreign & Commonwealth Office in the UK. It is correct at time of publishing. As the situation can change rapidly, visitors are advised to contact the following organizations for the latest travel advice:
British Foreign, Commonwealth & Development Office
Tel: (0845) 850 2829.
Website: www.gov.uk/foreign-travel-advice
US Department of State
Currency
Riel (KHR). Notes are in denominations of KHR100,000, 50,000, 20,000, 10,000, 5000, 2000, 1000, 500, 200 and 100.
Currency restrictions
Import and export of local currency is prohibited. Foreign currency may be exported up to the limit declared at customs on arrival. Amounts over US$10,000 have to be declared.
Banking hours
Mon-Fri 0800-1500. Some banks are open on Saturdays.
Currency exchange
US Dollars and Thai Baht are widely accepted and exchanged, but other currencies are generally not recognized.
Credit cards
Credit cards are not generally accepted, but can be used in upmarket hotels and restaurants catering to visitors. There are no ATMs in Cambodia. It is always best to carry cash (US dollars if necessary) in small denominations.
Travellers cheques
Limited acceptance. Traveller's cheques are generally not recommended. Traveller's cheques in US dollars can be changed at the official rate at the Foreign Trade Bank in Phnom Penh, and other larger banks and hotels.
| City/Region | City/Area code | Followed by |
| --- | --- | --- |
| Banteay Meanchey | (0)54 | + 6 digit subscriber nr |
| Battambong | (0)53 | + 6 digit subscriber nr |
| Kampong Cham | (0)42 | + 6 digit subscriber nr |
| Kampong Chhnang | (0)26 | + 6 digit subscriber nr |
| Kampong Speu | (0)25 | + 6 digit subscriber nr |
| Kampong Thom | (0)62 | + 6 digit subscriber nr |
| Kampot | (0)33 | + 6 digit subscriber nr |
| Kandal | (0)24 | + 6 digit subscriber nr |
| Kep | (0)36 | + 6 digit subscriber nr |
| Koh Kong | (0)35 | + 6 digit subscriber nr |
| Kratie | (0)72 | + 6 digit subscriber nr |
| Modolkiri | (0)73 | + 6 digit subscriber nr |
| Neak Loeng | (0)43 | + 6 digit subscriber nr |
| Pailin | (0)55 | + 6 digit subscriber nr |
| Phnom Penh | (0)23 | + 6 digit subscriber nr |
| Preah Vihear | (0)64 | + 6 digit subscriber nr |
| Pursat | (0)52 | + 6 digit subscriber nr |
| Ratanakiri | (0)75 | + 6 digit subscriber nr |
| Siem Reap | (0)63 | + 6 digit subscriber nr |
| Sihanouk Ville | (0)34 | + 6 digit subscriber nr |
| Stung Treng | (0)74 | + 6 digit subscriber nr |
| Svay Rieng | (0)44 | + 6 digit subscriber nr |
| Takeo | (0)32 | + 6 digit subscriber nr |
| Udar Meanchey | (0)65 | + 6 digit subscriber nr |