Quick Facts
Region: South America
Full Name: Republic of Chile
Capital City: Santiago
Language Spoken: Spanish
Chile Travel Insurance
Get travel insurance to Chile from Direct Travel Insurance. We offer low cost and high quality travel insurance to Chile and most of the world.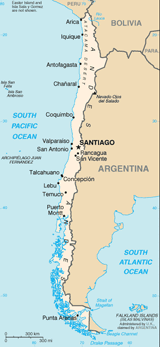 Geographic data
30 00 S, 71 00 W
Elevation Extremes
lowest point: Pacific Ocean 0 m highest point: Nevado Ojos del Salado 6,880 m
Land boundaries
total: 6,339 km border countries: Argentina 5,308 km, Bolivia 860 km, Peru 171 km
Natural hazards
severe earthquakes; active volcanism; tsunamis
Natural resources
copper, timber, iron ore, nitrates, precious metals, molybdenum, hydropower
Land use
arable land: 2.62% permanent crops: 0.43% other: 96.95% (2005)
Environmental current issues
widespread deforestation and mining threaten natural resources; air pollution from industrial and vehicle emissions; water pollution from raw sewage
Climate
Ranges from hot and arid in the north to very cold in the far south. The central areas have a mild Mediterranean climate with a wet season (May to August). Beyond Puerto Montt in the south is one of the wettest and stormiest areas in the world. Required clothing Lightweight cottons and linens in northern and central areas. Rainwear is advised during rainy seasons. Mediumweights and waterproofing are needed in the south.
Time difference
time difference: UTC-4 daylight saving time: +1hr, begins second Sunday in October; ends second Sunday in March
Population
16,134,219 (July 2006 est.)
Age structure
0-14 years: 24.7% (male 2,035,278/female 1,944,754) 15-64 years: 67.1% (male 5,403,525/female 5,420,497) 65 years and over: 8.2% (male 555,075/female 775,090) (2006 est.)
Median age
total: 30.4 years male: 29.5 years female: 31.4 years (2006 est.)
Population growth rate
0.94% (2006 est.)
Birth rate
15.23 births/1,000 population (2006 est.)
Death rate
5.81 deaths/1,000 population (2006 est.)
Net migration rate
0 migrant(s)/1,000 population (2006 est.)
Sex ratio
at birth: 1.05 male(s)/female under 15 years: 1.05 male(s)/female 15-64 years: 1 male(s)/female 65 years and over: 0.72 male(s)/female total population: 0.98 male(s)/female (2006 est.)
Life expectancy at birth
total population: 76.77 years male: 73.49 years female: 80.21 years (2006 est.)
Total fertility rate
2 children born/woman (2006 est.)
Business Practices
Business people should wear formal clothes in dark colors for official functions, dinners, smart restaurants and hotels. Dress is usually stipulated on invitations. There is a tendency to formality with many Old World courtesies. Overall business practices in Chile are similar to those in North America and Europe. The business day usually begins at 9 a.m. and ends between 6 and 7 p.m. Lunch breaks usually begin at 1 p.m. and are an hour long, unless business is being conducted, in which case two to three-hour lunches are common. Although social occasions rarely begin at the indicated time, business meetings nearly always do. Many Chilean business people are well-educated professionals who travel internationally and speak English. However, not all speak English, and foreign business people will often find the ability to speak Spanish or use of an interpreter very useful, if not an absolute must.
Crime
Visitors should be aware of the criminal environment in Santiago. Street crime, endemic to many South American cities, is a problem in the metropolitan area in general and specifically in downtown Santiago. Be particularly alert while walking in the downtown area, especially in the late afternoon and after dark, or on weekends, even in well-traveled areas. In Santiago and other large Chilean cities, thieves thrive on rush hour crowding on the street and aboard public transportation. Crime is also prevalent at crowded tourist locations, at metro (subway) stations, and on trains and buses. Police sources also report that robbery is on the rise in taxis. Persons wearing expensive-looking jewelry or carrying luggage or cameras are favorite targets for pickpockets and purse-snatchers. Bags and briefcases are stolen from chairs in restaurants and outdoor cafes. Outside Santiago, robberies and assaults have occurred most frequently in the Vina del Mar and Valparaiso area, which becomes increasingly crowded during the height of the Chilean summer season (December through February).
Hotels
Chile offers excellent accommodation and several new luxury hotels have recently opened in Santiago elsewhere in the country. In all regions of Chile, whatever hotels lack in facilities is made up for by a comfortable homely atmosphere; Chile's famous hospitality is very apparent in provinces where it is common to see the owner or manager sit down to dinner with guests. The cost of accommodation in Santiago is rather higher than in the provinces. VAT of 18% is levied on all hotel bills, except those paid in foreign currencies by foreign visitors for whom an export bill is required.
Communications
Telephone: Full IDD available. Country code: 56. Outgoing international code: 00. Compa??a de Tel?fonos de Chile provides most services though there are a few independent companies. Cheap rate is applicable 1800-0500 Monday to Friday and all day Saturday, Sunday and public holidays. Fax: Telex Chile, Transradio Chilena and ITT Communicaciones provide services in main towns. Post office hours in Santiago: 0900-1800 Monday to Friday; 0900-1230 Saturday.
Electricity
: 220 volts AC, 50Hz. Three-pin plugs and screw-type bulbs are used. Electricity 220 volts AC, 50Hz. Three-pin plugs and screw-type bulbs are used.
Plug Types
C,L
Food And Dining
Santiago has many international restaurants; waiter service is usual. The evening will often include floor shows and dancing.

National specialties:
? Empanada is a combination of meat, chicken or fish, with onions, eggs, raisins and olives inside a flour pastry.
? Humitas is a seasoned corn paste, wrapped in corn husks and boiled.
? Cazuela de ave is a soup with rice, vegetables, chicken and herbs.
? Bife a lo pobre is a steak with french fries, onions and eggs.
? Parrillada is selection of meat grilled over hot coals, often including delicacies such as intestines, udders and blood sausages.
? Seafood is good. Best known are the huge lobsters from Juan Fern?ndez Islands. Abalone, sea urchins, clams, prawns and giant choros (mussels) are also common. National drinks:
? Chile is famous for its wine.
? Pisco is a powerful liqueur distilled from grapes after wine pressing.
? Grapes are also used to make the sweet brown chicha as well as aguardiente, similar to brandy.
? Beer is drunk throughout the country. Tipping : Restaurants and bars add 10 per cent to the bill. However, waiters will expect a 10 per cent cash tip in addition. Note Dates for special events in Chile change frequently.

Nightlife
While many restaurants and hotels offer entertainment, there are also a number of independent discos and nightclubs. Casinos: The Municipal Casino in Vi?a del Mar offers large gambling salons, full cabaret and bo?te with Chile?s best dance bands. A casino operates in Gran Hotel in Puerto Varas between September and March. Arica also has a casino operating throughout the year with baccarat, roulette, black jack, a restaurant and late-night cabaret.
Entry departure requirements
Visa immigration information
Passports
Valid passport required by all except:
(a) nationals of Argentina, Brazil, Colombia, Paraguay and Uruguay, provided not entering under commercial contract or as students or as immigrants, can enter with a special identity card (C?dula de Identitad) for short-term visits (except foreign residents of these countries who do need a passport); (b) Chinese residents of Taiwan (China) and nationals of Taiwan, Mexico and Peru who have an official travel document issued by the Organization of American States. Documents have to remain valid for six months after departure.
Note
Passports issued to children must contain a photo and state the nationality.
Visas
As regulations are subject to change at short notice it is advisable to check with the Chilean Consulate for the latest information. At present, a visa is not required by the following:
(a) 1. nationals of countries mentioned in the chart above for a tourist stay of up to 90 days (except nationals of Greece, who can stay up to 60 days, and nationals of Latvia, who do need a visa);
(b) nationals of Andorra, Antigua & Barbuda, The Bahamas, Barbados, Bolivia, Bulgaria, Croatia, Dominican Republic, Ecuador, El Salvador, Grenada, Guatemala, Honduras, Iceland, Israel, Jamaica, Korea (Rep), Liechtenstein, Mauritius, Mexico, Monaco, New Zealand, Nicaragua, Norway, Panama, St Kitts & Nevis, St Lucia, San Marino, Serbia & Montenegro, South Africa, Surinam, Switzerland, Tonga, Turkey and Venezuela for stays of up to 90 days;
(c) nationals of Indonesia and Peru for stays of up to 60 days;
(d) nationals of Belize, Costa Rica, Malaysia and Singapore for tourist stays of up to 30 days;
(e) transit passengers continuing their journey on the same or first connecting aircraft provided holding required travel documents for onward destination and not leaving the airport transit lounge.
Note
2. Nationals of Australia, Canada, Mexico and the USA entering Chile for tourist purposes will be charged a processing fee payable on arrival and in cash only. For nationals of the USA, the fee is US$100; for nationals of Canada, the fee is US$55; for nationals of Australia, the fee is US$34; and for nationals of Mexico, the fee is US$15.
Types of visa and cost
Tourist, Visitor (visa required for nationals of countries with no diplomatic relations with Chile), Residence (visa required if intending to carry out paid employment or study in Chile). Cost varies according to nationality of applicant. Enquire at Consulate or Consular section of the Embassy for further information.
Validity
Tourist and Visitor (up to 90 days depending on nationality); Residence (enquire at Embassy).
Application to
Consulate (or Consular section at Embassy); see Passport/Visa Information.
Application requirements
(a) Valid passport. (b) Evidence of sufficient funds to cover stay. (c) Return or onward ticket. (d) Fee.
Working days required
Up to 15 depending on nationality and whether application has to be referred to the relevant authorities.
Temporary residence
Not readily granted. Enquire at the Consulate or Consular Section of the Embassy (see see Passport/Visa Information).
HIV entry requirements
No Test Required
Departure tax
US$18.
Embassies
Embassy and Consulate of the Republic of Chile in the UK
12 Devonshire Street, London W1G 7DS, UK
Tel: (020) 7580 6392 (embassy) or 1023 (consular section).
Working hours: Mon-Thurs 0900-1730, Fri: 0900-1430; Open to public: Mon-Fri 0900-1330.
Embassy of the Republic of Chile in the USA
1732 Massachussets Avenue, NW, Washington, DC 20036, USA
Tel: (202) 785 1746.
Website: www.chile-usa.org
Chilean Consulate General in the USA
Suite 601, 6th Floor, 866 United Nations Plaza, New York, NY 10017, USA
Tel: (212) 980 3366.

Most visits to Chile are trouble-free but you should be aware of the global risk of indiscriminate international terrorist attacks, which could be against civilian targets, including places frequented by foreigners.
Pickpocketing, other thefts and muggings are increasingly common.
Minefields are located in regions I, II and XII. Travelers are advised to contact the local authorities before traveling to the border areas of these regions.
This advice is based on information provided by the Foreign, Commonwealth & Development Office in the UK. It is correct at time of publishing. As the situation can change rapidly, visitors are advised to contact the following organizations for the latest travel advice:
British Foreign, Commonwealth & Development Office
Tel: (0845) 850 2829.
Website: www.gov.uk/foreign-travel-advice
US Department of State
Website: http://travel.state.gov/travel
Currency
Chilean Peso (CLP; symbol CH$) = 100 centavos. Notes are in denominations of CH$20,000, 10,000, 5000, 2000, 1000 and 500. Coins are in denominations of CH$500, 100, 50, 10, 5 and 1.
Currency restrictions
There are no restrictions on the import and export of either local or foreign currency.
Banking hours
Mon-Fri 0900-1400.
Currency exchange
Foreign exchange transactions can be conducted through commercial banks, casas de cambio, or authorized shops, restaurants, hotels and clubs. Visitors should not be tempted by the premiums of 10 to 15 per cent over the official rate offered by black marketeers. Casas de cambio are open daily 0900-1900.
Credit cards
American Express, Diners Club, MasterCard and Visa are accepted. Check with your credit or debit card company for details of merchant acceptability and other services which may be available.
Travellers cheques
Must be changed before 1200 except in casas de cambio (which in any case tend to offer better rates than banks). There may be some difficulty exchanging traveller's cheques outside major towns. To avoid additional exchange rate charges, traveller's are advised to take traveller's cheques in US Dollars.
| City/Region | City/Area code | Followed by |
| --- | --- | --- |
| Antofagasta | 55 | + 6/7 digit subscriber nr |
| Arica | 58 | + 6/7 digit subscriber nr |
| Chill?n | 42 | + 6/7 digit subscriber nr |
| Concepci?n | 41 | + 6/7 digit subscriber nr |
| Copiap? | 52 | + 6/7 digit subscriber nr |
| Coyhaique | 67 | + 6/7 digit subscriber nr |
| Curic? | 75 | + 6/7 digit subscriber nr |
| Iquique | 57 | + 6/7 digit subscriber nr |
| La Serena | 51 | + 6/7 digit subscriber nr |
| Linares | 73 | + 6/7 digit subscriber nr |
| Los Andes | 34 | + 6/7 digit subscriber nr |
| Los Angeles | 43 | + 6/7 digit subscriber nr |
| Osorno | 64 | + 6/7 digit subscriber nr |
| Ovalle | 53 | + 6/7 digit subscriber nr |
| Puerto Montt | 65 | + 6/7 digit subscriber nr |
| Punta Arenas | 61 | + 6/7 digit subscriber nr |
| Puyuhuapi | 68 | + 6/7 digit subscriber nr |
| Quillota | 33 | + 6/7 digit subscriber nr |
| Rancagua | 72 | + 6/7 digit subscriber nr |
| San Antonio | 35 | + 6/7 digit subscriber nr |
| Santiago | 2 | + 7 digit subscriber nr |
| Talca | 71 | + 6/7 digit subscriber nr |
| Temuco | 45 | + 6/7 digit subscriber nr |
| Valdivia | 63 | + 6/7 digit subscriber nr |
| Valparaiso | 32 | + 6/7 digit subscriber nr |