Quick Facts
Region: Asia & Oceania
Full Name: Tuvalu
Capital City: Funafuti
Language Spoken: Tuvaluan, English, Samoan, Kiribati (on the island of Nui)
Tuvalu Travel Insurance
Get travel insurance to Tuvalu from Direct Travel Insurance. We offer low cost and high quality travel insurance to Tuvalu and most of the world.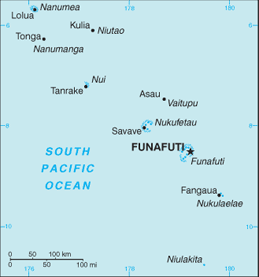 Geographic data
8 00 S, 178 00 E
Elevation Extremes
lowest point: Pacific Ocean 0 m highest point: unnamed location 5 m
Land boundaries
0 km
Natural hazards
severe tropical storms are usually rare, but, in 1997, there were three cyclones; low level of islands make them sensitive to changes in sea level
Natural resources
fish
Land use
arable land: 0% permanent crops: 66.67% other: 33.33% (2005)
Environmental current issues
since there are no streams or rivers and groundwater is not potable, most water needs must be met by catchment systems with storage facilities (the Japanese Government has built one desalination plant and plans to build one other); beachhead erosion because of the use of sand for building materials; excessive clearance of forest undergrowth for use as fuel; damage to coral reefs from the spread of the Crown of Thorns starfish; Tuvalu is concerned about global increases in greenhouse gas emissions and their effect on rising sea levels, which threaten the country's underground water table; in 2000, the government appealed to Australia and New Zealand to take in Tuvaluans if rising sea levels should make evacuation necessary
Climate
Time difference
time difference: UTC+12 note: administrative offices are located in Vaiaku Village on Fongafale Islet
Population
11,810 (July 2006 est.)
Age structure
0-14 years: 30.2% (male 1,819/female 1,752) 15-64 years: 64.7% (male 3,715/female 3,923) 65 years and over: 5.1% (male 228/female 373) (2006 est.)
Median age
total: 24.6 years male: 23.6 years female: 26 years (2006 est.)
Population growth rate
1.51% (2006 est.)
Birth rate
22.18 births/1,000 population (2006 est.)
Death rate
7.11 deaths/1,000 population (2006 est.)
Net migration rate
0 migrant(s)/1,000 population (2006 est.)
Sex ratio
at birth: 1.05 male(s)/female under 15 years: 1.04 male(s)/female 15-64 years: 0.95 male(s)/female 65 years and over: 0.61 male(s)/female total population: 0.95 male(s)/female (2006 est.)
Life expectancy at birth
total population: 68.32 years male: 66.08 years female: 70.66 years (2006 est.)
Total fertility rate
2.98 children born/woman (2006 est.)
Business Practices
Business meeting in Tuvalu is somewhat formal by South Pacific standards, perhaps due to the strong influence of the Congregationalists Protestant church. Office hours are 0730-1615 Monday to Thursday and 0730-1245 Friday
Crime
Some petty crime and domestic violence occurs in Tuvalu, but even this is rare and unlikely to affect visitors.
Hotels
There is only one in Tuvalu hotel, the government-owned Vaiaku Lagi Hotel, which overlooks the Funafuti lagoon. The 17 rooms all have lagoon views and private shower. All-inclusive packages are available. Four guesthouses and lodges (Fisherman's Lodge, Hideaway GuestHouse, Su's Place GuestHouse and Filamona Lodge) provide simple accommodation with meals.
Communications
Telephone IDD service is available for incoming calls. Country code: 688. Tuvalu has recently acquired satellite communications technology and international phone calls can be made from most of the islands. Fax services are available at the Telecommunication Center in Funafuti and in hotels.
Electricity
is 240 volts AC, 60Hz in Funafuti only. (Outlying areas do not generally have electricity or are served by local generators.) Electricity
Plug Types
Food And Dining
Entry departure requirements
Visa immigration information
HIV entry requirements
No Test Required
Departure tax
Embassies
Funafuti British High Commission staff are resident at Suva.
British High Commission
Victoria House
47 Gladstone Road
PO Box 1355
Suva
Fiji
Telephone: (679) 3229100 (switchboard)
Facsimile: (679) 322 9132
Email: consularsuva@FCDO.gov.uk Consular Section
visasuva@FCDO.gov.uk Visa Section
passportsuva@FCDO.gov.uk Passport Section
projectssuva@FCDO.gov.uk Projects Section
educationsuva@FCDO.gov.uk Education Section
managementsuva@FCDO.gov.uk Management Section
tradeinvestmentsuva@FCDO.gov.uk Trade & Investment Section
pbcc@FCDO.gov.uk Pacific British Chamber of Commerce
publicdiplomacysuva@FCDO.gov.uk Public Diplomacy Section
Office Hours: GMT:
Sun-Wed: 2000-1240 / 0100-0400
Thurs: 2000-0100
Local Time:
Mon-Thurs: 0800-1240 / 1300-1600
Fri: 0800-1300
Tuvaluan Honorary Consulate in London
Tuvaluan Honorary Consulate, Tuvalu House, 230 Worple Road, London SW20 8RH
Website: https://www.un.int/tuvalu/
Currency
N/A
Currency restrictions
N/A
Banking hours
N/A
Currency exchange
N/A
Credit cards
N/A
Travellers cheques
| City/Region | City/Area code | Followed by |
| --- | --- | --- |
| Funafuti | 22 | + 3 digits |
| Nanumaga | 34 | + 3 digits |
| Nanumea | 27 | + 3 digits |
| Niulakita | 25 | + 3 digits |
| Niutao | 29 | + 3 digits |
| Nui | 24 | + 3 digits |
| Nukufetau | 37 | + 3 digits |
| Nukulaelae | 35 | + 3 digits |
| Vaitupu | 32 | + 3 digits |