Quick Facts
Region: Africa
Full Name: Togolese Republic
Capital City: Lome
Language Spoken: French (official and the language of commerce), Ewe and Mina (the two major African languages in the south), Kabye (sometimes spelled Kabiye) and Dagomba (the two major African languages in the north)

Togo Travel Insurance
Get travel insurance to Togo from Direct Travel Insurance. We offer low cost and high quality travel insurance to Togo and most of the world.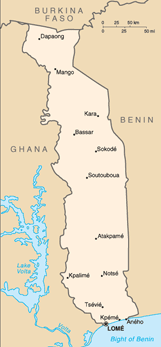 Geographic data
8 00 N, 1 10 E
Elevation Extremes
lowest point: Atlantic Ocean 0 m highest point: Mont Agou 986 m
Land boundaries
total: 1,647 km border countries: Benin 644 km, Burkina Faso 126 km, Ghana 877 km
Natural hazards
hot, dry harmattan wind can reduce visibility in north during winter; periodic droughts
Natural resources
phosphates, limestone, marble, arable land
Land use
arable land: 44.2% permanent crops: 2.11% other: 53.69% (2005)
Environmental current issues
deforestation attributable to slash-and-burn agriculture and the use of wood for fuel; water pollution presents health hazards and hinders the fishing industry; air pollution increasing in urban areas
Climate
From December to January, the Harmattan wind blows from the north. The rainy season lasts from April to July. Short rains occur from October to November. The driest and hottest months are February and March. Required clothing Tropical lightweights. Rainwear for the rainy season.
Time difference
time difference: UTC 0
Population
5,548,702 note: estimates for this country explicitly take into account the effects of excess mortality due to AIDS; this can result in lower life expectancy, higher infant mortality and death rates, lower population and growth rates, and changes in the distribution of population by age and sex than would otherwise be expected (July 2006 est.)
Age structure
0-14 years: 42.3% (male 1,177,141/female 1,169,321) 15-64 years: 55.1% (male 1,485,621/female 1,570,117) 65 years and over: 2.6% (male 59,870/female 86,632) (2006 est.)
Median age
total: 18.3 years male: 17.8 years female: 18.7 years (2006 est.)
Population growth rate
2.72% (2006 est.)
Birth rate
37.01 births/1,000 population (2006 est.)
Death rate
9.83 deaths/1,000 population (2006 est.)
Net migration rate
0 migrant(s)/1,000 population (2006 est.)
Sex ratio
at birth: 1.03 male(s)/female under 15 years: 1.01 male(s)/female 15-64 years: 0.95 male(s)/female 65 years and over: 0.69 male(s)/female total population: 0.96 male(s)/female (2006 est.)
Life expectancy at birth
total population: 57.42 years male: 55.41 years female: 59.49 years (2006 est.)
Total fertility rate
4.96 children born/woman (2006 est.)
Business Practices
It is acceptable for visiting business people to wear a safari suit except on very formal business and social occasions. Business is conducted in French, only a few executives speak English. Appointments should be made and business cards should be carried. Official corruption in Togo was formerly much less prevalent than in many other African countries, but the years of economic difficulty have brought an increase in requests for bribes and "gifts" in order to get business done. Office hours are 0700-1730 Monday to Friday.
Crime
Street crime is a major problem in Lome. Petty thefts, pickpocketing, residential break-ins, and carjackings are common. Economic crime, such as fraud, also occurs in Togo. Nigerian-based advance fee fraud has been increasing in the country. As part of such schemes, foreign businessmen have been enticed into Togo to participate in business transactions with Nigerians. The usual results are that the businessmen are defrauded of thousands of dollars. Police assistance in Togo is best described as rudimentary. The police lack funds and equipment to be effective against the criminal threat in Lome. The police maintain an emergency number, which is 21-28-71, but the caller must be able to explain to the operator, in French, the exact location of the incident by using landmarks. The caller should also be prepared to send a vehicle to pick up the police officer responding to the incident. Security forces in Lome are also known to harass individuals. They maintain nightly "security checkpoints" throughout the city. The police officers who maintain these checkpoints often lack the proper discipline. This was a factor in the recent slaying of a foreign diplomat. Be prepared to stop at checkpoints.
Hotels
Only Lom? and Lama-Kara have international-class accommodation but there are hotels in the main towns. Lom?'s several international standard hotels remain in operation but have declined in quality in recent years. They include the Hotel 2 F vrier, the Hotel Le Benin, the Hotel Palm Beach, and the Hotel Sarakawa
Communications
Telephone IDD is available to main cities. The country code is 228 and there are no area codes. Outgoing international code is 00. Fax service in becoming available in some hotels.
Electricity
is 220 volts AC, 50Hz single phase. Plugs are square or round 2-pin. Electricity 220 volts AC, 50Hz single phase. Plugs are square or round two-pin.
Plug Types
C
Food And Dining
Togon food is particularly good. Most restaurants catering for visitors tend to be French-orientated, although some do serve African dishes. In Lom? in particular, there are many small cafes serving local food. Meat, poultry and seafoods are plentiful and well prepared, as are the local fruit and vegetables. A good selection of alcoholic drinks is available.
National specialties: ?P?tes or akume, maize flour mixed with water served with different sauces usually made with vegetables such as okra, spinach or meat.
? Fufu, mashed yam eaten with sauces made from groundnut, goat or palm nut.
? Riz sauce arachide - rice with peanut sauce. National drinks:
? Palm wine.
? Tchakpallo (fermented millet), produced locally.
Tipping:
When not included, a tip of about 10 per cent is customary. Taxi drivers do not usually expect a tip.
Nightlife
There are numerous nightclubs, particularly in Lom?. Most serve food and are open until the early hours for dancing to a mixture of West African and Western popular music. There are also cinemas showing French and English-language films.
Entry departure requirements
Visa immigration information
Passports
Valid passport required by all, except nationals of the following with a National Identity Card: Benin, Burkina Faso, Cape Verde, Central African Republic, Chad, C?te d'Ivoire, Ghana, Guinea, Mali, Mauritania, Niger, Nigeria and Senegal.
Visas
Required by all except the following for stays of up to 90 days:
(a) nationals of Benin, Burkina Faso, Cape Verde, Central African Republic, Chad, C?te d'Ivoire, Gambia, Ghana, Guinea, Guinea-Bissau, Liberia, Mali, Mauritania, Niger, Nigeria, Senegal and Sierra Leone.
(b) transit passengers continuing their journey by the same or first connecting aircraft within 24 hours, provided not leaving the airport;
(c) children under 15 if accompanied by their parents.
Note
All nationals can obtain an entry visa on arrival in Togo for a maximum stay of up to seven days. Passports need to be handed in on arrival and collected along with the visa from the police station the following day.
Types of visa and cost
Entry and Residence: fee depends on nationality. All nationals of the USA will be issued a visa for a maximum stay of 12 months for a fee of approximately US$100.
Validity
Entry visas: Up to 90 days. Visas can be extended on arrival in Lom? at the Direction G?n?rale de la Police Nationale. For stays exceeding 90 days, a residence visa (visa de s?jour) will be issued.
Application to
Consulate (or Consular section at Embassy); see Passport/Visa Information.
Application requirements
(a) A valid passport. (b) Two completed application forms. (c) Three passport-size photos. (d) Yellow fever vaccination certificate for travelers over one year of age. (e) Fee. (f) A letter from employer confirming the applicant will return to country of residence to resume duties after the visit or a letter from the airline or travel organization guaranteeing onward or return air tickets. (g) A stamped addressed envelope if applying by post. (h) Company letter for business trips.
Working days required
Three.
HIV entry requirements
No Test Required
Departure tax
None
Embassies
Republic of Togo Embassy in the UK
Units 3, 7 & 8 Lysander Mews, Lysander Grove, London N19 3QP
Website:https://togoembassylondon.com/
Telephone: +44 (0)203 198 9579
Email:contact@togoembassylondon.com and ambassadetogo.londres.uk@gmail.com
Embassy of the Republic of Togo in France
8 rue Alfred Roll, 75017 Paris, France
Tel: (1) 4380 1213.
Embassy of the Republic of Togo in the USA
2208 Massachusetts Avenue, NW, Washington, DC 20008, USA
Tel: (202) 234 4212.
Website: http://www.togoleseembassy.com/

Following the Presidential elections on 24 April 2005, there was a period of political unrest, particularly in Lome, including attacks on Westerners. The internal situation remains uncertain but there has been a sustained period of relative calm. Travelers should avoid crowds and keep a low profile in case the situation deteriorates.
Extra caution is advised if moving around after dark. Entry and exit points at borders are being opened and closed without warning.
Crime is common in some areas of Lome. Car-jackings have also been reported.
The threat from terrorism is low, but you should be aware of the global risk of indiscriminate terrorist attacks, which could be against civilian targets, including places frequented by foreigners.
This advice is based on information provided by the Foreign, Commonwealth & Development Office in the UK. It is correct at time of publishing. As the situation can change rapidly, visitors are advised to contact the following organizations for the latest travel advice:
British Foreign, Commonwealth & Development Office
Tel: (0845) 850 2829.
Website: https://www.gov.uk/foreign-travel-advice/togo
US Department of State
Website: https://travel.state.gov/content/travel/en/international-travel/International-Travel-Country-Information-Pages/Togo.html
Currency
CFA (Communaut? Financiaire Africaine) Franc (XOF) = 100 centimes. Notes are in denominations of XOF10,000, 5000, 2500, 2000, 1000 and 500. Coins are in denominations of XOF250, 100, 50, 25, 10, 5 and 1. Togo is part of the French Monetary Area. Only currency issued by the Banque des Etats de l'Afrique de l'Ouest (Bank of West African States) is valid; currency issued by the Banque des Etats de l'Afrique Centrale (Bank of Central African States) is not. The CFA Franc is tied to the Euro.
Currency restrictions
The import of local currency is limited to XOF1 million, the export to XOF25,000. The import of foreign currency is limited to the equivalent of XOF1 million which should be declared on arrival. The export of foreign currency is limited to the amount declared on entry.
Banking hours
Mon-Fri 0800-1600.
Currency exchange
Foreign currencies can be exchanged at banks and bureaux de change in Lom? and other major cities. The main branch of the Togolese Central Bank in Lom? (BTCI) can give cash withdrawals against a Visa card.
Credit cards
American Express is widely accepted, with more limited use of Diners Club, MasterCard and Visa. Check with your credit or debit card company for details of merchant acceptability and other facilities which may be available.
Travellers cheques
International traveller's cheques are accepted in Lom? and other major cities.
| City/Region | City/Area code | Followed by |
| --- | --- | --- |
| Central region | 5 | + 6 digits |
| Kara region | 6 | + 6 digits |
| Lom? Municipality | 2 | + 6 digits |
| Maritime region | 3 | + 6 digits |
| Plateaux region | 4 | + 6 digits |
| Savannah region | 7 | + 6 digits |