Quick Facts
Region: North & Central America & the Caribbean
Full Name: Republic of Trinidad and Tobago
Capital City: Port-of-Spain
Language Spoken: English (official), Hindi, French, Spanish, Chinese
Trinidad and Tobago Travel Insurance
Get travel insurance to Trinidad and Tobago from Direct Travel Insurance. We offer low cost and high quality travel insurance to Trinidad and Tobago and most of the world.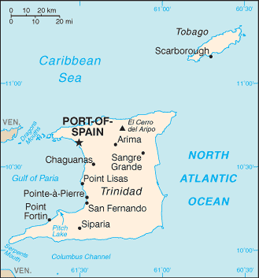 Geographic data
11 00 N, 61 00 W
Elevation Extremes
lowest point: Caribbean Sea 0 m highest point: El Cerro del Aripo 940 m
Land boundaries
0 km
Natural hazards
outside usual path of hurricanes and other tropical storms
Natural resources
petroleum, natural gas, asphalt
Land use
arable land: 14.62% permanent crops: 9.16% other: 76.22% (2005)
Environmental current issues
water pollution from agricultural chemicals, industrial wastes, and raw sewage; oil pollution of beaches; deforestation; soil erosion
Climate
The tropical climate is tempered by northeast trade winds. The dry season is from November to May, but it is hottest between June and October. The climate in Tobago is pleasant most of the year and although May, June and July can be wet at times, the differentiation between the wet and dry seasons is much less acute. Required clothing Tropical lightweights are required. Rainwear is advisable, especially for the wet season.
Time difference
time difference: UTC-4
Population
1,065,842 (July 2006 est.)
Age structure
0-14 years: 20.1% (male 109,936/female 104,076) 15-64 years: 71.3% (male 398,657/female 361,093) 65 years and over: 8.6% (male 41,162/female 50,918) (2006 est.)
Median age
total: 31.2 years male: 30.8 years female: 31.7 years (2006 est.)
Population growth rate
-0.87% (2006 est.)
Birth rate
12.9 births/1,000 population (2006 est.)
Death rate
10.57 deaths/1,000 population (2006 est.)
Net migration rate
-11.07 migrant(s)/1,000 population (2006 est.)
Sex ratio
at birth: 1.05 male(s)/female under 15 years: 1.06 male(s)/female 15-64 years: 1.1 male(s)/female 65 years and over: 0.81 male(s)/female total population: 1.07 male(s)/female (2006 est.)
Life expectancy at birth
total population: 66.76 years male: 65.71 years female: 67.86 years (2006 est.)
Total fertility rate
1.74 children born/woman (2006 est.)
Business Practices
Lightweight suits or 'shirt jacks' should be worn. Business people are informal and friendly and value face-to-face contact and humor. First names are freely used after the initial meeting. Office hours are 0800-1600 Monday to Friday.
Crime
The government of Trinidad and Tobago has taken several initiatives to curb the growing crime rate, which is a major concern among the populace. Foreign visitors should avoid isolated areas and public beaches after dark and take local advice on specific areas to avoid. Pilfering from hotel rooms occurs on both islands. Travelers should not carry large amounts of cash nor wear expensive jewelry, and should use hotel safety deposit boxes to store valuables, money and passports. Travelers should exercise normal precautions, avoid areas not frequented by tourists, and avoid traveling alone. Any incidents of crime should be reported to the local police. While crime is significantly lower on the island of Tobago, which is the destination of most tourists, travelers may still wish to exercise precautions and avoid traveling alone. Commonsense personal security practices should be used while at home, on the street and in one's vehicle, similar to those used while in a major urban or city environment. Valuables left unattended on beaches are subject to theft. Overall, the police are a relatively professional organization and will respond to calls for assistance if able. The police can be reached by dialing 999 and the fire/ambulance can be reached by dialing 990.
Hotels
There are major international chain hotels in Port of Spain, and a number of smaller hotels in the surrounding areas. In Tobago there is a growing number of international standard resort hotels as well as many smaller private hotels and guesthouses.
Communications
Telephone IDD service is available. The country code is 1 868 and there are no area codes. The outgoing international code is 01. Some hotels have fax facilities. Overall telecommunications networks are reliable and internet access is widely available. The main post office in Tobago is in Market Square, Scarborough.
Electricity
is a110/220 volts AC, 60Hz. Continental 2-pin plugs are standard, though variations may be found. Electricity 110/220 volts AC, 60Hz. US pattern twin plus earth plugs are standard, though variations may be found.
Plug Types
A,B
Food And Dining
Bars and restaurants open until late, with a very wide choice of local and Western food and drink. Chinese, Indian and West Indian cooking is available on both islands. Tobago also offers some notable seafood specialties and all types of fried fish.

National specialties:
? Creole soups, the best being sans coche, calaloo and peppery pigeon pea soup.
? Tatoo (armadillo).
? Manicou (opossum).
? Pork souse, pork boiled and served cold in a salty sauce with lime, cucumber, pepper, and onion slices.
? Tum-tum (mashed green plantains).
? Lappe (island rabbit).
? Pastelles: meat folded into cornmeal and wrapped in a banana leaf - a specialty generally available over Christmas.
? Seafood in Trinidad includes bean-sized oysters and chip-chip (tiny shellfish similar in taste to clams).
? Freshwater fish cascadou.
? Indian dishes on both islands include roti (dahlpuri bread stuffed with chicken, fish, goat or vegetables).
? Palhouri, fritters made with split peas, and hot curries. National drinks:
? Excellent rums and Angostura bitters are used to make rum punch.
? The local beers are Carib and Stag.

Tipping:
Most hotels and guest-houses add 10 per cent service charge to the bill, otherwise a 10 to 15 per cent tip is usual in hotels and restaurants.

Nightlife
Trinidad has a wide and varied nightlife including hotel entertainment and nightclubs with calypso, limbo dancers and steel bands. During the carnival season (from New Year to Carnival, held 2 days before Ash Wednesday), both islands are alive with live music in the calypso tents and pan (steel band) yards. In Tobago, the main Calypsonians from Trinidad travel over to perform at Shaw Park, Scarborough and Roxborough. There is something happening most nights of the week at this time - details available from the locals and the Tobago News.
Entry departure requirements
* Please see the visa section
Visa immigration information
Passports
Valid passport required by all persons aged 16 years and over. Passport must be valid for at least six months from date of return.
Note
All visitors must be in possession of a valid return ticket to their country of residence or citizenship and sufficient funds to maintain themselves whilst in Trinidad & Tobago. Visitors must also provide a proper local address in Trinidad & Tobago, and complete an Immigration E/D card (form 1).
Visas
Required by all except:
(a) 1. nationals of Canada and the USA for stays not exceeding three months;
(b) 2. nationals of EU countries for stays not exceeding three months, except nationals of the Czech Republic, Estonia, Hungary, Latvia, Lithuania, Poland, the Slovak Republic and Slovenia who can stay visa free for one month;
(c) 3. nationals of Commonwealth countries (except Australia, Cameroon, India, Mozambique, New Zealand, Nigeria, Papua New Guinea, South Africa, Sri Lanka, Tanzania and Uganda, who do require a visa) for stays of up to three months;
(d) nationals of Brazil, Iceland and Liechtenstein for stays of up to three months;
(e) nationals of Aruba, Colombia, Curacao, French Guiana, Guadeloupe, Israel, Korea (Rep), Martinique, the Netherlands Antilles, Norway, Saba, Surinam, Switzerland and Venezuela.
(f) nationals of Albania, Bosnia & Herzegovina, Bulgaria, Croatia, Romania, Serbia & Montenegro and Turkey for stays of up to one month.
Note: Citizens who do require visas for Trinidad & Tobago must apply before arrival at the Embassy; however, where there is no Embassy in the country of residence, they may apply on arrival for a waiver of visa, subject to prior approval by the Immigration Division. Nationals of Cameroon, Cuba, China, India, Korea (Dem Rep), Macedonia (Former Yugoslav Republic of), Mozambique, Nigeria, Papua New Guinea, Sri Lanka, Tanzania, Uganda and Vietnam always require a visa and may not apply for a waiver of visa.
Types of visa
?8.50 (single-entry); ?17 (Double-entry).
Validity
90 days.
Application requirements
(a) Completed application form. (b) One passport-size photograph. (c) Valid passport with at least one empty page. (d) Reason for visit. (e) Letter of invitation or letter from employer. (f) Proper local address in Trinidad and Tobago. (g) Proof of sufficient funds. (h) Proof of return ticket. (i) Fee (payable by cash or postal order only).
Application to
Consulate (or Consular section at Embassy or High Commission); see Passport/Visa Information.
Working days required
Tourist visas will normally be issued within 10 working days. Applications from the following nationals may take up to four weeks: Albania, China, Cuba, Korea (Dem Rep), Serbia & Montenegro and Vietnam.
Temporary residence
Enquire at Embassy or High Commission.
HIV entry requirements
No Test Required
Departure tax
TT$100 (payable in local currency only). Transit passengers, passengers over 60 and children under five years of age are exempt.
Embassies
High Commission of the Republic of Trinidad & Tobago in the UK
42 Belgrave Square, London SW1X 8NT, UK
Tel: (020) 7245 9351.
Website: www.immigration.gov.tt
Opening hours: Mon-Fri 0900-1700; Mon-Fri 1000-1400 (visa applications).
Embassy of the Republic of Trinidad & Tobago in the USA
1708 Massachusetts Avenue, NW, Washington, DC 20036, USA
Tel: (202) 467 6490.
E-mail: embttgo@erols.com

While most visits to Trinidad and Tobago are trouble-free, visitors should be aware that there are increasing levels of violent crime, especially shootings and kidnappings.
Visitors should be aware of the global risk of indiscriminate terrorist attacks which could be against civilian targets, including places frequented by foreigners.
This advice is based on information provided by the Foreign, Commonwealth & Development Office in the UK. It is correct at time of publishing. As the situation can change rapidly, visitors are advised to contact the following organizations for the latest travel advice:
British Foreign, Commonwealth & Development Office
Website: https://www.gov.uk/foreign-travel-advice/trinidad-and-tobago
US Department of State
Website: https://travel.state.gov/content/travel/en/international-travel/International-Travel-Country-Information-Pages/TrinidadandTobago.html
Currency
Trinidad & Tobago Dollar (TTD; symbol TT$) = 100 cents. Notes are in denominations of TT$100, 20, 10, 5 and 1. Coins are in denominations of 50, 25, 10, 5 and 1 cents.
Currency restrictions
The import of local currency is unlimited, provided declared on arrival. The export of local currency is limited to TT$200. There is free import of foreign currency, subject to declaration. The export of foreign currency is limited to the equivalent of TT$2500 per year.
Banking hours
Mon-Thurs 0800-1400, Fri 0900-1200 and 1500-1700.
Currency exchange
Foreign currency can only be exchanged at authorized banks and some hotels. There are ATMs taking cash cards and credit cards in both Trinidad and Tobago (Scarborough only).
Credit cards
American Express, Diners Club, MasterCard and Visa are accepted by most banks, shops and tourist facilities. Many traders charge 5 per cent for the use of credit cards. Check with your credit or debit card company for details of merchant acceptability and other services which may be available.
Travellers cheques
These are very widely accepted and will often prove the most convenient means of transaction. Banks charge a fee for exchanging traveller's cheques. Check for the best rates. To avoid additional exchange rate charges, travelers are advised to take traveller's cheques in US Dollars or Pounds Sterling.
| City/Region | City/Area code | Followed by |
| --- | --- | --- |
| Trinidad and Tobago | (1+)868 | + 7 digit subscriber nr |