Quick Facts
Region: Asia & Oceania
Full Name: Turkmenistan
Capital City: Ashgabat (Ashkhabad)
Language Spoken: Turkmen 72%, Russian 12%, Uzbek 9%, other 7%

Turkmenistan Travel Insurance
Get travel insurance to Turkmenistan from Direct Travel Insurance. We offer low cost and high quality travel insurance to Turkmenistan and most of the world.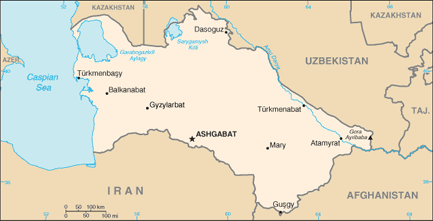 Geographic data
40 00 N, 60 00 E
Elevation Extremes
lowest point: Vpadina Akchanaya -81 m; note - Sarygamysh Koli is a lake in northern Turkmenistan with a water level that fluctuates above and below the elevation of Vpadina Akchanaya (the lake has dropped as low as -110 m) highest point: Gora Ayribaba 3,139 m
Land boundaries
total: 3,736 km border countries: Afghanistan 744 km, Iran 992 km, Kazakhstan 379 km, Uzbekistan 1,621 km
Natural hazards
NA
Natural resources
petroleum, natural gas, sulfur, salt
Land use
arable land: 4.51% permanent crops: 0.14% other: 95.35% (2005)
Environmental current issues
contamination of soil and groundwater with agricultural chemicals, pesticides; salination, water-logging of soil due to poor irrigation methods; Caspian Sea pollution; diversion of a large share of the flow of the Amu Darya into irrigation contributes to that river's inability to replenish the Aral Sea; desertification
Climate
Turkmenistan has an extreme continental climate: temperatures in Ashgabat vary between 46°C (114°F) in summer and -5°C (23°F) in winter, although it has been known to reach -22°C (-8°F) in extremity. Temperatures in the desert in summer can reach 50°C (122°F) during the day before falling rapidly at night. During the winter, it can reach -10° to -15°C (14° to 15°F). Required clothing For those intending to visit the desert in summer, lightweights are vital for the day with warmer clothing for those intending to spend the night in the open. Heavyweights should be taken for winter visits.
Time difference
time difference: UTC+5
Population
5,042,920 (July 2006 est.)
Age structure
0-14 years: 35.2% (male 913,988/female 863,503) 15-64 years: 60.7% (male 1,501,486/female 1,557,155) 65 years and over: 4.1% (male 79,227/female 127,561) (2006 est.)
Median age
total: 21.8 years male: 20.9 years female: 22.7 years (2006 est.)
Population growth rate
1.83% (2006 est.)
Birth rate
27.61 births/1,000 population (2006 est.)
Death rate
8.6 deaths/1,000 population (2006 est.)
Net migration rate
-0.75 migrant(s)/1,000 population (2006 est.)
Sex ratio
at birth: 1.05 male(s)/female under 15 years: 1.06 male(s)/female 15-64 years: 0.96 male(s)/female 65 years and over: 0.62 male(s)/female total population: 0.98 male(s)/female (2006 est.)
Life expectancy at birth
total population: 61.83 years male: 58.43 years female: 65.41 years (2006 est.)
Total fertility rate
3.37 children born/woman (2006 est.)
Business Practices
Business is conducted formally and suit and tie are normally required. Business cards are usually exchanged and appointments should be made in advance. Turkmen is the official language of Turkmenistan; however, Russian is widely used in government and business. The government has declared that English is to be taught widely, but as yet a very limited number of people in Turkmenistan speak English. For those who seek interpreter services, local free lance interpreters can be arranged. Office hours are 0900-1800 Monday to Friday.
Crime
Turkmenistan has a low rate of violent crime, but common street crime has increased, especially in markets and after dark. Most of the reported crimes against foreigners have been opportunistic rather than premeditated. Visitors, especially women, should not walk or take public transportation or taxis alone, especially after dark. There have been a number of incidents involving taxi drivers who attempted to molest female passengers. In general, avoid taxis at night and engage them during the daylight hours only when accompanied by a trusted companion. In Ashgabat, police are a visible force on the street, but security forces are poorly trained, underpaid and inadequately equipped. Additionally, a traveler must speak Russian or Turkmen to communicate with the local police. Russian and Turkmen speakers may dial 110211 to contact the police. Those who do not speak these languages should contact their embassy for assistance.
Hotels
Turkmenistan is largely cash-only economy, although several new hotels and restaurants accept credit cards. Ashgabat is home to about 30 first-class hotels and government guest houses which offer comfortable rooms, conference and meeting facilities, business services, recreational activities, satellite TVs, casinos, and international dining facilities. The Ak Altin Plaza Hotel offers Western-style amenities. The Kolkhozchy Hotel in central Ashgabat is a basic, clean property that cooperates with Fair Winds Trading Company. The Kolkhozchy's room rates are between US$60-$160 per night. The main hotels in Ashgabat are the Hotel Ashgabat (the main tourist hotel), the Hotel Oktyabrskaya and the Hotel Turist. The Hotel Jubilienaya houses both the US and German embassies and reservations are difficult to obtain. Every provincial center has at least one hotel, but visitors should not expect Western standards of comfort, amenities or security. The exception is a new hotel that recently opened in Turkmenbashi; however, as it only has 40 rooms.
Communications
Telephone IDD from Ashgabat is not yet available, but calls can be booked through the international operator, who speaks English, or made at the Main Post Office. Direct-dial calls within the former Soviet republics are obtained by dialling 8 and waiting for another dial tone and then dialling the city code. Country code: 7 (3632 for Ashgabat Calls within the city limits are free of charge. Fax services are available in the main hotels for guests only. Post office hours: 0900-1800 Monday to Friday.
Electricity
220 volts AC, 50Hz. Round 2-pin continental plugs are standard. Electricity 220 volts AC, 50Hz. Round two-pin continental plugs are standard.
Plug Types
C,F
Food And Dining
Turkmen food is similar to that of the rest of Central Asia. There are a number of good Western-standard restaurants in Ashgabat, although they rarely have an extensive menu. In general, hotel food shows strong Russian influence: borcht is cabbage soup, entrec?te is a well-done steak, cutlet are grilled meat balls, and strogan is the local equivalent of beef Stroganoff. Pirmeni, originating in Ukraine, are small boiled dumplings of meat and vegetables similar to ravioli, sometimes served in a vegetable soup.
National specialties:
? Plov - pronounced 'plof' - is the staple food for everyday (but is also served at celebrations) and consists of chunks of mutton, shredded yellow turnip and rice fried in a large wok.
? Shashlyk (skewered chunks of mutton grilled over charcoal which come with raw sliced onions) and lipioshka (rounds of unleavened bread) are served in restaurants and are often sold in the street
? Manty are larger noodle dumplings filled with meat.
? Shorpa is a meat and vegetable soup.
? Ka'urma is mutton deep-fried in its own fat and churban churpa is mutton fat dissolved in green tea.
? Ishkiykli are dough balls filled with meat and onion which are traditionally cooked in sand that has been heated by a fire.
? On the shores of the Caspian Sea, seafood is often substituted for mutton in traditional dishes such as plov.
? In the west of Turkmenistan, there is a specialty in which mutton is roasted in a clay oven fired with aromatic woods. National drinks:
? Green tea is very popular and can be obtained almost anywhere.
? Beer, wine, vodka, brandy and sparkling wine (shampanski) are all widely available in restaurants.
? Kefir, a thick drinking yogurt, is often served with breakfast.
Nightlife
Ashgabat has an opera and ballet theater, which shows both Russian and European works and a drama theater. There are also a few restaurants offering dancing.
Entry departure requirements
Note Visa regulations within the CIS are liable to change at short notice. Prospective travelers are advised to contact the nearest Turkmenistan Embassy well in advance of intended date of departure.
Visa immigration information
Passports
Valid passport required by all.
Visas
Visa required by all.
Note
Special permission must be sought by those wishing to visit border zones.
Types of visa and cost
Dependent upon nationality and duration of stay, contact the Embassy for details of prices (see Passport/Visa Information).
Validity
Subject to the nature of the visit and the discretion of the authorities in Turkmenistan.
Application to
Consulate (or Consular section at Embassy); see Passport/Visa Information.
Note
a) For those coming from countries without
Embassies
or Consulates of Turkmenistan, entry visas may be obtained for a maximum of 10 days on arrival, provided holding an invitation from a company in Turkmenistan; (b) Tourists should normally book through a recognized tour operator, who will obtain visas on their behalf; (c) Visitors intending to stay for more than three months must produce a certificate stating that they are HIV-negative.
Application requirements
(a) Two completed application forms; (b) Two passport-size photos; (c) Passport with at least one blank page, valid for six months from date of departure from Turkmenistan; (d) Covering letter explaining purpose of visit; (e) Fee; (f) Stamped, self-addressed envelope; (g) Letter of invitation approved by the Ministry of Foreign Affairs in Turkmenistan (not needed by visitors seeking a transit visa only).
Working days required
Three to seven.
Temporary residence
Applications for temporary residence to carry out business are handled by the Interior Ministry; those wishing to obtain temporary residence for other reasons should apply to the Consular Affairs Office at the Foreign Ministry.
HIV entry requirements
Test required for anyone staying longer than 3 months
Departure tax
US$25. Nationals of CIS countries pay US$15 and nationals of Turkmenistan pay US$5. Embassies
Embassy of Turkmenistan in the UK
131 Holland Park Avenue, Kensington London W11 4UT
(previously 2nd Floor, St George's House, 14-17 Wells Street, London W1T 3PD, UK)
Website: https://uk.tmembassy.gov.tm/en/consular-services/visa-info
Tel: (020) 7255 1071.
Opening hours: Mon-Fri 1000-1800; 1000-1700 (visa section).
Embassy of Turkmenistan in the USA
2207 Massachusetts Avenue, NW, Washington, DC 20008, USA
Tel: (202) 588 1500.
Website: www.turkmenistanembassy.org
Travelers should be aware of the global risk of indiscriminate terrorist attacks which could be against civilian targets including places frequented by foreigners.
Travelers should carry an identity document at all times. Requests to produce proof of identity, for example by the police, are frequent.
Travelers should not overstay their visa. They should also register with the State Service of Turkmenistan for the Registration of Foreign Nationals if staying for more than three days.
This advice is based on information provided by the Foreign, Commonwealth & Development Office in the UK. It is correct at time of publishing. As the situation can change rapidly, visitors are advised to contact the following organizations for the latest travel advice:
British Foreign, Commonwealth & Development Office
Website: https://www.gov.uk/foreign-travel-advice/turkmenistan
US Department of State
Website: https://travel.state.gov/content/travel/en/international-travel/International-Travel-Country-Information-Pages/Turkmenistan.html
Currency
Turkmen Manat (TMM) = 100 tenge. Notes are in denominations of TMM10,000, 5000, 1000, 500, 100, 50, 10, 5 and 1. Coins are in denominations of 50, 20, 10, 5 and 1 tenge.
Currency restrictions
The import and export of local currency is prohibited for foreigners. Import of foreign currency is unlimited subject to declaration, and export is limited to the amount declared on import.
Banking hours
Mon-Fri 0930-1730.
Currency exchange
The preferred hard currency is US Dollars and visitors carrying other currencies may find it hard to change them. It is advisable to take new, clean US Dollar notes in small denominations. Foreign currency can be changed at banks and major hotels. Foreigners are expected to pay all travel and hotel bills in hard currency, and prices bear little relation to what locals are expected to pay. Most packages are all-inclusive and extra payment for accommodation and meals is unnecessary.
Credit cards
Not generally accepted.
Travellers cheques
Should be in US currency, but are generally not accepted.
| City/Region | City/Area code | Followed by |
| --- | --- | --- |
| Ailandi | (8)343 | + 5 digit subscriber nr |
| Akdepe | (8)344 | + 5 digit subscriber nr |
| Annan | (8)137 | + 5 digit subscriber nr |
| Asenguli | (8)245 | + 5 digit subscriber nr |
| Ashgabat | (8)12 | + 6 digit subscriber nr |
| Babadaihan | (8)136 | + 5 digit subscriber nr |
| Baherden | (8)131 | + 5 digit subscriber nr |
| Bairamali | (8)564 | + 5 digit subscriber nr |
| Boldumsaz | (8)346 | + 5 digit subscriber nr |
| Buzmein | (8)138 | + 5 digit subscriber nr |
| Charjou | (8)422 | + 5 digit subscriber nr |
| Charkshanga | (8)440 | + 5 digit subscriber nr |
| Cheleken | (8)240 | + 5 digit subscriber nr |
| Darganata | (8)445 | + 5 digit subscriber nr |
| Daskho | (8)322 | + 5 digit subscriber nr |
| Djenev | (8)446 | + 5 digit subscriber nr |
| Dostluk | (8)465 | + 5 digit subscriber nr |
| Eloten | (8)560 | + 5 digit subscriber nr |
| Farap | (8)448 | + 5 digit subscriber nr |
| Garabekevul | (8)443 | + 5 digit subscriber nr |
| Garrigala | (8)248 | + 5 digit subscriber nr |
| Gavandjik | (8)247 | + 5 digit subscriber nr |
| Gazachak | (8)438 | + 5 digit subscriber nr |
| Gekdepe | (8)132 | + 5 digit subscriber nr |
| Gipchak | (8)139 | + 5 digit subscriber nr |
| Gizilarbat | (8)246 | + 5 digit subscriber nr |
| Giziletrek | (8)242 | + 5 digit subscriber nr |
| Govurdak | (8)431 | + 5 digit subscriber nr |
| Gubadag | (8)345 | + 5 digit subscriber nr |
| Gulanli | (8)559 | + 5 digit subscriber nr |
| Gumdag | (8)241 | + 5 digit subscriber nr |
| Gushgi | (8)561 | + 5 digit subscriber nr |
| Halach | (8)441 | + 5 digit subscriber nr |
| Hodzambaz | (8)442 | + 5 digit subscriber nr |
| Jahti-el | (8)557 | + 5 digit subscriber nr |
| Kaka | (8)133 | + 5 digit subscriber nr |
| Keneurgench | (8)360 | + 5 digit subscriber nr |
| Kerki | (8)444 | + 5 digit subscriber nr |
| Kizilatrek | (8)432 | + 5 digit subscriber nr |
| Mary | (8)522 | + 5 digit subscriber nr |
| Mollanepes | (8)558 | + 5 digit subscriber nr |
| Murgap | (8)565 | + 5 digit subscriber nr |
| Nebit-Dag | (8)243 | + 5 digit subscriber nr |
| Niazovsk | (8)348 | + 5 digit subscriber nr |
| Sajat | (8)447 | + 5 digit subscriber nr |
| Sakar | (8)449 | + 5 digit subscriber nr |
| Sakarchagi | (8)566 | + 5 digit subscriber nr |
| Saragat | (8)134 | + 5 digit subscriber nr |
| Seidi | (8)461 | + 5 digit subscriber nr |
| Tagta | (8)340 | + 5 digit subscriber nr |
| Tagtabazar | (8)568 | + 5 digit subscriber nr |
| Tedjen | (8)135 | + 5 digit subscriber nr |
| Turkmenabat | (8)428 | + 5 digit subscriber nr |
| Turkmenbashi | (8)349 | + 5 digit subscriber nr |
| Turkmengala | (8)569 | + 5 digit subscriber nr |