Quick Facts
Region: Europe
Full Name: Republic of Turkey
Capital City: Ankara
Language Spoken: Turkish (official), Kurdish, Dimli (or Zaza), Azeri, Kabardian note: there is also a substantial Gagauz population in the Europe part of Turkey
What is this?
Risk Rating Watch
Personnel risk: MODERATE
Evacuation risk: LOW
Turkey Travel Insurance
Get travel insurance to Turkey from Direct Travel Insurance. We offer low cost and high quality travel insurance to Turkey and most of the world.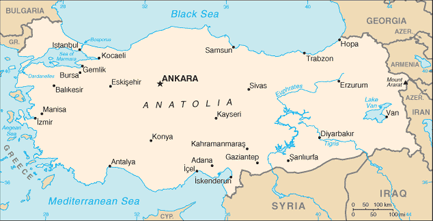 Geographic data
39 00 N, 35 00 E
Elevation Extremes
lowest point: Mediterranean Sea 0 m highest point: Mount Ararat 5,166 m
Land boundaries
total: 2,648 km border countries: Armenia 268 km, Azerbaijan 9 km, Bulgaria 240 km, Georgia 252 km, Greece 206 km, Iran 499 km, Iraq 352 km, Syria 822 km
Natural hazards
severe earthquakes, especially in northern Turkey, along an arc extending from the Sea of Marmara to Lake Van
Natural resources
coal, iron ore, copper, chromium, antimony, mercury, gold, barite, borate, celestite (strontium), emery, feldspar, limestone, magnesite, marble, perlite, pumice, pyrites (sulfur), clay, arable land, hydropower
Land use
arable land: 29.81% permanent crops: 3.39% other: 66.8% (2005)
Environmental current issues
water pollution from dumping of chemicals and detergents; air pollution, particularly in urban areas; deforestation; concern for oil spills from increasing Bosporus ship traffic
Climate
Temperatures in Ankara vary between -4°C (25ºF) and 30°C (86ºF). Marmara and the Aegean and Mediterranean coasts have a typical Mediterranean climate with hot summers and mild winters. Required clothing Light- to medium-weights and rainwear.
Time difference
time difference: UTC+2 daylight saving time: +1hr, begins last Sunday in March; ends last Sunday in October
Population
70,413,958 (July 2006 est.)
Age structure
0-14 years: 25.5% (male 9,133,226/female 8,800,070) 15-64 years: 67.7% (male 24,218,277/female 23,456,761) 65 years and over: 6.8% (male 2,198,073/female 2,607,551) (2006 est.)
Median age
total: 28.1 years male: 27.9 years female: 28.3 years (2006 est.)
Population growth rate
1.06% (2006 est.)
Birth rate
16.62 births/1,000 population (2006 est.)
Death rate
5.97 deaths/1,000 population (2006 est.)
Net migration rate
0 migrant(s)/1,000 population (2006 est.)
Sex ratio
at birth: 1.05 male(s)/female under 15 years: 1.04 male(s)/female 15-64 years: 1.03 male(s)/female 65 years and over: 0.84 male(s)/female total population: 1.02 male(s)/female (2006 est.)
Life expectancy at birth
total population: 72.62 years male: 70.18 years female: 75.18 years (2006 est.)
Total fertility rate
1.92 children born/woman (2006 est.)
Business Practices
A formal suit or jacket and tie should always be worn for business. English is widely spoken in business circles, although an effort by the visitor to speak a little Turkish is appreciated. The majority of people in business value punctuality and visiting cards are widely used. In general, a personal relationship is an important basis for a successful business relationship in Turkey. It is usually important to allow time for friendly conversation before commencing with a business agenda. Office hours are normally 0830-1230 and 1330-1730 Monday to Friday, however there are some regional and seasonal variations.
Crime
Street robbery and pickpocketing are common in the major tourist areas of Istanbul. Street crime is most common in the Taksim Square area, in Sultanahmet and in the areas around the Grand Bazaar and Spice Bazaar. Visitors are often robbed while distracted by a staged fight or altercation. Women appear to have been targeted for mugging or robbery. Be wary of approaches from strangers offering to change money or offering food and drink, which may be drugged. Two common drugs used are Nembutal and benzodiazepine which, when used incorrectly, can cause death (as occurred in the case of one Western visitor). In other cases, tourists are invited to visit clubs or bars, and then presented with inflated bills, and coerced to pay them by credit card. A number of sexual assaults have been reported in coastal tourist areas (e.g., Marmaris, Bodrum, Antalya, Izmir).
Hotels
Medium to luxury-type hotels, including international hotels such as the Hilton, Sheraton, Hyatt, Holiday Inn, Conrad and Swiss Hotel, are available in major cities. Apartment rents in Istanbul are expensive. Rents in Ankara and Izmir are more reasonable. The rental of a good quality apartment in a popular area of a city is usually set in a foreign currency, and often 6 months to one year's rent is expected in advance.
Communications
Telephone IDD service is available. The country code is 90 and the outgoing international code is 00. There is an extensive internal telephone network, but often an interpreter will be needed for more remote areas. All hotels and PTT offices have fax facilities. The telephone system in Turkey's major cities is good. Internet email and faxes are widely used in international business. Turkish post offices are recognizable by their yellow PTT signs. Major post offices are open 0800-2400 Monday to Saturday and 0900-1900 Sunday.
Electricity
is 220 volts AC, 50Hz. Electricity 220 volts AC, 50Hz.
Plug Types
C,F
Food And Dining
Turkish food combines culinary traditions of a pastoral people originating from Central Asia and the influences of the Mediterranean regions. Guests are usually able to go into a kitchen and choose from the pots if they cannot understand the names of the dishes.
National specialties:
? Shish kebab (pieces of meat threaded on a skewer and grilled).
? Doner kebab (pieces of lamb packed tightly round a revolving spit).
? Barbunya (red mullet) and kili? baligi (swordfish).
? Dolma (vine leaves stuffed with nuts and currants).
? Karniyarik (aubergine stuffed with minced meat).
? Turkish Delight (originally made from dates, honey, roses and jasmine bound by Arabic gum and designed to sweeten the breath after coffee). National drinks:
? Raki (anisette), known as 'lion's milk', which clouds when water is added. Drinking raki is a ritual and is traditionally accompanied by a variety of meze (hors d'oeuvres).
? Ayran (a refreshing yogurt drink).
? Tea.
? Strong black Turkish coffee.
? Turkish beer, red and white wines. Things to know: Turkey is a secular state and alcohol is permitted, although during Ramadan it is considered polite for the visitor to avoid drinking alcohol.
Tipping:
A service charge is included in hotel and restaurant bills.
Nightlife
There are nightclubs in most main centers, either Western or Oriental, with music and dancing. There are theaters with concerts in Ankara, Istanbul and Izmir and most towns have cinemas. Turkish baths (hamam) are popular.
Entry departure requirements
* Please see visa section
Visa immigration information
Passports
Passport valid for at least six months from date of arrival in Turkey required by all, except the following nationals:
1. Belgium, France, Germany, Greece, Italy, Liechtenstein, Luxembourg, Malta, The Netherlands, Spain and Switzerland, who can enter with a national ID card (which must have a validity of one year).
Visas
Required by all except the following:
(a) 2. nationals of EU countries for stays of up to three months (except those listed under notes 4 and 5 below in Sticker-type entry visas;
(b) 3. nationals of Argentina, Bolivia, Brazil, Bulgaria* (see Note below), Chile, Ecuador, El Salvador, Guatemala, Honduras, Hong Kong (SAR), Iceland, Iran (providing they have a minimun of US$100 per day while entering Turkey), Israel, Japan, Korea (Rep), Liechtenstein, Malaysia, Monaco, Morocco, New Zealand, Nicaragua, San Marino, Singapore, Switzerland, Trinidad & Tobago, Tunisia, Turkish Republic of Northern Cyprus, Uruguay and Vatican City for stays of up to three months;
(c) nationals of Bosnia & Herzegovina, Croatia and Macedonia (Former Yugoslav Republic) for stays of up to two months;
(d) nationals of Costa Rica, Kazakhstan, Kyrgyzstan and Macau (SAR) for stays of up to one month;
(e) transit passengers continuing their journey by the same of first connecting aircraft within 24 hours, provided not leaving the airport and in possession of confirmed onward tickets. If you travel by sea or land via Turkey, you will need a visa. The procedure is the same as for a tourist visa.
Note: (a) Visa exemption for Bulgarians does not apply to those who enter Turkey through certain custom points (contact Consulate for details). Bulgarians must always obtain a visa for transit passages.
Sticker-type entry visas: Tourists and business visitors from the following countries do require visas and can obtain a sticker-type entry visa at the point of entry for a fee. Prices are dependent on nationality (for British nationals, the cost is ?10 [?36 if obtained prior to arrival], and for US nationals, the cost is US$45):
(a) 4. Armenia, Australia, Austria, Azerbaijan, Belarus, Belgium, Canada, Estonia, Hungary, Ireland, Italy, Jordan, Latvia, Lithuania, Malta, Moldova, The Netherlands, Norway, Poland, Portugal, Russian Federation, Serbia & Montenegro, Slovak Republic, Spain, Tajikistan, Turkmenistan, Ukraine and the UK* (see Note below) and USA for stays not exceeding three months;
(b) Albania for stays not exceeding two months;
Note: British National Overseas passport holders should contact the visa section of the Consulate General before traveling.
(b) 5. Greek Cypriot Administrative Region and Romania for stays not exceeding one month;
(c) Georgia for stays not exceeding 15 days (providing they have a minimun of US$50 per day while entering Turkey).
Types of visa and cost
Prices vary according to nationality. Tourist (multiple-entry, up to three months): US$62 Single transit (up to three months): US$46 Study (up to one year): US$124 Work (up to one year): US$129 Some visas must be obtained in advance. Contact the Consulate (or Consular section at Embassy); see Passport/Visa Information.
Validity
Multiple entry: three months, two years or five years.
Application to
Consulate (or Consular section at Embassy); see see Passport/Visa Information. Applicants must now pre-book an appointment with the relevant Consulate. An online appointment system is available (website: www.turkishconsulate.org.uk/en/visa).
Application requirements
(a) Valid passport. (b) One recent passport-size photo. (c) Application form. (d) Latest bank statement and photocopy. (e) Fee (varies for different nationals), payable by postal order, company cheque and cash only. (f) ?5 administrative fee. (g) Registered, pre-paid, self-addressed, special delivery envelope if applying by post. (h) Sufficient funds (exact amount required varies according to nationality).
Note: Application requirements may vary according to nationality and type of visa sought.
Working days required
Usually three, but dependent on nationality of applicant. Some applications may be referred to the Ministry of Foreign Affairs in Ankara, which may take much longer (minimum six to eight weeks).
Temporary residence
Apply to the Turkish Consulate General (see Passport/Visa Information) or to the Turkish Diplomatic Mission in the country of residence.
HIV entry requirements
No Test Required
Departure tax
US$50 is levied only on Turkish nationals, not resident overseas departing from Turkey.
Embassies
Embassy of the Republic of Turkey in the UK
43 Belgrave Square, London SW1X 8PA, UK
Tel: (020) 7393 0202.
Website: http://www.turkishconsulate.org.uk/en/
Opening Hours: Mon-Fri 0900-1730.
Turkish Consulate General in the UK
Rutland Lodge, Rutland Gardens, London SW7 1BW, UK
Tel: (020) 7591 6900 or (09068) 347 348 (recorded visa information; calls cost 60p per minute).
Website: www.turkishconsulate.org.uk
Opening hours: Mon-Fri 0900-1230 (visas).
Embassy of the Republic of Turkey in the USA
2525 Massachusetts Avenue, NW, Washington, DC 20008, USA
Tel: (202) 612 6700 or 6740 (consular section).
Website: www.turkishembassy.org
There is a high threat from terrorism in Turkey. International terrorist groups, as well as indigenous ones, are believed to be currently active in Turkey. Further attacks, including in tourist areas, could well occur. On 16 July 2005, an explosion on a minibus in the western Turkish resort of Kusadasi killed five people. On 11 July 2005, an explosion in the coastal resort of Cesme, western Turkey, injured 20 people.
Four people have died from H5N1 avian influenza in Turkey since December 2005. Others have been treated for the virus. Outbreaks of avian influenza in poultry have occurred across Turkey, including in Istanbul, Ankara and the Aegean coast region. As a precaution, visitors should avoid live animal markets, poultry farms and other places where they may come into contact with domestic, caged or wild birds; and ensure that poultry and egg dishes are thoroughly cooked. This advice is based on information provided by the Foreign & Commonwealth Office in the UK. It is correct at time of publishing. As the situation can change rapidly, visitors are advised to contact the following organizations for the latest travel advice:
British Foreign, Commonwealth & Development Office
Website: https://www.gov.uk/foreign-travel-advice/turkey
US Department of State
Website: https://travel.state.gov/content/travel/en/international-travel/International-Travel-Country-Information-Pages/Turkey.html
Currency
The New Turkish Lira (TRY) was introduced on January 1 2005. The old Turkish Lira (TL) was withdrawn from circulation on January 1 2006. It is now only possible to exchange old Turkish Lira for New Turkish Lira at the Central Bank until December 31 2015. 1YTL = 1,000,000TL. Notes are in denominations of TRY100, 50, 20, 10, 5 and 1. Coins are in denominations of TRY1 and 50, 25, 10, 5 and 1 New Kuru? (Ykr).
Currency restrictions
There are no restrictions on the import of local or foreign currency, though visitors bringing in a large amount of foreign currency should declare it, and have it specified in their passport upon arrival to avoid difficulties on departure. No more than the equivalent of US$5000 in local or foreign currency may be exported. It must be shown that this has been obtained from authorized banks.
Banking hours
Mon-Fri 0830-1200 and 1330-1700. Some banks in tourist areas are open daily.
Currency exchange
Cash can usually be exchanged commission free in bureaux de change, banks or hotels. Traveller's cheques can only be exchanged in banks. ATMs are available in most areas. Travelers planning to exchange currency back before leaving Turkey, or making a major purchase which may need to be declared to customs, must retain transaction receipts to prove that the currency was legally exchanged.
Credit cards
American Express, Diners Club, MasterCard and Visa are accepted. Check with your credit or debit card company for details of merchant acceptability and other services which may be available.
Travellers cheques
Traveller's cheques can only be exchanged in banks. To avoid additional exchange rate charges, travelers are advised to take traveller's cheques in Pounds Sterling or US Dollars.
| City/Region | City/Area code | Followed by |
| --- | --- | --- |
| Adana | (0)322 | + 7 digit subscriber nr |
| Adiyaman | (0)416 | + 7 digit subscriber nr |
| Afyon | (0)272 | + 7 digit subscriber nr |
| Agri | (0)472 | + 7 digit subscriber nr |
| Aksaray | (0)382 | + 7 digit subscriber nr |
| Amasya | (0)358 | + 7 digit subscriber nr |
| Ankara | (0)312 | + 7 digit subscriber nr |
| Antalya | (0)242 | + 7 digit subscriber nr |
| Ardahan | (0)478 | + 7 digit subscriber nr |
| Artvin | (0)466 | + 7 digit subscriber nr |
| Aydin | (0)256 | + 7 digit subscriber nr |
| Balikesir | (0)266 | + 7 digit subscriber nr |
| Bartin | (0)378 | + 7 digit subscriber nr |
| Batman | (0)488 | + 7 digit subscriber nr |
| Bayburt | (0)458 | + 7 digit subscriber nr |
| Bilecik | (0)228 | + 7 digit subscriber nr |
| Bing?l | (0)426 | + 7 digit subscriber nr |
| Bitlis | (0)434 | + 7 digit subscriber nr |
| Bolu | (0)374 | + 7 digit subscriber nr |
| Burdur | (0)248 | + 7 digit subscriber nr |
| Bursa | (0)224 | + 7 digit subscriber nr |
| ?anakkale | (0)286 | + 7 digit subscriber nr |
| ?ankiri | (0)376 | + 7 digit subscriber nr |
| ?orum | (0)364 | + 7 digit subscriber nr |
| Denizli | (0)258 | + 7 digit subscriber nr |
| Diyarbakir | (0)412 | + 7 digit subscriber nr |
| D?zce | (0)380 | + 7 digit subscriber nr |
| Edirne | (0)284 | + 7 digit subscriber nr |
| Elazig | (0)424 | + 7 digit subscriber nr |
| Erzincan | (0)446 | + 7 digit subscriber nr |
| Erzurum | (0)442 | + 7 digit subscriber nr |
| Eskisehir | (0)222 | + 7 digit subscriber nr |
| Gaziantep | (0)342 | + 7 digit subscriber nr |
| Giresun | (0)454 | + 7 digit subscriber nr |
| G?m?shane | (0)456 | + 7 digit subscriber nr |
| Hakkari | (0)438 | + 7 digit subscriber nr |
| Hatay | (0)326 | + 7 digit subscriber nr |
| I?el (Mersin) | (0)324 | + 7 digit subscriber nr |
| Igdir | (0)476 | + 7 digit subscriber nr |
| Isparta | (0)246 | + 7 digit subscriber nr |
| Istanbul (Anatolia) | (0)216 | + 7 digit subscriber nr |
| Istanbul (Thrace) | (0)212 | + 7 digit subscriber nr |
| Izmir | (0)232 | + 7 digit subscriber nr |
| Kahramanmaras | (0)344 | + 7 digit subscriber nr |
| Karab?k | (0)370 | + 7 digit subscriber nr |
| Karaman | (0)338 | + 7 digit subscriber nr |
| Kars | (0)474 | + 7 digit subscriber nr |
| Kastamonu | (0)366 | + 7 digit subscriber nr |
| Kayseri | (0)352 | + 7 digit subscriber nr |
| Kilis | (0)348 | + 7 digit subscriber nr |
| Kirikkale | (0)318 | + 7 digit subscriber nr |
| Kirklareli | (0)288 | + 7 digit subscriber nr |
| Kirsehir | (0)386 | + 7 digit subscriber nr |
| Kocaeli (Izmit) | (0)262 | + 7 digit subscriber nr |
| Konya | (0)332 | + 7 digit subscriber nr |
| K?tahya | (0)274 | + 7 digit subscriber nr |
| Malatya | (0)422 | + 7 digit subscriber nr |
| Manisa | (0)236 | + 7 digit subscriber nr |
| Mardin | (0)482 | + 7 digit subscriber nr |
| Mugla | (0)252 | + 7 digit subscriber nr |
| Mus | (0)436 | + 7 digit subscriber nr |
| Nevsehir | (0)384 | + 7 digit subscriber nr |
| Nigde | (0)388 | + 7 digit subscriber nr |
| Ordu | (0)452 | + 7 digit subscriber nr |
| Osmaniye | (0)328 | + 7 digit subscriber nr |
| Rize | (0)464 | + 7 digit subscriber nr |
| Sakarya (Adapazari) | (0)264 | + 7 digit subscriber nr |
| Samsun | (0)362 | + 7 digit subscriber nr |
| Sanliurfa | (0)414 | + 7 digit subscriber nr |
| Siirt | (0)484 | + 7 digit subscriber nr |
| Sinop | (0)368 | + 7 digit subscriber nr |
| Sirnak | (0)486 | + 7 digit subscriber nr |
| Sivas | (0)346 | + 7 digit subscriber nr |
| Tekirdag | (0)282 | + 7 digit subscriber nr |
| Tokat | (0)356 | + 7 digit subscriber nr |
| Trabzon | (0)462 | + 7 digit subscriber nr |
| Tunceli | (0)428 | + 7 digit subscriber nr |
| Usak | (0)276 | + 7 digit subscriber nr |
| Van | (0)432 | + 7 digit subscriber nr |
| Yalova | (0)226 | + 7 digit subscriber nr |
| Yozgat | (0)354 | + 7 digit subscriber nr |
| Zonguldak | (0)372 | + 7 digit subscriber nr |