Quick Facts
Region: Asia & Oceania
Full Name: Kingdom of Thailand
Capital City: Bangkok
Language Spoken: Thai, English (secondary language of the elite), ethnic and regional dialects

Thailand Travel Insurance
Get travel insurance to Thailand from Direct Travel Insurance. We offer low cost and high quality travel insurance to Thailand and most of the world.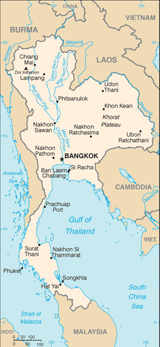 Geographic data
15 00 N, 100 00 E
Elevation Extremes
lowest point: Gulf of Thailand 0 m highest point: Doi Inthanon 2,576 m
Land boundaries
total: 4,863 km border countries: Burma 1,800 km, Cambodia 803 km, Laos 1,754 km, Malaysia 506 km
Natural hazards
land subsidence in Bangkok area resulting from the depletion of the water table; droughts
Natural resources
tin, rubber, natural gas, tungsten, tantalum, timber, lead, fish, gypsum, lignite, fluorite, arable land
Land use
arable land: 27.54% permanent crops: 6.93% other: 65.53% (2005)
Environmental current issues
air pollution from vehicle emissions; water pollution from organic and factory wastes; deforestation; soil erosion; wildlife populations threatened by illegal hunting
Climate
Generally hot, particularly between March and May. The monsoon season runs from June to October, when the climate is still hot and humid with torrential rains. The best time for traveling is November to February (cool season). Required clothing Lightweights and rainwear are advised.
Time difference
time difference: UTC+7
Population
64,631,595 note: estimates for this country explicitly take into account the effects of excess mortality due to AIDS; this can result in lower life expectancy, higher infant mortality and death rates, lower population and growth rates, and changes in the distribution of population by age and sex than would otherwise be expected (July 2006 est.)
Age structure
0-14 years: 22% (male 7,284,068/female 6,958,632) 15-64 years: 70% (male 22,331,312/female 22,880,588) 65 years and over: 8% (male 2,355,190/female 2,821,805) (2006 est.)
Median age
total: 31.9 years male: 31.1 years female: 32.8 years (2006 est.)
Population growth rate
0.68% (2006 est.)
Birth rate
13.87 births/1,000 population (2006 est.)
Death rate
7.04 deaths/1,000 population (2006 est.)
Net migration rate
0 migrant(s)/1,000 population (2006 est.)
Sex ratio
at birth: 1.05 male(s)/female under 15 years: 1.05 male(s)/female 15-64 years: 0.98 male(s)/female 65 years and over: 0.84 male(s)/female total population: 0.98 male(s)/female (2006 est.)
Life expectancy at birth
total population: 72.25 years male: 69.95 years female: 74.68 years (2006 est.)
Total fertility rate
1.64 children born/woman (2006 est.)
Business Practices
Business relationships in Thailand are not as formal as those found in Japan, China, Korea or the Middle East, but neither are they as relaxed and impersonal as is common in the West. Many business relationships have their foundations in personal relationships developed within the social circles of family, friends, classmates and office colleagues. Although Thailand is a relatively open and friendly society, it is advisable to approach potential business contacts with a prior introduction or personal reference. Thais will be more receptive if you arrive with an introduction or letter from a known government official or business contact. Respect for, and consideration of, one's elders, superiors and patrons is deeply rooted in the Thai cultural and social environments. Thais are very reluctant to hurt the feelings of others or to cause them any dissatisfaction. Losing one's composure is losing face and losing respect in Thailand. Therefore, it can be difficult for Westerners to be sure they have received accurate and complete answers to questions, or that they have solicited frank and open opinions. Any entity wishing to do business in Thailand must register with the Department of Commercial Registration in the Ministry of Commerce. Firms engaging in production activities need to register with the Ministries of Industry and Labor. The Alien Occupation Law of 1972 (decree no. 322) lists the occupations reserved exclusively for Thais, which include professional services such as accounting, architecture, law and engineering, the manufacture of traditional Thai handicrafts and manual labor. The law also states that all non-Thais working in Thailand, with limited exceptions, must possess a work permit issued at the discretion of the Ministry of Labor and Social Welfare, although some foreigners already working in Thailand were exempted through a "grandfather" clause. The factors that influence the granting of work permits are the degree of specialization required by the position; the size of the firm in terms of number of employees and registered capitalization; and the ratio of Thai nationals to foreigners employed by the firm. Foreigners, working for the Royal Thai Government or working for projects promoted by the Board of Investment, usually have little difficulty obtaining work permits. Work permits in other areas are sometimes difficult to obtain, despite the fact that senior managers and technical personnel are in short supply. Non-Thai businesses and citizens are not permitted to own land in Thailand unless given permission by the Board of Investment, or unless the land is on government-approved industrial estates. Petroleum concessionaires may own land necessary for their activities. Many foreign businesses instead sign long-term leases, and then construct buildings on the leased land. Non-Thais are allowed to own up to forty percent of a condominium building, though other restrictions apply. As of June 1998, the government had announced plans to issue regulations allowing one hundred percent foreign ownership of condominium and office building projects. Obtaining qualified legal advice is recommended for Americans planning to invest in Thailand. This is particularly important because Thai business regulations are governed predominantly by criminal rather than civil law. Violation of Thai business regulations can carry heavy criminal penalties, and criminal liability can be assessed under numerous different laws. Thailand has laws protecting the rights of copyright, patent and trademark holders, but the law is in need of much improvement. Enforcement is still a cause for much concern, and is a significant bilateral issue. Large quantities of infringing goods continue to be sold at the retail level. Since November 1994, Thailand has been on the Special 301 "watch list." In September 1996, the Thai Parliament passed a long-awaited law establishing an intellectual property and international trade court, which began operations in December 1997. Appeals procedures at the trademark and patent offices have also been streamlined. Office hours are 0900-1700 Monday to Friday for businesses and 0830-1200 and 1300-1630 Monday to Friday for government.
Crime
Although there is a large foreign community residing in or visiting Bangkok and other locations in Thailand, there have been very few documented cases of a security or safety nature involving activity directed against foreigners. Most incidents consist of crimes of opportunity such as purse snatching, pickpocketing, and residential theft. Drug trafficking is rampant in northern Thailand's share of "The Golden Triangle" but poses no direct threat to foreign visitors despite certain western governments' support of drug eradication programs in the region. Local authorities are very protective toward valued tourists and other foreign visitors in the Chiang Mai area and urge tourists who desire to venture outside the city to do so only in organized groups. Felony crimes such as assault, murder, and rape occur although foreigners are not specifically targeted. Petty crimes are common in areas where tourists tend to gather. Many believe tourists are targeted for personal property crimes because they are assumed not to speak enough Thai to file a police report or be willing to remain indefinitely in Thailand waiting for the apprehension of a suspect and lengthy court trial. Many tourists are victimized by persons offering to serve as a guide, free of charge, in order to practice English or another foreign language. Such "guides," for example, may steer victims to gemstone dealers who overcharge for inferior quality stones or lead them to disreputable establishments in the city's "red light" district where "sex shows" entail cover charges, exorbitant drink prices and "pay per view" fees which the unfortunate victim must either pay or risk being assaulted It is unlikely that a police officer will be available to render assistance. While the Bangkok police are considered reasonably good, few regular officers speak anything but Thai. Special tourist police are among the few with foreign language capabilities and they usually are present at such tourist attractions as temples ("wats"). On arriving at the Bangkok airport, travelers should make certain that they do not take any transportation other than approved airport taxis. The airport is crowded with touts who try to sell visitors on personal transportation. Visitors should be cautioned to take their time and remain in line for approved taxis and not try to save time by going with the touts. Streets are discovering a new phenomenon in the form of metered taxis. Visitors should not venture into taxis without meters. Visitors are also cautioned to stay away from touts who try to interest them in certain shopping areas or certain entertainment areas. Prices should be set before purchases are made. Do not accompany local touts to any destination and be extremely careful in bars, massage parlors or houses of ill repute. Tourists who are seeking female or male sexual companionship should be extremely concerned over 'laced' drinks, cautious about their money, and negotiations should definitely be made in advance. The danger in Thailand is much more from con artists than from perpetrators of violence, but nevertheless, there is a large criminal element and visitors should be on the alert. The tourist police are quite helpful. In the city of Pattaya, police are reported to frequently receive complaints of women drugging and robbing tourists who often come to Pattaya for its famed sex industry. Women have been accused of coating their nipples with tranquilizers that knock men out after they lick the drug. Others put drugs into their victims' drinks, and then rob them after they pass out, police said. The Thai government's board of tourism considers drugging such a problem that it has published a poster advising, "When a stranger offers you free food or drink, please say no."
Hotels
All types of accommodations are available-from five star international hotels, to serviced apartments, to moderate, comfortable business hotels, to modest but safe, clean guesthouses. Establishments catering to business clientele usually offer full-service business centers with international communications. The economic downturn, and overbuilding of hotels means that Bangkok is offering some of the best accommodation bargains in the world and Thailand is vying actively for business and leisure travel and convention business. Ample western style residential apartments and houses are available for foreign residents. The construction of high-rise condominium projects in the past few years has increased available quality accommodation in the Bangkok metropolitan area and other major cities.
Communications
Telephone IDD service is available and the country code is 66. The outgoing international code is 001. Communications for the business traveler in Bangkok and major cities is efficient, with worldwide access for voice, fax and data with international direct dialing. Cellular phones are very common and can be rented for short stays. A foreign cellular phone will not work in Thailand, although the appearance of the new global GPS phones is changing that. In rural or remote areas cell coverage is spotty and only first class hotels have reliable land coverage. Current is 240 volts AC, 50Hz and use both American and European-style 2-pin plugs. Business travelers should bring converters and surge protectors, although they are available on the local market.
Electricity
220 volts AC, 50Hz. American- and European-style two-pin plugs are in use.
Plug Types
A,B,C
Food And Dining
There are many Asian and European restaurants. Thai food is hot and spicy, but most tourist restaurants tone down the food for Western palates. Pri-kee-noo, a tiny red or green pepper, is one of the hot ingredients that might best be avoided. These are generally served on a side plate in a vinaigrette with the main course. Popular fruits are papaya, jackfruit, mangosteens, rambutans, pomelos (similar to grapefruits) and, above all, durians, which farangs (foreigners) either love or hate. Owing to the strong smell of durians, the majority of hotels do not allow them onto the premises. Things to know: Bars have counter or table service. There are no licensing laws.
National specialties:
? Tom yam (a coconut-milk soup prepared with makroot leaves, ginger, lemon grass, prawns or chicken).
? Gang pet (hot 'red' curry with coconut milk, herbs, garlic, chillies, shrimp paste, coriander and seasoning) served with rice.
? Kaeng khiaw ('green' curry with baby aubergines, beef or chicken) served with rice and gai yang (barbecued chicken).
? Kao pat (fried rice with pieces of crab meat, chicken, pork, onion, egg and saffron) served with onions, cucumber, soy sauce and chillies.
? Desserts include salim (sweet noodles in coconut milk).
? Songkaya (pudding of coconut milk, eggs and sugar often served in a coconut shell).
? Well worth trying is sticky rice and mangoes (rice cooked in coconut milk served with slices of mango). This is a favorite breakfast dish in the mango harvest season (March to May). National drinks:
? Local whisky, either Mekhong or SamSong.
? Coconut milk straight from the shell during the harvest season.

Tipping:
Most hotels and restaurants will add 10 per cent service charge and seven per cent Government tax to the bill.
Nightlife
Bangkok offers a wide range of entertainment venues, from nightclubs, pubs, bars, cinemas and restaurants (many of which are open air), to massage parlours, pool halls and cocktail lounges. Performances of traditional religious and court dances can be seen at the Thai Cultural Center. Elsewhere on the mainland, nightlife takes the form of traditional dances. The islands are renowned for their nightlife, and attendance is almost exclusively foreigners. The full moon parties are notorious and continue well into the following morning.
Entry departure requirements
Restricted entry Nationals of Afghanistan and Iraq will be refused (except for business purposes).
Visa immigration information
Passports
Passport valid for six months beyond intended length of stay required by all except the following:
(a) holders of a Hong Kong (SAR) certificate of identity issued to residents of Hong Kong (transit only);
(b) holders of a Singapore certificate of identity with a visa;
(c) holders of South African temporary passports;
(d) holders of a UN laissez-passer and Macau (SAR) China Travel Permits.
Visas
Required by all except the following nationals for tourist stays, provided they hold valid passports, sufficient funds and confirmed tickets to leave Thailand within 15 (was 30) days:
(a) nationals of the countries referred to in the chart above, except 1. nationals of Cyprus, Czech Republic, Estonia, Hungary, Latvia, Lithuania, Malta, Poland, Slovak Republic and Slovenia, who do need a visa;
(b) nationals of Bahrain, Brazil, Brunei, Hong Kong (SAR), Indonesia, Israel, Korea (Rep), Kuwait, Laos, Malaysia, New Zealand, Norway, Oman, Peru, The Philippines, Qatar, Singapore, South Africa, Switzerland, Turkey, United Arab Emirates and Vietnam;
(c) transit passengers continuing their journey, provided holding confirmed tickets and other documents for an onward journey and they do not leave the transit lounge.
Note
(a) 2. The following nationals can obtain an entry visa on arrival at 23 designated immigration checkpoints throughout Thailand (consult nearest Embassy/Consulate for further information), provided holding a confirmed ticket to leave within 15 days, proof of sufficient funds, application form with recent photo, a valid passport and that their visit is for tourist purposes only: Bhutan, China (PR), Cyprus, Czech Republic, Hungary, India, Kazakhstan, Maldives, Mauritius, Oman, Poland, Russian Federation, Saudi Arabia and Ukraine. The fee for this service is approximately 300 Baht; note that this is subject to frequent change. Travelers should also note that there are normally long queues at the immigration checkpoints. (b) Visitors who enter the Kingdom with Visa on Arrival generally cannot file an application for extension of stay except in special cases such as illness which prevents them from traveling, etc. They should submit their application to the Office of Immigration Bureau, Immigration Division 1, Soi Suan Plu, South Sathorn Road, Bangkok 10120. Tel. (662) 287-3127 or 3101-10 ext. 2264-5
Types of visa and cost
Tourist: US$43 (single-entry); Non-immigrant (for activities such as business or study): US$69 (single-entry), US$155 (multiple-entry); Transit: US$26 (single-entry: also issued to those participating in sports activities in Thailand or crew members of a conveyance entering Thailand).
Validity
Tourist: 60 days. Non-immigrant: 90 days. Transit: Three days, 15 days (crew members) or 30 days (those participating in sports activities). All visas must be used within three months of date of issue, except multiple-entry non-immigration visas which are valid for up to six months. Extensions are available from the Immigration Bureau in Bangkok.
Application to
Consulate (or Consular section at Embassy); see Passport/Visa Information.
Application requirements
(a) Passport with validity not less than six months. (b) One completed application form. (c) Two recent passport-size photos (4 x 5cm). (d) Fee (cash only). (e) Proof of sufficient funds to cover stay (Bt20,000 per person, Bt40,000 per family). (f) Confirmed onward or return ticket paid in full. Non-immigrant: (a)-(f) and, (g) Copy of passport. (h) For a business visit, a letter from the employer in country of origin and from the business partner in Thailand explaining the purpose of the visit is required. Other documents may also be required, depending on purpose of visit. Transit: (a)-(g), (h) Visa for next destination in passport or travel document and, (i) Letter of invitation stating the application's participation in sports activities in the Kingdom.
Note
(a) The Royal Thai Embassy in London does not accept visa applications by post. (b) Nationals of Algeria, Bangladesh, Egypt, India, Iran, Lebanon, Libya, Nepal, Pakistan, Palestinian Authority passport holders, Sri Lanka, Sudan, Syrian Arab Republic and Yemen must fill in three application forms with three photographs when applying for a Thai visa and must provide additional information. Contact Consulate for details. (c) Nationals of China, Korea (Democratic People's Republic of) and Saudi Arabia must fill in three application forms with three photographs when applying for a Thai visa at the Royal Thai Embassy in London or Royal Thai Consulates across the UK and Ireland (d) Yellow fever vaccination certificates are required for applicants who have visited or come from an affected area. Other vaccinations, such as for Smallpox, may also be requested by the Immigration Doctor and compliance is essential.
Working days required
Two days if submitted in person, approximately one week plus mailing time if applying by post.
Temporary Residence
This must be applied for at the Office of Immigration (tel: (662) 287 3101-10) or at a Consular office in the home country (only for certain nationals: see Note.
HIV entry requirements
No Test Required
Departure tax
THB500 for all international departures. Transit passengers and children under two years of age are exempt.
Embassies
Royal Thai Embassy in the UK
29-30 Queens Gate, London SW7 5JB, UK
Tel: (020) 7589 2944 (ext. 115/119).
Website: www.thaiembassyuk.org.uk
Opening hours: Mon-Fri 0930-1230 (Consular section); Mon-Fri 1400-1700 (telephone enquiries).
Royal Thai Embassy in the USA
1024 Wisconsin Avenue, Suite 401, NW, Washington, DC 20007, USA
Tel: (202) 944 3600 or 3608 (Consular section).
Website: www.thaiembdc.org
Royal Thai Consulate General in the USA
351 East 52nd Street, New York, NY 10022, USA
Tel: (212) 754 1770 or 2536-8 or 1896.
Website: www.thaiembdc.org
There is a high threat from terrorism throughout Thailand, particularly in the far southern provinces of Pattani, Yala, Narathiwat and Songkhla. Travelers are advised against all but essential travel to, or through, these four Provinces where, since January 2004, there have been regular attacks including bombings and shootings. On 19 July 2005, the Thai Government announced a serious state of emergency in the provinces of Pattani, Yala and Narathiwat; this declaration was extended for a second time on the 17 January to 20 April 2006.
Services and facilities in most areas of Thailand affected by the tsunami, including Phuket, are now operating normally.
Watch out for crimes of opportunity. Theft of passports and credit cards is a problem. Passport fraud is high and penalties are severe.
Penalties for possession, distribution or manufacture of drugs are severe and can include the death penalty.
The Thai Ministry of Public Health issued a nationwide dengue fever epidemic alert on 9 May 2005.
There were outbreaks of Avian Influenza (bird flu) amongst poultry in Thailand in 2004, when there were a number of human fatalities. There have been a smaller number of outbreaks of bird flu in Thailand during 2005, but without any human fatalities so far. Travelers to Thailand are unlikely to be affected by Avian Influenza, but should avoid visiting live animal markets, poultry farms and other places where they may come into close contact with wild or caged birds; and ensure poultry dishes are thoroughly cooked.
This advice is based on information provided by the Foreign, Commonwealth & Development Office in the UK. It is correct at time of publishing. As the situation can change rapidly, visitors are advised to contact the following organizations for the latest travel advice:
British Foreign, Commonwealth & Development Office
Tel: (0845) 850 2829.
Website: https://www.gov.uk/foreign-travel-advice/thailand
US Department of State
Website: https://travel.state.gov/content/travel/en/international-travel/International-Travel-Country-Information-Pages/Thailand.html
Currency
Baht (THB) = 100 satang. Notes are in denominations of THB1000, 500, 100, 50, 20 and 10. Coins are in denominations of THB10, 5 and 1, and 50 and 25 satang. In addition, there are a vast number of commemorative coins which are also legal tender.
Currency restrictions
Foreign visitors may bring in an unlimited amount of Thai currency. For travelers leaving Thailand, both Thais and foreigners, the maximum amount permitted to take out without prior authorization is THB50,000 per person or, if visiting a neighboring country, THB500,000 per person. The import and export of foreign currency is unlimited.
Banking hours
Mon-Fri 0830-1530.
Currency exchange
Foreign currencies can be exchanged at banks (which have the best rates), hotels (which charge high commissions) and, in larger towns, bureaux de change (generally open 0800-2000). Outside large towns and tourist areas, notes higher than Bt500 may be difficult to exchange, so visitors are advised to carry small change.
Credit cards
American Express, MasterCard and Visa are widely accepted. Check with your credit or debit card company for details of merchant acceptability and other facilities which may be available.
Travellers cheques
Accepted by all banks and large hotels and shops. To avoid additional exchange rate charges, travelers are advised to take traveller's cheques in US Dollars, Euros or Pounds Sterling.
| City/Region | City/Area code | Followed by |
| --- | --- | --- |
| Bangkok | (0)29 | + 6 digits |
| Chanthaburi | (0)39 | + 6 digits |
| Chiang Mai | (0)53 | + 6 digits |
| Chon Buri | (0)38 | + 6 digits |
| Khon Kaen | (0)43 | + 6 digits |
| Lampang | (0)54 | + 6 digits |
| Nahkon Sawan | (0)56 | + 6 digits |
| Nakhon Pathom | (0)34 | + 6 digits |
| Nakhon Ratchasima | (0)44 | + 6 digits |
| Phitsanulok | (0)55 | + 6 digits |
| Phuket | (0)76 | + 6 digits |
| Pra Nakhon Sri Ayutthaya | (0)35 | + 6 digits |
| Prachin Buri | (0)37 | + 6 digits |
| Ratchaburi | (0)32 | + 6 digits |
| Saraburi | (0)36 | + 6 digits |
| Songkhla | (0)74 | + 6 digits |
| Surat Thani | (0)77 | + 6 digits |
| Trang | (0)75 | + 6 digits |
| Ubon Ratchathani | (0)45 | + 6 digits |
| Udon Thani | (0)42 | + 6 digits |
| Yala | (0)73 | + 6 digits |