Quick Facts
Region: Asia & Oceania
Full Name: Taiwan
Capital City: Taipei
Language Spoken: Mandarin Chinese (official),Taiwanese (Min),Hakka dialects

Taiwan Travel Insurance
Get travel insurance to Taiwan from Direct Travel Insurance. We offer low cost and high quality travel insurance to Taiwan and most of the world.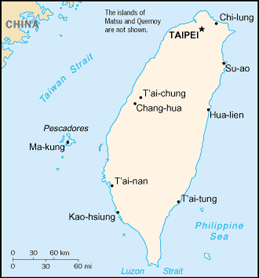 Geographic data
23 30 N, 121 00 E
Elevation Extremes
lowest point: South China Sea 0 m highest point: Yu Shan 3,952 m
Land boundaries
0 km
Natural hazards
earthquakes and typhoons
Natural resources
small deposits of coal, natural gas, limestone, marble, and asbestos
Land use
arable land: 24% permanent crops: 1% other: 75% (2001)
Environmental current issues
air pollution; water pollution from industrial emissions, raw sewage; contamination of drinking water supplies; trade in endangered species; low-level radioactive waste disposal
Climate
A subtropical climate with moderate temperatures in the north, where there is a winter season. The southern areas, where temperatures are slightly higher, enjoy sunshine every day, and there is no winter season. The typhoon season is from June to October. Required clothing Light- to mediumweights, with rainwear advised.
Time difference
time difference: UTC+8
Population
23,036,087 (July 2006 est.)
Age structure
0-14 years: 19.4% (male 2,330,951/female 2,140,965) 15-64 years: 70.8% (male 8,269,421/female 8,040,169) 65 years and over: 9.8% (male 1,123,429/female 1,131,152) (2006 est.)
Median age
total: 34.6 years male: 34.1 years female: 35 years (2006 est.)
Population growth rate
0.61% (2006 est.)
Birth rate
12.56 births/1,000 population (2006 est.)
Death rate
6.48 deaths/1,000 population (2006 est.)
Net migration rate
0 migrant(s)/1,000 population (2006 est.)
Sex ratio
at birth: 1.1 male(s)/female under 15 years: 1.09 male(s)/female 15-64 years: 1.03 male(s)/female 65 years and over: 0.99 male(s)/female total population: 1.04 male(s)/female (2006 est.)
Life expectancy at birth
total population: 77.43 years male: 74.67 years female: 80.47 years (2006 est.)
Total fertility rate
1.57 children born/woman (2006 est.)
Business Practices
Suit and tie are normally worn for business meetings and the environment is somewhat formal. Formal business introductions in Taiwan are not complete without an exchange of business cards. It is advisable for foreign visitors to have their cards printed in both English and Chinese. There are numerous printers in Taiwan that specializes in printing these indispensable business aids. They offer accurate, low-cost service, with card orders normally being filled within only a few days. Since cards are required on nearly every business occasion, it is a good idea to carry sizable numbers of them at all times. English is by far the most popular foreign language, and large numbers of people speak it with fluency. In particular, those working in hotels, business, or public organizations are likely to have a good command of the language. Moreover, many people, especially those educated before the Second World War, can also speak Japanese. Office hours are typically 0900-1700 Monday through Friday and 0900-1200 Saturday.
Crime
The overall crime rate in Taiwan remains relatively low. Nonetheless, there has been intense public concern in Taipei resulting from several violent crime cases in recent years. Residential burglaries and thefts are the predominant crimes affecting foreigners in Taiwan, but other more serious crimes do occasionally occur. Generally visitors to Taiwan should follow the basic security precautions that would apply in any large city. Women should exercise caution when traveling alone in taxis, especially at night, as there have been incidents reported involving violence directed towards unaccompanied female taxi passengers; calling for a radio-dispatched taxi is an option. Local police departments have foreign affairs sections which are normally staffed by English-speaking officers.
Hotels
Taiwan has a large number of international- and domestic-standard hotels, hostels, and inns. For those who plan to stay in Taiwan on a long-term basis, a wide selection of apartments and houses is available. Rental costs vary considerably, depending on location and size. Typically, rents in Taipei and environs are far higher than those in other parts of the island. Landlords frequently require deposits of up to two-months' rent, and tenants are usually responsible for utilities.
Communications
Full telephone IDD is available. Country code is 886 and outgoing international code is 002. In general, Taiwan's telecommunications systems are efficient and convenient. Cities in Taiwan are plentifully supplied with blue public phones that can be used for both local calls and domestic long-distance calls. Phone-card telephones have recently proliferated. Cards can be purchased from the convenience stores. Facsimile is widely used everywhere in Taiwan. Direct transmission is available to many countries in the world as well. Most major companies, hotels and business service centers have facsimile and telex services. Telex and facsimile facilities are also available at the Chungwa Telecom-International Business Group (CHT-I), while an electronic mail service that enable users to send their own facsimile messages can be found in every post office on the island. In addition, CHT-I also has extensive video-conference facilities in its Taipei Communications Building. A commercial network called Hint has been set up by Chunghwa Telecom to provide Taiwan users high-speed access to the Internet. Meanwhile, many networking companies provide various Internet services to satisfy the demand from domestic businesspeople and firms. In addition, the Integrated Services Digital Network (ISDN), which provides end-to-end and non-voice services, is now available from Chunghwa Telecom in Taipei, Taichung, Tainan and Kaohsiung.
Electricity
is 110 volts AC, 60Hz. Electricity 110 volts AC, 60Hz.
Plug Types
A,B
Food And Dining
The Chinese, never at a loss for vivid description, describe their cuisine as an 'ancient art of ultimate harmony: pleasing to the eye; mouth-watering; and a delight to the palate'. Culinary styles come from all over China including Canton, Hunan, Mongolia, Peking, Shanghai, Szechuan and Taiwan. Most hotels have restaurants offering both Western and Chinese cuisine and some of the larger hotels offer several styles of Chinese cooking (the Chinese word for hotel, fan-dien, means 'eating place'). Things to know: Restaurants almost always have table service although some hotels have buffet/barbecue lunches. Most bars have counter service. There are no set licensing hours and alcohol is widely available.
National specialties: ?Cantonese food: Fried shrimp with cashews and deep-fried spring rolls and tarts.
? Pekinese food: Peking duck, steamed prawns, eels with pepper sauce and ham marrow sauce.
? Szechuan food: Mother Ma's bean curd, aubergine with garlic sauce, fried prawns with pepper sauce, minced chicken with Gingko nuts and fried breads.
? Shanghai food: Shark's fin in chicken, mushroom with crab meat, ningpo (fried eel), shark's fin soup and West Lake fish.
? Hunan food: Steamed ham and honey sauce, diced chicken with peanuts and smoked duck.
? Mongolian food: Huoguo ('firepot' - meat dipped in a sauce based on sesame paste, shrimp oil, ginger juice and bean paste) and barbecue (various slices of meat and vegetables cooked on an iron grill and eaten in a sesame bun).
? Taiwanese food: Spring rolls with peanut butter, sweet-and-sour spare ribs, bean curd in red sauce, oyster omelette and numerous excellent seafoods.
Tipping:
Tipping is not an established custom, although it is on the increase. Taipei hotels and restaurants add 10 per cent service charge and extra tipping is not expected. It is not customary to tip taxi drivers. The standard tip for porters is NT$50 per piece of luggage.
Nightlife
Taiwan has an abundance of nightlife, and Taipei in particular is lively at night. Western-style entertainment can be found in hotels, and in the many discos, clubs, restaurants and cinemas in Taipei. Popular amongst local people are KTVs, a type of sing-along club modeled on Japanese karaoke bars; and beer houses, which sell draught beer and snacks. The northern district of Tienmu contains a street of open-air beer houses. The visitor can also sample both traditional and modern tea houses, open all day and in the evening. In the tea-growing countryside around Mucha, it is possible to visit all-night tea houses and sip locally produced teas such as 'iron Buddha' tiehkuanyin tea. High-quality meals and snacks are also provided. These tea houses are popular with local families, particularly on special occasions. Back in Taipei, there are night markets selling a variety of items, both modern and traditional. These are bustling with browsers and bargain hunters, whose persistence can be spectacularly rewarded. It is advisable to take a pen and paper to assist in the bargaining process, as most vendors speak only Chinese. Taipei's largest night market is probably Shihlin Night Market, famous for its good-value clothing and food. Snacks such as oyster omelets, pork liver soup and papaya milkshakes are available. Many shops are open at night.
Entry departure requirements
Restricted entry and transit Nationals of China (PR) are not currently permitted to enter Taiwan unless on business.
Visa immigration information
Passports
Passport valid for at least six months required by all.
Visas
Required by all except the following, provided they have no criminal record, have a confirmed return air ticket or air ticket and visa for next destination, and seat reservation for departure:
nationals of countries referred to in the chart above (except 1. nationals of Cyprus, Czech Republic, Estonia, Hungary, Latvia, Lithuania, Poland, Slovak Republic and Slovenia who do require a visa), and nationals of Brunei, Costa Rica, Iceland, Korea (Rep), Liechtenstein, Malaysia, Monaco, New Zealand, Norway, Singapore and Switzerland for stays of up to 30 days (this period cannot be extended).
Note
(a) Nationals of Czech Republic, Hungary and Poland are eligible to apply for a Landing visa on arrival at CKS International Airport or Kaohsiung International Airport, on condition that they are holding tickets for an onward destination, and have no criminal record. The Landing visa is valid for 30 days and cannot be extended. They must provide a passport-size photo of themselves with a completed application form and pay a fee of NT$1200, plus a handling fee of NT$800. Nationals from countries who have a reciprocal agreement with Taiwan receive this visa free of charge.
(b) Passengers arriving at Kaohsiung International Airport (including passengers arriving from China (PR), may apply for a temporary entry permit at the Kaohsiung Station Aviation Police Bureau. They must convert the permit into a visa at the Bureau of Consular Affairs or its Kaohsiung Office within three days. If they fail to do so, they will be subject to a fine.
(c) Nationals holding Hong Kong (SAR), British National (overseas) or Macau (SAR) passports, if born in Hong Kong or Macau or if having previously visited Taiwan, may obtain a visa on arrival, valid for up to 14 days.
(d) Passengers arriving at CKS International Airport may apply for a landing visa at the Visa Office at CKS International Airport, Bureau of Consular Affairs or the Ministry of Foreign Affairs.
Types of visa and cost
Single-entry visitor: US$43 Multiple-entry visitor: US$86 Landing: NT$1200, plus NT$800 handling fee. Multiple-entry visas are issued for business purposes only and require a document from your employer regarding the purpose of visit.
Validity
Single-entry visitor: up to three months; up to two extensions of 60 days each may be granted by local police stations for certain applicants, if they have stayed in Taiwan for an initial period of at least 60 days and documents have been submitted that provide evidence for the necessity of an extension. These visas are valid for three months from date of issue. Multiple-entry visitor (business purposes only): six months from date of issue. Landing: 30 days. A visa is not required by travelers continuing their journey by the same or connecting aircraft on the same day, provided holding confirmed onward tickets and the necessary travel documentation and provided not departing from the transit lounge.
Note
Travelers intending to stay more than three months in Taiwan will be required to take an AIDS test. If the test is positive, they will be required to leave the country.
Application to
Visa section of Taipei Representative Office (see Passport/Visa Information).
Application requirements
(a) Application form. (b) Two passport-size photos. (c) Passport (valid for at least six months). (d) Documents verifying purpose of visit, or most recent bank statement, or letter from a sponsor in Taiwan (if appropriate). (e) Fee payable in cash, company cheque, by postal order or banker's draft (cheques should be made payable to 'Taipei Representative Office in the UK' and include applicant's name, address and telephone number, as well as a cheque guarantee card number, all written on the back. Personal cheques are not accepted). (f) For a postal application, a registered, stamped-addressed envelope. (g) Confirmed return air ticket and visa for next destination and confirmed seat reservation. (h) Cholera and yellow fever vaccinations are required if arriving from an infected area.
Working days required
One. However, some visa applications may be subject to delay. Applicants who have paid rush handling fees may collect their visas at 1630 on the same day.
Temporary residence
Those wishing to stay more than six months must apply for a Resident visa. Contact the Taipei Representative Office for further information (see Passport/Visa Information).
HIV entry requirements
Test required for anyone staying over 90 days. Foreigners applying for work or residency permits must be tested in a Taiwan Public Hospital within 3 months of the application
Departure tax
None
Embassies
Taipei Representative Office in the UK
50 Grosvenor Gardens, London SW1 0EB, UK
Tel: (020) 7881 2650 or 2654 (visa section).
Website: http://www.roc-taiwan.org/uk_en/index.html
Opening hours: Mon-Fri 0930-1230 (visa section).
Taipei Economic and Cultural Representative Office (TECRO) in the USA
4201 Wisconsin Avenue, NW, Washington, DC 20016, USA
Tel: (202) 895 1800.
Website: http://www.taiwanembassy.org/us_en/index.html
Most visits to Taiwan are trouble-free but you should be aware of the global risk of indiscriminate international terrorist attacks, which could be against civilian targets, including places frequented by foreigners.
Travelers should take sensible precautions against small-scale and petty crimes which are sometimes carried out against foreigners.
Earthquakes (mostly minor) occur regularly and typhoons and tropical storms are a risk: visitors are advised to learn about emergency procedures for such events on arrival.
This advice is based on information provided by the Foreign, Commonwealth & Development Office in the UK. It is correct at time of publishing. As the situation can change rapidly, visitors are advised to contact the following organisaions for the latest travel advice:
British Foreign, Commonwealth & Development Office
Website: https://www.gov.uk/foreign-travel-advice/taiwan
US Department of State
Website: https://travel.state.gov/content/travel/en/international-travel/International-Travel-Country-Information-Pages/Taiwan.html
Currency
New Taiwan Dollar (TWD) = 100 cents. Notes are in denominations of TWD2000, 1000, 500, 200 and 100. Coins are in denominations of TWD50, 20, 10, 5 and 1.
Currency restrictions
The import and export of local currency is limited to NT$40,000 and a permit from the Ministry of Finance is required for amounts over NT$8000. The import and export of foreign currency is unlimited, although amounts over US$10,000 must be declared on arrival. All exchange receipts must be retained.
Banking hours
Mon-Fri 0900-1530.
Currency exchange
All travelers are required to make a currency declaration in writing together with the baggage declaration. Unused currency can be reconverted on departure, on production of exchange receipts.
Credit cards
American Express, Mastercard, Visa and Diners Club are accepted in most hotels, restaurants and shops.
Travellers cheques
Cashed in most hotels, restaurants and shops. To avoid additional exchange rate charges, travelers are advised to take traveller's cheques in US Dollars.
| City/Region | City/Area code | Followed by |
| --- | --- | --- |
| Chalou | 46 | + 6 digit subscriber nr |
| Changhua | 47 | + 6 digit subscriber nr |
| Chaochou | 8 | + 7 digit subscriber nr |
| Chiai | 5 | + 7 digit subscriber nr |
| Chiali | 67 | + 6 digit subscriber nr |
| Chiaochi | 39 | + 6 digit subscriber nr |
| Chishan | 7 | + 7 digit subscriber nr |
| Chunan (Tchou-Nan) | 36 | + 6 digit subscriber nr |
| Chunghsing | 49 | + 6 digit subscriber nr |
| Chungli | 34 | + 6 digit subscriber nr |
| Chupei | 35 | + 6 digit subscriber nr |
| Fengyuan | 45 | + 6 digit subscriber nr |
| Hsinying | 66 | + 6 digit subscriber nr |
| Hualien | 38 | + 6 digit subscriber nr |
| Huwei | 56 | + 6 digit subscriber nr |
| Kinmen | 823 | + 5 digit subscriber nr |
| Lishan | 458 | + 5 digit subscriber nr |
| Makung | 6 | + 7 digit subscriber nr |
| Miaoli | 37 | + 6 digit subscriber nr |
| Penghu | 69 | + 6 digit subscriber nr |
| Shetou | 48 | + 6 digit subscriber nr |
| Tachi | 3 | + 7 digit subscriber nr |
| Taichung | 4 | + 7 digit subscriber nr |
| Tainan | 62 | + 6 digit subscriber nr |
| Taipei | 2 | + 8 digit subscriber nr |
| Taitung | 89 | + 6 digit subscriber nr |
| Taoyuan | 33 | + 6 digit subscriber nr |
| Touliu | 55 | + 6 digit subscriber nr |
| Tungkang | 88 | + 6 digit subscriber nr |
| Tung-Sha Island | 827 | + 5 digit subscriber nr |
| Wu-chiu | 826 | + 5 digit subscriber nr |