Quick Facts
Region: Asia & Oceania
Full Name: Republic of Tajikistan
Capital City: Dushanbe
Language Spoken: Tajik (official), Russian widely used in government and business

Tajikistan Travel Insurance
Get travel insurance to Tajikistan from Direct Travel Insurance. We offer low cost and high quality travel insurance to Tajikistan and most of the world.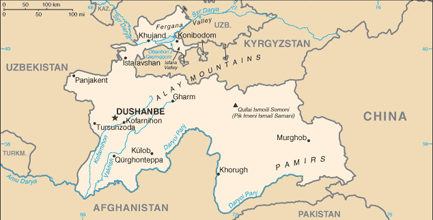 Geographic data
39 00 N, 71 00 E
Elevation Extremes
lowest point: Syr Darya (Sirdaryo) 300 m highest point: Qullai Ismoili Somoni 7,495 m
Land boundaries
total: 3,651 km border countries: Afghanistan 1,206 km, China 414 km, Kyrgyzstan 870 km, Uzbekistan 1,161 km
Natural hazards
earthquakes and floods
Natural resources
hydropower, some petroleum, uranium, mercury, brown coal, lead, zinc, antimony, tungsten, silver, gold
Land use
arable land: 6.52% permanent crops: 0.89% other: 92.59% (2005)
Environmental current issues
inadequate sanitation facilities; increasing levels of soil salinity; industrial pollution; excessive pesticides
Climate
In Dushanbe, temperatures vary between a minimum -13°C (8°F) in December/January to a maximum 33°C (91°F) in July/August. Humidity is generally low. In the mountains, it can reach -45°C (-49°F) when the wind chill factor is taken into consideration, and rise to 20°C (68°F) in summer. In the Pamir Mountains, the climate is semi-arid to polar. Required clothing Warm clothing should be taken by anyone intending to visit the mountains. Those intending to visit the southwest in summer should bring light, loose clothing.
Time difference
time difference: UTC+5
Population
7,320,815 (July 2006 est.)
Age structure
0-14 years: 37.9% (male 1,396,349/female 1,375,168) 15-64 years: 57.4% (male 2,091,476/female 2,108,889) 65 years and over: 4.8% (male 154,162/female 194,771) (2006 est.)
Median age
total: 20 years male: 19.7 years female: 20.4 years (2006 est.)
Population growth rate
2.19% (2006 est.)
Birth rate
32.65 births/1,000 population (2006 est.)
Death rate
8.25 deaths/1,000 population (2006 est.)
Net migration rate
-2.48 migrant(s)/1,000 population (2006 est.)
Sex ratio
at birth: 1.05 male(s)/female under 15 years: 1.02 male(s)/female 15-64 years: 0.99 male(s)/female 65 years and over: 0.79 male(s)/female total population: 0.99 male(s)/female (2006 est.)
Life expectancy at birth
total population: 64.94 years male: 62.03 years female: 68 years (2006 est.)
Total fertility rate
4 children born/woman (2006 est.)
Business Practices
Suit and tie should be worn for business meetings with senior officials. Business cards are normally exchanged. Some business people speak English, however Russian speakers are more common. Office hours are 0900-1800 Monday to Friday.
Crime
There have been occasional muggings and petty crime against foreigners but Dushanbe is a relatively safe city for travelers. Throughout the country there is little evidence of criminality directed against foreigners. In rural areas, however, single women should avoid going out alone at night, and may suffer harassment even during the day. Of those crimes committed against foreigners, most are crimes of opportunity, but travelers should be cautious, since they are perceived as affluent. Do not travel alone on foot or by car at night. It is also unsafe to be visibly intoxicated or display wealth (cash, expensive watches, jewelry, etc.). Some offices of international organizations have been targets of thefts and some of their employees have been injured. Often the local police will fire warning shots over the heads of people who fail to stop at highway checkpoints in Dushanbe. Travel after dark should be confined to major traffic corridors, in the company of friends, and within a vehicle. Always park near your destination and do not enter unlit doorways or stairways alone.
Hotels
Tajikistan is not well supplied with hotels outside the capital. Although there are no restrictions on where visitors may stay, hotels other than the main Intourist hotels, the Hotel Tajikistan and the Hotel Independence are not used to accommodating foreigners and all but the most insistent visitors may find it difficult to obtain a room in them. The main hotels are clean and friendly, although it is difficult to get a room in the Oktyabrskaya, which houses both the US and Russian embassies. At the time of writing, guests in the Hotel Tajikistan have to order dinner at least five hours in advance as the restaurant does not formally operate in the evening. Meals can be obtained in the Hotel Oktyabrskaya, but the restaurant stops serving at 1900. Outside the capital, accommodation can be hard to find. The Hotel Leninabad in Khojand is clean and relatively used to foreigners. Chikalovsk, a short drive south of Khojand, boasts the modern Hotel Khojand, but Chikalovsk is a closed town and anyone wishing to stay in the hotel must get permission from the local military authorities. It is possible to stay in the government dachas in Khorog, but do not expect Western standards of comfort, amenities or cleanliness.
Communications
Telephone IDD is available but services are unreliable. The country code is 07 (followed by 3772 for Dushanbe). International telephone calls can be made from telephone offices which will usually be found attached to a post office (in Dushanbe in Maidoni Dusti, formerly Ploshchad Lenina). International calls can also be ordered from some hotels such as the Hotel Tajikistan and the Hotel Independence. International calls have to go through the operator. Direct-dial calls within the CIS are obtained by dialing 8 and waiting for another dial tone and then dialing the city code. Calls within the city limits are free of charge. Fax services are available from major hotels for residents only. Post office hours: 0800-1800 Monday to Friday.
Electricity
is 220 volts AC, 50Hz. Round 2-pin continental plugs are standard. Electricity 220 volts AC, 50Hz. Round, two-pin continental plugs are standard.
Plug Types
C,F
Food And Dining
Traditional Tajik meals start with sweet dishes such as halwa and tea and then progress to soups and meat before finishing with plov.
National specialties:
? Plov is made up of scraps of mutton, shredded yellow turnip and rice, fried in a large wok, and is a staple dish in all the Central Asian republics.
? Shashlyk (skewered chunks of mutton grilled over charcoal, served with raw sliced onions) and lipioshka (round unleavened bread) are often sold on street corners and served in restaurants: the Vastoychny bar restaurant in Dushanbe (on Prospekt Rudaki near the Hotel Tajikistan) serves particularly good shashlyk.
? Manty (large noodle sacks of meat), samsa (samosas) and chiburekki (deep-fried dough cakes) are all popular as snacks.
? Shorpur is a meat and vegetable soup; laghman is similar to shorpur, but comes with noodles.
? In the summer, Tajikistan is awash with fruit: its grapes and melons were famous throughout the former Soviet Union. The bazaars also sell pomegranates, apricots, plums, figs and persimmons.
? Strogan is the local equivalent of beef Stroganoff.
? Pirmeni, originating in Ukraine, are small boiled noodle sacks of meat and vegetables similar to ravioli, sometimes in a vegetable soup, sometimes not. National drinks:
? Tea or chai is the most widespread drink on offer and can be obtained almost anywhere.
? Beer, wine, vodka, brandy and sparkling wine (shampanski) are intermittently available in many restaurants. If the restaurant is unable to supply it, it is acceptable to bring your own.
? Kefir, a thick drinking yogurt, is often served with breakfast.

Nightlife
There are no restaurants operating in the evenings except for the one in the Hotel Oktyabrskaya which shuts at 2200. There is a dollar bar in the basement of the Hotel Tajikistan which is open some evenings. The Ayni opera and ballet theater on Prospekt Rudaki is still operating, albeit with a reduced program of matinees. The streets of Dushanbe are usually deserted by 2000.
Entry departure requirements
Note Passport and visa regulations for all the CIS states are liable to change at short notice. All travelers are advised to contact the nearest Tajikistan Embassy or Consulate for up-to-date details. Countries where Tajikistan has diplomatic representation currently include Austria, China (PR), Germany, Iran and Turkey.
Visa immigration information
Passports
Passport valid for at least six months after date of departure required by all.
Visas
Required by all except nationals of CIS member states (Belarus, Kazakhstan, Kyrgyzstan and the Russian Federation).
Types of visa and cost
Standard: US$41 for seven days; US$53 for 15 days; US$59 for 30 days; US$82 for 90 days. Express visas (processed on same day) cost double the given fee.
Validity
Dependent on purpose of trip.
Note
An invitation, either official or private, is necessary for visits to Tajikistan. The length of stay should be specified on the invitation, which must be endorsed by the Ministry of Foreign Affairs in Tajikistan. A visa can then be issued by the nearest Tajikistan Embassy. Special visas must also be obtained by those wishing to visit the Gorno-Babakhshan region (the Pamir Mountains). Tourists can apply for a letter of invitation from the State National Travel Agency, 14 Pushkin Street, Dushanbe 734 095 (tel/fax: (372) 231 401).
Application requirements
a) Two completed application forms. (b) Two recent passport-size photos. (c) Valid passport. (d) A letter, telex, fax or other confirmation of acceptance of invitation (see above) from the Ministry of Foreign Affairs. (e) Fee. (f) Postal applications must be accompanied by a large, stamped, self-addressed envelope.
Note
(a) All visitors are required to register with the authorities within 72 hours of arrival. Hotels will usually arrange this; however, independent travelers will need to go to the Ministry of Foreign Affairs or the local OVIR office themselves. (b) An HIV test is required by all foreigners planning to stay longer than 90 days. Foreign tests may be acceptable.
Working days required
10 (for Standard visas). Express visas are issued on the same day.
HIV entry requirements
No Test Required
Departure tax
Embassies
Embassy of the Tajikistan Republic in Germany
Perleberger Str. 43, D-10559 Berlin
(previously Otto-Suhr-Allee 84, 10585 Berlin, Germany )
Tel: (30) 347 9300.
Website: www.embassy-tajikistan.de
Embassy of the Tajikistan Republic in the USA
1005 New Hampshire Avenue, NW, Washington, DC 20037, USA
Tel: (202) 223 6090. Fax: (202) 223 6091.
E-mail: tajikistan@verizon.net
Website: www.tjus.org
Travelers are advised to avoid all but essential travel to areas immediately adjoining the Afghan border due to the continuing threat from terrorism and unrest in Afghanistan. Travelers should take particular care in the Garm valley and off-road areas which may be mined along the Uzbek and Kyrgyz borders.
Travelers should be aware of the continuing threat from terrorism which Tajikistan shares with other countries in Central Asia.
The overall security situation in Tajikistan is currently stable.
The tourism, health and transport infrastructure of Tajikistan is poor and travel within the country requires careful planning. Travelers should observe strict hygiene practices and take particular care over food and drink preparation.
This advice is based on information provided by the Foreign, Commonwealth & Development Office in the UK. It is correct at time of publishing. As the situation can change rapidly, visitors are advised to contact the following organizations for the latest travel advice:
British Foreign, Commonwealth & Development Office
Website: https://www.gov.uk/foreign-travel-advice/tajikistan
US Department of State
Website: https://travel.state.gov/content/travel/en/international-travel/International-Travel-Country-Information-Pages/Tajikistan.html
Currency
Tajik Somoni (TJS) = 100 diram. Notes are in denominations of TJS100, 50, 20, 10, 5 and 1, and 50, 20, 5 and 1 diram.
Currency restrictions
The import of local and foreign currency is unlimited, subject to declaration on arrival. The export of local currency is prohibited except by Tajikistan residents and the export of foreign currency is limited to the amount declared on arrival. All currency must be declared on arrival and a customs declaration form obtained.
Banking hours
Mon-Fri 0800-1700.
Currency exchange
The preferred hard currency is the US Dollar, although other hard currencies are in theory also acceptable. All bills are normally settled in cash, and tourists must pay in hard currency for accommodation in hotels, although these are normally included in the price of organized tours. Owing to a shortage of change, a supply of small notes should be carried. International banking services are not available. All money should be changed at the official bureaux de change and the receipts should be kept. However, this law is not rigidly enforced.
Credit cards
Not accepted.
Travellers cheques
Limited acceptance.
| City/Region | City/Area code | Followed by |
| --- | --- | --- |
| Abdurakhmana Jami (former Khudjamaston) | (8)3243 | + 5 digit subscriber nr |
| Asht | (8)3453 | + 5 digit subscriber nr |
| Ayni | (8)3479 | + 5 digit subscriber nr |
| Bokhtar | (8)3245 | + 5 digit subscriber nr |
| Chkalovsk | (8)3451 | + 5 digit subscriber nr |
| Dangara | (8)3312 | + 5 digit subscriber nr |
| Darvaz (former Kalaykhumb) | (8)3552 | + 5 digit subscriber nr |
| Djilikul | (8)3248 | + 5 digit subscriber nr |
| Dushanbe | (8)372 | + 6 digit subscriber nr |
| Fayzabad | (8)3135 | + 5 digit subscriber nr |
| Gafurov | (8)3442 | + 5 digit subscriber nr |
| Ganchi | (8)3464 | + 5 digit subscriber nr |
| Hissar | (8)3139 | + 5 digit subscriber nr |
| Isfara | (8)3462 | + 5 digit subscriber nr |
| Ishkashim | (8)3553 | + 5 digit subscriber nr |
| Istravshan | (8)3454 | + 5 digit subscriber nr |
| Jabarrasulov (former Proletarskiy) | (8)3455 | + 5 digit subscriber nr |
| Jirgital | (8)3132 | + 5 digit subscriber nr |
| Kabodion | (8)3251 | + 5 digit subscriber nr |
| Kanibadam | (8)3467 | + 5 digit subscriber nr |
| Kayrakum | (8)3443 | + 5 digit subscriber nr |
| Khorog | (8)3522 | + 5 digit subscriber nr |
| Khovaling | (8)331700 | + 3 digit subscriber nr |
| Khujand | (8)3422 | + 5 digit subscriber nr |
| Khuroson (former Gozimalik) | (8)3242 | + 5 digit subscriber nr |
| Kolkhozabad | (8)3247 | + 5 digit subscriber nr |
| Kulyab | (8)3322 | + 5 digit subscriber nr |
| Kumsangir (C. Dusti) | (8)3249 | + 5 digit subscriber nr |
| Kurgan-Tube | (8)3222 | + 5 digit subscriber nr |
| M. Khamadoni | (8)3315 | + 5 digit subscriber nr |
| Matchinskiy (C. Buston) | (8)3445 | + 5 digit subscriber nr |
| Muminobod | (8)3318 | + 5 digit subscriber nr |
| Murgab | (8)3554 | + 5 digit subscriber nr |
| Nurek | (8)3138 | + 5 digit subscriber nr |
| Nurobod (former Darband) | (8)3133 | + 5 digit subscriber nr |
| Panj | (8)3252 | + 5 digit subscriber nr |
| Parkhar | (8)3316 | + 5 digit subscriber nr |
| Pendjikent | (8)3475 | + 5 digit subscriber nr |
| Rasht (former Garm) | (8)3131 | + 5 digit subscriber nr |
| Rogun | (8)3134 | + 5 digit subscriber nr |
| Roshtkala | (8)3555 | + 5 digit subscriber nr |
| Rudaki (former Leninskiy) | (8)3137 | + 5 digit subscriber nr |
| Rushan | (8)3556 | + 5 digit subscriber nr |
| Rydaki (former Leninsky) | (8)474 | + 6 digit subscriber nr |
| Sarband | (8)3250 | + 5 digit subscriber nr |
| Shaartuz | (8)3240 | + 5 digit subscriber nr |
| Shakhrinav | (8)3155 | + 5 digit subscriber nr |
| Shakhristan | (8)3456 | + 5 digit subscriber nr |
| Spitamen (former Nou) | (8)3441 | + 5 digit subscriber nr |
| Taboshar | (8)3465 | + 5 digit subscriber nr |
| Tadjikabad | (8)3154 | + 5 digit subscriber nr |
| Tavildara | (8)3156 | + 5 digit subscriber nr |
| Temurmalik | (8)3314 | + 5 digit subscriber nr |
| Tursun-Zade | (8)3130 | + 5 digit subscriber nr |
| Vakhdat (former Kofarnikhon) | (8)3136 | + 5 digit subscriber nr |
| Vakhsh | (8)3246 | + 5 digit subscriber nr |
| Vanj | (8)3551 | + 5 digit subscriber nr |
| Varzob | (8)3153 | + 5 digit subscriber nr |
| Vose | (8)3311 | + 5 digit subscriber nr |
| Yavan | (8)3141 | + 5 digit subscriber nr |
| Zafarabad | (8)3452 | + 5 digit subscriber nr |