Quick Facts
Region: Asia & Oceania
Full Name: Kingdom of Tonga
Capital City: Nuku'alofa
Language Spoken: Tongan, English

Tonga Travel Insurance
Get travel insurance to Tonga from Direct Travel Insurance. We offer low cost and high quality travel insurance to Tonga and most of the world.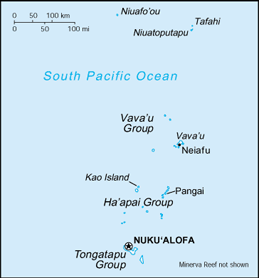 Geographic data
20 00 S, 175 00 W
Elevation Extremes
lowest point: Pacific Ocean 0 m highest point: unnamed location on Kao Island 1,033 m
Land boundaries
0 km
Natural hazards
cyclones (October to April); earthquakes and volcanic activity on Fonuafo'ou
Natural resources
fish, fertile soil
Land use
arable land: 20% permanent crops: 14.67% other: 65.33% (2005)
Environmental current issues
deforestation results as more and more land is being cleared for agriculture and settlement; some damage to coral reefs from starfish and indiscriminate coral and shell collectors; overhunting threatens native sea turtle populations
Climate
Tonga's climate is marginally cooler than most tropical areas. The best time to visit is from May to November. Heavy rains occur from December to March.
Time difference
time difference: UTC+13
Population
114,689 (July 2006 est.)
Age structure
0-14 years: 35.3% (male 20,679/female 19,843) 15-64 years: 60.5% (male 34,399/female 34,964) 65 years and over: 4.2% (male 2,059/female 2,745) (2006 est.)
Median age
total: 20.7 years male: 20.1 years female: 21.3 years (2006 est.)
Population growth rate
2.01% (2006 est.)
Birth rate
25.37 births/1,000 population (2006 est.)
Death rate
5.28 deaths/1,000 population (2006 est.)
Net migration rate
0 migrant(s)/1,000 population (2006 est.)
Sex ratio
at birth: 1.05 male(s)/female under 15 years: 1.04 male(s)/female 15-64 years: 0.98 male(s)/female 65 years and over: 0.75 male(s)/female total population: 0.99 male(s)/female (2006 est.)
Life expectancy at birth
total population: 69.82 years male: 67.32 years female: 72.45 years (2006 est.)
Total fertility rate
3 children born/woman (2006 est.)
Business Practices
Business meetings are normally semi-casual with a shirt and tie typically worn. Shaking hands is a suitable form of greeting. English and French are widely spoken in business circles. Office hours are 0830-1630 Monday to Friday.
Crime
There are no known threats to foreigners traveling in Tonga. The country?s crime rate is relatively low. Petty crimes such as pickpocketing and petty theft do occur. Travelers are advised not to leave valuables such as cameras, watches, jewelry, and money openly visible or unattended. Police response to crimes depends on where the crime took place. Response to a crime in downtown Nuku?alofa is quick, as opposed to a slower response to a crime some distance from the police station.
Hotels
There are excellent hotels, motels and resort villages of Tongan-style houses. Traditional boarding houses are also very popular with tourists. There is a growing selection of accommodation and capacity is expected to increase to 900 rooms. Niu-akalo Hotel offers camping grounds.
Communications
Telephone IDD is service available in the country. The country code is 676; there are no area codes. The outgoing international code is 0. Cable & Wireless, Ltd. provides fax services. Telegrams and cables can be booked through Cable & Wireless Limited, Tonga. The main post office is located in the center of Nuku?alofa and open 0830-1630 Monday to Friday. All mail must be collected from the post office. Airmail to Europe takes approximately ten days. There are branch offices on Ha?apai and Vava?u.
Electricity
is 240 volts AC, 50Hz. Electricity 240 volts AC, 50Hz.
Plug Types
I
Food And Dining
Restaurants have table service, and are found mainly in hotels. Apart from hotel dining rooms, there are restaurants featuring Tongan, French, German, Italian, Japanese and Taiwanese cuisine.
National specialties:
? 'Ufi (a large white yam).
? Taro.
? Lu pulu (meat and onions, marinated in coconut milk, baked in taro leaves in an underground oven).
? Feke (grilled octopus or squid in coconut sauce).
? Devilled clams, 'ota (raw fish marinated in lemon juice) and lobster.
? Tropical fruits and salads are excellent.
? Feasts play a major role in the Tongan lifestyle. Up to 30 different dishes may be served on a pola (a long tray of plaited coconut fronds), and will typically include suckling pig, crayfish, chicken, octopus, pork and vegetables steamed in an umu (underground oven), with a variety of tropical fruits.
Tipping:
Not encouraged, but no offence is caused if services are rewarded in this way.
Nightlife
Nightlife is sedate, limited to music and dancing in the hotels, clubs and occasionally at the Yacht Club. Floorshows are held on some nights in the main hotels and the Tongan National Center. Tongan feasts and entertainment are also organized.
Entry departure requirements
* Please see visa section
Visa immigration information
Passports
Passport valid for at least six months required by all.
Note
Ordinary, diplomatic or official Tongan or Tonga National passport holders may enter the Kingdom with passports valid for the date of arrival in Tonga.
VISAS
Visas required by all except the following who can obtain a visitor's visa free of charge on arrival entitling the holder of stays of up to 31 days:
(a) 1. nationals of countries mentioned in the table above (except nationals of the Czech Republic, Estonia, Hungary, Latvia, Lithuania, Poland, Slovak Republic and Slovenia who do need a visa);
(b) nationals of The Bahamas, Barbados, Brazil, Brunei, Cook Islands, Dominica, Fiji, Kiribati, Malaysia, Marshall Islands, Micronesia (Federated States of), Monaco, Nauru, New Caledonia, New Zealand, Niue, Norway, Palau, Papua New Guinea, Russian Federation, St Kitts & Nevis, St Lucia, St Vincent & Grenadines, Samoa, Seychelles, Singapore, Solomon Islands, Switzerland, Tahiti and Her Islands, Turkey, Tuvalu, Ukraine, Vanuatu and Wallis & Futuna, provided holding a valid return ticket to a country where they have citizenship or a valid endorsement in their passport, granting them residency in a country that is not their country of nationality;
(c) those continuing their journey by the same or first connecting flight within less than 24 hours and not leaving the airport.
Note
Visas, valid on arrival and allowing multiple entry into Tonga, are required by all non-Tongan passport holders who are traveling on a one-way ticket, except for the following:
(a) holders of ordinary, diplomatic or official Tongan passports; (b) holders of Tongan National passports; (c) holders of a letter of authority issued by one of Tonga's overseas diplomatic missions and bearing the official stamp of that Tongan diplomatic mission, or a letter of authority issued by the Immigration Division, Ministry of Foreign Affairs of the Government of Tonga, bearing the official stamp of either the Ministry of Foreign Affairs or the Principal Immigration Officer.
Types of visa and cost
Visitors: T$40 per month. Business: T$200. Employment: T$150. Transit: If transit period exceeds 24 hours, an airport tax of T$25 is payable by all nationals over two years of age.
Note
Companies and businesses registered and operating in Tonga may bring non-nationals into the country on an employment visa, provided that the said non-citizen holds a specialized skill. Persons undertaking voluntary and charitable work in Tonga are also required to hold an employment visa.
Validity
Visitors are allowed stays of up to 31 days. Extensions for a maximum of three months or in exceptional circumstances six months require permission from the Principal Immigration Officer. Business/employment visas are valid for up to two years and are renewable.
Application to
Applications for visas must be made prior to arrival. For enquiries, contact the Consulate (or Consular section at Embassy or High Commission) or the Visa Section, Immigration Division at the Ministry of Foreign Affairs Headquarters in Nuku'alofa (fax: 26970 or 23360).
Application Requirements
(a) Valid Passport. (b) Two passport-size photos. (c) Completed application form. (d) Fee, if applicable, accompanied by letter permitting entry into the kingdom and permission to obtain a visa. (e) Onward or return tickets with reserved seats, including valid visa for onward destination if applicable. (f) Proof of adequate funds for duration of stay. Business/Employment: (a)-(d) and, (e) Medical certificate issued by a doctor specified by the Immigration Division. (f) Two character references. (g) Police certificate from national's own country of residence.
Working days required
Approximately two to three.
HIV entry requirements
Test required for anyone staying longer than 6 months
Departure tax
TOP25 for all passengers; children under 12 years of age and transit passengers are exempt.
Embassies
Tonga High Commission in the UK
36 Molyneux Street, London W1H 5BQ, UK
Tel: (020) 7724 5828.
Opening hours: Mon-Fri 0900-1700.
Tonga Consulate General in the USA
360 Post Street, Suite 604, San Francisco, CA 94108, USA
Tel: (415) 781 0365.
E-mail: tania@sFCDOnsulate.gov.to
Incidences of robbery and theft have recently increased in Tonga. There have also been some incidences of violent assault. Foreign tourists may be at risk and should take particular care at night.
The threat of terrorism in Tonga is low, but you should be aware of the global risk of indiscriminate terrorist attacks which could be against civilian targets, including places frequented by foreigners.
This advice is based on information provided by the Foreign, Commonwealth & Development Office in the UK. It is correct at time of publishing. As the situation can change rapidly, visitors are advised to contact the following organizations for the latest travel advice:
British Foreign, Commonwealth & Development Office
Tel: (0845) 850 2829.
Website: https://www.gov.uk/foreign-travel-advice/tonga
US Department of State
Website: https://travel.state.gov/content/travel/en/international-travel/International-Travel-Country-Information-Pages/Tonga.html
Currency
Pa'anga (TOP) = 100 seniti. Notes are in denominations of TOP50, 20, 10, 5, 2 and 1. Coins are in denominations of 50, 20, 10, 5, 2 and 1 seniti.
Currency restrictions
There are no restrictions on the import or export of foreign or local currencies.
Banking hours
Mon-Fri 0900-1600, Sat 0830-1130.
Currency exchange
Foreign exchange is available at banks and at major hotels.
Credit cards
Limited use of both Diners Club and Visa.
Travellers cheques
Accepted at banks and at some hotels and tourist shops. To avoid additional exchange rate charges, travelers are advised to take traveller's cheques in Australian Dollars or Pounds Sterling.
| City/Region | City/Area code | Followed by |
| --- | --- | --- |
| Eua | 50 | + 3 digits |
| Ha?apai Group | 69 | + 3 digits |
| Kolonga | 34 | + 3 digits |
| Masilamea | 42 | + 3 digits |
| Matangiake | 44 | + 3 digits |
| Mua | 32 | + 3 digits |
| Nakolo | 36 | + 3 digits |
| Neiafu | 79 | + 3 digits |
| Niuafo?ou | 80 | + 3 digits |
| Niuatoputapu | 85 | + 3 digits |
| Nuku?alofa | 28 | + 3 digits |
| Pea | 30 | + 3 digits |
| Vaini | 38 | + 3 digits |