Quick Facts
Region: Africa
Full Name: United Republic of Tanzania
Capital City: Dar es Salaam
Language Spoken: Kiswahili or Swahili (official), Kiunguja (name for Swahili in Zanzibar), English (official, primary language of commerce, administration, and higher education), Arabic (widely spoken in Zanzibar), many local languages note: Kiswahili (Swahili) is the mother tongue of the Bantu people living in Zanzibar and nearby coastal Tanzania; although Kiswahili is Bantu in structure and origin, its vocabulary draws on a variety of sources, including Arabic and English, and it has become the lingua franca of central and eastern Africa; the first language of most people is one of the local languages

Tanzania Travel Insurance
Get travel insurance to Tanzania from Direct Travel Insurance. We offer low cost and high quality travel insurance to Tanzania and most of the world.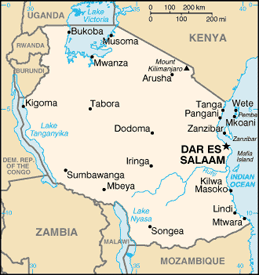 Geographic data
6 00 S, 35 00 E
Elevation Extremes
lowest point: Indian Ocean 0 m highest point: Kilimanjaro 5,895 m
Land boundaries
total: 3,861 km border countries: Burundi 451 km, Democratic Republic of the Congo 459 km, Kenya 769 km, Malawi 475 km, Mozambique 756 km, Rwanda 217 km, Uganda 396 km, Zambia 338 km
Natural hazards
flooding on the central plateau during the rainy season; drought
Natural resources
hydropower, tin, phosphates, iron ore, coal, diamonds, gemstones, gold, natural gas, nickel
Land use
arable land: 4.23% permanent crops: 1.16% other: 94.61% (2005)
Environmental current issues
soil degradation; deforestation; desertification; destruction of coral reefs threatens marine habitats; recent droughts affected marginal agriculture; wildlife threatened by illegal hunting and trade, especially for ivory
Climate
The climate is tropical and coastal areas are hot and humid. The rainy season lasts from March to June. The central plateau is dry and arid. The northwestern highlands are cool and temperate and the rainy season here lasts from November to December and February to May. Required clothing Tropical clothing is worn throughout the year, but in the cooler season, from June to September, jackets and sweaters may be needed, especially in the evenings.
Time difference
time difference: UTC+3 note: legislative offices have been transferred to Dodoma, which is planned as the new national capital; the National Assembly now meets there on a regular basis
Population
37,445,392 note: estimates for this country explicitly take into account the effects of excess mortality due to AIDS; this can result in lower life expectancy, higher infant mortality and death rates, lower population and growth rates, and changes in the distribution of population by age and sex than would otherwise be expected (July 2006 est.)
Age structure
0-14 years: 43.7% (male 8,204,593/female 8,176,489) 15-64 years: 53.6% (male 9,906,446/female 10,178,066) 65 years and over: 2.6% (male 422,674/female 557,124) (2006 est.)
Median age
total: 17.7 years male: 17.5 years female: 18 years (2006 est.)
Population growth rate
1.83% (2006 est.)
Birth rate
37.71 births/1,000 population (2006 est.)
Death rate
16.39 deaths/1,000 population (2006 est.)
Net migration rate
-3.05 migrant(s)/1,000 population (2006 est.)
Sex ratio
at birth: 1.03 male(s)/female under 15 years: 1 male(s)/female 15-64 years: 0.97 male(s)/female 65 years and over: 0.76 male(s)/female total population: 0.98 male(s)/female (2006 est.)
Life expectancy at birth
total population: 45.64 years male: 44.93 years female: 46.37 years (2006 est.)
Total fertility rate
4.97 children born/woman (2006 est.)
Business Practices
Light suits and tie are typically worn for business meetings, Safari jackets are acceptable in very hot weather. Tanzanians are generally polite, helpful and warm-hearted. The private sector is slowly growing and maturing. Patience, specificity and flexibility are essential for success. Almost all executives speak English. Office hours are 0800-1200 and 1400-1630 Monday to Friday and 0800-1300 Saturday. Government office hours are 0730-1530 Monday to Friday.
Crime
Crime, particularly against foreigners, has become more common in both urban and rural areas. Incidents include rapes and attempted rapes, muggings, vehicle thefts, and residential break-ins. Thieves on buses and trains may steal valuables from inattentive passengers. Visitors driving in and near game parks are at risk. In recent years, there has been an increase in acts of armed banditry in and around parks and reserves frequented by tourists. The Tanzanian government has taken steps to increase security in the national parks. Assaults in Zanzibar and along public beaches in Dar es Salaam are not uncommon, and police, particularly in Zanzibar, appear inattentive to the problem. Crime and hazardous road conditions make travel by night dangerous. Carjackings have occurred in both rural and urban areas. Travelers are urged not to stop between populated areas and to travel in convoys whenever possible.
Hotels
Tanzania has a range of accommodation from very good, expensive hotels to cheaper hotels which, although adequate, lack comfort. There are critical shortages of housing in all urban centers of Tanzania. Most visitors to urban centers stay in tourist hotels, although the amenities and comfort levels fall below standards.
Communications
Telephone IDD service is available. The country code is 255 and the outgoing international code is 00. In rural areas, international calls must go through the operator. Tanzania's telecommunications infrastructure within the country is poor and overburdened. International communications by phones, fax and telex are generally reliable, though they can be difficult to obtain, and comparatively expensive. There are many public call boxes in post offices and main towns.
Electricity
is 240 volts AC, 50Hz. Plugs may be round or square 3-pin. Electricity 230 volts AC, 50Hz. Plugs may be round or square three-pin, fused or unfused.
Plug Types
D,G
Food And Dining
Most hotels serve local Tanzanian food while the major hotels offer Western and other international food. Things to know: Table service is normal in restaurants. Bars generally have counter service. Tanzania is a secular state and alcohol is not prohibited. Zanzibar's population is predominantly Muslim. Alcohol is available in some tourist hotels and restaurants, but should not be drunk in public.
National specialties:
? Seafood such as prawns and lobsters.
? Tropical fruit such as coconuts, pawpaws, mangoes, pineapples and bananas. National drinks:
? A good lager, Safari, is produced locally.
? Konyagi is a popular gin.
? A chocolate and coconut liqueur called Afrikoko.
? A wine called Dodoma, which comes in red or ros?.
Tipping:
Not generally encouraged, though waiters and porters in tourist hotels and restaurants may expect to be tipped.
Nightlife
In Dar es Salaam, there are several nightclubs, cabarets and cinemas. Generally, the nightlife centers are in the top tourist hotels and restaurants.
Entry departure requirements
Note The granting of a visa does not guarantee permission to enter Tanzania. The Immigration Officer reserves the right to grant or deny admission. Visa holders are subject to normal immigration control at the port of entry and should carry with them, for possible presentation to Immigration Officers, the documents submitted with their applications.
Visa immigration information
Passports
Passport valid for at least six months required by all.
Visas
Required by all nationals except the following:
(a) nationals of Antigua & Barbuda, Barbados, Belize, Bermuda, Botswana, Brunei, Cyprus, Dominica, Grenada, Jamaica, Kenya, Kiribati, Lesotho, Malaysia, Malawi, Maldives, Malta, Namibia, Nauru, St Kitts & Nevis, St Lucia, St Vincent & the Grenadines, Seychelles, Singapore, Solomon Islands, Swaziland, Tonga, Tuvalu, Uganda, Vanuatu, Zambia and Zimbabwe for stays of up to three months and issued with a visitor's pass on arrival;
(b) 1. nationals of Cyprus and Malta.
Note
Nationals who do not require visas for stays of up to three months, may still need entry permit clearance, except nationals of Kenya and Uganda. All other nationals must obtain visas in advance except nationals coming from a country where there is no Tanzania Embassy, High Commission or Consulate to issue a visa. In this case, these nationals may obtain a visa on arrival at one of the following four main entry points, provided all immigration and health requirements are met: Dar es Salaam International Airport, Kilimanjaro International Airport, Namanga Entry Point (Tanzania-Kenya border crossing) and Zanzibar International Airport.
Types of visa and cost
Tourist: US$65 (single-entry). Business: US$86 (single-entry). Cost of Tourist Visa depends on nationality of applicant. The above prices are for UK nationals; Irish nationals always pay US$9 For postal applications, fees must be paid to the Tanzania High Commission at any Barclays Bank branch. Please note that once visas are processed, fees are non-refundable.
Validity
Single-entry: Three months from date of issue; Multiple-entry: Six months from date of issue.
Application to
Consulate (or Consular section at High Commission or Embassy); see Passport/Visa Information.
Application requirements
(a) One completed application form. (b) Two recent passport-size photos. (c) Valid passport. (d) Fee, payable in cash if the application is made in person, or paid to the Tanzania High Commission at any Barclays Bank branch for postal applications. The pay-in slip must be enclosed with the application form. (e) Pre-paid, self-addressed, stamped envelope for postal applications. (f) For business visitors, a letter indicating the nature of the trip and the business contact in Tanzania.
Note
All nationals may be asked to attend an interview and/or supply further documents.
Working days required
Normally three working days. Up to 10 working days for postal applications.
Temporary residence
Enquire at High Commission or Embassy.
HIV entry requirements
No Test Required
Departure tax
None, except Zanzibar Airport, which charges US$25.
Embassies
High Commission for the United Republic of Tanzania in the UK
3 Stratford Place, London WC1 1AS, UK
Tel: (020) 7569 1470.
Website: https://tzhc.uk/
Opening hours: Mon-Fri 1000-1230 (visa section) and 1500-1600 (visa collection only).
Embassy of the United Republic of Tanzania (Consular Section) in the USA
2139 R Street, NW, Washington, DC 20008, USA
Tel: (202) 939 6123/5/7.
Website: www.tanzaniaembassy-us.org

Most visits to Tanzania are trouble-free, but travelers should be aware of the high threat from terrorism in Tanzania, including Zanzibar.
Armed robberies, especially at remote sites, are increasing.
Travelers to the area bordering Burundi should exercise caution.
This advice is based on information provided by the Foreign, Commonwealth & Development Office in the UK. It is correct at time of publishing. As the situation can change rapidly, visitors are advised to contact the following organizations for the latest travel advice:
British Foreign, Commonwealth & Development Office
Tel: (0845) 850 2829.
Website: https://www.gov.uk/foreign-travel-advice/tanzania
US Department of State
Website: https://travel.state.gov/content/travel/en/international-travel/International-Travel-Country-Information-Pages/TanzaniaUnitedRepublicof.html
Currency
Tanzanian Shilling (TZS) = 100 cents. Notes are in denominations of TZS10,000, 5000, 2000, 1000 and 500. Coins are in denominations of TZS200, 100, 50, 20, 10, 5 and 1, and 50, 10 and 5 cents.
Currency restrictions
The import and export of local currency is prohibited. The import of foreign currency is unlimited, subject to declaration. The export of foreign currency is limited to the amount declared on arrival.
Banking hours
Mon-Fri 0830-1230 (some places are open until 1600), Sat 0830-1300.
Currency exchange
Money may be changed at banks, authorized dealers and bureaux de change. A receipt should be obtained and kept until departure.
Credit cards
Major credit cards are accepted in larger hotels. Check with your credit or debit card company for details of merchant acceptability and other facilities which may be available. Cash can be withdrawn from some ATMs using Visa or Mastercard.
Travellers cheques
May be cashed with authorized dealers or bureaux de change. To avoid additional exchange rate charges, travelers are advised to take traveller's cheques in US Dollars or Pounds Sterling.
| City/Region | City/Area code | Followed by |
| --- | --- | --- |
| Dar es Salaam | (0)22 | + 8 digit subscriber nr |
| Dodoma | (0)26 | + 8 digit subscriber nr |
| Kagera | (0)28 | + 8 digit subscriber nr |
| Kilimanjaro | (0)27 | + 8 digit subscriber nr |
| Mbeya | (0)25 | + 8 digit subscriber nr |
| Morogoro | (0)23 | + 8 digit subscriber nr |
| Zanzibar | (0)24 | + 8 digit subscriber nr |