Quick Facts
Region: South America
Full Name: Cooperative Republic of Guyana
Capital City: Georgetown
Language Spoken: English, Amerindian dialects, Creole, Hindi, Urdu
Guyana Travel Insurance
Get travel insurance to Guyana from Direct Travel Insurance. We offer low cost and high quality travel insurance to Guyana and most of the world.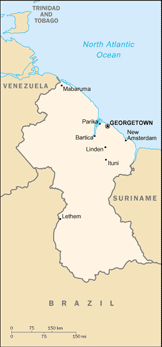 Geographic data
5 00 N, 59 00 W
Elevation Extremes
lowest point: Atlantic Ocean 0 m highest point: Mount Roraima 2,835 m
Land boundaries
total: 2,949 km border countries: Brazil 1,606 km, Suriname 600 km, Venezuela 743 km
Natural hazards
flash floods are a constant threat during rainy seasons
Natural resources
bauxite, gold, diamonds, hardwood timber, shrimp, fish
Land use
arable land: 2.23% permanent crops: 0.14% other: 97.63% (2005)
Environmental current issues
water pollution from sewage and agricultural and industrial chemicals; deforestation
Climate
Guyana?s climate is warm and tropical throughout the year. The rainfall is generally high for most of the year, as is the humidity. December to January and May to June are the rainy seasons, while in coastal areas the climate is tempered by sea breezes.
Time difference
time difference: UTC-4
Population
767,245 note: estimates for this country explicitly take into account the effects of excess mortality due to AIDS; this can result in lower life expectancy, higher infant mortality and death rates, lower population and growth rates, and changes in the distribution of population by age and sex than would otherwise be expected (July 2006 est.)
Age structure
0-14 years: 26.2% (male 102,551/female 98,772) 15-64 years: 68.6% (male 265,193/female 260,892) 65 years and over: 5.2% (male 17,043/female 22,794) (2006 est.)
Median age
total: 27.4 years male: 26.9 years female: 27.9 years (2006 est.)
Population growth rate
0.25% (2006 est.)
Birth rate
18.28 births/1,000 population (2006 est.)
Death rate
8.28 deaths/1,000 population (2006 est.)
Net migration rate
-7.49 migrant(s)/1,000 population (2006 est.)
Sex ratio
at birth: 1.05 male(s)/female under 15 years: 1.04 male(s)/female 15-64 years: 1.02 male(s)/female 65 years and over: 0.75 male(s)/female total population: 1.01 male(s)/female (2006 est.)
Life expectancy at birth
total population: 65.86 years male: 63.21 years female: 68.65 years (2006 est.)
Total fertility rate
2.04 children born/woman (2006 est.)
Business Practices
Business dress is moderately casual, befitting Guyana's tropical climate. Work attire usually consists of guayabera (shirtjac) or shirt and tie for men and light business suits for women. English is the primary and official language of Guyana. Guyanese Creole, a dialect of English, is spoken in some parts of the country. Calling cards are useful. The pace of business and general attitudes are very Caribbean-orientated. Working hours are 8:00 a.m. to 4:00 p.m. for most government offices. Business Office hours are usually 0800-1130 and 1300-1630 Monday to Friday.
Crime
Serious crime is concentrated in the more populated areas of the country, and the crime rate in urban centers continues to be a major problem. Returning Guyanese and foreigners are favorite targets. Georgetown in particular suffers from violent crime, including home invasions, kidnappings, carjackings and shootings. Pickpocketing, purse snatching, assaults and thefts occur in all areas of Georgetown. The Tiger Bay area, and the areas adjacent to the sea wall and the National Park, although frequented by joggers, have been the scenes of violent crimes ranging from pickpocketing to armed assaults including rape. The risk increases significantly after dusk. Travelers should exercise extra care in visiting these areas. Pickpockets and thieves also frequent Stabroek and Bourda, the two major markets, and great care should be taken to safeguard personal property. Criminals also focus on the major hotels most frequented by foreigners. Remain vigilant when visiting the city of Linden; the bauxite mines are essentially closed and unemployment is very high. Avoid stopping in or traveling through the village of Buxton, which lies along the road between Georgetown and New Amsterdam. Kidnapping for ransom, with random targeting of persons who are viewed as wealthy targets of opportunity is also a threat. In April 2003, an American was the victim of a kidnapping and held for a short time until a ransom was paid. The victim appeared to have been randomly selected. When approached by a police officer, always ask to see identification. Criminals may act brazenly, and police officers themselves have been the victims of assaults and shootings. The response of local law-enforcement authorities to the increase in violent crime has been largely ineffectual; the police are cooperative, but lack the resources to respond effectively to serious criminal incidents. Avoid displaying expensive-looking jeweler, cameras, and other signs of affluence. Do not hail taxis from the roadside. Use hotel or airport-approved taxis; they are inexpensive and reliable. Avoid public minibuses, for safety as well as security concerns. Avoid traveling alone. Vehicle occupants should keep their doors locked and be aware of their surroundings at all times.
Hotels
There are some good hotels in Georgetown, of which the Forte Crest Hotel conforms to international standards. Others of a reasonable standard include the Tower Hotel, the Park Hotel and the Woodbine Hotel, Cara Lodge, Cara, Embassy Club, Guyana Pegasus, Ocean View Hotel and the Queenstown Inn. Single room rates for these hotels range from $50 to $125/night.
Communications
Telephone IDD service is available to main towns and cities. Country code: 592. Outgoing international code: 001. Fax facilities are available at the Guyana Telephone and Telegraph Company, the Bank of Guyana Building in Georgetown and some hotels. Telephone service is available in Georgetown and throughout the settled coastal areas, but generally not in the interior. Many firms operating in the interior access cellular satellite links or operate their own radio nets.
Electricity
is 110 volts AC, 60Hz. Frequent power outages occur in many areas of the country. Electricity 110 and 220 volts ord=adDateTimeStamp;url=adCountryStamp;document.write(''); AC, 60Hz.
Plug Types
A,B,D,G
Food And Dining
The food in hotels and restaurants reflects the range of influences on Guyanese society. On the menus of most restaurants you will often find chicken, pork and steak and, most of the time, shrimp. The best Chinese food in the country can be found in Georgetown. It is best to drink bottled water in Guyana. National specialties: ? Curry, especially mutton, prawn or chicken. ? Foo-foo (plantains made into cakes). ? Metamgee (dumplings made from cornflour, eddews, yams, cassava and plantains cooked in coconut milk and grated coconut). ? Portuguese garlic pork. ? Amerindian pepperpot. National drinks: ? Local rum. ? Demerara Rum. ? Banks is the local beer. Tipping: 10 per cent at hotels and restaurants. Nightlife There are numerous nightclubs and bars in Georgetown.
Entry departure requirements
* Please see passport section
Visa immigration information
Passports
Passport valid for at least six months beyond intended stay required by all.
Visas
Required by all except the following:
(a) 1. nationals mentioned in the chart above for stays of up to 90 days (except nationals of Austria, Cyprus, the Czech Republic, Estonia, Hungary, Latvia, Lithuania, Malta, Poland, Slovak Republic and Slovenia who do need a visa); (b) persons of Guyanese birth with foreign passports provided their passports clearly indicate place of birth or they have other satisfactory documentary evidence; (c) nationals of Antigua & Barbuda, The Bahamas, Barbados, Belize, Dominica, Grenada, Jamaica, Korea (Dem Rep), Korea (Rep), Montserrat, New Zealand, Norway, St Kitts & Nevis, St Lucia, St Vincent & the Grenadines, South Africa, Surinam, Switzerland and Trinidad & Tobago, provided they hold onward or return tickets and sufficient funds for the duration of stay; (d) transit passengers continuing their journey to a third country by the same aircraft or by first connecting aircraft within seven hours, without leaving the airport.
Note: Those with Guyanese parentage may enter Guyana visa-free, provided they can submit original birth certificate, and birth certificate/passport of Guyanese parent(s). This will also have to be submitted to the Immigration Officer upon arrival.
Types of visa and cost
Tourist: US$34 Business: US$34 (single-entry); US$43 (one-year multiple-entry). Courtesy visas are issued free of charge to spouses or close relatives of Guyanese citizens, provided they supply documentary proof.
Validity
Visas are usually valid for three months from the date of issue. However, the length of stay and extension is at the discretion of the Immigration Office.
Application to
Consulate (or Consular section at Embassy or High Commission); see Passport/Visa Information.
Application requirements
(a) Three application forms. (b) Three passport-size photos. (c) Evidence of sufficient funds to cover length of stay or proof of other satisfactory arrangement for support while in Guyana, in the form of a letter of invitation from Guyana, a recent bank statement, a letter from employer, or a business letter with a certificate from the Chamber of Commerce. (d) Passport valid for at least six months prior to travel. (e) Return or onward ticket. (f) Fee. Business: (a)-(f) and, (g) Letter of approval from the Minister of Home Affairs, Guyana, or other appropriate evidence.
Working days required
Applicants should contact Embassy or High Commission at least one week in advance of travel to Guyana. If passport is to be returned by a courier service, pre-paid arrangements (making sure to include own account number) must be made by the applicant.
Temporary Residence
Permission must be obtained from the Minister of Home Affairs, Guyana. Note Long-term visitors are advised to register their presence with the British High Commission in Georgetown.
HIV entry requirements
No Test Required
Departure tax
G$4000 or equivalent in US Dollars; transit passengers and children under seven years of age are exempt.
Embassies
Guyana High Commission in the UK
3 Palace Court, Bayswater Road, London W2 4LP, UK
Tel: (020) 7229 7684.
Website: http://www.guyanahclondon.co.uk/
E-mail: ghc.1@ic24.net
Opening hours: Mon-Fri 0930-1730 (except national and UK holidays); Mon-Fri 0930-1430 (consular enquiries).
Embassy of the Republic of Guyana in the USA
2490 Tracy Place, NW, Washington, DC 20008, USA
Tel: (202) 265 6900.
Website: www.guyana.org
Travel Advice
Most visits to Guyana are trouble-free, but crime levels are high especially in Georgetown and towns in the coastal regions. Visitors to the eco-sector (which excludes Georgetown and the coastal regions) generally experience no problems.
The risk of terrorism is low but you should be aware of the global risk of indiscriminate terrorist attacks which could be against civilian targets, including places frequented by foreigners.
This advice is based on information provided by the Foreign, Commonwealth & Development Office in the UK. It is correct at time of publishing. As the situation can change rapidly, visitors are advised to contact the following organizations for the latest travel advice:
British Foreign, Commonwealth & Development Office
Website: www.gov.uk/foreign-travel-advice
US Department of State
Currency
Guyanese Dollar (GYD; symbol G$) = 100 cents. Notes are in denominations of G$1000, 500, 100 and 20. Coins are in denominations of G$10, 5 and 1. US Dollars are widely accepted throughout Guyana.
Currency restrictions
The import and export of local currency is limited to G$200. The import of foreign currency is unlimited, provided declared in writing on arrival. The export of foreign currency is limited to the amount imported and declared. The Guyanese Dollar is not negotiable abroad.
Banking hours
Mon-Fri 0800-1230 and Friday 1500-1700.
Currency exchange
Banks offer exchange facilities. Bureaux de change (cambios) offer free conversion of currencies.
Credit cards
American Express, Diners Club, MasterCard and Visa are accepted by most larger hotels, restaurants, car rental and tour operators. Check with your credit or debit card company for details of merchant acceptability and other services which may be available. Foreign credit cards cannot be used in Guyanian ATM machines.
Travellers cheques
Accepted but not recommended for those who may wish to change money in a hurry. To avoid additional exchange rate charges, travelers are advised to take traveller's cheques in US Dollars. Visitors are advised to bring traveller's cheques to cover the entirity of their stay.
| City/Region | City/Area code | Followed by |
| --- | --- | --- |
| Adelphi | 326 | + 4 digit subscriber nr |
| Adventure | 331 | + 4 digit subscriber nr |
| Agricola | 233 | + 4 digit subscriber nr |
| Aishalton | 773 | + 4 digit subscriber nr |
| Amelia?s Ward | 442 | + 4 digit subscriber nr |
| Anna Catherina | 276 | + 4 digit subscriber nr |
| Anna Regina | 771 | + 4 digit subscriber nr |
| B/V Central | 234 | + 4 digit subscriber nr |
| B/V West | 272 | + 4 digit subscriber nr |
| Bartica | 455 | + 4 digit subscriber nr |
| Belladrum | 232 | + 4 digit subscriber nr |
| Belmont | 228 | + 4 digit subscriber nr |
| Benab | 338 | + 4 digit subscriber nr |
| Blairmont | 327 | + 4 digit subscriber nr |
| Canal No. 1 | 271 | + 4 digit subscriber nr |
| Cane Grove | 257 | + 4 digit subscriber nr |
| Clonbrook | 259 | + 4 digit subscriber nr |
| Cottage | 328 | + 4 digit subscriber nr |
| Cove & John | 229 | + 4 digit subscriber nr |
| Crabwood Creek | 335 | + 4 digit subscriber nr |
| Diamond | 265 | + 4 digit subscriber nr |
| Edinburg | 336 | + 4 digit subscriber nr |
| Enmore | 270 | + 4 digit subscriber nr |
| Fort Wellington | 329 | + 4 digit subscriber nr |
| Friendship | 774 | + 4 digit subscriber nr |
| Georgetown | 263 | + 4 digit subscriber nr |
| Goed Fortuin | 253 | + 4 digit subscriber nr |
| Golden Grove | 255 | + 4 digit subscriber nr |
| Good Hope | 279 | + 4 digit subscriber nr |
| Hampshire | 322 | + 4 digit subscriber nr |
| Hope West | 256 | + 4 digit subscriber nr |
| Ituni | 441 | + 4 digit subscriber nr |
| Joppa | 325 | + 4 digit subscriber nr |
| Kwakwani | 440 | + 4 digit subscriber nr |
| Land of Canaan | 266 | + 4 digit subscriber nr |
| Leonora | 268 | + 4 digit subscriber nr |
| Lethem | 772 | + 4 digit subscriber nr |
| Linden | 444 | + 4 digit subscriber nr |
| Long Creek | 261 | + 4 digit subscriber nr |
| Mabaruma | 777 | + 4 digit subscriber nr |
| Mahaicony | 221 | + 4 digit subscriber nr |
| Mahdia | 456 | + 4 digit subscriber nr |
| Matthews Ridge | 775 | + 4 digit subscriber nr |
| Met-en-Meer-zorg | 275 | + 4 digit subscriber nr |
| Mortice | 258 | + 4 digit subscriber nr |
| New Amsterdam | 334 | + 4 digit subscriber nr |
| New Road | 254 | + 4 digit subscriber nr |
| No. 40 | 337 | + 4 digit subscriber nr |
| No. 52 | 339 | + 4 digit subscriber nr |
| Parika | 260 | + 4 digit subscriber nr |
| Rosignol | 330 | + 4 digit subscriber nr |
| Sheet Anchor | 332 | + 4 digit subscriber nr |
| Uitvlugt | 277 | + 4 digit subscriber nr |
| Vigilance | 274 | + 4 digit subscriber nr |
| Vreed-en-Hoop | 264 | + 4 digit subscriber nr |
| Wales | 267 | + 4 digit subscriber nr |
| Windsor Forest | 269 | + 4 digit subscriber nr |