Quick Facts
Region: Europe
Full Name: Hellenic Republic
Capital City: Athens
Language Spoken: Greek 99% (official), English, French
Greece Travel Insurance
Get travel insurance to Greece from Direct Travel Insurance. We offer low cost and high quality travel insurance to Greece and most of the world.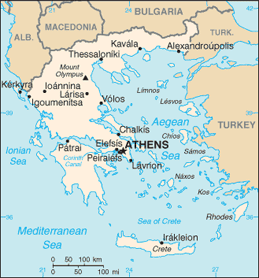 Geographic data
39 00 N, 22 00 E
Elevation Extremes
lowest point: Mediterranean Sea 0 m highest point: Mount Olympus 2,917 m
Land boundaries
total: 1,228 km border countries: Albania 282 km, Bulgaria 494 km, Turkey 206 km, Macedonia 246 km
Natural hazards
severe earthquakes
Natural resources
lignite, petroleum, iron ore, bauxite, lead, zinc, nickel, magnesite, marble, salt, hydropower potential
Land use
arable land: 20.45% permanent crops: 8.59% other: 70.96% (2005)
Environmental current issues
air pollution; water pollution
Climate
Greece has a warm Mediterranean climate. In summer, dry hot days are often relieved by stiff breezes, especially in the north and coastal areas. Athens can be stiflingly hot, so visitors should allow time to acclimatize. The evenings are cool. Winters are mild in the south but much colder in the north. November to March is the rainy season. Required clothing Lightweight clothes during summer months, including protection from the midday sun. Light sweaters are needed for evenings. Rainproofs are advised for autumn. Winter months can be quite cold, especially in the northern mainland, so normal winter wear will be required.
Time difference
time difference: UTC+2 daylight saving time: +1hr, begins last Sunday in March; ends last Sunday in October
Population
10,688,058 (July 2006 est.)
Age structure
0-14 years: 14.3% (male 790,291/female 742,902) 15-64 years: 66.7% (male 3,562,251/female 3,566,097) 65 years and over: 19% (male 891,620/female 1,134,897) (2006 est.)
Median age
total: 40.8 years male: 39.7 years female: 42 years (2006 est.)
Population growth rate
0.18% (2006 est.)
Birth rate
9.68 births/1,000 population (2006 est.)
Death rate
10.24 deaths/1,000 population (2006 est.)
Net migration rate
2.34 migrant(s)/1,000 population (2006 est.)
Sex ratio
at birth: 1.06 male(s)/female under 15 years: 1.06 male(s)/female 15-64 years: 1 male(s)/female 65 years and over: 0.79 male(s)/female total population: 0.96 male(s)/female (2006 est.)
Life expectancy at birth
total population: 79.24 years male: 76.72 years female: 81.91 years (2006 est.)
Total fertility rate
1.34 children born/woman (2006 est.)
Business Practices
Business meetings are formal with suit and tie expected. Greek business people are astute bargainers. Success in business dealings depends on a combination of patience and quick judgment. Greeks are warm and cordial in their personal relationships. A wealth of good restaurants and places of entertainment makes it easy for a business visitor to reciprocate the courtesies shown. Greek is spoken by 96 percent of the people and is used for all business and official purposes. Language is not a major barrier to foreign business visitors since a relatively high percentage of local officials and business people speak English or French. Government office hours are 7:30 a.m. - 3:00 p.m., Monday through Friday from October to May. The hours change May through September to 7:00 a.m. - 2:30 p.m., Monday through Friday. Private sector office hours are 8:00 a.m. - 5:00 p.m. (with one hour for lunch). Manufacturing establishments operate from 7:00 a.m. - 3:00 p.m., Monday through Friday. Banking business hours are 8:30 a.m. - 2:00 p.m., Monday through Friday.
Crime
Serious crimes involving personal injury relatively uncommon in Greece. Armed violence and random assaults are rare. Only very recently have narcotics and related offences become a public concern. This gradually emerging problem receives dramatic media attention, but few facts and figures are available for a serious assessment. Athens and other major cities in Greece are relatively safer in terms of violent crime than similar sized cities. Tourist areas are generally safe day and night, although pickpockets as well as snatch-and-run thefts appear to be on the increase. Normal precautions will minimize the risk of victimization. Police report a significant increase in burglaries of unoccupied houses and apartments, and thefts from parked vehicles with valuables left in view. Police link this increase in property offenses with a substantial increase in illegal immigration since 1991. Burglars and thieves are invariably looking for small high value items, particularly jewelry.
Hotels
Olympics Note: Accommodation in Athens during the 2004 Olympics (August 13-29) will be scarce and should be booked as early as possible. Hotel reservations can be made through the Hellenic Chamber of Hotels (Filoxenia). Filoxenia is managing the many private apartments, villas and houses being rented out by locals (website: www.filoxenia2004.com). Elsewhere, modern and comfortable accommodations can be found in most areas that a foreign traveler is likely to visit. Growing tourist travel makes advance hotel reservations advisable, particularly during late spring and summer. Prices for accommodations compare favorably with those in other Western European countries.
Communications
Telephone IDD service is available throughout the mainland and islands. The country code is 30, followed by (1) for Athens, (31) for Thessaloniki, (81) for Heraklion and (661) for Corfu. The outgoing international code is 00. Main post offices and large hotels have fax facilities. GSM 900 and 1800 cellular networks exist. Coverage is good around the major towns on the mainland and on many islands. Main operators include Cosmote, Stet Hellas, and Vodafone
Electricity
is at 220 volts AC, 50Hz. Round 2-pin plugs are used. Electricity 220 volts AC, 50Hz. Round two-pin plugs are used.
Plug Types
C,F
Food And Dining
Restaurant and taverna food tends to be very simple, rarely involving sauces but with full use of local olive oil and charcoal grills. All restaurants have a standard menu which includes the availability and price of each dish. A good proportion of the restaurants will serve international dishes. Hours are normally 1200-1500 for lunch and 2000-2400 for dinner.Opening hours vary according to the region and local laws. Waiter service is usual. National specialties
? Dolmades (stuffed vine leaves).
? Moussaka (aubergine casserole with minced lamb, cinnamon, red wine and olive oil).
? Kebabs and avgolemono (chicken broth with rice, eggs, salt and lemon juice).
? Taramasalata (a dip made from fish roe, bread, onion, olive oil and lemon juice).
? Squid (kalamari) or octopus.
? Keftedes (hot spicy meatballs).
? Tzatziki (a dip made from yogurt, olive oil, garlic, shredded cucumber and dill).
? Salads ( feta cheese, tomato, cucumber and fresh olive oil).
? Gigantes (large white beans).
? Kolokithakia (small boiled courgette with oil and lemon).
? Baklavas (filo pastry filled with almonds and topped with honey, vanilla and sugar).
? Loukoumades (honey-drenched pastry puffs). National drinks
? Retsina wine (made with pine-needle resin).
? Ouzo (an aniseed-based clear spirit to which water is added).
? Local brandy (sharp and fiery).
? Greek coffee (thick and strong, and sugared according to taste).
? Greek beer is a light Pilsner type.

Tipping:
12 to 15 per cent is usual.

Nightlife
This is centered in main towns and resorts with concerts and discos. Athens offers many local tavernas, particularly in the Plaka area, and ouzeris (typical Greek bars). Regular concerts and evening shows are also held at the Odeion of Herodes in Attica. Nightclubs featuring Greek bouzouki music are extremely popular. There are some casinos in Greece, such as the Mount Parnes Casino in Athens, the Corfu Casino in Corfu and the Casino at the Grand Hotel Astir in Rhodes.
Entry departure requirements
Note Greece is a signatory to the 1995 Schengen Agreement. Entry restrictions (a) Greece refuses admission and transit to holders of travel documents issued by Macedonia (Former Yugoslav Republic), unless accompanied by a special visa form; holders of Somalian passports issued or extended after 31 January 1991; Norwegian Fremmedpass or Reisbevis; Ethiopian emergency passports; holders of travel documents issued by the area of Cyprus not controlled by the Government of Cyprus; holders of UN laissez-passers; and holders of Turkish travel documents with visas or stamps indicating previous or planned visits to Cyprus. (b) Some nationals may have to register with the Aliens Department of the nearest police station within 48 hours of arrival. It is advised to contact the nearest Embassy/Consulate to determine whether this is necessary prior to travel.
Visa immigration information
Passports
Passport valid for at least three months beyond length of stay required by all except:
(a) 1. EU/EEA nationals (EU + Iceland, Liechtenstein, Norway) and Swiss nationals holding a valid national ID card.
Note: EU and EEA nationals are only required to produce evidence of their EU/EEA nationality and identity in order to be admitted to any EU/EEA Member State. This evidence can take the form of a valid national passport or national identity card. Either is acceptable. Possession of a return ticket, any length of validity on their document, sufficient funds for the length of their proposed visit should not be imposed.
(b) nationals of Monaco, holding a valid national ID card.
Visas
Required by all except the following:
(a) nationals of the countries referred to in the chart above for stays of up to 90 days;
(b) nationals of Andorra, Argentina, Bolivia, Brazil, Brunei, Bulgaria, Chile, Costa Rica, Croatia, El Salvador, Honduras, Hong Kong (SAR) (blue and red passport holders), Iceland, Israel, Korea (Rep), Liechtenstein, Macau (SAR), Malaysia, Mexico, Monaco, New Zealand, Nicaragua, Panama, Paraguay, Romania, San Marino, Singapore, Switzerland, Uruguay, Vatican City and Venezuela for stays of up to 90 days;
(c) those continuing their journey to a third country within 48 hours, provided holding tickets with reserved seats and other documents for their onward journey, except: nationals of Afghanistan, Angola, Bangladesh, Congo (Dem Rep), Eritrea, Ethiopia, Ghana, India, Iran, Iraq, Nigeria, Pakistan, Somalia, Sri Lanka, Sudan, Syrian Arab Republic and Turkey who always need a visa, even if transiting by the same aircraft.
Types of visa and cost
A uniform type of visa, the Schengen visa, is issued for tourist, business and private visits. There are three types of Schengen visa. Short-stay, Transit and Airport Transit: US$44 . Prices depend on exchange rates. Contact the Consulate/Consular section at Embassy for further details.
Note
Spouses and children of EU nationals (providing spouse's passport and the original marriage certificate, or child's original birth certificate (with certified translation into English, if applicable), are produced), and nationals of some other countries, receive their visas free of charge (enquire at Embassy for details). Minors under 18 years should be accompanied by both parents. Otherwise, a letter from both parents or legal guardians is needed, authorizing the minor to travel and stay in Greece, appointing a person responsible for the minor during stay (authenticated by man of law or consular officer of applicant's nationality), parents' passports, birth certificate of the minor and proof of legal guardianship enclosed.
Validity
Depends on nationality.
Application to
Consulate (or Consular section at Embassy); see Passport/Visa Information. Travelers visiting just one Schengen country should apply to the Consulate of that country; travelers visiting more than one Schengen country should apply to the Consulate of the country chosen as the main destination or the country they will enter first (if they have no main destination).
Application requirements
(a) Passport or travel document valid for at least three months after expiry date of visa, with blank pages to affix visa, showing valid Residence Permit. (b) Completed application form (signed by legal guardian in case of minors). (c) Two recent passport-size photos. (d) Fee (payable in cash or postal order only). (e) Return or onward ticket (necessary for transit and airport transit visas, which also require a visa for onward country to be submitted, if applicable) or proof of booking/itinerary from travel agent. If visiting friends or relatives, a letter duly certified by a police station in Greece must be submitted. (f) Proof of sufficient funds to cover stay (bank statement or travelers cheques). (g) Proof of reason for visit; a letter of reference from employer detailing wages, and letter of invitation from Greek company for business trips; a letter from school for school trip. If self-employed, a letter from a solicitor or an accountant. (h) Original and photocopy of proof of travel insurance to cover intended stay in Greece. (i) Transport documentation, eg air ticket, confirmed ferry booking or, if driving, registration document, proof of legal ownership of vehicle and insurance certificate. (j) Those who claim visas in the UK and live more than 200 miles from London do not have to collect their visas in person at the London Embassy but may supply a Special Delivery self-addressed envelope instead.
Note
Applications can be made in person only. Appointments must be made through the automated booking service for those residing in the UK and in the vicinity of London (tel: (09065) 540 744). A limited number of visas are issued each day on a first-come, first-served basis. All documents must be submitted both in their original form and with photocopy.
Working days required
At least two weeks.
Note
Nationals from the following countries should allow several weeks from the date of appointment for the processing of their application: Afghanistan, Algeria, Armenia, Bahrain, Belarus, Burundi, China (PR), Colombia, Egypt, Georgia, Guinea, Indonesia, Iran, Iraq, Jordan, Kazakhstan, Korea (Dem Rep), Kuwait, Lebanon, Libya, Moldova, Oman, Palestinian Authority passport holders, Pakistan, The Philippines, Qatar, Russian Federation, Rwanda, Saudi Arabia, Somalia, Sudan, Surinam, Syrian Arab Republic, Taiwan (China), Ukraine, United Arab Emirates and Yemen.
Temporary residence
Apply to the Aliens Department in Athens.
Important note
Persons arriving in and departing from Greece on a charter flight risk having the return portion of their ticket invalidated by the authorities if, at any time during their stay, they leave Greece and remain overnight or longer in another country.
HIV entry requirements
Test is required only for people arriving to work as legal prostitutes
Departure tax
Euro;12.00 (when arriving at Athens airport an additional Euro;11.20 is payable).
Embassies
Embassy of Greece (Hellas) in the UK
1A Holland Park, London W11 3TP, UK
Tel: (020) 7229 3850 or 7221 6467 (visa section) or 7313 5600 (visa helpline) or (09065) 540 744 (visa appointment booking line).
Website: www.greekembassy.org.uk
Opening hours: Mon-Fri 0930-1300.
Embassy of Greece (Hellas) in the USA
2221 Massachusetts Avenue, NW, Washington, DC 20008, USA
Tel: (202) 939 1300 or 1318 (consular section).
Website: www.greekembassy.org
Travel Advice
Most visits to Greece are trouble-free but you should be aware of the global risk of indiscriminate international terrorist attacks, which could be against civilian targets, including places frequented by foreigners.
This advice is based on information provided by the Foreign, Commonwealth & Development Office in the UK. It is correct at time of publishing. As the situation can change rapidly, visitors are advised to contact the following organizations for the latest travel advice:
British Foreign, Commonwealth & Development Office
Tel: (0845) 850 2829.
Website: www.gov.uk/foreign-travel-advice
US Department of State
Currency
The Euro is now the official currency of 12 EU member states (including Greece). The first Euro coins and notes were introduced in January 2002; the Greek Drachma was in circulation until February 28 2002, when it was completely replaced by the Euro. Euro (?) = 100 cents. Notes are in denominations of ?500, 200, 100, 50, 20, 10 and 5. Coins are in denominations of ?2, 1 and 50, 20, 10, 5, 2 and 1 cents.
Currency restrictions
There are no restrictions on the import or export of either local or foreign currency.
Banking hours
Mon-Thurs 0800-1430, Fri 0800-1400. Banks on the larger islands tend to stay open in the afternoon and some during the evening to offer currency exchange facilities during the tourist season. The GNTO bureau in Athens can give full details.
Currency exchange
Foreign currency can be exchanged at all banks, savings banks and bureaux de change. Exchange rates can fluctuate from one bank to another. Many UK banks offer differing exchange rates depending on the denominations of currency being bought or sold. Check with banks for details and current rates.
Credit cards
American Express, Diners Club, MasterCard, Visa and other major credit cards are widely accepted (although less so in petrol stations), as well as Eurocheque cards. Check with your credit or debit card company for details of merchant acceptability and other services which may be available.
Travellers cheques
All major currencies are widely accepted and can be exchanged easily at banks. Generally, banks in Greece charge a commission of 2 per cent with a minimum of ?0.15 and a maximum of ?13.21 on the encashment of traveller's cheques. To avoid additional exchange rate charges, travelers are advised to take traveller's cheques in Euros, Pounds Sterling or US Dollars.
| City/Region | City/Area code | Followed by |
| --- | --- | --- |
| Aghios Vassilios (of Patras) | 261 | + 7 digits |
| Athens | 21 | + 8 digits |
| Heraclion | 281 | + 7 digits |
| Kavala | 251 | + 7 digits |
| Larissa | 241 | + 7 digits |
| Thessaloniki | 231 | + 7 digits |
| Tripoli | 271 | + 7 digits |