Quick Facts
Region: Europe
Full Name: Greenland
Capital City: Nuuk (Godthab)
Language Spoken: Greenlandic (East Inuit), Danish, English
Greenland Travel Insurance
Get travel insurance to Greenland from Direct Travel Insurance. We offer low cost and high quality travel insurance to Greenland and most of the world.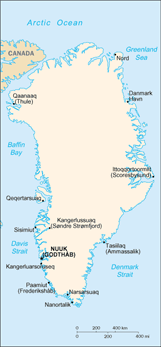 Geographic data
72 00 N, 40 00 W
Elevation Extremes
lowest point: Atlantic Ocean 0 m highest point: Gunnbjorn 3,700 m
Land boundaries
0 km
Natural hazards
continuous permafrost over northern two-thirds of the island
Natural resources
coal, iron ore, lead, zinc, molybdenum, gold, platinum, uranium, fish, seals, whales, hydropower, possible oil and gas
Land use
arable land: 0% permanent crops: 0% other: 100% (2005)
Environmental current issues
protection of the arctic environment; preservation of the Inuit traditional way of life, including whaling and seal hunting
Climate
Greenland has an Arctic climate, but owing to the size of the country there are great variations in the weather. As the climate graph shows, winters can be severe and the summers comparatively mild, particularly in areas which are sheltered from the prevailing winds. Precipitation, mostly snow, is moderately heavy around the coast. The north of the country, and much of the interior, enjoys true Arctic weather, with the temperature only rising above freezing for brief periods in the summer.\nNote\nConditions in all parts of the country can become hazardous when there is a combination of a low temperature and a strong wind. Local advice concerning weather conditions should be followed very carefully. Nevertheless, the summer months are suitable for a wide range of outdoor activities.\nRequired clothing\nGood-quality windproof and waterproof clothes, warm layers and molded sole shoes at all times of the year; also some slightly thinner clothes ? it is important to be able to change clothing during a day's climbing as temperatures can vary greatly during one day. Sunglasses and protective sun lotion are strongly advised. In July and August, mosquitoes can be a problem, especially inside the fjords and so a mosquito net can prove indispensable. Extra warm clothes are necessary for those contemplating dog-sledge expeditions. Extra clothes are not always available for hire in Greenland.
Time difference
time difference: UTC-3 daylight saving time: +1hr, begins last Sunday in March; ends last Sunday in October note: Greenland is divided into four time zones
Population
56,361 (July 2006 est.)
Age structure
0-14 years: 24.5% (male 7,072/female 6,740) 15-64 years: 68.9% (male 20,904/female 17,919) 65 years and over: 6.6% (male 1,768/female 1,958) (2006 est.)
Median age
total: 34 years male: 35.3 years female: 32.3 years (2006 est.)
Population growth rate
-0.03% (2006 est.)
Birth rate
15.93 births/1,000 population (2006 est.)
Death rate
7.84 deaths/1,000 population (2006 est.)
Net migration rate
-8.37 migrant(s)/1,000 population (2006 est.)
Sex ratio
at birth: 1.02 male(s)/female under 15 years: 1.05 male(s)/female 15-64 years: 1.17 male(s)/female 65 years and over: 0.9 male(s)/female total population: 1.12 male(s)/female (2006 est.)
Life expectancy at birth
total population: 69.94 years male: 66.36 years female: 73.6 years (2006 est.)
Total fertility rate
2.4 children born/woman (2006 est.)
Business Practices
Business meetings are somewhat formal and suits should be worn. Knowledge of Danish is extremely useful. Office hours are usually 0900-1500 Monday to Friday.
Crime
Crimes of all types are rare in Greenland. There are some concerns with domestic crime, but this does not affect tourists.
Hotels
Hotels can be found in most major towns. However, only those in Ammassalik, Ilulissat, Maniitsoq, Narsarsuaq, Narsaq, Nuuk, Qasigiannguit, Qaqortoq, Sisimiut, S?ndre Str?mfjord and Ummannaq approach European standards. There are no public accommodations in Upernavik, Thule or Scoresbysund.
Communications
Telephone IDD service is available in the country and the country code is 299. There are no area codes. The outgoing international code is 009. There are no telephone boxes in Greenland, but calls can be made from hotels. All towns have a telegraph station. Airmail to Europe takes about four to five days. Post office hours: 0900-1500 Monday to Friday.
Electricity
is 220 volts AC, 50Hz. Electricity 220 volts AC, 50Hz.
Plug Types
C,K
Food And Dining
Most hotels have restaurants of a good standard, where Danish food and Greenland specialties are served. Prices are expensive but similar to Denmark.

National specialties: ?Reindeer meat (caribou).
? Seal.
? Whale meat.
? Musk ox.
? Fowl.
? Shrimps and fish. Pubs are open to people over the age of 18 and some have discos or live bands.

Tipping:
Service charge is usually added to the bill. Tips are not expected.
Entry departure requirements
Entry & Departure Requirements are the same as for Denmark, please refer to Denmark country facts for further detail
Visa immigration information
The regulations for Tourist and Business visas are the same as for Denmark (see Passport/Visa Information in the Denmark section). Visitors should specify that they wish to visit Greenland when they make their application. Special permits are necessary for persons wishing to transit in Pittuffik (Thule Airbase), as it is a North Atlantic Territory. Further information and application requirements may be obtained from the Nordic Countries, Faroe Islands and Greenland Office at the Ministry of Foreign Affairs, Asiatisk Plads 2, DK-1448 Copenhagen (tel: 3392 0000; website: www.um.dk). Visitors who wish to explore the glaciers and mountains or visit the National Park also require a special permit. Applications should be made to the Danish Polar Centre, Strandgade 100H, DK-1401 Copenhagen (tel: 3288 0100; website: www.dpc.dk).
Travel Advice
Most visits to Greenland are trouble-free but you should be aware of the global risk of indiscriminate international terrorist attacks, which could be against civilian targets, including places frequented by foreigners.
This advice is based on information provided by the Foreign, Commonwealth & Development Office in the UK. It is correct at time of publishing. As the situation can change rapidly, visitors are advised to contact the following organizations for the latest travel advice:
British Foreign, Commonwealth & Development Office
Website: www.gov.uk/foreign-travel-advice
US Department of State
Website: https://travel.state.gov/content/travel.html
HIV entry requirements
No Test Required
Departure tax
None
Embassies
Currency
Danish Krone (DKK) = 100 ?re. Notes are in denominations of DKK1000, 500, 200, 100 and 50. Coins are in denominations of DKK20, 10, 5, 2 and 1, and 50 and 25 ?re. Note There is no banking service in S?ndre Str?mfjord at present.
Currency restrictions
The import of local currency is unlimited; export of more than DKr50,000 is allowed provided it can be proved this amount was imported or obtained by changing imported foreign currencies. The import and export of foreign currencies is unlimited.
Banking hours
Mon-Wed and Fri 1000-1600; Thurs 1000-1800.
Currency exchange
Cheques drawn on Danish banks or on Eurocheque cards can be cashed at banks and cash can also be exchanged. Postal cheques can be cashed at all post offices. There are two banks in Greenland; Gr?nlandsbanken (PO Box 1033, DK-3900 Nuuk) and Nuna Bank (PO Box 1031, DK-3900 Nuuk). Nuna Bank has branches in Nuuk, Sisimiut, Oaqortoq, Ilulissat and Maniitsoq. KNI represents the banks in other towns and villages.
Credit cards
Credit cards are still restricted to the major towns and most hotels. Check with your credit or debit card company for details of merchant acceptability and other services which may be available. Some major towns, like Ilulissat, now have ATMs.
Travellers cheques
Cheques in major currencies may be exchanged as indicated in the currency exchange section above. To avoid additional exchange rate charges, travelers are advised to take traveller's cheques in Pounds Sterling or US Dollars.
| City/Region | City/Area code | Followed by |
| --- | --- | --- |
| Aasiaat | 89 | + 4 digits |
| Illoqqortoormiut | 99 | + 4 digits |
| Ilulissat | 94 | + 4 digits |
| Ivittuut | 691 | + 3 digits |
| Kangaatsiaq | 87 | + 4 digits |
| Kangerlussuaq | 84 | + 4 digits |
| Maniitsoq | 81 | + 4 digits |
| Nanortalik | 61 | + 4 digits |
| Narsaq | 66 | + 4 digits |
| Nuuk | 3 | + 5 digits |
| Paamiut | 68 | + 4 digits |
| Qaanaaq | 97 | + 4 digits |
| Qaqortoq | 64 | + 4 digits |
| Qasigannguit | 91 | + 4 digits |
| Qeqertasuaq | 92 | + 4 digits |
| Sisimiut | 86 | + 4 digits |
| Tasiilaq | 98 | + 4 digits |
| Upernavik | 96 | + 4 digits |
| Uummannaq | 95 | + 4 digits |