Quick Facts
Region: North & Central America & the Caribbean
Full Name: Grenada
Capital City: Saint George's
Language Spoken: English (official), French patois

Grenada Travel Insurance
Get travel insurance to Grenada from Direct Travel Insurance. We offer low cost and high quality travel insurance to Grenada and most of the world.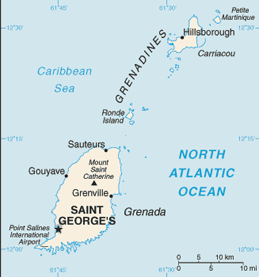 Geographic data
12 07 N, 61 40 W
Elevation Extremes
lowest point: Caribbean Sea 0 m highest point: Mount Saint Catherine 840 m
Land boundaries
0 km
Natural hazards
lies on edge of hurricane belt; hurricane season lasts from June to November
Natural resources
timber, tropical fruit, deepwater harbors
Land use
arable land: 5.88% permanent crops: 29.41% other: 64.71% (2005)
Environmental current issues
NA
Climate
Tropical. The dry season runs from January to May. The rainy season runs from June to December. The average temperature is 28°C (82°F). Required clothing Tropical lightweights and cool summer clothing.
Time difference
time difference: UTC-4
Population
89,703 (July 2006 est.)
Age structure
0-14 years: 33.4% (male 15,097/female 14,820) 15-64 years: 63.4% (male 30,106/female 26,764) 65 years and over: 3.3% (male 1,394/female 1,522) (2006 est.)
Median age
total: 21.7 years male: 22.1 years female: 21.2 years (2006 est.)
Population growth rate
0.26% (2006 est.)
Birth rate
22.08 births/1,000 population (2006 est.)
Death rate
6.88 deaths/1,000 population (2006 est.)
Net migration rate
-12.59 migrant(s)/1,000 population (2006 est.)
Sex ratio
at birth: 1 male(s)/female under 15 years: 1.02 male(s)/female 15-64 years: 1.13 male(s)/female 65 years and over: 0.92 male(s)/female total population: 1.08 male(s)/female (2006 est.)
Life expectancy at birth
total population: 64.87 years male: 63.06 years female: 66.68 years (2006 est.)
Total fertility rate
2.34 children born/woman (2006 est.)
Business Practices
Business meetings are usually somewhat informal, as is the dress for meetings. All correspondence and trade literature is in English. Office hours are generally 0800-1330 Monday to Thursday and 0800-1600 on Fridays and 0800-1145 and 1300-1600 Monday to Thursday and until 1700 on Fridays (Government offices).
Crime
Street crime occurs on a fairly frequent basis. Tourists have been victims of armed robbery in isolated areas, and thieves frequently steal passports and money. Muggings, purse-snatching and other robberies often occur in areas near hotels, beaches and restaurants, particularly after dark. Avoid unpatrolled beaches and unpopulated areas, especially after dark. Check with local authorities to determine which beaches are safe. Exercise appropriate caution when walking after dark, or rely on taxis. Valuables left unattended on beaches and other public areas are subject to theft. Crime increases with the approach of annual festivities, such as the Carnival in August. In case of emergency, contact local police at 911 or ambulance at 444.
Hotels
Grenada offers a variety of modern, luxurious hotels.
Communications
Full IDD Telephone service. Country code is 1 809. No area codes are in use. Cable and Wireless provide a Fax service in St George's. International Cable & Wireless (West Indies) Grentel (Grenada Telecommunications Ltd.) offers telegraphic and telex services 0700-1900 Monday to Friday, and 0700-1000 and 1600-1800 public holidays and Sunday. The post office in St. George's (on Lagoon Road) is open 0800-1530 Monday to Thursday and 0800-1630 Friday (closed weekends).
Electricity
is at 220/240 volts AC, 50Hz. Electricity 220 volts AC, 50Hz.
Plug Types
G
Food And Dining
Most hotels and restaurants offer international cuisine, serving a large variety of tropical fish and English, Continental, American and exotic West Indian food. Bars are stocked with the most popular wines and spirits, including various brands of whisky, rum and brandy.
National specialties:
? Seafood, such as crabs and lambi (conches).
? Calaloo (a leafy vegetable similar to spinach) soup.
? Oildown is the national dish consisting of stew made with salted meat, breadfruit, onion, celery, carrot, daheen (a root vegetable grown locally) and dumplings all slowly steamed in coconut milk until the liquid is absorbed.
? Nutmeg ice cream. National drinks:
? Rum is made locally using traditional methods.
? The local beer, Carib, is excellent.
? A local company supplies a wide variety of local fruit juices and nectars.

Tipping:
A 10 per cent service charge is added by most hotels and restaurants. If no charge is added, it is customary to leave a 10 per cent tip. There is also an eight per cent Government tax to pay at hotels and restaurants.

Nightlife
Home to the vibrant calypso and reggae music, Grenada offers a good mix of local and international restaurants and bars. Many resorts provide night-time entertainment, such as discos, organized shows and cabarets. The Reno Cinema has recently been refurbished and hosts many multi-cultural events as well as showing films. The Grenadian Jazz Society holds concerts several times a year in a number of hotels.
Entry departure requirements
Visa immigration information
Passports
Passport valid for six months from date of departure from Grenada required by all.
Visas
Required by all except the following:
(a) nationals of countries shown in the chart above including Australian External Territories, French Overseas Dependencies and Netherlands Associated Territories;
(b) nationals of Commonwealth countries, British Dependent Territories and New Zealand Associated and Dependent Territories;
(c) nationals of Argentina, Bulgaria, Chile, China (PR), CIS countries, Korea (Rep), Iceland, Israel, Liechtenstein, Norway, Romania, Taiwan (China) and Venezuela.
Note
Visitors may be required to deposit an amount equal to the fare of their return passage.
Types of visa and cost
Visitor: US$60 , in local currency only.
Validity
Up to three months.
Application to
Consulate (or Consular section at Embassy or High Commission) well in advance of intended day of departure; see Passport/Visa Information for details.
Application requirements
(a) Valid passport. (b) Completed application form. (c) Two passport-size photos. (d) Return or onward ticket. (e) Fee payable by cash or postal order (to include additional ?4 fee to cover postage if required, no foreign currency is accepted). (f) For postal applications, a recorded delivery envelope. (g) Confirmation of hotel reservation. (h) For Business visits, letter from contact in Grenada.
Working days required
Three to four working days.
HIV entry requirements
No Test Required
Departure tax
EC$50 per adult, payable in cash (local currency only). EC$25 for children five to 12 years of age. Children under five are exempt.
Embassies
Grenada High Commission in the UK
High Commission for Grenada, The Chapel, Archel Road, West Kensington, London W14 9QH
(Previously 5 Chandos Street, London W1G 9DG, UK)
Tel: (020) 7631 4277.
Website: http://grenada-highcommission.co.uk.websitebuilder.prositehosting.co.uk/our-office
Opening hours: Mon-Fri 0900-1700; 1000-1400 (consular).
Embassy of Grenada in the USA
1701 New Hampshire Avenue, NW, Washington, DC 20009, USA
Tel: (202) 265 2561.
Website: www.grenadaembassyusa.org
Travel Advice
Most visits to Grenada are trouble-free but you should be aware of the global risk of indiscriminate international terrorist attacks, which could be against civilian targets, including places frequented by foreigners.
Hurricane Emily caused some damage on 14 July 2005, particularly in the northern half of Grenada and more extensive damage on the islands of Carriacou and Petite Martinique. Despite the damage in the north and the islands, the situation in Grenada has returned to normal and tourist facilities are functioning. The airport on Grenada is operating normally.
This advice is based on information provided by the Foreign, Commonwealth & Development Office in the UK. It is correct at time of publishing. As the situation can change rapidly, visitors are advised to contact the following organizations for the latest travel advice:
British Foreign, Commonwealth & Development Office
Tel: (0845) 850 2829.
Website: www.gov.uk/foreign-travel-advice
US Department of State
Currency
(XCD) = 100 cents. Notes are in denominations of EC$100, 50, 20, 10 and 5. Coins are in denominations of EC$1, and 50, 25, 10, 5, 2 and 1 cents. Note: The East Caribbean Dollar is tied to the US Dollar.
Currency exchange
Barclays Bank, Grenada Bank of Commerce, Grenada Co-operative Bank, National Commercial Bank and Scotia Bank are all found on the island. It is advised to exchange currency at banks to obtain the most favourable exchange rates.
Currency restrictions
There are no restrictions on the import or export of reasonable quantities of local or foreign currency.
Banking hours
Mon-Thurs 0800-1500, Fri 0800-1700. Currency exchange
Credit cards
American Express, Diners Club, MasterCard and Visa and other major cards are accepted by most shops, car hire companies and hotels. Check with your credit or debit Card Company for details of merchant acceptability and other services which may be available. ATMs are available.
Travellers cheques
Widely accepted. To avoid additional exchange rate charges, travellers are advised to take traveller's cheques in US Dollars.
| City/Region | City/Area code | Followed by |
| --- | --- | --- |
| Grenada and Carriacou | (1+)473 | + 7 digit subscriber nr |