Quick Facts
Region: Africa
Full Name: Republic of Ghana
Capital City: Accra
Language Spoken: English (official), African languages (including Akan, Moshi-Dagomba, Ewe, and Ga)
Ghana Travel Insurance
Get travel insurance to Ghana from Direct Travel Insurance. We offer low cost and high quality travel insurance to Ghana and most of the world.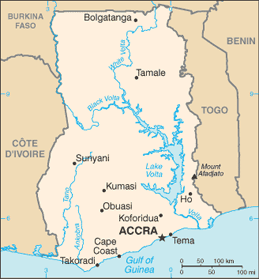 Geographic data
8 00 N, 2 00 W
Elevation Extremes
lowest point: Atlantic Ocean 0 m highest point: Mount Afadjato 880 m
Land boundaries
total: 2,094 km border countries: Burkina Faso 549 km, Cote d'Ivoire 668 km, Togo 877 km
Natural hazards
dry, dusty, northeastern harmattan winds occur from January to March; droughts
Natural resources
gold, timber, industrial diamonds, bauxite, manganese, fish, rubber, hydropower, petroleum, silver, salt, limestone
Land use
arable land: 17.54% permanent crops: 9.22% other: 73.24% (2005)
Environmental current issues
recurrent drought in north severely affects agricultural activities; deforestation; overgrazing; soil erosion; poaching and habitat destruction threatens wildlife populations; water pollution; inadequate supplies of potable water
Climate
A tropical climate, hot and humid in the north and in the forest land of Ashanti and southwest plains. There are two rainy seasons in Ghana: from March to July and from September to October. Required clothing Tropical lightweight clothing. Sunglasses are advisable.
Time difference
time difference: UTC 0
Population
22,409,572 note: estimates for this country explicitly take into account the effects of excess mortality due to AIDS; this can result in lower life expectancy, higher infant mortality and death rates, lower population and growth rates, and changes in the distribution of population by age and sex than would otherwise be expected (July 2006 est.)
Age structure
0-14 years: 38.8% (male 4,395,744/female 4,288,720) 15-64 years: 57.7% (male 6,450,828/female 6,483,781) 65 years and over: 3.5% (male 371,428/female 419,071) (2006 est.)
Median age
total: 19.9 years male: 19.7 years female: 20.1 years (2006 est.)
Population growth rate
2.07% (2006 est.)
Birth rate
30.52 births/1,000 population (2006 est.)
Death rate
9.72 deaths/1,000 population (2006 est.)
Net migration rate
-0.11 migrant(s)/1,000 population (2006 est.)
Sex ratio
at birth: 1.03 male(s)/female under 15 years: 1.03 male(s)/female 15-64 years: 1 male(s)/female 65 years and over: 0.89 male(s)/female total population: 1 male(s)/female (2006 est.)
Life expectancy at birth
total population: 58.87 years male: 58.07 years female: 59.69 years (2006 est.)
Total fertility rate
3.99 children born/woman (2006 est.)
Business Practices
Generally, Ghanaian business customs are similar to those in Europe and North America, but are a bit more formal. Most Ghanaian businessmen wear business suits during working hours, but resort to traditional attire for social functions. Many businesswomen often wear African attire during business hours and for social functions as well. Lightweight summer clothing is appropriate year round and the use of an umbrella is essential during the June to August rainy season, although Accra gets less rain than most parts of the country. English is the official language and it is used in most business transactions. Most urban Ghanaians speak some English. Through some favors, which may seem normal in Ghana, it is quite easy to make friends in Ghana who could facilitate business transactions. This behavior in some cases goes beyond proper business ethics and may amount to bribery. With the exception of high-ranking officials such as government ministers, it is relatively easy to arrange calls on local businessmen and government officials. Through its Gold Key Service the FCS can arrange appointments upon request. Business cards are widely used. They range from the simple: black and white, standard 2" x 3.5" cards, to colorful: oversized, multi-colored cards with fancy logos. In recent years, U.S. citizens have reported substantial financial losses from questionable transactions involving gold and other precious metals. The Government of Ghana maintains strict regulations on these natural resources. All agents must be licensed and all transactions must be certified. Office hours are 0800-1200 and 1400-1700 Monday to Friday and 0830-1200 Saturday.
Crime
Pickpocketing, purse snatching, and various types of scams are the most common forms of crime confronting visitors. U.S. travelers have reported instances of these types of theft in crowded market areas, beaches and parks, and at tourist attractions. Travelers who limit their display of jewelry and handle their cash discreetly reduce their vulnerability to crime. Foreign nationals are expected to carry documentation of their status, such as a passport and visa.
Hotels
Hotels in Accra range from 1-star to 5-star. The quality of hotel accommodations in other cities also varies widely. The hotels most used by business travelers are: Accra Novotel Hotel, Independence Road, Tel: 667546, Fax: 667533, E-mail: novotel@ghana.com Labadi Beach Hotel, Labadi Road, Tel: 772501/772507/774502, Fax: 772520, E-mail: labadi@ghana.com Shangri-La, Liberation Road, Tel: 777500/776993/4, Fax: 774873, E-mail: shangri.com.gh Wangara Hotel, Labone, Tel: 772723/772525/779250-2/772585/6, Fax: 772438, E-mail: wangara@africaonline.com.gh Other less expensive but adequate hotels are also available in Accra.
Communications
Telephone IDD service has recently become available to major cities. Country code: 233. Outgoing international code: 00. Rehabilitation and modernization are still in progress. Ghana has about 100,000 telephone lines. Currently, services are provided by Ghana Telecom Limited and three mobile cellular phone operators. Several privately owned communication centers that provide pay phone services are found in all major cities. Prepaid calling cards for both local and international calls can be purchased from travel agents, post offices, and gas stations. There is a 24-hour fax service in Accra. Ghana is now on line. Three Internet service providers (ISPs) offer a full range of on-line services. NCS (Network Computer Systems - (tel. 238218,225472); AfricaOnline (, tel. 226802); and Internet Ghana (tel. 227654, 232881). The electric current is 230 volts, 50 cycles. Electric equipment used is 220v/240v. Single phase, 3-pin plugs are used in larger buildings. Older buildings have 2-pin plugs. Light bulbs are of the bayonet type.
Electricity
220 volts AC, 50Hz; usually three-pin plugs. Single phase three-pin plugs are used in larger buildings. Older buildings have two-pin plugs. Light bulbs are of the bayonet type.
Plug Types
D,G
Food And Dining
International food is available in most large hotels and many restaurants serve a range of local traditional foods. In Accra there are also restaurants serving Middle Eastern, Chinese, French and other European cuisine.

National specialties:
? Kenkey, hot peppers and fried fish, eaten mostly in the Accra region.
? On the coast, prawns and other seafood are popular.
? Akyeke, cassava couscous served with avocado.
? Fufu, pounded cassava beans, yam, plantain or rice, usually accompanies traditional soups (palmnut, groundnut), Kontomere and Okro (stews).
? Fante fante, popular in the central regions is a palm oil stew with small fish.
? Akrantee, bushmeat.
? Green green snails.
? Nkontomire, yam leaf soup. National drinks:
? Pito is a beer brewed in the Northern region made from millet.
? Zom koom, toasted millet flour in water.
? Palm wine.
? Coconut juice.

Tipping:
Tipping is permitted, it is not usually included in the bill.

Nightlife
In Accra and other major centers, there are nightclubs with Western popular music and Afro beat. Concerts can be seen at the national theater in Accra. The School of Performing Arts, University of Ghana, Legon often hosts drama, poetry and cultural dancing shows. Foreign and Ghanaian films can be seen at the Ghana Film Theater and Executive Film House in Accra.
Entry departure requirements
Visa immigration information
Passports
Passport valid for six months required by all except nationals of ECOWAS countries who will be allowed entry with a valid travel certificate.
Visas
Required by all except the following for stays of up to three months:
(a) nationals of ECOWAS countries;
(b) nationals of Egypt, Hong Kong (SAR), Kenya, Mauritius and Singapore;
(c) those in transit to a third country traveling within 24 hours, as long as they hold onward tickets with reserved seats and do not leave the airport.
Note
The following nationals may obtain visas upon arrival at the port of entry: Botswana, Lesotho, Malawi, Swaziland, Tanzania, Uganda and Zambia.
Types of visa and cost
Tourist/Business: US$52 (single-entry); US$69 (multiple-entry; six months); US$103 (multiple-entry; one year); US$120 (multiple-entry; two years); Transit: US$17
Validity
Valid for three months from the date of issue. However, length of stay is at the discretion of airport officials and only one month is guaranteed. Visas may be extended when in Ghana. Visas for one year may be granted for specific purposes.
Application to
Consulate (or Consular section at Embassy or High Commission); postal applications are accepted; see Passport/Visa Information for details. A visa can be issued on arrival to nationals of countries without a Ghanaian Mission or Consulate, but only if prior notice is given to the Director of Immigration by the traveller or their sponsor prior to arrival; see Passport/Visa Information.
Application requirements
(a) Valid passport. (b) Completed entry permit application form, two copies, or four if making a postal application. (c) Two passport-size photos, or four if making a postal application. (d) For postal applications, registered or recorded self-addressed envelope. (e) Fee (payable by cash, postal order or bankers' draft made payable to the High Commission; cash is not valid for postal applications). (f) Evidence of onward/return ticket. (g) Evidence of sufficient funds. (h) If traveling at invitation of host in Ghana, a letter of invitation should be submitted. (i) Valid certificate of inoculation against Yellow Fever, if applicable. Business: (a)-(i) and, (j) Letter of guarantee from a company in support of the application (the letter should explain the nature of business the applicant will be conducting in Ghana).
Working days required
Four for personal, a minimum of 10 for postal applications.
Temporary residence
Application with sufficient notice to be made to High Commission or Embassy.
Note
Single parents or other adults traveling alone with children should note that some countries require documentary evidence of parental responsibility before allowing lone parents to enter the country or in some cases before permitting the children to leave the country, for exact requirements contact the Ghanaian Consulate (see Passport/Visa Information).
HIV entry requirements
No Test Required
Departure tax
GHC500.
Embassies
Ghana High Commission (Education, Visas and Trade) in the UK
Ghana High Comission, 13 Belgrave Square, London SW1X 8PN
(Previously 104 Highgate Hill, London N6 5HE, UK)
Tel: (020) 8342 7500 or 7580; (020) 8342 7580 or 7558 or 7501 (Visa section).
Website https://www.ghanahighcommissionuk.com/
Consulate opening hours: Mon-Fri 0930-1300 (visa collection).
Consulate General of Ghana (Visas and Tourist Information) in the USA
19 East 47th Street, New York, NY 10017, USA
Tel: (212) 832 1300.
Website: https://www.ghanaembassydc.org/
Ghana Immigration Service
Director of Immigration, Private Mail Bag, Ministries Post Office, Accra
Tel: 21 221 667 or 225 321 or 224 445.
Travel Advice
The Government of Ghana lifted the state of emergency in the Tamale municipality and Yendi District of the Northern Region of Ghana in July 2004, which had been in effect for two and a half years following an outbreak of inter-ethnic fighting at Yendi. However, travelers considering traveling to the Northern Region should remain alert to the potential for new outbreaks of fighting. It is recommended you keep in touch with daily developments through the local media.
Violent crime can occur at any time. While most visits to Ghana are trouble-free, travelers are advised to exercise a high level of vigilance in public areas, and when traveling by road.
You should be aware of the global risk of indiscriminate terrorist attacks, which could be against civilian targets, including places frequented by foreigners.
This advice is based on information provided by the Foreign, Commonwealth & Development Office in the UK. It is correct at time of publishing. As the situation can change rapidly, visitors are advised to contact the following organizations for the latest travel advice:
British Foreign, Commonwealth & Development Office
Website: www.gov.uk/foreign-travel-advice
US Department of State
Website: http://travel.state.gov/travel
Currency
Cedi (GHC) = 100 pesewas. Notes are in denominations of GHC20,000, 10,000, 5000, 2000 and 1000. Coins are in denominations of 500, 200, 100 and 50 pesewas. The Cedi is pegged to the US$ at an adjustable rate.
Currency restrictions
The import of local currency is limited to amounts which have previously been permitted to be taken out of the country and this must be noted in the passport/travel documents; it must also be declared. Unused local currency can be re-exchanged on proof of authorized exchange, and visitors are advised to retain all currency exchange receipts. The export of local currency is limited to GHC5000. The import of foreign currency is unlimited, subject to declaration (on exchange control form T5 which must be retained to record transactions). The export of foreign currency is limited to US$5000.
Banking hours
Mon-Fri 0830-1500.
Currency exchange
The exchange rate system has been liberalized and foreign currency is freely available through authorized dealers including banks and foreign exchange bureaux. Cash is exchanged at a more preferential rate than traveller's cheques.
Credit cards
Credit cards (mainly American Express, Dinners Club and Visa) are accepted by leading hotels, restaurants, banks, businesses and some shops. Check with your credit or debit card company for details of merchant acceptability and other services which may be available. Some banks may give cash advances against leading cards. However, those using credit cards should be aware that credit card fraud is common. In large urban areas such as Accra and Kumasi ATMs are commonplace.
Travellers cheques
To avoid additional exchange rate charges, travelers are advised to take traveller's cheques in US Dollars or Pounds Sterling. Traveller's cheques can be exchanged in large hotels, banks and foreign exchange bureaux.
| City/Region | City/Area code | Followed by |
| --- | --- | --- |
| Aburi | (0)876 | + 5 digit subscriber nr |
| Accra | (0)21 | + 6 digit subscriber nr |
| Ada | (0)968 | + 3 digit subscriber nr |
| Aflao | (0)962 | + 3 digit subscriber nr |
| Akatsi / Kete-Krachi | (0)953 | + 5 digit subscriber nr |
| Akim Oda | (0)882 | + 3 digit subscriber nr |
| Akosombo | (0)251 | + 5 digit subscriber nr |
| Asankragua | (0)392 | + 5 digit subscriber nr |
| Axim | (0)342 | + 3 digit subscriber nr |
| Bawku | (0)743 | + 4 digit subscriber nr |
| Bekwai | (0)572 | + 3 digit subscriber nr |
| Berekum | (0)642 | + 5 digit subscriber nr |
| Bole | (0)746 | + 5 digit subscriber nr |
| Bolgatanga | (0)72 | + 4 digit subscriber nr |
| Brong Ahafo | (0)567 | + 4 digit subscriber nr |
| Buipe | (0)716 | + 5 digit subscriber nr |
| Cape Coast | (0)42 | + 5 digit subscriber nr |
| Damongo | (0)717 | + 5 digit subscriber nr |
| Donkorkrom | (0)848 | + 5 digit subscriber nr |
| Dormaa-Ahenkro | (0)648 | + 5 digit subscriber nr |
| Dunkwa | (0)372 | + 3 digit subscriber nr |
| Ejura | (0)565 | + 5 digit subscriber nr |
| Elubo | (0)345 | + 5 digit subscriber nr |
| Enchi | (0)395 | + 5 digit subscriber nr |
| Gambaga | (0)762 | + 5 digit subscriber nr |
| Ho | (0)91 | + 3 digit subscriber nr |
| Hohoe | (0)935 | + 4 digit subscriber nr |
| Keta | (0)966 | + 3 digit subscriber nr |
| Koforidua | (0)81 | + 5 digit subscriber nr |
| Konongo | (0)531 | + 3 digit subscriber nr |
| Kumasi | (0)51 | + 5 digit subscriber nr |
| Lashibi | (0)22 | + 5 digit subscriber nr |
| Mampong-Akwapim | (0)872 | + 5 digit subscriber nr |
| Mampong-Ashanti | (0)561 | + 3 digit subscriber nr |
| Mpraeso | (0)846 | + 5 digit subscriber nr |
| Nkawkaw / Nsawam | (0)842 | + 5 digit subscriber nr |
| Obuasi | (0)582 | + 3 digit subscriber nr |
| Salaga | (0)752 | + 5 digit subscriber nr |
| Samreboi | (0)394 | + 5 digit subscriber nr |
| Sunyani | (0)61 | + 3/4 digit subscriber nr |
| Swedru | (0)41 | + 3 digit subscriber nr |
| Takoradi | (0)31 | + 5 digit subscriber nr |
| Takoradi2 | (0)362 | + 3 digit subscriber nr |
| Tamale | (0)71 | + 5 digit subscriber nr |
| Techiman | (0)653 | + 4 digit subscriber nr |
| Wa1 | (0)756 | + 5 digit subscriber nr |
| Walewale | (0)715 | + 5 digit subscriber nr |
| Wenchi | (0)652 | + 4 digit subscriber nr |
| Winneba1 | (0)432 | + 5 digit subscriber nr |
| Yeji | (0)568 | + 5 digit subscriber nr |