Quick Facts
Region: North & Central America & the Caribbean
Full Name: Republic of Guatemala
Capital City: Guatemala
Language Spoken: Spanish 60%, Amerindian languages 40% (23 officially recognized Amerindian languages, including Quiche, Cakchiquel, Kekchi, Mam, Garifuna, and Xinca)
Guatemala Travel Insurance
Get travel insurance to Guatemala from Direct Travel Insurance. We offer low cost and high quality travel insurance to Guatemala and most of the world.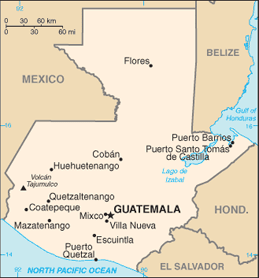 Geographic data
15 30 N, 90 15 W
Elevation Extremes
lowest point: Pacific Ocean 0 m highest point: Volcan Tajumulco 4,211 m
Land boundaries
total: 1,687 km border countries: Belize 266 km, El Salvador 203 km, Honduras 256 km, Mexico 962 km
Natural hazards
numerous volcanoes in mountains, with occasional violent earthquakes; Caribbean coast extremely susceptible to hurricanes and other tropical storms
Natural resources
petroleum, nickel, rare woods, fish, chicle, hydropower
Land use
arable land: 13.22% permanent crops: 5.6% other: 81.18% (2005)
Environmental current issues
deforestation in the Peten rainforest; soil erosion; water pollution
Climate
Guatemala?s climate varies according to altitude. The coastal regions and the northeast are hot throughout the year with an average temperature of 20?C (68?F) sometimes rising to 37?C (99?F). Generally, nights are clear all year round. In higher climes, near the center of the country, the rainy season, running from May to September, is characterized by clear skies after abundant rainfall in the afternoons and evenings. Temperatures fall sharply at night.\nRequired clothing\nLightweight tropical clothing. Jacket or light woolens for the evening.
Time difference
time difference: UTC-6 daylight saving time: +1hr, begins last Sunday in April; ends last Friday in September; note - there is no DST planned for 2007-2009
Population
12,293,545 (July 2006 est.)
Age structure
0-14 years: 41.1% (male 2,573,359/female 2,479,098) 15-64 years: 55.5% (male 3,353,630/female 3,468,184) 65 years and over: 3.4% (male 194,784/female 224,490) (2006 est.)
Median age
total: 18.9 years male: 18.5 years female: 19.4 years (2006 est.)
Population growth rate
2.27% (2006 est.)
Birth rate
29.88 births/1,000 population (2006 est.)
Death rate
5.2 deaths/1,000 population (2006 est.)
Net migration rate
-1.94 migrant(s)/1,000 population (2006 est.)
Sex ratio
at birth: 1.05 male(s)/female under 15 years: 1.04 male(s)/female 15-64 years: 0.97 male(s)/female 65 years and over: 0.87 male(s)/female total population: 0.99 male(s)/female (2006 est.)
Life expectancy at birth
total population: 69.38 years male: 67.65 years female: 71.18 years (2006 est.)
Total fertility rate
3.82 children born/woman (2006 est.)
Business Practices
Guatemalan businessmen tend to be rather formal and conservative. Normal courtesies should be observed and appointments should be made. Punctuality is appreciated and calling cards can be useful. Most business is conducted in Guatemala based on personal relationships. Guatemalan business executives and government officials place great importance on personal contacts with suppliers. U.S. suppliers should be prepared to have a local representative or distributor and to travel to Guatemala personally. Travelers often are surprised at the accessibility of key decision-makers and by the openness and frankness of local buyers. Spanish is the official language in Guatemala. Many firms are accustomed to working in English. However, correspondence is preferred in Spanish. Catalogs and technical literature should be provided in careful translations. Promotional material should be in Spanish. Though many private and public officials speak and read English, many technicians and engineers do not. Guatemalans are extremely receptive to technical presentations that are educational rather than sales oriented. Business hours for commercial and industrial firms are from 08:00 to 18:00, Monday through Friday and 0800-1200 Saturdays. It is not unusual for some offices and businesses to be closed during lunch hours.
Crime
Widespread poverty and violence combine to produce a level of crime that is a serious concern for tourists and residents alike in Guatemala. The safest means to visit Guatemala is as part of a reputable tour organization, though small tour buses also are occasionally targets of crime. There is no evidence, however, to suggest that foreigners criminals specifically target visitors or residents as many Guatemalans are victimized on an equally regular basis. As a result vigilante killings are on the rise in Guatemala. Guatemala City's central business district (Zone 1) has a notoriously high crime rate. The section of Zone 1 between 4th Avenida and 8th Avenida from the Cathedral to 18 Calle is are favorite areas for muggers and other violent criminals and should be avoided at night. Pickpockets and purse-snatchers frequent the Central Market. Crime also is a growing problem at the Parque Minerva in Zone 2, an area that is particularly unsafe for unescorted women. Rape and assaults of women are on the rise and have taken place on public transport. In Guatemala City, restrict travel to daylight hours. Do not carry large bags or expensive cameras and equipment and do not wear sunglasses or jewellery. Ensure personal belongings and travel documents are secure at all times. Carry only a copy of the identification page of your passport and sufficient funds for the day. Visits to Tikal National Park, especially the ruins, should be undertaken with official guides or organized tour groups. Avoid the less-travelled paths and areas of Tikal. A number of foreigners have been violently attacked, robbed, and raped. Travel should be avoided on the isolated small dirt roads near Lake Atitl?n. The safest route to Lake Atitl?n is via the Pan-American Highway (CA-1) and Solol?, although this is where most disturbances occur. Boulders and tree trunks may be left on the road following a demonstration, posing a threat to drivers. Avoid travelling on the Godinez road to Panajachel as it is dangerous and rarely patrolled by police. Armed robberies against vehicles with foreign plates occur frequently on the Pacific Coast Highway (CA-2). Do not hike in the Pacaya and Agua volcano areas without a reputable guide. Day road trips from Antigua are discouraged due to unsafe vehicles, irresponsible drivers, and unregulated tour operators. Robberies, violent assaults, and rapes have occurred in national parks, at the Cerro de la Cruz (outside Antigua), at the Volc?n de Pacaya, and at Biotopo Cerro Cahui (close to Hotel Camino Real in Pet?n). When hiking in remote areas, carry few personal belongings, stay with the group, and do not carry your passport or large amounts of cash. Travel to some tourist sites, such as Quirigua or Mixco Viejo, is best done through a reputable tour operator. It is dangerous to climb volcanoes, particularly Pacaya volcano near Antigua and Guatemala City, where tourists have been murdered, robbed and raped. Cerro de la Cruz Park in Antigua has been the site of murder, rapes, stabbings and robberies of foreign tourists. Armed car theft is a serious problem, although persons who offer no resistance when confronted by armed thieves are usually not hurt. Highway travel has generally exposed visitors to increased risk of violent incident. Highway robberies by armed thieves have increased significantly over the past year and have occurred in all parts of the country. Tourist vans have been a particularly susceptible target. Kidnappings for ransom are prevalent in Guatemala. There have been at least thirteen kidnappings during the past three years involving foreign residents of Guatemala. Two of the victims were murdered. The Guatemalan government has had some success in its fight against kidnappers, but is still struggling in its battle against common crime. A special tourist police force has been deployed in the Antigua area, and military forces have been deployed in some areas to support civilian police. Those who offer no resistance when confronted by armed thieves are usually not hurt. Allow enough time for border crossing formalities in order to arrive at a major town before dark. Many border posts close for lunch and at dusk. To avoid excessive charges at border crossings, ascertain the correct fees from the Guatemalan embassy or consulate ahead of time. It may be difficult to obtain police assistance. Police forces lack resources and may expect payment. Do not approach or photograph children and women, since many people in Guatemala fear that children are being kidnapped for adoption or for theft of vital organs. Violent incidents involving foreigners have been reported.
Hotels
There are many first class hotels in Guatemala City and throughout the country. Among the hotels, the Ritz Continental and Pan American are recommended if a hotel in Zone 1 of the city is required, but because of the serious crime problems in the zone, most travelers prefer hotels in Zone 4, 9 and 10. Among the preferred hotels: The Ramada Conquistador (Zone 4); El Dorado Americana, Princess and Cortijo Reform (Zone 9); the Camino Real, Guatemala Fiesta, and Residencial Reforma (Zone 10). Hotel space is limited and reservations should be made and confirmed prior to arrival.
Communications
Telephone IDD service is available. Country code: 502. Outgoing international code: 00. Basic telephone service is easily available at most hotels and offices in Guatemala City. Generally, calls can be placed to the U.S. without any problem. Calls can be placed through the hotel operator (via the Guatemalan Telecommunications Company-GUATEL) or directly (calling card or collect) via AT&T (dial 9999190), MCI (dial 9999189) and Sprint (dial 9999195).
Electricity
is at 110 volts AC, 60Hz. There are some regional variations. Electricity 115-125 volts AC, 60Hz. There are some regional variations.
Plug Types
A,B,G,I
Food And Dining
There is a variety of restaurants and cafes serving a wide selection of cooking styles including American, Argentinian, Chinese, French, Italian, Japanese, Mexican and Spanish. There are many fast-food chains and continental-style cafes. The visitor should note that food usually varies in price rather than quality and some of the cheap eateries are amongst the best. National specialty:
? Kac lc (soup made from turkey and seasoned with samat (a herb from Alta Verapaz).
? Guacamole.
? Flan de Naranja (orange-flavored flan). National drink:
? Coffee.
? Quetzalteca (an extremely potent raw cane spirit).

Tipping:
10 per cent is normal in restaurants where service has not been included..

Nightlife
In Guatemala City in particular, there are nightclubs and discos with modern music and dance, featuring national and international artists. Guatemala is the home of marimba music, which can be heard at several venues. In the cities, the marimba is a huge elaborate xylophone with large drum sticks played by four to nine players. In rural areas the sounding boxes are made of different shaped gourds (marimbas de tecomates). There are regular concerts throughout Guatemala. There are also theaters and numerous plays in English and other cultural performances. Films with English and Spanish subtitles are often shown in major towns. The most important museums and art galleries are found in Guatemala City, la Antigua Guatemala and Tikal National Park.
Entry departure requirements
Restricted entry Entry and transit is refused to deportees of other countries who are not nationals of Guatemala. Nationals of some countries require special authorization from the Department of Immigration in Guatemala before they are granted a visa; nationals of these countries will need to make their application in Guatemala, through a person, company or institution that will be responsible for that person's stay in Guatemala. Authorization from Guatemala will take two to five weeks and applicants are also required to attend an interview at the Consulate. For an up-to-date list of nationalities, enquire at the nearest Consulate (or Consular section at Embassy).
Visa immigration information
Passports
Passport valid for at least six months required by all.
Visas
Required by all except the following:
(a) nationals of countries referred to in the chart above (also including French Overseas Territories);
(b) nationals of Andorra, Antigua & Barbuda, Argentina, Bahamas, Bahrain, Barbados, Belize, Brazil, Brunei, Bulgaria, Chile, Costa Rica, Croatia, El Salvador, Guam, Honduras, Hong Kong (SAR), Iceland, Israel, Korea (Rep), Kuwait, Liechtenstein, Macedonia (Former Yugoslav Republic of), Madagascar, Malaysia, Marshall Islands, Mexico, Monaco, New Zealand, Nicaragua, Norway, Panama, Paraguay, Qatar, Romania, St Kitts & Nevis, St Lucia, St Vincent & the Grenadines, San Marino, S?o Tom? e Pr?ncipe, Singapore, Solomon Islands, South Africa, Switzerland, Taiwan (China), Trinidad & Tobago, Turkey, Tuvalu, Uruguay, Vanuatu, Vatican City and Venezuela;
(c) transit passengers continuing their journey to a third country by the same or first connecting aircraft within eight hours, provided holding tickets with confirmed onward reservations and not leaving the transit area.
Types of visa and cost
Visitor/Tourist: US$43 (single-entry); US$86 (multiple-entry). Business: US$86 (multiple-entry). Transit: US$17
Validity
Visitor/Tourist: 90 days from date of entry. Business: 180 days from date of entry. Visas must be used within 30 days of issue.
Application to
Consulate (or Consular section at Embassy); see Passport/Visa Information.
Application requirements
Visitor/Tourist: (a) Two application forms. (b) Two passport-size photos. (c) Valid passport. (d) Onward or return ticket. (e) Stamped, self-addressed, registered envelope (if applying by post). (f) Bank or Credit Card statements for at least three months. Business: (a)-(e) and, (f) Letter from applicant?s company in duplicate, indicating the nature and status of the company as well as the applicant?s planned activities.
Working days required
Two to three.
HIV entry requirements
No Test Required
Departure tax
US$30. 24-hour transit passengers are exempt.
Embassies
Embassy of the Republic of Guatemala in the UK
13 Fawcett Street, London SW10 9HN, UK
Tel: (020) 7351 3042.
Website: http://guatemala.embassyhomepage.com/
Opening hours: Mon-Fri 0900-1700; 1000-1300 only for walk in queries (consular section).
The Embassy also handles tourism queries.
Embassy of the Republic of Guatemala in the USA
2220 R Street, NW, Washington, DC 20008, USA
Tel: (202) 745 4952.
Website: http://guatemalaembassyusa.org/

Guatemala is slowly recovering from the effect of Hurricane Stan, which brought intensive rains and landslides in October 2005. It forced the Guatemalan Government to declare a national emergency. There is still potential for further flooding and landslides. The Southern coast from Mexico to El Salvador, the highland departments of Quetzaltenango and Huehuetenango and the Soloa/Atitlan area are the most affected. The village of Panabay and the town of Tzanchaj were completely buried. The Guatemalan Government is advising against travel to these areas. Roads are being rehabilitated but delays can still occur as many roads and bridges have been swept away and many of the main highways are impassable. Much of the country is without electricity and/or telephone services. Travelers should be on their guard and exercise great caution as violent crime is common throughout Guatemala, and has affected tourists.
Travelers should avoid traveling at night or visiting remote places unaccompanied.
Travelers should avoid traveling on some roads in Guatemala, because of criminal attacks on cars and buses.
The threat from terrorism is low, but you should be aware of the global risk of indiscriminate terrorist attacks which could be against civilian targets, including places frequented by foreigners.
This advice is based on information provided by the Foreign, Commonwealth & Development Office in the UK. It is correct at time of publishing. As the situation can change rapidly, visitors are advised to contact the following organizations for the latest travel advice:
British Foreign, Commonwealth & Development Office
Tel: (0845) 850 2829.
Website: www.gov.uk/foreign-travel-advice
US Department of State
Currency
Quetzal (GTQ) = 100 centavos. Notes are in denominations of GTQ100, 50, 20, 10 and 5. Coins are in denominations of GTQ1, and 50, 10, 5 and 1 centavos. The US Dollar also became an official currency in 2001.
Currency restrictions
The import and export of local currency is prohibited. The import and export of foreign currency is unlimited.
Banking hours
Mon-Fri 0900-1700 (some banks offer external windows until 1900); Sat 0900-1300.
Currency exchange
The Quetzal is extremely difficult to obtain outside Guatemala or exchange after leaving Guatemala, and visitors are strongly advised to exchange local currency before departure. It may be difficult to negotiate notes which are torn. Unused local currency can be exchanged at the bank at the airport (opening hours: Mon-Fri 0800-2000). ATMs are common throughout the country.
Credit cards
American Express and Visa are accepted, whilst Diners Club and MasterCard have a more limited acceptance. Check with your credit or debit card company for details of merchant acceptability and other services that may be available.
Travellers cheques
Accepted by most banks and good hotels, although visitors may experience occasional problems. To avoid additional exchange rate charges, travelers are advised to take traveller's cheques in US Dollars.
| City/Region | City/Area code | Followed by |
| --- | --- | --- |
| Guatemala area | 2 | + 7 digits |
| Interurban zone | 7 | + 7 digits |
| Suburban zone | 6 | + 7 digits |