Quick Facts
Region: Europe
Full Name: Georgia
Capital City: T'bilisi
Language Spoken: Georgian 71% (official), Russian 9%, Armenian 7%, Azeri 6%, other 7% note: Abkhaz is the official language in Abkhazia
Georgia Travel Insurance
Get travel insurance to Georgia from Direct Travel Insurance. We offer low cost and high quality travel insurance to Georgia and most of the world.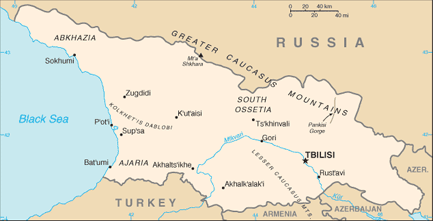 Geographic data
42 00 N, 43 30 E
Elevation Extremes
lowest point: Black Sea 0 m highest point: Mt'a Shkhara 5,201 m
Land boundaries
total: 1,461 km border countries: Armenia 164 km, Azerbaijan 322 km, Russia 723 km, Turkey 252 km
Natural hazards
earthquakes
Natural resources
forests, hydropower, manganese deposits, iron ore, copper, minor coal and oil deposits; coastal climate and soils allow for important tea and citrus growth
Land use
arable land: 11.51% permanent crops: 3.79% other: 84.7% (2005)
Environmental current issues
air pollution, particularly in Rust'avi; heavy pollution of Mtkvari River and the Black Sea; inadequate supplies of potable water; soil pollution from toxic chemicals
Climate
Hot summers with mild winters, particularly in the southwest. Low temperatures are common in alpine areas. Heaviest rainfall exists in the subtropical southwest.
Time difference
time difference: UTC+4
Population
4,661,473 (July 2006 est.)
Age structure
0-14 years: 17.3% (male 428,056/female 380,193) 15-64 years: 66.2% (male 1,482,908/female 1,602,064) 65 years and over: 16.5% (male 308,905/female 459,347) (2006 est.)
Median age
total: 37.7 years male: 35.3 years female: 40.1 years (2006 est.)
Population growth rate
-0.34% (2006 est.)
Birth rate
10.41 births/1,000 population (2006 est.)
Death rate
9.23 deaths/1,000 population (2006 est.)
Net migration rate
-4.54 migrant(s)/1,000 population (2006 est.)
Sex ratio
at birth: 1.15 male(s)/female under 15 years: 1.13 male(s)/female 15-64 years: 0.93 male(s)/female 65 years and over: 0.67 male(s)/female total population: 0.91 male(s)/female (2006 est.)
Life expectancy at birth
total population: 76.09 years male: 72.8 years female: 79.87 years (2006 est.)
Total fertility rate
1.42 children born/woman (2006 est.)
Business Practices
Meetings are usually formal in Georgia. Although the official language is Georgian, almost all business executives are fluent in Russian. English is the most widely used after Russian; however, English-language ability is still not widespread among the business community. Most of those involved in international business hire interpreters, who are widely available in Georgia. Offices and organizations in Georgia usually operate on a five- day week. A working day starts at 9:00 a.m. and ends at 5:00 or 6:00 p.m. However, because of electricity and transportation problems, the best contact time is from 10:00 a.m. to 4:00 p.m. Government and many business offices generally close at 1:00 or 00 p.m. on the day before major holidays
Crime
Crime is a very serious problem in Georgia. There is a great disparity in affluence between foreigners and a large percentage of Georgians. Visitors, especially from the US, are perceived as being wealthy and are therefore specifically targeted for economic- and property-based crimes. Incidents such as residential break-ins, carjacking, car theft, petty theft, and armed robbery account for at least 75 percent of the reported crimes involving US citizens. Petty street crime, such as pick-pocketing, purse snatching, and cell phone theft, is also common throughout the country. Violent attacks have become more commonplace. Because illegal firearms are readily available in Georgia, assailants are likely to be armed with firearms and other weapons. Crime remains a particularly serious issue in Tbilisi, where criminal activity against foreigners remains at levels disproportionate to other metropolitan areas in Europe and the United States. Many robberies and assaults have occurred in areas frequented by foreigners, such as on side streets near Tbilisi's city center, including areas off the main avenues in the Vake and Vera districts, and Chavchavadze and Rustaveli avenues, as well as the Saburtalo region of Tbilisi. These crimes have often occurred when the victim was alone, after dark, and in unfamiliar surroundings. Petty theft is also a problem on the Tbilisi metro system, in underpasses, and in mini-vans (marshrutkas) used for public transport. Travelers should use personal vehicles or take cars from established taxi companies that will carry passengers door-to-door. While the security of overland travel in Georgia has improved, vehicular and rail traffic remains vulnerable to robbery. The threat of kidnapping exists both within and outside of Tbilisi. In the past, foreign businessmen have been abducted for ransom and US citizens in the Tbilisi area have received kidnapping threats. Outside of Tbilisi, criminal activity is also a problem, especially in the separatist regions of Abkhazia and South Ossetia, due to the reduced capacity of law enforcement in those areas. Other regions of concern include: upper Svanetia, Samtskhe-Javakheti, the Abkhaz-Georgian border area (including Zugdidi city), and areas along the Russian-Georgian border. Despite significant progress in the government's efforts to reform police and fight internal corruption, serious concerns remain as to the police's ability to deter criminal activity or conduct effective post-incident investigations. Although police emergency response is good, criminals continue to have freedom of movement throughout Tbilisi day or night. Vary times and routes, especially from places of residence to work locations. Maintain a low profile by not carrying large amounts of cash, not wearing excessive amounts of jewelry, and not behaving in a manner that would draw unnecessary attention. Be aware of surroundings, travel in pairs or groups, and stay on main streets and routes. Travel only during daylight hours and provide a travel itinerary and contact telephone numbers to a friend or business colleague. Those that do become a victim of crime should not resist their assailant and should cooperate with the assailant as best they can.
Hotels
Tbilisi has two luxury hotels with accordingly high prices, one of which also houses the British Embassy. There are also a number of good hotels in Batumi and Kutaisi. The Hotel Tbilisi, built in 1914 and gutted by fire in 1992, has now been renovated and is of international standard. The Austrian-run Metekhi Palace is the most luxurious hotel.
Communications
Limited telephone IDD is available. Country code: 995. Some outgoing calls from Georgia must be made through the operator and long waits are inevitable. It is often possible to secure better service by mentioning that one is a foreigner and offering to pay a special premium rate. It is also now possible to set up an account with the local telecom company that enables visitors to make direct long-distance calls without the operator's assistance. Many businessmen and journalists now use satellite links to overcome the considerable problems of ordinary telephone communication. The Metekhi Palace Hotel is equipped with its own satellite phones.
Electricity
is 110/220 Volts AC 60 Hz. European-type, 2-pin plugs are used. Due to the energy crisis, the supply of electricity can be intermittent between November and March. Electricity 220 volts AC, 50 Hz. European-type, two-pin plugs are used. The supply of electricity can be intermittent between November and March, and visitors are advised to bring a torch with them.
Plug Types
C,F
Food And Dining
According to Georgian legend, when God was distributing land among the peoples of the world, the Georgians were so busy eating and drinking that they lost their place in the queue and there was no land left for them. But when they invited God to join the party, he enjoyed himself so immensely he gave them all the choicest bits of land he had been saving for himself. Georgians pride themselves, with some justification, on being the bons viveurs of the former Soviet Union, and their culinary tradition has survived better than most the dead hand of Soviet mass-catering. The cuisine makes extensive use of walnuts, which are used to thicken soups and sauces (anything including the word satsivi will be served in a rich sauce flavored with herbs, garlic, walnuts and egg). Cafes, restaurants and street-food traditions are all better established in Georgia than in many of the other former Soviet republics, and the markets are full of locally grown fruit and vegetables. Privately run restaurants, cafes and bars, which began to thrive during the Gorbachev period, were badly hit by the post-independence breakdown of civil order, but in recent times have begun to bounce back. The future looks bright. Things to know: Over 500 original varieties of grape are grown here, more than any other country. Both red and white wine is produced in Georgia.

National specialties:
? Meals usually start with an array of hot and cold dishes which may include spicy grilled liver and other offal.
? Walnuts feature in sauces and soups. They are also used in desserts, coated in caramelized sugar, gozinaki, or in churchkhela, when they are threaded on string then dipped in thickened, sweetened grape juice which is subsequently dried into chewy, flavorsome 'candles'.
? There is less emphasis on lamb to the exclusion of other kinds of meat than in other parts of the Caucasus. Roast suckling pig is often served, and beef and chicken are grilled or casseroled in various sauces, one of the commonest forms being chakhokhbili, a stew involving herbs, tomatoes and paprika.
? Lobio, a bean and walnut salad.
? Marinated aubergines, pkhali, made from young spinach leaves pounded together with spices.
? Khachapuri, consisting of layers of flat bread alternated with melting cheese.
? Basturma, cured meat and assorted fresh and pickled vegetables. National drinks:
? Kindzmareuli, a fruity, red wine, is reputed to have been Stalin's favorite tipple.
? Akhasheni and Teliani are two of the commoner red wines, fruity and dry respectively.
? Tsinandali is a dry white wine, as is Gurdzhaani.

Tipping:
For service in restaurants, cafes or taxis, the bill is usually rounded up

Nightlife
Nightlife in the republic is to be found primarily in international hotels although there are some bars and restaurants in Tbilisi. The Georgian State Dancers are highly praised but only occasionally to be glimpsed in Tbilisi, being almost constantly on tour. The Rustaveli Georgian Drama Theater also has a good reputation and is particularly renowned for its Shakespeare productions. The Georgian folk theater Nabadi, holds performances depicting the history of the country in modern and traditional forms.
Entry departure requirements
Visa immigration information
Passports
Passport valid for at least six months required by all.
Visas
Required by all except:
(a) nationals of CIS (except nationals of Russian Federation and Turkmenistan who do require a visa). (b) 1. Nationals of EU countries. (c) 2. Nationals of Canada, Israel, Japan, Switzerland and USA.
Note
(a) All visitors must register with the police within three days of arrival.
Types of visa and cost
Ordinary: US$14 (one month); US$40 (three months); US$7 (transit). Double-entry: US$21 (one month); US$60 (three months); US$14 (transit visa). Multiple-entry: US$132 (one year). For all other types of visa, contact the Embassy directly.
Visa Note
Passengers on cruise ships which stay on a Georgian port for less than 72 hours do not require a visa.
Validity
Tourist visas are valid from one to three months from date of issue. Multiple-entry visas are valid for 12 months from date of issue for stays of up to three months each. Transit visas are normally valid for a maximum of three days (provided transit passengers are also holding valid onward or return documentation).
Application to
Individual travelers should apply to the Embassy (or Consular section at Embassy) or send their application by post; see Passport/Visa Information. Nationals of countries where there is no Georgian diplomatic representation may obtain visas for US$10 at Tbilisi international airport, where a 24-hour service is provided by the Visa Branch of the Consular Department of the Ministry of Foreign Affairs (tel: (32) 284 698; website: www.mfa.gov.ge). Visitors should note that this service is only applicable for short-stay visits (maximum 30 days or 15 days for nationals of Turkey). Visa Consular services are also available at Batumi and Kutaisi airports and the ports of Batumi and Poti. It is also recommended that the Consular Department of the Ministry of Foreign Affairs be informed in advance of the visitor's planned visit by the inviting party.
Tourist travelers must submit all documentation to the tour operator making the travel arrangements.
Application requirements
(a) Completed application form. (b) One recent color passport-size photo. (c) Passport, valid for at least six months from the date of application. (d) Fee (cheques and postal orders are accepted, payable to Embassy of Georgia). (e) Stamped, self-addressed envelope for postal applications. Business: (a)-(e) and, (f) Letter of invitation from the inviting company. (g) Letter of introduction from the employer. Transit: (a)-(e), and (f) Visa for country of destination (if applicable). (g) Photocopy of confirmed return air ticket to and from Georgia (if applicable). (h) An official letter from an employer may also be required for the processing of transit visas (if applicable).
Working days required
Two to 10 for personal applications; two weeks to one month for multiple-entry visas; postal applicants must allow at least three to four working days for the return of passport and visa. If urgent, single- and double-entry visas can be processed the next working day during opening hours. Multiple-entry visas can also be processed, if urgent, within two weeks. An additional fee is required to process visas urgently. Note: Applications should be made no later than three working days and not earlier than three months from the date of departure.
HIV entry requirements
Test required for anyone staying longer than 1 month
Departure tax
None
Embassies
Embassy of Georgia in the UK
4 Russell Gardens, London W14 8EZ, UK
Tel: (020) 7603 7799.
Website: http://uk.mfa.gov.ge/index.php?lang_id=ENG&sec_id=200
Opening hours: Mon-Fri 1000-1800; 1000-1300 (visa lodging and collection), except Wednesdays (closed for consular information but not general enquiries).
Embassy of the Georgian Republic in the USA
1101 15th Street, Suite 602, NW, Washington DC 20005, USA
Tel: (202) 387 9150 or 393 6060 (consular section).
Website: http://usa.mfa.gov.ge/index.php?sec_id=38&lang_id=ENG
Opening hours: Mon-Fri 1000-1230.
Travel Advice
All travel to the breakaway regions of South Ossetia, Abkhazia, the Pankisi gorge beyond Akhmeta and the Svaneti region (northwest Georgia) should be avoided because of the heightened military and police tensions in these regions. Travel to Ajara is possible since tensions have eased.
Entering or leaving Georgia via land borders with the Russian Federation should not be attempted under any circumstances.
Attacks on foreigners have risen particularly in urban areas of Tbilisi. Traveling alone in Georgia should be avoided and all precautions against the high levels of crime, including kidnapping and car hijacking should be undertaken.
This advice is based on information provided by the Foreign, Commonwealth & Development Office in the UK. It is correct at time of publishing. As the situation can change rapidly, visitors are advised to contact the following organizations for the latest travel advice:
British Foreign, Commonwealth & Development Office
Website: www.gov.uk/foreign-travel-advice
US Department of State
Country Facts Health Alert Risk Media Intro Geography People Travel Embassies & Visas Finance Cities/Regions
Currency
Lari (GEL) = 100 tetri. Notes are in denominations of GEL100, 50, 20, 10, 5, 2 and 1. Coins are in denominations of 50, 20, 10 and 5 tetri.
Currency restrictions
The import and export of local currency is unrestricted. The import of foreign currency is permitted. The export of foreign currency is limited to US$500 or equivalent.
Banking hours
Mon-Fri 1000-1800.
Currency exchange
Euros, Roubles or US Dollars can be exchanged at special exchange shops, found throughout the city, while other currencies must be exchanged in banks. Cash is the preferred method of payment, and visitors are advised to carry notes in small denominations. Visitors are also advised to carry US$ in cash, Euros and Russian Roubles are also in use. There is unlikely to be a substantial difference between rates offered by banks or bureaux de change.
Credit cards
Credit cards are accepted in certain hotels, restaurants and shops in Tbilisi. Check with your credit or debit card company for details of merchant acceptability and other services which may be available.
Travellers cheques
Euros or US Dollars are recommended.
| City/Region | City/Area code | Followed by |
| --- | --- | --- |
| Abasha | (8)312 | + 5 digit subscriber nr |
| Adigeni | (8)366 | + 5 digit subscriber nr |
| Akhalgori | (8)342 | + 5 digit subscriber nr |
| Akhalkalaki | (8)362 | + 5 digit subscriber nr |
| Akhaltsikhe | (8)365 | + 5 digit subscriber nr |
| Akhmeta | (8)349 | + 5 digit subscriber nr |
| Ambrolauri | (8)339 | + 5 digit subscriber nr |
| Aspindza | (8)364 | + 5 digit subscriber nr |
| Bagdati | (8)334 | + 5 digit subscriber nr |
| Batumi | (8)222 | + 5 digit subscriber nr |
| Bolnisi | (8)358 | + 5 digit subscriber nr |
| Borjomi | (8)367 | + 5 digit subscriber nr |
| Calenjixa | (8)316 | + 5 digit subscriber nr |
| Chiatura | (8)379 | + 5 digit subscriber nr |
| Chkhorocku | (8)317 | + 5 digit subscriber nr |
| Dedoplls Tskaro | (8)356 | + 5 digit subscriber nr |
| Dmanisi | (8)360 | + 5 digit subscriber nr |
| Dusheti | (8)346 | + 5 digit subscriber nr |
| Dushetl | (8)344 | + 5 digit subscriber nr |
| EWSD | (8)220 | + 5 digit subscriber nr |
| Gardabani | (8)372 | + 5 digit subscriber nr |
| Gori | (8)370 | + 5 digit subscriber nr |
| Grigoleti | (8)310 | + 5 digit subscriber nr |
| Gurjaani | (8)353 | + 5 digit subscriber nr |
| Kareli | (8)369 | + 5 digit subscriber nr |
| Kaspi | (8)371 | + 5 digit subscriber nr |
| Kazbegi | (8)345 | + 5 digit subscriber nr |
| kharagauli | (8)333 | + 5 digit subscriber nr |
| Khashuri | (8)368 | + 5 digit subscriber nr |
| Khoni | (8)395 | + 5 digit subscriber nr |
| Kobuleti | (8)236 | + 5 digit subscriber nr |
| Kutaisi | (8)331 | + 5 digit subscriber nr |
| Kvareli | (8)352 | + 5 digit subscriber nr |
| Lagodekhi | (8)354 | + 5 digit subscriber nr |
| Lentekhi | (8)337 | + 5 digit subscriber nr |
| Marneuli | (8)357 | + 5 digit subscriber nr |
| Martvili | (8)318 | + 5 digit subscriber nr |
| Mckheta | (8)373 | + 5 digit subscriber nr |
| Ninotsminda | (8)361 | + 5 digit subscriber nr |
| Ozurgeti | (8)396 | + 5 digit subscriber nr |
| Poti | (8)393 | + 5 digit subscriber nr |
| Sagarejo | (8)351 | + 5 digit subscriber nr |
| Samtredia | (8)311 | + 5 digit subscriber nr |
| Senaki | (8)313 | + 5 digit subscriber nr |
| Signagi | (8)355 | + 5 digit subscriber nr |
| Sukhumi | (8)122 | + 5 digit subscriber nr |
| Tbilisi | (8)32 | + 6 digit subscriber nr |
| Telavi | (8)350 | + 5 digit subscriber nr |
| Terdjola | (8)391 | + 5 digit subscriber nr |
| Tetri Tskaro | (8)359 | + 5 digit subscriber nr |
| Tianeti | (8)348 | + 5 digit subscriber nr |
| Tkibuli | (8)397 | + 5 digit subscriber nr |
| Tsalka | (8)363 | + 5 digit subscriber nr |
| Tskaltubo | (8)340 | + 5 digit subscriber nr |
| Tskhinvall | (8)341 | + 5 digit subscriber nr |
| Vani | (8)332 | + 5 digit subscriber nr |
| Zestafoni | (8)392 | + 5 digit subscriber nr |
| Zugdidi | (8)315 | + 5 digit subscriber nr |