Quick Facts
Region: Africa
Full Name: Gabonese Republic
Capital City: Libreville
Language Spoken: French (official), Fang, Myene, Nzebi, Bapounou/Eschira, Bandjabi
Gabon Travel Insurance
Get travel insurance to Gabon from Direct Travel Insurance. We offer low cost and high quality travel insurance to Gabon and most of the world.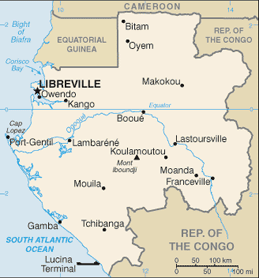 Geographic data
1 00 S, 11 45 E
Elevation Extremes
lowest point: Atlantic Ocean 0 m highest point: Mont Iboundji 1,575 m
Land boundaries
total: 2,551 km border countries: Cameroon 298 km, Republic of the Congo 1,903 km, Equatorial Guinea 350 km
Natural hazards
NA
Natural resources
petroleum, natural gas, diamond, niobium, manganese, uranium, gold, timber, iron ore, hydropower
Land use
arable land: 1.21% permanent crops: 0.64% other: 98.15% (2005)
Environmental current issues
deforestation; poaching
Climate
Equatorial with up to 80 per cent humidity. The dry season is from June to August, and the main rainy season is from October to May. Average temperatures are 25 degrees celcius. Required clothing Lightweight tropical, with raincoats advised during the rainy season.
Time difference
time difference: UTC+1
Population
1,424,906 note: estimates for this country explicitly take into account the effects of excess mortality due to AIDS; this can result in lower life expectancy, higher infant mortality and death rates, lower population and growth rates, and changes in the distribution of population by age and sex than would otherwise be expected (July 2006 est.)
Age structure
0-14 years: 42.1% (male 300,914/female 299,141) 15-64 years: 53.9% (male 383,137/female 384,876) 65 years and over: 4% (male 23,576/female 33,262) (2006 est.)
Median age
total: 18.6 years male: 18.4 years female: 18.8 years (2006 est.)
Population growth rate
2.13% (2006 est.)
Birth rate
36.16 births/1,000 population (2006 est.)
Death rate
12.25 deaths/1,000 population (2006 est.)
Net migration rate
-2.65 migrant(s)/1,000 population (2006 est.)
Sex ratio
at birth: 1.03 male(s)/female under 15 years: 1.01 male(s)/female 15-64 years: 1 male(s)/female 65 years and over: 0.71 male(s)/female total population: 0.99 male(s)/female (2006 est.)
Life expectancy at birth
total population: 54.49 years male: 53.21 years female: 55.81 years (2006 est.)
Total fertility rate
4.74 children born/woman (2006 est.)
Business Practices
Meetings are somewhat formal for the region, but tropical suits are appropriate. French is the principal language used in business circles. Translators and interpreters are available through some hotels and embassies. Strong business ties remain with France despite competition from the USA and Japan. Office hours are 0730-1200 and 1430-1800 Monday to Friday.
Crime
Petty crime such as pick pocketing and purse snatching is common especially in urban areas, however violent crimes such as armed robbery and mugging are fairly rare. Travelers outside urban areas should expect to frequently be stopped at police checkpoints.
Hotels
The five principal hotels in Libreville are the Okoume Palace Intercontinental, the Meridien Re-ndama, the Hotel Atlantique, the Novotel Rapotchombo, and the Monts de Cristal. -Okoume Palace: Managed by Intercontinental Hotels, the Okoume Palace is a 500-room hotel with some apartments, located relatively close to the airport. It has a pool, tennis and squash courts, and a fully equipped health spa with aerobics classes. There are two restaurants. Tel. (241) 732023 Fax: (241) 731629 -Meridien Re-Ndama: Managed by the French group Meridien, this hotel is near the town center, south of the U.S. and French embassies on the main road. It has a well-situated pool on the beach side of the hotel and two restaurants. Tel. (241) 742929 or 766105 Fax: (241) 742924 -Hotel Atlantique: Situated on the best beach front in Libreville, Atlantique is about 200 yards from the airport. It is known for its sumptuous, 3-course brunches. It has a pool. It is located about 10 km north of the U.S. Embassy. Telephone (241) 732446 Fax: (241) 732436 -Novotel Rapontchombo: Only 1 block from the U.S. Embassy, it is on the water but has no usable beach front. It has a pool, casino, restaurant and bar ambiance, but is less luxurious than the Meridian and the Intercontinental. Tel (241) 764742 Fax: (241) 761345 -Monts de Cristal: Situated in Centre-ville, about 1 km from the U.S. Embassy, it is comfortable, not ostentatious and has 49 rooms and a self service restaurant. Tel: (241) 762523
Communications
Telephone IDD is available. Country code: 241. No area codes required. Outgoing international code: 00. Airmail from Gabon takes at least a week to Western Europe. Urgent letters should be sent by special delivery to ensure their safe arrival. Post office opening hours are 0800-1200 and 1430-1800 Monday to Friday.
Electricity
is 220 volts AC, 50Hz. Electricity 220 volts AC, 50Hz.
Plug Types
C
Food And Dining
Most hotels and restaurants serve French and continental-style food and are expensive. Gabonese food is distinctive and delicious, but not always readily available, as most restaurants serve Senegalese, Cameroonian and Congolese food, European food is also served. Gabon is the world's 20th-largest consumer of French champagne. Licensing hours are similar to those in France.

National specialties: ?Braised fish (bass and red fish).
? Nyembw?.
? Manioc leaves.
? Bouillon de poisson (fish stew).

Tipping:
10 to 15 per cent unless service is included in the bill.

Nightlife
There are nightclubs in Libreville with music and bars. Food is often served, although this can be expensive. The African quarter of Libreville is full of fairly cheap places to eat and drink. There are also casinos at several hotels.
Entry departure requirements
Visa immigration information
Passports
Passport valid for more than six months required by all.
Visas
Required by all.
Types of visa and cost
Single-entry: US$86 (Tourist or Transit); US$120 (Business). Double-entry: US$172 (Tourist or Transit); US$241 (Business). Multiple-entry: US$481 (Tourist, Transit or Business).
Validity
Single-entry: Three months from date of issue.
Application to
Consulate (or Consular section at Embassy); see Passport/Visa Information.
Application requirements
(a) One passport-size photo. (b) One application form. (c) Fee, payable in cash or by cheque only. (d) Valid passport valid for six months, with one blank page. (e) Registered stamped, self-addressed special delivery envelope for postal applications. Tourist: (a)-(e) and, (f) Hotel reservation, or invitation from resident of Gabon legalized in the town hall. Business: (a)-(e) and, (f) Letter from the company stating the date of departure and the reasons for the visit.
Note
(a) While possession of references is not an official requirement when applying for a tourist visa, they may help speed up the application process. (b) Both yellow fever, tropical disease and cholera vaccination certificates may be required to enter Gabon but are not necessary when applying for a visa. However, it is best to check with the Embassy prior to travel.
Working days required
Minimum of four days.
HIV entry requirements
No Test Required
Departure tax
None
Embassies
Embassy of the Gabonese Republic in the UK
27 Elvaston Place, London SW7 5NL, UK
Tel: (020) 7823 9986.
Website: http://gabon.embassyhomepage.com
Opening hours: Mon-Fri 0900-1500.
Embassy of the Gabonese Republic in the USA
2034 20th Street, NW, Washington, DC 20009, USA
Tel: (202) 797 1000.
E-mail: info@ambagabonusa.net
Consulate in: New York.
Travel Advice
The threat from terrorism is low, but you should be aware of the global risk of indiscriminate terrorist attacks, which could be against civilian targets, including places frequented by foreigners.
Crime is increasing, particularly in Libreville and Port-Gentil, including incidents of robbery and armed attacks.
Following a number of carjackings within Libreville it is recommended that travelers keep their car windows closed and car doors locked if they are traveling at night.
Public demonstrations in Port Gentil have on occasion turned violent. Travelers should avoid demonstrations, rallies and large public gatherings.
This advice is based on information provided by the Foreign, Commonwealth & Development Office in the UK. It is correct at time of publishing. As the situation can change rapidly, visitors are advised to contact the following organizations for the latest travel advice:
British Foreign, Commonwealth & Development Office
Tel: (0845) 850 2829.
Website: www.gov.uk/foreign-travel-advice
US Department of State
Currency
CFA (Communaut? Financiaire Africaine) Franc (CFAfr or XAF) = 100 centimes. Notes are in denominations of CFAfr10,000, 5000, 2000, 1000 and 500. Coins are in denominations of CFAfr500, 100, 50, 25, 10, 5 and 1. Only currency issued by the Banque des ?tats de l'Afrique Centrale (Bank of Central African States) is valid; currency issued by the Banque des ?tats de l'Afrique de l'Ouest (Bank of West African States) is not. The CFA Franc is tied to the Euro. Note: Libreville is one of the most expenisive cities in the world.
Currency restrictions
The import of local and foreign currency is unlimited, subject to declaration. The export of local and foreign currency is limited to CFAfr200,000.
Banking hours
Mon-Fri 0730-1130, 1430-1630.
Currency exchange
Gabon is part of the French Monetary Area.
Credit cards
American Express, MasterCard and Visa are not widely accepted. Check with your credit or debit card company for merchant acceptability and other facilities which may be available.
Travellers cheques
To avoid additional exchange rate charges, travelers are advised to take traveller's cheques in Euros.
| City/Region | City/Area code | Followed by |
| --- | --- | --- |
| Libreville | 1 | + 6 digits |
| Outside Libreville | 2 | + 6 digits |