Quick Facts
Region: Africa
Full Name: Republic of Guinea
Capital City: Conakry
Language Spoken: French (official); note - each ethnic group has its own language
Guinea Travel Insurance
Get travel insurance to Guinea from Direct Travel Insurance. We offer low cost and high quality travel insurance to Guinea and most of the world.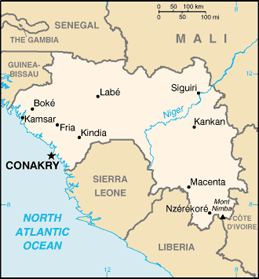 Geographic data
11 00 N, 10 00 W
Elevation Extremes
lowest point: Atlantic Ocean 0 m highest point: Mont Nimba 1,752 m
Land boundaries
total: 3,399 km border countries: Cote d'Ivoire 610 km, Guinea-Bissau 386 km, Liberia 563 km, Mali 858 km, Senegal 330 km, Sierra Leone 652 km
Natural hazards
hot, dry, dusty harmattan haze may reduce visibility during dry season
Natural resources
bauxite, iron ore, diamonds, gold, uranium, hydropower, fish, salt
Land use
arable land: 4.47% permanent crops: 2.64% other: 92.89% (2005)
Environmental current issues
deforestation; inadequate supplies of potable water; desertification; soil contamination and erosion; overfishing, overpopulation in forest region; poor mining practices have led to environmental damage
Climate
The climate is tropical and humid with a wet and a dry season. Guinea is one of the wettest countries in West Africa. The Monsoon rainy season with a south-westerly wind lasts from June to November; The dry season with a north-easterly harmattan lasts from December to May. Required clothing Tropical or washable cottons throughout the year. A light raincoat or umbrella is needed during the rainy season.
Time difference
time difference: UTC 0
Population
9,690,222 (July 2006 est.)
Age structure
0-14 years: 44.4% (male 2,171,733/female 2,128,027) 15-64 years: 52.5% (male 2,541,140/female 2,542,847) 65 years and over: 3.2% (male 134,239/female 172,236) (2006 est.)
Median age
total: 17.7 years male: 17.4 years female: 17.9 years (2006 est.)
Population growth rate
2.63% (2006 est.)
Birth rate
41.76 births/1,000 population (2006 est.)
Death rate
15.48 deaths/1,000 population (2006 est.)
Net migration rate
0 migrant(s)/1,000 population note: as a result of conflict in neighboring countries, Guinea is host to approximately 141,500 refugees from Cote d'Ivoire, Liberia, and Sierra Leone (2006 est.)
Sex ratio
at birth: 1.03 male(s)/female under 15 years: 1.02 male(s)/female 15-64 years: 1 male(s)/female 65 years and over: 0.78 male(s)/female total population: 1 male(s)/female (2006 est.)
Life expectancy at birth
total population: 49.5 years male: 48.34 years female: 50.7 years (2006 est.)
Total fertility rate
5.79 children born/woman (2006 est.)
Business Practices
Tropical-weight suits and some business visitors wear ties, but these are not essential. Appointments should be made in advance. Knowledge of French is advisable and patience in all business dealings is required. Office hours are usually 0800-1630 Monday to Thursday and 0800-1300 Friday.
Crime
Residential and street crime is common. In an effort to counter urban crime, the Guinean government maintains countrywide roadblocks from midnight to 6 A.M. Banditry near the Sierra Leone and Liberia borders has also been reported. Criminals particularly target visitors at the airport, in the traditional markets, and near hotels and restaurants frequented by foreigners. Visitors should avoid unsolicited offers of assistance at the airport or hotels as such persons may be seeking opportunities to steal luggage, purses or wallets. Travelers should arrange to be met at the airport by hotel personnel, family members or business contacts so as to reduce vulnerability to these crimes of opportunity. Commercial scams and disputes with local business partners have occasionally created legal difficulties for foreign citizens.
Hotels
In Conakry there are a few highly priced hotels of an adequate standard. The main hotels in Conakry are: the Hotel Camayenne (Located Midtown), the Novotel - Grand Hotel De L'independence (Located Downtown), the Hotel Le Galion (Located Uptown) and the Hotel Mariador (Located Uptown). Kankan also has a few hotels.
Communications
Telephone IDD service is available. The country code is 224. The communication is relatively poor and outgoing international calls must be made through the operator. Limited telephone and fax lines are usually available. There are currently three cellular phone companies in Conakry (Spacetel, Telecel, and Sotelgui). Competition between the three service providers affords customers reasonable rates. Malaysian investors are determined to expand and improve the services of the local phone company. Telex facilities are available at the Hotel de l'Ind?p?ndence and Grand Hotel de l'Unit?. There are numerous post offices in the capital.
Electricity
is at 220 volts, 50Hz. Electricity 220 volts, 50Hz.
Plug Types
C,F,K
Food And Dining
Restaurants, except in the capital where Western-style food is available, generally serve local dishes. Main hotels, mostly in the capital, have reasonable restaurants where a wide variety of alcoholic beverages are served. Conakry has several French p?tisseries selling coffee and cakes.

National specialties:
? Jollof rice.
? Stuffed chicken with groundnuts.
? Fish (served with rice).
? Cassava, yams and maize.
? Maize soup.
? Brochettes.
? Fruit (coconut and bananas). National drinks:
? Beer (West African brands).
? Fresh fruit juice.

Tipping:
A 10 per cent service charge will usually be included in the bill.

Nightlife
Although there are theaters, nightclubs and cinemas, Guineans prefer to make their own entertainment. In the streets people can often be seen gathered together to dance, sing and play traditional musical instruments or home-made guitars. Conakry is a dynamic center for music and the singing of the Kindia people is renowned. There is also an open air cinema in the small town of Mamou.
Entry departure requirements
Visa immigration information
Passports
Passports valid for a minimum of six months beyond date of departure required by all.
Visas
Required by all except the following:
(a) Nationals of Benin, Burkina Faso, Cape Verde, C?te d'Ivoire, Gambia, Ghana, Guinea-Bissau, Liberia, Mali, Niger, Nigeria, Senegal, Sierra Leone and Togo for stays up to 90 days.
Types of visa and cost
Tourist and Business: US$112 (single-entry for a stay of up to one month); US$155 (multiple-entry for a stay of up to three months).
Application to
Consulate (or Consular section at Embassy). UK nationals may apply to the Chancery Consulate General of the Republic of Guinea in London (see General Info section).
Application requirements
(a) Two application forms. (b) Two passport-size photos. (c) Passport with a remaining validity of six months after intended length of stay. (d) Proof of sufficient funds and letter of invitation or hotel reservation. (e) Proof of funds. Business: (a)-(e) and (f) Letter from the applicant's company. (g) Letter from the sponsoring company in Guinea.
Working days required
Two to three.
Passport Visa Information
Consulate General of the Republic of Guinea in the UK
83 Victoria Street, London, SW1H 0HW, UK
Tel: (020) 7078 6087.
Website: http://www.embassyofguinea.co.uk/en/word-from-the-ambassador/
E-mail: ambaguineeuk@yahoo.co.uk
Embassy of the Republic of Guinea in the USA
2112 Leroy Place, NW, Washington, DC 20008, USA
Tel: (202) 986 4300.
Fax: (202) 986 4800.
Travellers are advised against all but essential travel to the areas bordering Liberia, Sierra Leone and C?te d'Ivoire.
Travellers should avoid all demonstrations and political rallies.
Petty crime is common in Guinea. Travellers should take sensible precautions and maintain a high level of vigilance in public.
The threat from terrorism is low.
This advice is based on information provided by the Foreign, Commonwealth & Development Office in the UK. It is correct at time of publishing. As the situation can change rapidly, visitors are advised to contact the following organizations for the latest travel advice:
British Foreign, Commonwealth & Development Office
Website: www.gov.uk/foreign-travel-advice
US Department of State
Website: https://travel.state.gov/content/travel.html
HIV entry requirements
No Test Required
Departure tax
None
Embassies
British Embassy, Conakry
BP 6729
Conakry
Republic of Guinea
Telephone: (00) (224) 30 45 58 07
Facsimile: (00) (224) 30 45 60 20
Email: britcon.oury@biasy.net
Currency
Guinea Franc (GNF) = 100 centimes. Notes are in denominations of GNF5000, 1000 and 500. Coins are in denominations of GNF25, 10, 5 and 1.
Currency restrictions
It is possible to import up to 1,000 Guinea Francs providing you have a valid export declaration for that amount. Import of foreign currency is unlimited, provided declared on arrival; export is limited to the amount declared on arrival. Note: It is compulsory to exchange a certain amount of foreign currency. The amount depends on the length of stay specified in the visa, and is at the discretion of the immigration authorities. Unused currency can sometimes be re-exchanged ? again at the discretion of the authorities. Travelers are advised to check that the amounts exchanged have been entered correctly onto the declaration form.
Banking hours
Mon-Fri 0800-1230 and 1430-1700.
Currency exchange
Hotels will accept some foreign currencies in payment. Inter-bank fund transfers are frequently difficult, if not impossible, to accomplish.
Credit cards
Limited acceptance. Check with your credit or debit card company for details of merchant acceptability and other services which may be available. Guinea has a cash economy. ATMs are not available.
Travellers cheques
To avoid additional exchange rate charges, travelers are advised to take traveller's cheques in US Dollars or Euros. These are only accepted in some banks and hotels.
| City/Region | City/Area code | Followed by |
| --- | --- | --- |
| Bok? | 31 | + 4 digits |
| Boussoura | 46 | + 4 digits |
| Conakry | 47 | + 4 digits |
| Dalaba | 69 | + 4 digits |
| Faranah | 81 | + 4 digits |
| Fria | 24 | + 4 digits |
| Gu?ck?dou | 97 | + 4 digits |
| Kamsar | 32 | + 4 digits |
| Kankan | 71 | + 4 digits |
| Kindia | 61 | + 4 digits |
| Kissidougou | 98 | + 4 digits |
| Lab? | 51 | + 4 digits |
| Macenta | 94 | + 4 digits |
| Mamou | 68 | + 4 digits |
| N?Z?r?kor? | 91 | + 4 digits |
| Pita | 53 | + 4 digits |
| Sangoya | 42 | + 4 digits |
| T?lim?l? | 613 | + 3 digits |