Quick Facts
Region: Europe
Full Name: Republic of Azerbaijan
Capital City: Baku (Baki, Baky)
Language Spoken: Azerbaijani (Azeri) 89%, Russian 3%, Armenian 2%, other 6% (1995 est.)
Azerbaijan Travel Insurance
Get travel insurance to Azerbaijan from Direct Travel Insurance. We offer low cost and high quality travel insurance to Azerbaijan and most of the world.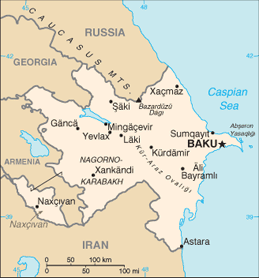 Geographic data
40 30 N, 47 30 E
Elevation Extremes
lowest point: Caspian Sea -28 m highest point: Bazarduzu Dagi 4,485 m
Land boundaries
total: 2,013 km border countries: Armenia (with Azerbaijan-proper) 566 km, Armenia (with Azerbaijan-Naxcivan exclave) 221 km, Georgia 322 km, Iran (with Azerbaijan-proper) 432 km, Iran (with Azerbaijan-Naxcivan exclave) 179 km, Russia 284 km, Turkey 9 km
Natural hazards
droughts
Natural resources
petroleum, natural gas, iron ore, nonferrous metals, alumina
Land use
arable land: 20.62% permanent crops: 2.61% other: 76.77% (2005)
Environmental current issues
local scientists consider the Abseron Yasaqligi (Apsheron Peninsula) (including Baku and Sumqayit) and the Caspian Sea to be the ecologically most devastated area in the world because of severe air, soil, and water pollution; soil pollution results from oil spills, from the use of DDT as a pesticide, and from toxic defoliants used in the production of cotton
Climate
Generally very warm, but low temperatures can occur, particularly in the mountains and valleys. Most of the rainfall is in the west.
Time difference
time difference: UTC+4 daylight saving time: +1hr, begins last Sunday in March; ends last Sunday in October
Population
7,961,619 (July 2006 est.)
Age structure
0-14 years: 25.8% (male 1,046,501/female 1,011,492) 15-64 years: 66.3% (male 2,573,134/female 2,706,275) 65 years and over: 7.8% (male 246,556/female 377,661) (2006 est.)
Median age
total: 27.7 years male: 26.3 years female: 29.2 years (2006 est.)
Population growth rate
0.66% (2006 est.)
Birth rate
20.74 births/1,000 population (2006 est.)
Death rate
9.75 deaths/1,000 population (2006 est.)
Net migration rate
-4.38 migrant(s)/1,000 population (2006 est.)
Sex ratio
at birth: 1.05 male(s)/female under 15 years: 1.04 male(s)/female 15-64 years: 0.95 male(s)/female 65 years and over: 0.65 male(s)/female total population: 0.94 male(s)/female (2006 est.)
Life expectancy at birth
total population: 63.85 years male: 59.78 years female: 68.13 years (2006 est.)
Total fertility rate
2.46 children born/woman (2006 est.)
Business Practices
Meetings tend to be formal in Azerbaijan. Business cards are generally exchanged during initial meetings, with one side of the card in Azeri and the other in English (or Russian). Azeri business people almost always offer visitors tea and sweets. Azeris tend to be very polite, but may appear to foreigners as vague and noncommittal about specifics in business transactions. Business is most usually conducted in Azerbaijani, Turkish or Russian languages, so an interpreter is usually a good idea.
Crime
Although Azerbaijan has a low rate of violent crime, incidents of street crime and assaults on foreigners are increasing. Security concerns in Baku are like those associated with any large city. Over the past year, however, there has been a steady increase in the number of reported crimes targeting Westerners. Most notably, some of these crimes have been perpetrated by local police officers. In several instances, local police officers detained Westerners in the early morning hours demanding to see their documentation. If the Westerner was unable to produce the solicited documents, the police would seize the Westerner's money. In other cases, the police targeted bars and clubs frequented by foreigners in the downtown and Fountain Square areas of Baku. Claiming that prostitution and drug trafficking were taking place, the police rounded up foreign women and threatened to take them to the police station unless they paid a bribe. Fortunately, all of these incidents have been non-violent and, in the last few months, the local government has arrested several of the corrupt police officers. Again, carrying proper documentation and practicing good judgment are the easiest means of avoiding such situations. Street crime is highest in large crowds or very isolated areas. There have been reports that criminal gangs use children to seek out and hug Westerners in order to ascertain where they are keeping their valuables. Once this is known, a signal is passed and an older child or teenager retrieves the valuable from the victim. This generally happens while the victim is still preoccupied with the smaller child. Crime is also a concern in tourist areas in Baku, such as Fountain Square and the Maiden Tower. Some of the shopping districts, such as Ganjlik, are also areas where thieves operate. Most the restaurants, shops and bars that Westerners visit are located in these areas, which have been the sites of repeated muggings. Most of these have occurred when there was only one victim present. Always travel around these areas in a group, especially at night. A good rule of thumb is to only carry what you absolutely need. Whenever possible, keep cash and identification in your front pants pockets or in concealed undergarment passport pouches. There is no need to carry credit cards, as Baku is a predominantly cash-and-carry community. Replacing lost items such as credit cards, driver's licenses and other papers while in Baku is difficult. Purses should be tucked into the crook of an arm, and hugged close to the body. If carrying a bag with a shoulder strap, do not allow the bag to hang freely and keep a hand over the clasp. If possible, do not carry a purse at all. The general rule to follow when you know you will be walking on the street is to never carry anything that you cannot afford to lose. This extends to jewelry. To avoid injury, favor small stud-type earrings over large hoop earrings. Necklaces should be kept under a blouse or sweater so they are not visible. Watches should also be kept under a coat or shirt sleeve when walking on the street. All expensive jewelry should be removed prior to going to a market or other crowded areas. As in many parts of the world, vehicle thefts occur in Baku. Most of the thefts occur in the early morning hours. Cars parked on the street in the downtown area are at the highest risk but it should be noted that car thefts are reported citywide. It is best to park in a secure parking facility or where there is constant pedestrian traffic.
Hotels
Most hotels are still state-run and standards of hygiene, service and catering remain primitive at best. Security in hotels is often a problem and basic security features such as dead bolt locks, door viewers and smoke alarms are sometimes lacking. Most U.S. citizens visiting Baku stay in the Europe, Hyatt, Radisson or City Mansion hotels. These hotels meet Western standards and offer a wide range of amenities. The management staffs at these hotels also have a relationship with Western embassies, and are aware of concerns for travelers' safety and well-being. Basic security features such as deadbolt locks, peepholes and smoke alarms are sometimes lacking in other hotels. Do not leave money, jewelry, passports or valuables in any unoccupied room in any hotel. Also be sure to note where the stairwells and fire extinguishers are located in the case of an emergency and familiarize yourself with hotel staff.
Communications
International direct dialing is available to Baku. The country code is 994. Other parts of the republic may only be contacted using operator-connected calls. All outgoing international calls from Azerbaijan, including calls to CIS republics, must be made through the operator. Limited e-mail via a local Internet system is available. The postal system is functional, but not secure. The U.S. courier firm DHL has an office in Baku.
Electricity
is at 220 volts AC, 50Hz. Electricity 220 volts AC, 50Hz.
Plug Types
C,F
Food And Dining
Azerbaijani food combines Turkish and central Asian elements. Rising pollution levels have given rise to alarm about falling fish stocks, but sturgeon is still widely available at a price. Baku has a reasonable selection of Western style restaurants which have opened recently. In the chai khanas (tea houses), men linger for hours drinking sweet black tea out of tiny glasses. A special place in the cuisine belongs to salads prepared from fresh vegetables. Salads are served together with main course. The national cuisine includes more than 30 kinds of soups. Things to know: Although the majority of Azeris are nominally Shia Muslims, alcohol is widely available.

National specialties:
? The much celebrated plov is a delicious, spicy specialty made with pine nuts, vegetables and dried fruit, in addition to rice and mutton; certain types of plov use chicken instead of mutton and include chestnuts.
? Grilled kebabs of various kinds are popular, including lyulya kebab made from spiced, minced lamb pressed onto skewers.
? Meals often start with rich, heavy soups: piti is a mutton soup bulked out with chickpeas and slowly cooked in individual earthenware pots in the oven and served in the same pots; dogva is a sharp, yogurt and spinach-based soup containing rice and meatballs.
? Sturgeon is served both smoked and fresh.
? Caviar has traditionally been fished from the Caspian Sea.
? Kutab pastries are stuffed with spinach or pumpkin and are similar to Turkish birekas.
? Kutum Lavangy is stuffed fish with cherries, walnuts and raisins.
? Dolma is minced mutton flesh with onions.
? Badimjan Dolmasi is mutton served with plenty of aubergine and tomatoes, basil, sour cream and butter. National drinks:
? Wines and brandies are produced locally.
? Sherbets are popular soft drinks made of sugar, lemon, saffron, seeds of mint and basil and other fruit.
? Tea is often served accompanied by various jams such as quince, fig, apricot, white cherry and plum. Sometimes dried leaves or flowers of savory, clove, cardamom and other spices are added to tea. Tea made of cinnamon (darchin) and ginger is popular. Sometimes rose water is added. Legal drinking age: No minimum age.

Tipping:
Expected by waiters and doormen in restaurants ? sometimes in advance to ensure service. It is advisable to make enquiries about 'going rates' before entering into negotiations with taxi drivers, market stallholders, etc. It is also customary to tip car park supervisors.

Nightlife
Several restaurants, late-night bars and nightclubs have opened in Baku in the last few years, catering largely for the foreign business community and wealthy local business people. Popular bars include Chaplin, Finnegan's and Lancaster Gate. Concerts, theater, opera and ballet are a source of local pride and very popular.
Entry departure requirements
Visa immigration information
Passports
Passport valid for at least three months after date of return required by all.
Visas
Required by all except nationals of CIS countries (except nationals of Armenia and Turkmenistan who do require visas).
Types of visa and cost
Tourist, Private, Business and Transit: US$46 (single-entry); US$93 (double-entry); US$287 (multiple-entry). Express visas: US$60 (single-entry); US$120 (double-entry); US$395 (multiple-entry).
Note: Multiple-entry visas are only available for Business or Private visits.
Validity
Contact the Consulate (or Consular section at Embassy) for details of visa validity.
Application to
Consulate (or Consular Section at Embassy); see Passport/Visa Information.
Application requirements
(a) Completed application form. (b) Two recent passport-size photos. (c) Valid passport. (d) Fee. Tourist: (a)-(d) and, (e) Letter of invitation from a travel agency in Azerbaijan or evidence of confirmed hotel reservation. Private: (a)-(d) and, (e) Letter of invitation from a person resident in Azerbaijan, processed through the Consular department of the Ministry of Foreign Affairs in Baku. Business: (a)-(d) and, (e) Letter of invitation from a company registered in Azerbaijan. Transit: (a)-(d) and, (e) Confirmed onward travel documentation. (f) Valid entry requirements for onward destination.
Note
Applications may be sent in by post, but must be collected from the Embassy either by the applicant or by a third party in possession of a letter of authorization signed by the applicant.
Working days required
Three to four days for single-entry, five to seven days for multiple-entry and 48 hours for express visas. This does not count the day of lodging.
HIV entry requirements
No Test required
Departure tax
None
Embassies
Embassy of the Azerbaijan Republic in the UK
4 Kensington Court, London W8 5DL, UK
Tel: (020) 7938 3412 or 5482 (consular section).
Website: http://london.mfa.gov.az/
E-mail: azembuk@btinternet.com
Opening hours: 0930-1800.
Consular opening hours (located on the lower ground floor of above address): Mon-Fri 1000-1300.
Embassy of Azerbaijan in the USA
2741 34th Street, NW, Washington DC 20008, USA
Tel: (202) 337 3500 or 5912 (consular section).
Website: http://www.azembassy.us/
Travel Advice
Travel to Nagorno-Karabakh, and to the militarily-occupied area around it, is advised against. For further advice, visitors should contact their local government travel advice department. Political rallies or a public gathering of a political nature should be avoided.
In addition, visitors should be aware of the global risk of indiscriminate international terrorist attacks, which could be against civilian targets, including places frequented by foreigners.
This advice is based on information provided by the Foreign, Commonwealth & Development Office in the UK. It is correct at time of publishing. As the situation can change rapidly, visitors are advised to contact the following organizations for the latest travel advice:
British Foreign, Commonwealth & Development Office
Website: www.gov.uk/foreign-travel-advice
US Department of State
Currency
Azeri Manat (AZM). Notes are in denominations of AZM50,000, 10,000, 1000, 500, 250, 100, 50, 10, 5 and 1.
Currency restrictions
The import and export of local currency is permitted for residents of Azerbaijan provided the amount is declared on the customs declaration. The import of foreign currency is unlimited although it must be declared on arrival. The export of foreign currency for non-residents is limited up to the amount declared on arrival. The export of foreign currency for residents is limited up to US$10,000 or equivalent; amounts in excess of US$1000 or equivalent are subject to 1 per cent tax.
Banking hours
Mon-Fri 0930-1730.
Currency exchange
US Dollar, Pound Sterling and the Euro are the preferred currencies and can be exchanged at the airport, bureaux de change, all hotels, some restaurants and major banks. However, many local hotels, exchange bureaux and restaurants will not accept dollar bills dated before 1992 or those which are torn or in any way disfigured. Travelers are advised to take banknotes in small denominations and change small amounts of money as required. Rates offered by banks and bureaux de change are unlikely to vary significantly.
Credit cards
Some major credit cards are accepted in Baku, at large hotels, restaurants and banks. However, generally, Azerbaijan is a cash-only economy. Credit cards can be used to purchase tickets at the airport.
Travellers cheques
Not generally accepted.
| City/Region | City/Area code | Followed by |
| --- | --- | --- |
| Agdam | (8)192 | + 5 digit subscriber nr |
| Agdara City | (8)248 | + 5 digit subscriber nr |
| Agdash | (8)193 | + 5 digit subscriber nr |
| Agjabedi | (8)113 | + 5 digit subscriber nr |
| Agsu | (8)198 | + 5 digit subscriber nr |
| Akstafa | (8)244 | + 5 digit subscriber nr |
| Ali-Bayramli | (8)197 | + 5 digit subscriber nr |
| Askeran | (8)194 | + 5 digit subscriber nr |
| Astara | (8)195 | + 5 digit subscriber nr |
| Baku | (8)12 | + 7 digit subscriber nr |
| Balaken | (8)119 | + 5 digit subscriber nr |
| Barda | (8)110 | + 5 digit subscriber nr |
| Beylagan | (8)152 | + 5 digit subscriber nr |
| Bilasuvar | (8)159 | + 5 digit subscriber nr |
| Dashkasan | (8)216 | + 5 digit subscriber nr |
| Davachy | (8)115 | + 5 digit subscriber nr |
| Fizuli | (8)141 | + 5 digit subscriber nr |
| Gabala | (8)160 | + 5 digit subscriber nr |
| Gadabay | (8)232 | + 5 digit subscriber nr |
| Gakh | (8)144 | + 5 digit subscriber nr |
| Ganja | (8)22 | + 6 digit subscriber nr |
| Gazakh | (8)279 | + 5 digit subscriber nr |
| Gobustan | (8)150 | + 5 digit subscriber nr |
| Goranboy | (8)234 | + 5 digit subscriber nr |
| Goychay | (8)167 | + 5 digit subscriber nr |
| Guba | (8)169 | + 5 digit subscriber nr |
| Gubadli | (8)133 | + 5 digit subscriber nr |
| Gusar | (8)138 | + 5 digit subscriber nr |
| Hadrut | (8)112 | + 5 digit subscriber nr |
| Hajigabul | (8)140 | + 5 digit subscriber nr |
| Imishli | (8)154 | + 5 digit subscriber nr |
| Ismayilli | (8)178 | + 5 digit subscriber nr |
| Jalilabad | (8)114 | + 5 digit subscriber nr |
| Jebrayil | (8)118 | + 5 digit subscriber nr |
| Kelbajar | (8)266 | + 5 digit subscriber nr |
| Khachmaz | (8)172 | + 5 digit subscriber nr |
| Khankendi | (8)162 | + 5 digit subscriber nr |
| Khanlar | (8)230 | + 5 digit subscriber nr |
| Khizi | (8)199 | + 5 digit subscriber nr |
| Khojali | (8)102 | + 5 digit subscriber nr |
| Khojavend | (8)149 | + 5 digit subscriber nr |
| Kurdamir | (8)145 | + 5 digit subscriber nr |
| Lachin | (8)146 | + 5 digit subscriber nr |
| Lankaran | (8)171 | + 5 digit subscriber nr |
| Lerik | (8)157 | + 5 digit subscriber nr |
| Masalli | (8)151 | + 5 digit subscriber nr |
| Mingechevir | (8)147 | + 5 digit subscriber nr |
| Naftalan | (8)255 | + 5 digit subscriber nr |
| Nakhchivan Autonomous Republic | (8)136 | + 6 digit subscriber nr |
| Neftchala | (8)153 | + 5 digit subscriber nr |
| ?guz | (8)111 | + 5 digit subscriber nr |
| Saatly | (8)168 | + 5 digit subscriber nr |
| Sabirabad | (8)143 | + 5 digit subscriber nr |
| Salyan | (8)163 | + 5 digit subscriber nr |
| Samukh | (8)265 | + 5 digit subscriber nr |
| Shaki | (8)177 | + 5 digit subscriber nr |
| Shamakhi | (8)176 | + 5 digit subscriber nr |
| Shamkir | (8)241 | + 5 digit subscriber nr |
| Shusha City | (8)191 | + 5 digit subscriber nr |
| Siyazan | (8)190 | + 5 digit subscriber nr |
| Sumgayit | (8)18 | + 7 digit subscriber nr |
| Tar-Tar | (8)246 | + 5 digit subscriber nr |
| Tovuz | (8)231 | + 5 digit subscriber nr |
| Ujar | (8)170 | + 5 digit subscriber nr |
| Yardimli | (8)175 | + 5 digit subscriber nr |
| Yevlakh | (8)166 | + 5 digit subscriber nr |
| Zagatala | (8)174 | + 5 digit subscriber nr |
| Zangilan | (8)196 | + 5 digit subscriber nr |
| Zardab | (8)135 | + 5 digit subscriber nr |