Quick Facts
Official Name: Argentine Republic / República Argentina
Capital: Buenos Aires
Official Languages: Spanish
Independence: (from Spain) 29 April 1957 (recognised)
Population: 43,417,000 (2015 esimate)
Currency: Peso
Time Zone: UTC-3
Argentina Travel Insurance
Get travel insurance to Argentina from Direct Travel Insurance. We offer low cost and high quality travel insurance to Argentina and most of the world.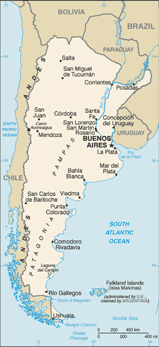 Direct Travel Insurance Guide to Argentina
Argentina is a federal republic situated in South America. It is bordered by Bolivia, Paraguay, Brazil, Uruguay, Chile, the South Atlantic Ocean, and the Drake Passage. Argentina is the eighth largest country in the world, and claims sovereignty over part of Antarctica, the Falkland Islands, and South Georgia and the South Sandwich Islands.
The climate in Argentina ranges from subpolar in the south to subtropical in the north with many microclimates. Generally speaking, Argentina has four seasons: winter (June-August), spring (September-November), summer (December-February), and autumn (March-May).
The Foreign, Commonwealth & Development Office currently do not advise against travel to Argentina, but please check for updates here - https://www.gov.uk/foreign-travel-advice/argentina - before you book your trip. Direct Travel Insurance are unable to offer cover for travel to any country against FCDO advice.
Yellow fever vaccination is recommended for travel to some areas. It is advisable to visit your GP 4 to 6 weeks before you travel in order to determine whether you need any vaccinations.
You don't usually need a visa to travel to Argentina, and on presentation of a British Passport, you'll normally be granted a stay of 90 days. You may need to provide details of onward or return travel.