Quick Facts
Region: Europe
Full Name: Principality of Andorra
Capital City: Andorra la Vella
Language Spoken: Catalan (official), Spanish, French, Portuguese
Andorra Travel Insurance
Get travel insurance to Andorra from Direct Travel Insurance. We offer low cost and high quality travel insurance to Andorra and most of the world.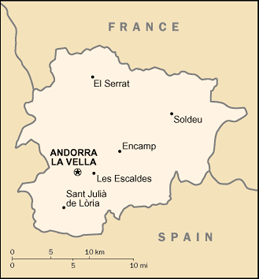 Geographic data
42 30 N, 1 30 E
Elevation Extremes
lowest point: Riu Runer 840 m highest point: Coma Pedrosa 2,946 m
Land boundaries
Total: 120.3 km border countries: France 56.6 km, Spain 63.7 km
Natural hazards
Avalanches
Natural resources
Hydropower, mineral water, timber, iron ore, lead
Land use
Arable land: 2.13% permanent crops: 0% other: 97.87% (2005)
Environmental current issues
Deforestation; overgrazing of mountain meadows contributes to soil erosion; air pollution; wastewater treatment and solid waste disposal
Climate
Temperate climate with warm summers and cold winters. Rain falls throughout the year. Required clothing Lightweights for the summer and warm mediumweights during winter. Waterproofing is advisable throughout the year.
Time difference
Time difference: UTC+1 daylight saving time: +1hr, begins last Sunday in March; ends last Sunday in October
Population
85, 458 (2014 estimate)
Age structure
0-14 years: 14.7% (male 5,456/female 4,994) 15-64 years: 71.4% (male 26,632/female 24,172) 65 years and over: 14% (male 4,918/female 5,029) (2006 est.)
Median age
Total: 40.9 years male: 41.2 years female: 40.7 years (2006 est.)
Population growth rate
0.89% (2006 est.)
Birth rate
8.71 births/1,000 population (2006 est.)
Death rate
6.25 deaths/1,000 population (2006 est.)
Net migration rate
6.47 migrant(s)/1,000 population (2006 est.)
Sex ratio
At birth: 1.07 male(s)/female under 15 years: 1.09 male(s)/female 15-64 years: 1.1 male(s)/female 65 years and over: 0.98 male(s)/female total population: 1.08 male(s)/female (2006 est.)
Life expectancy at birth
Total population: 83.51 years male: 80.61 years female: 86.61 years (2006 est.)
Total fertility rate
1.3 children born/woman (2006 est.)
Business Practices
Business meetings of all kinds are invariably formal in Andorra. Suits are recommended at all times with white shirt, tie and black shoes. Prior appointments are necessary. Punctuality is important. Handshaking is the accepted form of greeting. Lunch is usually mid-afternoon and can extend through the afternoon. Although English is widely spoken, knowledge of Spanish or French is appreciated. Office hours are generally between 0900 and 1300 and again from 1500 and 1700, however, these vary considerably.
Crime
Andorra has a very low crime rate and violent crime is extremely rare.
Hotels
There are over 200 hotels, including at least 20 business and international class hotels. Most other hotels principally cater to summer month tourists, although some stay open all year round.
Communications
Telephone service is generally European standard and full telephone IDD service is available throughout the country. The country code is 376 and the outgoing international code is 0. Internal mail services are widely available and often free of charge at hotels and cafes.
Electricity
is Sockets 220 volts AC, 50Hz. Lighting is a 125 volts AC. Electricity Sockets: 230 volts AC, 50Hz. Lighting: 125 volts AC.
Plug Types
C,F
Food And Dining
Cuisine is mainly Catalan, and generally expensive. Quality and prices in restaurants are similar to those in small French and Spanish resort towns. Things to know: Alcoholic drinks bought in shops and supermarkets are cheap (Andorra is a duty free zone), but prices in bars can be high. They do, however, stay open late.

National specialties:
? Coques (flavored flat cakes).
? Trinxat (a potato and cabbage dish).
? Truites de carreroles (a type of mushroom omelette).
? Local sausages and cheese.
? A variety of pork and ham dishes.

Tipping:
Service charges are usually included in the bill. Porters and waiters expect a further 10 per cent.

Nightlife
Andorra's many bars and hotels provide a variety of evening entertainment. Clubs are open during both summer and winter.
Entry departure requirements
Visa immigration information
Passports
Valid passport required by all except:
1. nationals of France and Spain, providing they hold a valid national ID card.
Visas
2. There are no visa requirements for entry into Andorra; however, the relevant regulations for France or Spain should be followed, depending on which country is transited to reach Andorra. Visitors wishing to have their passport stamped with the Andorran coat of arms should apply to the Sindicat d'Initiativa in the capital.
Validity
Stays of up to three months are allowed without a visa.
Temporary residence
Apply in person at the Immigration Office, Carrer de les Boigues-Escaldes-Engordany.
HIV entry requirements
No Test Required
Departure tax
Embassies
Embassy of the Principality of Andorra in the UK
63 Westover Road, London SW18 2RF, UK
Tel: (020) 8874 4806.
Website: http://visitandorra.com/en
Opening hours: Mon-Sat 0900-1700 (by appointment only).
This office also provides tourist information.

Permanent Mission of the Principality of Andorra to the United Nations
2 United Nations Plaza, 25th Floor, New York, NY 10017, USA
Tel: (212) 750 8064.
Website: http://visitandorra.com/en
Travel Advice
Most visits to Andorra are trouble-free but you should be aware of the global risk of indiscriminate international terrorist attacks, which could be against civilian targets, including places frequented by foreigners.
This advice is based on information provided by the Foreign, Commonwealth & Development Office in the UK. It is correct at time of publishing. As the situation can change rapidly, visitors are advised to contact the following organizations for the latest travel advice:
British Foreign, Commonwealth & Development Office
Tel: (0845) 850 2829.
Website: www.gov.uk/foreign-travel-advice
US Department of State
Currency
Although most currencies are accepted, the main currency in circulation is the Euro. See the France or Spain section for further details of exchange rates. Single European currency (Euro) The Euro is now the official currency of 12 EU member states (including France and Spain). The first Euro coins and notes were introduced in January 2002 and completely replaced the French Franc on 17 February 2002, and the Spanish Peseta on 28 February 2002. Euro (?) = 100 cents. Notes are in denominations of ?500, 200, 100, 50, 20, 10 and 5. Coins are in denominations of ?2, 1 and 50, 20, 10, 5, 2 and 1 cents.
Currency restrictions
There are no restrictions when entering or exiting the country, but French and Spanish authorities may carry out formalities on departure.
Banking hours
Mon-Fri 0900-1300 and 1500-1700, Sat 0900-1200.
Currency exchange
Andorran banks and bureaux de change will exchange foreign currency.
Credit cards
American Express, Diners Club, MasterCard and Visa are accepted, as well as Eurocheque cards. Check with your credit or debit card company for details of merchant acceptability and other services which may be available.
Travellers cheques
To avoid additional exchange rate charges, travelers are advised to take traveller's cheques in Euros, Pounds Sterling and US Dollars.
| City/Region | City/Area code | Followed by |
| --- | --- | --- |
| Andorra | 8 | + 5 digits |