Quick Facts
Capital: St John's
Official Languages: English
Recognised Languages: Antiguan Creole
Independence: (from the UK) 1 November 1981
Population: 91,295 (2014 estimate)
Currency: East Caribbean dollar
Time Zone: UTC-4
Australia Travel Insurance
Get travel insurance to Australia from Direct Travel Insurance. We offer low cost and high quality travel insurance to Australia and most of the world.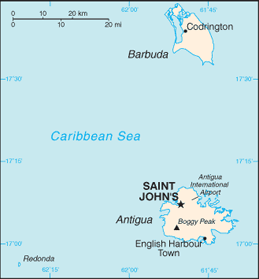 Direct Travel Insurance Guide to Antigua and Barbuda
Antigua and Barbuda is a twin island country, including the two major islands of Antigua and Barbuda, as well as a number of smaller surrounding islands. The capital city of St John's is on Antigua, which is the larger of the two main islands.
The country was a part of the British Empire between 1632 and 1981 (with a brief French rule in 1666), and became an independent state on 1st November 1981.
The climate in Antigua and Barbuda sits at an average of 27 degrees, ranging between 23 degrees in the winter and 30 degrees in the summer. It is coolest between December and February, and generally the rainy season is between September and November. The hurricane season runs from June to November.
The Foreign, Commonwealth & Development Office currently do not advise against travel to Antigua and Barbuda, but please check for updates here - https://www.gov.uk/foreign-travel-advice/antigua-and-barbuda - before you book your trip. Direct Travel Insurance are unable to offer cover for travel to any country against FCDO advice.
Cases of Chikungunya virus have been confirmed on the islands, and you should take care to avoid being bitten by mosquitoes. It is advisable to visit your GP 4 to 6 weeks before you travel in order to determine whether you need any vaccinations.
British Passport holders do not need a visa to visit Antigua and Barbuda, though entry requirements may change from time to time, and you should check with the Antigua and Barbuda High Commission in London before you travel.