Quick Facts
Region: Europe

Full Name: Republic of Albania
Capital City: Tirana (Tirane)
Language Spoken: Albanian (official - derived from Tosk dialect), Greek, Vlach, Romani, Slavic dialects
Albania Travel Insurance
Get travel insurance to Albania from Direct Travel Insurance. We offer low cost and high quality travel insurance to Albania and most of the world.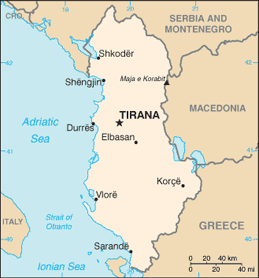 Geographic data
41 00 N, 20 00 E
Elevation Extremes
lowest point: Adriatic Sea 0 m highest point: Maja e Korabit (Golem Korab) 2,764 m
Land boundaries
total: 720 km border countries: Greece 282 km, Macedonia 151 km, Montenegro 172 km, Serbia 115 km
Natural hazards
destructive earthquakes; tsunamis occur along southwestern coast; floods; drought
Natural resources
petroleum, natural gas, coal, bauxite, chromite, copper, iron ore, nickel, salt, timber, hydropower
Land use
arable land: 20.1% permanent crops: 4.21% other: 75.69% (2005)
Environmental current issues
deforestation; soil erosion; water pollution from industrial and domestic effluents
Climate
Temperate climate with warm and dry periods from June to September, cool and wet from October to May. April to June and mid-September to mid-October are the best months for visits. Flash-flooding is possible throughout the year. Required clothing Warm clothing and rainwear is advisable for winter. Lightweight for summer.
Time difference
time difference: UTC+1 daylight saving time: +1hr, begins last Sunday in March; ends last Sunday in October
Population
3,581,655 (July 2006 est.)
Age structure
0-14 years: 24.8% (male 464,954/female 423,003) 15-64 years: 66.3% (male 1,214,942/female 1,158,562) 65 years and over: 8.9% (male 148,028/female 172,166) (2006 est.)
Median age
total: 28.9 years male: 28.3 years female: 29.5 years (2006 est.)
Population growth rate
0.52% (2006 est.)
Birth rate
15.11 births/1,000 population (2006 est.)
Death rate
5.22 deaths/1,000 population (2006 est.)
Net migration rate
-4.67 migrant(s)/1,000 population (2006 est.)
Sex ratio
at birth: 1.1 male(s)/female under 15 years: 1.1 male(s)/female 15-64 years: 1.05 male(s)/female 65 years and over: 0.86 male(s)/female total population: 1.04 male(s)/female (2006 est.)
Life expectancy at birth
total population: 77.43 years male: 74.78 years female: 80.34 years (2006 est.)
Total fertility rate
2.03 children born/woman (2006 est.)
Business Practices
Suits should be worn. Punctuality is expected. Business cards are common and European practices are observed. Meetings are commonly held in a restaurant, but also at a company. Albanians are relaxed and informal. Delays are not unusual. Confirm appointments in advance. Fresh from a socialist system, Albanians may not be familiar with in-depth contract law or western methods of negotiation. Meanwhile, corruption in Albania is endemic, and legal protection for foreign firms is very limited. Foreign firms can expect their local partners in Albania to take advantage of this situation. While not every Albanian businessperson is likely fraudulent activities, caution is warranted. Office hours are 0730-1530 Monday to Friday. All offices are closed on Saturday and Sunday.
Crime
Albania has a high rate of violent crime. Street crime is fairly common and occurs particularly at night. Crime is generally directed at targets of opportunity, not at foreigners specifically. Armed carjackings are a matter of considerable concern, especially for drivers of four-wheel drive and sport-utility vehicles, which criminals covet. Persons who are carjacked should surrender their vehicles without resistance. Those resisting carjackings or attempting to run roadblocks have been shot and wounded, some seriously. In the northeast, the Bajram-Curi/Tropoja area is more prone to crime.
Hotels
Albtourist runs the state-owned tourist hotels but many others are now privately-run. The Ministry of Construction and Tourism is currently classifying accommodation in one of five categories according to the facilities offered. The bed capacity is expected to continue increasing. Hotels in and around Tirana Include: - Hotel Europapark Rogner Intl., Austria; Blvd. Deshmoret E Kombit Tel: (42) 34-295, 35-035 Fax: (42) 34-447, 35-050 - Chateau Linza Motel Qesarake, Linza Tel. (42) 35-142 Fax: (42) 35-143 - Hotel Dajti Boulevardi Deshmoret e Kombit, Nr. 6 Tel: (42) 33-326, 27-860, 27-862 Fax: (42) 32-012 - Tirana International (Turin Group, Italy) Sheshi Skenderbe Tel. (42) 34-295, 34-185 Fax (42) 34-447, 34-188 - Arb'ria Bulevardi D'shmoret e Kombit Tel. (42) 42-813 Fax. (42) 42-813 - Diplomat Muhamet Gjollesha str. Tel. (42) 35-542, 35-090 Fax: (42) 42-457, 34-090 - Europa International Hotel Rruga Myslym Shyri Tel/fax: (42) 27-403
Communications
Telephone IDD service is available to major towns. Country code: 355. Outgoing international code: 00. City codes: Tirana 42, Durresi 52, Elbasan 545, Shkodra 224, Gjirokastra 726, Kor?a 824, Vlora 63, Berati 62, Kavaja 574. For other regions, international connections are made through the nearest city. Post office hours: 0800-1700 Monday to Friday and 0800-1300 Saturday.
Electricity
is 220 volts AC, 50Hz. Internet Connections America Online Numbers are available at keyword international. Be sure to get several local numbers before leaving. Go to keyword access (a free area) and download the software. AOL Access Numbers in Albania: Tirana 42 58764 28.8 $6.00 AOLGlobalnet Compuserve Numbers are available at Go International. If you are using CompuServe 2000, use GO PHONES within CompuServe 2000 to search for access numbers. The Compuserve Website also has a great deal of information, at http://www.compuserve.com/ There are no direct access numbers for Compuserve in Albania. Users will have to pay international rates to use the service. ADANet Tel: [355] 42-51633 Web: http://www.adanet.net/ Dial-Up Services Offered: 28.8, 33.6, 56K(X2) Dedicated Access Services Offered: 56K, FracT1, T1, Frame Relay Other Services: Wireless Connections Albania Online Tel: [355] 42-51122 Web: http://WWW.ALBANIAONLINE.NET/ Dial-Up Services Offered: 28.8, 33.6, 56K(X2) Dedicated Access Services Offered: FracT1, T1, Frame Relay Other Services: Multimedia Streaming Servers, Wireless Connections, Cyber Hotels, Roaming Accounts, visitor Temporary Access Plans Interalb Rruga "Deshmoret e kater shkurtit" pall 25/1 Tirana, Albania Tel: [355] 425-1747 Fax: [355] 425-1747 Email: info@interalb.net Web: http://www.interalb.net 24 Hours; 1.8$/hour; 10 computers available, printer, scanner, video conference, aol 'friendly'. Electricity 220 volts AC, 50Hz.
Plug Types
C,F
Food And Dining
Private restaurants are appearing rapidly in Albania. In the more popular places, it is necessary to reserve a table and to be punctual. Food is typically Balkan with Turkish influences evident on any menu ? byrek, kofte, shish kebab.
National specialties:
? F?rges? tirane, a hot fried dish of meat, liver, eggs and tomatoes, and tav? kosi or tav? elbasani, a mutton and yogurt dish.
? The koran, a trout from Lake Ohrid and the Shkodra carp.
? In summer, tarator, a cold yogurt and cucumber soup, is particularly refreshing.
? Popular Albanian desserts include oshaf, a fig and sheep's milk pudding, cakes soaked in honey and candied fruits or re?el.
? Guests of honor are quite often presented with a baked sheep's head.
? A favorite in the south is kukurec (stuffed sheep's intestines).
? Continental breakfasts are usually served in hotels, but in the country the Albanian breakfast of pilaf (rice) or pa?a (a wholesome soup made from animals' innards) may not be to everyone's taste. National drinks:
? All bars and restaurants serve raki, local red and white wines and different liqueurs.
? The Albanian cognac, with its distinctive aroma, is also popular.
? Many imported drinks can also be found, including Austrian canned beer, Macedonian wine and ouzo from Greece.
? Turkish coffee (kafe Turke) is popular with Albanians, but many bars also serve Italian espresso (ekspres).
Tipping:
Previously frowned upon by the authorities, tips are gratefully received in restaurants or for any service provided.
Nightlife
The most popular form of nightlife is the xhiro, the evening stroll along the main boulevards and squares of each town and village. Cultural life takes the form of theater, opera and concerts. Discos and games arcades are beginning to appear. Some hotels have taverns with music and dancing.
Entry departure requirements
Visa immigration information
Passports
A valid passport is required by all.
Visas
Required by all except the following for stays of up to 30 days:
(a) nationals of countries referred to in the chart above, except 1. nationals of Malta who must obtain a visa upon arrival;
(b) nationals of Bulgaria, Croatia, Israel, Korea (Rep), Kosovo, Malaysia, New Zealand, Norway, Romania, San Marino, Switzerland, and Turkey;
(c) transit passengers continuing their journey to a third country by the same or next connecting aircraft provided holding confirmed onward documentation and not leaving the airport.
Note
(a) Nationals of countries listed above pay an entry fee of ?10 at Tirana airport or at the border crossing point, except nationals of Israel who must pay ?30 and nationals of Poland and the Slovak Republic who may enter without charge. (b) 2. Nationals of Israel, Macedonia (Former Yugoslav Republic), Malta and Montenegro can obtain visas on arrival for free (Montenegro), ?10 (Macedonia) or ?30 (Malta).
Types of visa and cost
Dependent on nationality of applicant and length and purpose of intended stay.
Validity
Duration of visas is individually specified for each visit. The maximum length of stay is three months. Extensions are possible.
Application to
Consulate (or Consular Section at Embassy); see Passport/Visa Information.
Application requirements
(a) Application form(s). (b) Valid passport. (c) Two passport-size photos. (d) Sufficient funds to cover duration of stay. (e) Visa fee (cheque only). Business: (a)-(d) and, (e) Letter from applicant's company. (f) Invitation from Albanian company.
Working days required
Up to two weeks.
Temporary residence
Application to be made to the Embassy of the Republic of Albania.
HIV entry requirements
No Test Required
Departure tax
US$10 is levied on all foreign nationals. Nationals of Albania pay Lk1000.
Embassies
Embassy of the Republic of Albania in the UK
2nd Floor, 24 Buckingham Gate, London SW1E 6LB, UK
Tel: (020) 7828 8897.
Website: http://www.ambasadat.gov.al/united-kingdom/en
E-mail: amblonder@hotmail.com
Opening hours: Mon-Fri 0900-1530 (general enquiries); 0900-1200 (consular section).
Embassy of the Republic of Albania in the USA
2100 S Street, NW, Washington, DC 20008, USA
Tel: (202) 223 4942.
Website: www.albaniaembassy.org
Travel Advice
Travel to the northeast border areas between Albania and Kosovo is advised against because of the very poor condition of the roads and the risk of unexploded ordnance.
Although public security is generally good, particularly in Tirana, the crime rate has risen, especially theft, and visitors should be careful not to display valuables. Passports which allow entry to EU countries without a visa, foreign currency and cameras are mostly at risk, although all possessions should be kept close at hand at all times. Avoid remote areas and streets, especially at night. Gun ownership is widespread.
This advice is based on information provided by the Foreign, Commonwealth & Development Office in the UK. It is correct at time of publishing. As the situation can change rapidly, visitors are advised to contact the following organizations for the latest travel advice:
British Foreign, Commonwealth & Development Office
Website: www.gov.uk/foreign-travel-advice
US Department of State
Website: http://travel.state.gov/travel
Currency
Lek (ALL) = 100 qindarka. Notes are in denominations of ALL5000, 1000, 500, 200 and 100. Coins are in denominations of ALL50, 20, 10, 5, 2 and 1.
Currency restrictions
The import and export of local currency is prohibited. The import of foreign currency is unlimited. The export of foreign currency is permitted up to US$5000 or up to the amount declared on arrival.
Banking hours
Mon-Fri 0800-1600.
Currency exchange
Currency can be exchanged at bureaux de change and banks. US dollars are the preferred foreign currency.
Credit cards
Rarely used. Cash is preferred in nearly all cases. However, American Express, Diners Club and MasterCard are accepted by some banks and hotels.
Travellers cheques
To avoid additional exchange rate charges, travelers are advised to take traveller's cheques in US Dollars or Euros. They may not always be easily changed in all places.
| City/Region | City/Area code | Followed by |
| --- | --- | --- |
| Babic? | (0)394 | + 4 digit subscriber nr |
| Bajram Curri | (0)213 | + 4 digit subscriber nr |
| Bajz? | (0)211 | + 4 digit subscriber nr |
| Ballsh | (0)313 | + 4 digit subscriber nr |
| Berat | (0)32 | + 5 digit subscriber nr |
| Bilisht | (0)811 | + 4 digit subscriber nr |
| Bulqiz? | (0)219 | + 4 digit subscriber nr |
| Burrel | (0)217 | + 4 digit subscriber nr |
| Cakran | (0)387 | + 4 digit subscriber nr |
| ??rrik | (0)581 | + 4 digit subscriber nr |
| ?orovod? | (0)312 | + 4 digit subscriber nr |
| Delvin? | (0)815 | + 4 digit subscriber nr |
| Divjak? | (0)371 | + 4 digit subscriber nr |
| Durr?s | (0)52 | + 5 digit subscriber nr |
| Elbasan | (0)545 | + 4 digit subscriber nr |
| Ersek? | (0)812 | + 4 digit subscriber nr |
| Fier | (0)34 | + 5 digit subscriber nr |
| Fush?-Kruj? | (0)563 | + 4 digit subscriber nr |
| Gjirokast?r | (0)84 | + 5 digit subscriber nr |
| Gramsh | (0)513 | + 4 digit subscriber nr |
| Himar? | (0)393 | + 4 digit subscriber nr |
| Kavaj? | (0)554 | + 4 digit subscriber nr |
| Kor?? | (0)82 | + 5 digit subscriber nr |
| Kruj? | (0)511 | + 4 digit subscriber nr |
| Krum? | (0)214 | + 4 digit subscriber nr |
| Ksamil | (0)893 | + 4 digit subscriber nr |
| Ku?ov? | (0)311 | + 4 digit subscriber nr |
| Kuk?s | (0)242 | + 4 digit subscriber nr |
| La? | (0)53 | + 5 digit subscriber nr |
| Levan | (0)388 | + 4 digit subscriber nr |
| Lezh? | (0)215 | + 4 digit subscriber nr |
| Libohov? | (0)881 | + 4 digit subscriber nr |
| Librazhd | (0)514 | + 4 digit subscriber nr |
| Lushnj? | (0)35 | + 5 digit subscriber nr |
| Maliq | (0)861 | + 4 digit subscriber nr |
| Mamurras | (0)561 | + 4 digit subscriber nr |
| Memaliaj | (0)885 | + 4 digit subscriber nr |
| Orikum | (0)391 | + 4 digit subscriber nr |
| Patos | (0)342 | + 4 digit subscriber nr |
| Peqin | (0)512 | + 4 digit subscriber nr |
| P?rmet | (0)813 | + 4 digit subscriber nr |
| P?rrenjas | (0)591 | + 4 digit subscriber nr |
| Peshkopi | (0)218 | + 4 digit subscriber nr |
| Pogradec | (0)832 | + 4 digit subscriber nr |
| Poli?an | (0)368 | + 4 digit subscriber nr |
| Puk? | (0)212 | + 4 digit subscriber nr |
| Rr?shen | (0)216 | + 4 digit subscriber nr |
| Rrogozhin? | (0)577 | + 4 digit subscriber nr |
| Sarand? | (0)852 | + 4 digit subscriber nr |
| Selenic? | (0)392 | + 4 digit subscriber nr |
| Shijak | (0)571 | + 4 digit subscriber nr |
| Shkod?r | (0)22 | + 5 digit subscriber nr |
| Tepelen? | (0)814 | + 4 digit subscriber nr |
| Tiran? | (0)4 | + 6 digit subscriber nr |
| Ura Vajgurore | (0)361 | + 4 digit subscriber nr |
| Vlor? | (0)33 | + 5 digit subscriber nr |