Quick Facts
Region: Europe
Full Name: Republic of Armenia
Capital City: Yerevan
Language Spoken: Armenian 97.7%, Yezidi 1%,Russian 0.9%, other 0.4% (2001 census)
Armenia Travel Insurance
Get travel insurance to Armenia from Direct Travel Insurance. We offer low cost and high quality travel insurance to Armenia and most of the world.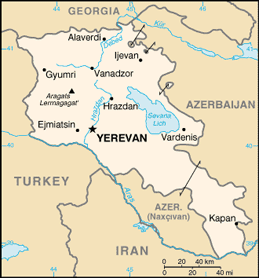 Geographic data
40 00 N, 45 00 E
Elevation Extremes
lowest point: Debed River 400 m highest point: Aragats Lerrnagagat' 4,090 m
Land boundaries
total: 1,254 km border countries: Azerbaijan-proper 566 km, Azerbaijan-Naxcivan exclave 221 km, Georgia 164 km, Iran 35 km, Turkey 268 km
Natural hazards
occasionally severe earthquakes; droughts
Natural resources
small deposits of gold, copper, molybdenum, zinc, alumina
Land use
arable land: 16.78% permanent crops: 2.01% other: 81.21% (2005)
Environmental current issues
soil pollution from toxic chemicals such as DDT; the energy crisis of the 1990s led to deforestation when citizens scavenged for firewood; pollution of Hrazdan (Razdan) and Aras Rivers; the draining of Sevana Lich (Lake Sevan), a result of its use as a source for hydropower, threatens drinking water supplies; restart of Metsamor nuclear power plant in spite of its location in a seismically active zone
Climate
Continental, mountain climate (over 90 per cent of the territory of the republic is over 900m/2286ft above sea level). During the summer, days can be hot and dry with temperatures falling sharply at night. Winters are extremely cold with heavy snow. May to June and September to October are good times to visit the country, as the weather is warm but mild.
Time difference
time difference: UTC+4 daylight saving time: +1hr, begins last Sunday in March; ends last Sunday in October
Population
2,976,372 (July 2006 est.)
Age structure
0-14 years: 20.5% (male 322,189/female 286,944) 15-64 years: 68.4% (male 949,975/female 1,085,484) 65 years and over: 11.1% (male 133,411/female 198,369) (2006 est.)
Median age
total: 30.4 years male: 27.8 years female: 33.2 years (2006 est.)
Population growth rate
-0.19% (2006 est.)
Birth rate
12.07 births/1,000 population (2006 est.)
Death rate
8.23 deaths/1,000 population (2006 est.)
Net migration rate
-5.72 migrant(s)/1,000 population (2006 est.)
Sex ratio
at birth: 1.17 male(s)/female under 15 years: 1.12 male(s)/female 15-64 years: 0.88 male(s)/female 65 years and over: 0.67 male(s)/female total population: 0.9 male(s)/female (2006 est.)
Life expectancy at birth
total population: 71.84 years male: 68.25 years female: 76.02 years (2006 est.)
Total fertility rate
1.33 children born/woman (2006 est.)
Business Practices
Business visitors should be aware that in many cases, every stage of their contacts/negotiations with Armenian businessmen may be accompanied by much wining and dining. Giving gifts, visits to homes and historic sites in the countryside are also common. Foreign contacts should not be discouraged by belated replies to their inquiries, letters, and faxes, or by the lack of a reply. Reliable international communication is very expensive and often not accessible to many Armenians. This, combined with old Soviet-era working habits, means that many Armenian firms answer only correspondence that is of vital interest to them. The need to respond promptly is, however, gradually becoming accepted in the Armenian business community. Due to differences in interpretation and understanding of some business terminology (some of which is very new for Armenia), businessmen should make absolutely sure that the content of their communications, negotiations and agreements with Armenian partners are thoroughly understood. Information resources in Armenia are mainly concentrated in the hands of state ministries and agencies, employees of which, below the top management level, have no decision making power or access to information. Often, they are unwilling to provide necessary information. Corruption is a factor in the majority of state organizations in Armenia, including such enforcement bodies as police and customs departments. Though foreigners are largely exempt, there may be cases where officials will delay a process, and let you know directly or indirectly that a good "tip" may fix things immediately.
Crime
The overall crime and safety situation in Armenia continues to be a concern for expatriates. Criminals often target expatriates as victims of assault, robbery and burglary. Criminals are often armed with edged weapons, and may use force if resisted. Break-in/thefts from residences and vehicles, and pickpocketing-type incidents are common occurrences. Street crime continues to rise (especially car break-ins and robberies). Unlike other countries in the region, carjackings have not yet become a widespread problem. Visitors to Armenia should exercise the same common sense precautions that would apply in a comparably sized city. Pay particular attention to your surroundings in crowded market areas. Embassy officials recommend avoiding carrying passports, credit cards or airplane tickets. If nighttime travel is necessary, carry a flashlight - sidewalks are in poor condition and stairwells are seldom lighted, and are a common site of criminal attack. Lock valuables out of sight in vehicles and use a lockable gas cap. Private security companies provide little professional training and very low pay to their staffs, and are not recommended. Local residents often do not bother to call police in order to report minor crimes due to their ineffectiveness and the fact that low level police are so poorly paid that they often solicit bribes to perform their duties. Police will often blame expat victims for the crimes perpetrated against them. Since 2006 began, the Armenian press has reported a rise in organized crime activity. This does not normally affect tourists, however.
Hotels
Hotels previously run by Intourist are now mostly being privatized. In Yerevan the new Armenia Hotel is an Armenian/German joint venture, functioning exclusively in foreign currency and supplied with power from its own generators. The Hotel Hrazdan, mainly occupied by foreign missions, also has its own generator, but is state-owned and functions primarily as a guesthouse for official visitors. Private individuals may occasionally be allowed to stay there by special arrangement. The Hotel Dvin, opposite the Hrazdan, is less comfortable but has privileged supplies of electricity and running water. It also has a satellite telephone service for guests. The main hotels inlcude: Hotel Armenia, One Amiryan Street, Yerevan 375010; Tel: (374-2)525-393, 560-844, 569-040; Fax: (374-2)151-802, Hotel BASS, 3 Aigedzor St., Yerevan 375019: tel: (374-2) 221-353, 26-41-56 HyBusiness Suites (hotel & office rent, American-Armenian Joint Venture) 8 Hanrapetutyan St., Yerevan, 375010, Artmenia. Tel:(374-2) 523-983, 583-543, 580-070 fax: (374-2) 151-678. Hotel Hrazdan, 72 Pionerakan St., Yerevan, 375002; Tel: (374-2)535-332, 535-302; Fax: (374-2)537-095 (reservations require governmental permission) Hotel Ani, 19 Sayat-Nova Ave, Yerevan, 275010; Tel: (374-2)523-961, 582-638, Fax:(374-2)520-545. Hotel Dvin, 40 Paronyan St., Yerevan, 375002; Tel: (374-2) 536-343; Fax:(374-2)151-528. Hotel Erebuni, 26/1 Nalbandyan St., Yerevan, 375010; Tel: (374-2)564-943, 584-834. Hotel ARMA, 275, Norgi Ayginer, Yerevan; Tel: (374-2)581-843, 654-221, gov.tel:56-36, Fax: (374-2)522-779.
Communications
The regular Armenian telephone network provides direct-dial long distance service only to NIS destinations. International calls outside of NIS require operator assistance by calling 05 and reserving a call. The connection is normally made within 5-15 minutes. The telecom network in Yerevan is currently being completely modernized and digitized by ArmenTel - an American- Armenian joint venture. The company also operates paging and cellular service. It is expected that by the end of 1999, downtown Yerevan will enjoy reliable and digital direct-dial telephone service. E-mail services are rendered by the providers based in Yerevan: ARMINCO LLC. 28 Isahakyan St. Yerevan, 375009, Armenia; tel:(374-2) 526-326, 281-425, Fax:(374-2)285-082; E-mail: postmaster@arminco.com and support@arminco.com. INFOCOM, 22 Saryan Street, floor 4, Yerevan, 375002, Armenia; Tel & fax: 7(8852)528-856, or 151-926; E-mail: postmaster@mtd.armenia.su
Electricity
is a 220 Volts AC50Hz. Power shortages and blackouts are common. Electricity 220 volts AC, 50Hz. European plugs with two round pins are used.
Plug Types
C,F
Food And Dining
A restaurant and cafe culture is starting to flourish again in Armenia, with street stalls and privately run establishments replacing the colorless state restaurants typical of the Soviet era. New cafes and restaurants open daily. Many of the cafes are in parks, and are very popular in summer with locals and tourists alike. Things to know: Much Armenian cooking is based on lamb, either grilled and served as shashlik with flat bread, or prepared as soup (the most popular being bozbash, a dish which exists in infinite variations) or stew, often in combination with fruit or nuts. A meal usually starts with a large spread of hors d'oeuvres, which may include peppers and vine leaves stuffed with rice and meat, pickled and fresh vegetables, salty white sheep's cheese eaten with fresh green herbs and flat bread, and various kinds of cured meat (basturma). During the season following the grape harvest, locals sell effervescent, mildly fermented grape juice from roadside stands. Armenia is also abundant in all kinds of sweet-tasting fruits, from figs to pomegranates to quince. Coffee is served Turkish-style ? strong and black in tiny cups ? although in view of national sensibilities, visitors would be ill-advised to refer to this cultural similarity.

National specialties:
? Sharots (Sujukh) is cooked with grape juice and a dark cherry-colored syrup called doshab.
? Lavash is a think, paper-like bread.
? Shampours are skewers that are jam-packed with all kinds of marinated meat and vegetables
? Delectable walnut jam (popok muraba).
? Tolma (vegetables, grape leaves and lentils).
? Ghapama is pumpkin stew with rice, raisins, apples and cinnamon.
? Khash is a national institution rather than just a dish, with poems and songs throughout the centuries being composed in homage to it: in case you are wondering, khash is a delicious broth made from hamhocks and herbs and served with lots of garlic and bread.
? K'rchik is pickled cabbage cooked with wheat kernels.
? Among Armenia's many varieties of fresh fish available, try steamed Ishkhan (lake trout).
? Almost magical, health-giving properties are ascribed to dried apricots from the Caucasus.
? For dessert, eat a dish made from grape juice, dried into thin sheets of a deep, reddish brown color, and then rolled up into long cylinders around walnuts or other nuts. National drinks:
? Brandies are exceptional (Dvin).
? Kotayk and Kihikia are Armenian beers worth giving a go.
? Armenian wine is well worth tasting: the Areni red wine is particularly lauded and many are semi- sweet or dessert wines and are world-renowned. Legal drinking age: There is no minimum.

Tipping:
Expected by waiters and doormen in restaurants ? sometimes in advance to ensure service. Taxi fares should always be negotiated before starting a journey, and visitors should be aware that rates proposed initially are likely to be unreasonably high, in the expectation that foreigners will have unlimited cash and little idea of how much they ought to be paying. It is therefore advisable to make enquiries about 'going rates' per kilometer of travel before entering into negotiations with taxi drivers. The same applies to market stall holders and so on.

Nightlife
There are restaurants and nightclubs featuring local music in Yerevan. There are several restaurants, clubs and discos. There are several casinos. Opera, theater and ballet performances are of a high standard, and tickets are cheap (about the equivalent of US$5). Armenians love music, from the traditional, liturgical songs (Sharakans) with distinctive musical instruments, to contemporary jazz and pop. There will often be venues accommodating for this at night. There are often concerts at the Philharmonic, Chamber Music Hall and Opera & Ballet House in Yerevan.
Entry departure requirements
N/A
Visa immigration information
N/A
Passports
Passport valid for at least four months required by all.
Visas
Required by all except:
(a) nationals of CIS countries (except Azerbaijan and Turkmenistan, who do require a visa);
(b) nationals Serbia & Montenegro;
(c) nationals continuing their journey within 72 hours, provided remaining in the airport transit lounge and holding all documents required for the next destination and confirmed onward ticket
Note
(a) and (b) A letter of invitation may still be required for these nationals when traveling on business. (c) If leaving the airport, a transit visa may be issued on arrival for a stay of maximum three days, provided holding a visa (if required) for the final destination.
Types of visa and cost
Ordinary/Tourist: US$60, US$86 (three day express processing), US$95 (24-hour express processing). Single-entry (with official invitation): US$35. Multiple-entry (with official invitation): US$65. Transit: US$18 (single-entry); US$36 (double entry).
Note: There is no charge for diplomatic and official visas, or for those issued to persons under 18 years of age.
Validity
Tourist/Ordinary: 21 days. Single-entry and Multiple-entry: three months. Transit: three days. Visas must be used within 90 days of date of issue.
Application to
Embassy (or Consular Section at Embassy); see Passport/Visa Information.
Application requirements
(a) Completed application form. (b) One recent passport-size photo. (c) Passport valid for at least four months. (d) Fee, payable by money order or certified cheque. (e) Postal applications should be sent by registered mail or by courier. Single-entry/Multiple-entry: (a)-(e) and, (f) Official invitation letter, duly authorized in Armenia (for stays over 21 days).
Working days required
Seven. Urgent visas can be processed in one or three days for a higher fee (see above).
Temporary residence
For stays of longer than three months, a residency permit must be obtained from the Foreign Ministry in Yerevan.
HIV entry requirements
No Test Required
Departure tax
US$20 per person (usually payable in local currency). Although this is normally paid at the airport, visitors staying in the large hotels may sometimes pay at their hotel, and present the receipt at the airport check-in desk. Transit passengers and children under 12 years of age are exempt.
Embassies
Embassy of the Republic of Armenia in the UK
25A Cheniston Gardens, London W8 6TG, UK
Tel: (020) 7938 5435.
Website: http://uk.mfa.am/en/
E-mail: armemb@armenianembassyuk.com
Opening hours: Mon-Fri 1000-1200 and 1500-1700.
Embassy of the Republic of Armenia in the USA
2225 R Street, NW, Washington, DC 20008, USA
Tel: (202) 319 1976 or 2983 (consular section).
Website: www.armeniaemb.org
Also deals with enquiries from Canada.
Travel Advice
Because of an unresolved dispute over Nagorno Karabakh, all but essential travel near the border with Azerbaijan is advised against. Particular care should be taken in the Tavush and Gegharkunic regions, as there is sporadic gunfire. Vehicles traveling on the road from Ljevan to Noyemberyan are particularly vulnerable. Political demonstrations sometimes turn violent. Internal travel, especially by air, may be disrupted by fuel shortages and other problems.
In addition, you should be aware of the global risk of indiscriminate international terrorist attacks, which could be against civilian targets, including places frequented by foreigners.
This advice is based on information provided by the Foreign & Commonwealth Office in the UK. It is correct at time of publishing. As the situation can change rapidly, visitors are advised to contact the following organizations for the latest travel advice:
British Foreign, Commonwealth & Development Office
Tel: (0845) 850 2829.
Website: www.gov.uk/foreign-travel-advice
US Department of State
Currency
Armenian Dram (AMD) = 100 luma. Dram notes are printed in denominations of AMD50,000, 20,000, 10,000, 5000, 1000, 500, 200, 100, 50, 25 and 10. Coins are in denominations of AMD500, 200, 100, 50, 20, 10 and 1, and 50 and 20 luma. Note: The Government is intending to phase out all banknotes less than AMD500.
Currency restrictions
The import of local and foreign currency is unlimited, however cash amounts in excess of $10,000 or equivalent must be declared. The export of local and foreign currency is unlimited, however cash amounts in excess of US$10,000 or equivalent are prohibited and must be transferred via a bank.
Banking hours
Mon-Fri 0900-1500. Exchange Offices are open until midnight and also operate at weekends and on public holidays.
Currency exchange
Foreign currencies can be exchanged at the airports, banks and most hotels and shops during normal opening hours. US Dollars are the most widely recognized foreign currency. Visitors using the national currency are advised to carry plenty of small change as some shops and, particularly markets, may be unable to accept large denominations.
Credit cards
Major credit cards are accepted in most cities. ATMS are available in major cities.
Travellers cheques
These are accepted in a few shops and hotels. To avoid additional exchange rate charges, travelers are advised to take traveller's cheques in US Dollars.
| City/Region | City/Area code | Followed by |
| --- | --- | --- |
| Abovian, Kotayk province | (0)222 | + 5 digit subscriber nr |
| Agarak, Syunik province | (0)286 | + 5 digit subscriber nr |
| Alaverdi, Lori province | (0)253 | + 5 digit subscriber nr |
| Amasia, Shirak province | (0)246 | + 5 digit subscriber nr |
| Aparan, Aragatsotn province | (0)252 | + 5 digit subscriber nr |
| Ararat, Ararat province | (0)238 | + 5 digit subscriber nr |
| Armavir, Armavir province | (0)237 | + 5 digit subscriber nr |
| Artashat, Ararat province | (0)235 | + 5 digit subscriber nr |
| Artik, Shirak province | (0)244 | + 5 digit subscriber nr |
| Ashotsk, Shirak province | (0)245 | + 5 digit subscriber nr |
| Ashtarak, Aragatsotn province | (0)232 | + 5 digit subscriber nr |
| Askeran, Nagorno Karabagh | (0)476 | + 5 digit subscriber nr |
| Baghramian, Armavir province | (0)233 | + 5 digit subscriber nr |
| Berd, Tavush province | (0)267 | + 5 digit subscriber nr |
| Chambarak, Gegharkunik province | (0)265 | + 5 digit subscriber nr |
| Charentsavan, Kotayk province | (0)226 | + 5 digit subscriber nr |
| Echmiadzin, Armavir province | (0)231 | + 5 digit subscriber nr |
| Eghvard, Kotayk province | (0)224 | + 5 digit subscriber nr |
| Gavar, Gegharkunik province | (0)264 | + 5 digit subscriber nr |
| Goris, Syunik province | (0)284 | + 5 digit subscriber nr |
| Gyumri, Shirak province | (0)312 | + 5 digit subscriber nr |
| Hadrut, Nagorno Karabagh | (0)475 | + 5 digit subscriber nr |
| Hrazdan, Kotayk province | (0)223 | + 5 digit subscriber nr |
| Ijevan, Tavush province | (0)263 | + 5 digit subscriber nr |
| Jermuk, Vayots Dzor province | (0)287 | + 5 digit subscriber nr |
| Kajaran, Syunik province | (0)285 | + 5 digit subscriber nr |
| Maralik, Shirak province | (0)242 | + 5 digit subscriber nr |
| Martakert, Nagorno Karabagh | (0)474 | + 5 digit subscriber nr |
| Martuni, Gegharkunik province | (0)262 | + 5 digit subscriber nr |
| Martuni, Nagorno Karabagh | (0)478 | + 5 digit subscriber nr |
| Masis, Ararat province | (0)236 | + 5 digit subscriber nr |
| Noyemberian, Tavush province | (0)266 | + 5 digit subscriber nr |
| Sevan, Gegharkunik province | (0)261 | + 5 digit subscriber nr |
| Shushi, Nagorno Karabagh | (0)477 | + 5 digit subscriber nr |
| Spitak, Lori province | (0)255 | + 5 digit subscriber nr |
| Stepanakert, Nagorno Karabagh | (0)471 | + 5 digit subscriber nr |
| Stepanavan, Lori province | (0)256 | + 5 digit subscriber nr |
| Tashir, Lori province | (0)254 | + 5 digit subscriber nr |
| Vaik, Vayots Dzor province | (0)282 | + 5 digit subscriber nr |
| Vanadzor, Lori province | (0)322 | + 5 digit subscriber nr |
| Vardenis, Gegharkunik province | (0)269 | + 5 digit subscriber nr |
| Vedi, Ararat province | (0)234 | + 5 digit subscriber nr |
| Yeghegnadzor, Vayots Dzor province | (0)281 | + 5 digit subscriber nr |
| Yerevan | (0)10 | + 6 digit subscriber nr |