Quick Facts
Region: Asia & Oceania
Full Name: Commonwealth of Australia
Capital City: Canberra
Language Spoken: English 79.1%, Chinese 2.1%, Italian 1.9%,other 11.1%, unspecified 5.8% (2001 Census)
Australia Travel Insurance
Get travel insurance to Australia from Direct Travel Insurance. We offer low cost and high quality travel insurance to Australia and most of the world.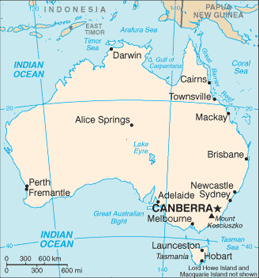 Geographic data
27 00 S, 133 00 E
Elevation Extremes
lowest point: Lake Eyre -15 m highest point: Mount Kosciuszko 2,229 m
Land boundaries
0 km
Natural hazards
cyclones along the coast; severe droughts; forest fires
Natural resources
bauxite, coal, iron ore, copper, tin, gold, silver, uranium, nickel, tungsten, mineral sands, lead, zinc, diamonds, natural gas, petroleum
Land use
arable land: 6.15% (includes about 27 million hectares of cultivated grassland) permanent crops: 0.04% other: 93.81% (2005)
Environmental current issues
soil erosion from overgrazing, industrial development, urbanization, and poor farming practices; soil salinity rising due to the use of poor quality water; desertification; clearing for agricultural purposes threatens the natural habitat of many unique animal and plant species; the Great Barrier Reef off the northeast coast, the largest coral reef in the world, is threatened by increased shipping and its popularity as a tourist site; limited natural fresh water resources
Climate
Australia is in the southern hemisphere and the seasons are opposite to those in Europe and North America. There are two climatic zones: the tropical zone (in the north above the Tropic of Capricorn) and the temperate zone. The tropical zone (consisting of 40 per cent of Australia) has two seasons, summer (?wet?) and winter (?dry?) while the temperate zone has all four seasons.\nNovember-March\n(spring-summer): Warm or hot everywhere, tropical in the north, and warm to hot with mild nights in the south.\nApril-September\n(autumn-winter): Northern and central Australia have clear warm days, cool nights; the south has cool days with occasional rain but still plenty of sun. Snow is totally confined to mountainous regions of the southeast.\nNote\nFor further details, including climate statistics, see under individual State entries.\nRequired clothing\nLightweights during summer months with warmer clothes needed during the cooler winter period throughout most of the southern States. Lightweight cottons and linens all year in the central/northern States with warm clothes only for cooler winter evenings and early mornings. Sunglasses, sunhats and sunblock lotion are recommended year round in the north and during the summer months in the south.
Time difference
time difference: UTC+10 daylight saving time: +1hr, begins last Sunday in October; ends last Sunday in March note: Australia is divided into three time zones
Population
20,264,082 (July 2006 est.)
Age structure
0-14 years: 19.6% (male 2,031,313/female 1,936,802) 15-64 years: 67.3% (male 6,881,863/female 6,764,709) 65 years and over: 13.1% (male 1,170,589/female 1,478,806) (2006 est.)
Median age
total: 36.9 years male: 36 years female: 37.7 years (2006 est.)
Population growth rate
0.85% (2006 est.)
Birth rate
12.14 births/1,000 population (2006 est.)
Death rate
7.51 deaths/1,000 population (2006 est.)
Net migration rate
3.85 migrant(s)/1,000 population (2006 est.)
Sex ratio
at birth: 1.05 male(s)/female under 15 years: 1.05 male(s)/female 15-64 years: 1.02 male(s)/female 65 years and over: 0.79 male(s)/female total population: 0.99 male(s)/female (2006 est.)
Life expectancy at birth
total population: 80.5 years male: 77.64 years female: 83.52 years (2006 est.)
Total fertility rate
1.76 children born/woman (2006 est.)
Business Practices
Doing business in Australia is comfortable for most Western companies because the language, the cultural environment, business practices and customer expectations are very similar. Business etiquette is similar to the US and West Europe, with attention paid to advance planning, promptness, punctuality, and follow through. Australians are personally gracious, yet informal and direct in their business dealings. Very soon after meeting, Australians do business on a first name basis. Business cards are exchanged for information purposes, but without any special ceremony. Token gift exchange is not common. Luncheon meetings are common, but Australians do not usually schedule business functions during the evening or on weekends. Normal business attire is worn in the cities, with country areas being more informal.
Crime
Australia is a relatively low-risk country, with little political violence and modest, if gradually increasing, crime levels. For the most part violent crime remains rare, but visitors should be alert for potential muggers late at night in some inner-city areas and at deserted public-transport depots. There have been a number of property-damage extortion and product-contamination cases in recent years, including some victimizing multinational corporations. Police and other emergency response personnel are summoned by dialing 000. Street crime is relatively rare in Australia, but certain districts in each major city are the haunts of pickpockets, grab-and-run thieves and a few late-night muggers. Avoid walking at night in some of the busy tourist areas of Sydney, such as Kings Cross (and the nearby dockside area), downtown George Street, Darling Harbour, Bondi Beach and the Rocks areas, Hyde Park and Centennial Park. The same applies to Melbourne's Carlton and St. Kilda, Brisbane's Valley and Cairns and the Gold Coast in Queensland. Use discretion when seeking out local color in pubs, as barroom brawls are common in some districts. Snatch-and-run theft is not common, but women should secure their handbags when seated at outdoor eateries, as grab artists will steal bags slung over chair backs. Avoid carrying everything of value in one bag. Be alert when withdrawing cash from cash machines. Thefts from safe deposit facilities at cheaper hotels and hostels are common. Most Australians live in suburbia, where residential crime tends to be opportunistic and petty. Thieves steal bicycles, tools and garden furniture left unattended in yards, and burglars often gain entry to suburban houses through unlatched windows, unlocked doors or by forcing flimsy locks. Thieves almost never seek confrontation. Personnel in freestanding houses should ensure windows lock securely and equip all outer doors with stout cylinder locks rather than the older and easier-to-pick keyhole variety. Keeping garden shrubbery trimmed and installing outdoor lighting will help minimize cover for a would-be sneak thief. In the inner cities, once-shabby residential districts are gradually being gentrified, but they still have some problems with break-ins. Downtown residents are safest in access-controlled apartment buildings. Those who choose to live in row-houses or freestanding homes in centrally located districts-such as Melbourne's Toorak or Sydney's Double Bay- should make sure all outer doors have strong locks and all accessible windows are protected by grills strong enough to deter break-in artists. Auto-related crime is rising in Australia. Parked vehicles should always be locked, and nothing of value left in them-especially stereo equipment. Cars should be garaged securely whenever possible or parked on well-lighted streets. Autos should not be left in unattended parking garages at night. Drivers may wish to install steering-wheel locks to deter thieves and joy-riders who steal cars only to abandon them later. Credit-card fraud and counterfeit currency are growing problems in the Asia region and are affecting Australia. Personnel should be careful with credit cards and wary of accepting large denomination bills, especially if they are buying U.S. currency.
Hotels
Every State has a selection of hotels run by international chains such as the Hilton and Intercontinental. More authentic accommodation for the tourist can be found outside the cities. The smaller hotels are more relaxed, and offer more of the flavor of their location. The highways out of the State cities are lined with good quality motels offering self-contained family units, and often an in-house restaurant service. The principal difference between a hotel and a motel in Australia is that a hotel must, by law, provide a public bar among its facilities. For this reason there are many motels which are hotels in all but name, offering an excellent standard of comfort and service but preferring to reserve their bar exclusively for the use of their guests, rather than for the public at large.
Communications
There are full facilities for national and international telecommunications. Full IDD service is available. The country code is 61 and the international country code is 0011. Pay phones are red, green, gold or blue. Only local calls can be made from red phones. Green, gold and blue phones also have International Direct Dialing (IDD) and Subscriber Trunk Dial (STD). The Overseas Telecommunications Commission accepts documents over the counter for facsimile transmission. Free collection by courier is available in Brisbane, Sydney, Melbourne, Perth and Adelaide. Fax number guides are available at post offices, and prices vary. The Overseas Telecommunications Commission and local offices run telex and telegram services. There are telex facilities at central post offices in Brisbane, Canberra, Sydney, Melbourne, Perth, Adelaide, Newcastle and Hobart. The OTC also operates a 24-hour public telex at Sydney, Brisbane, Canberra and Melbourne. Cables can be sent Urgent (2-4 hours delivery), Ordinary (4-6 hours) or Letter rate (24 hours). Telegrams may be sent through the telephone operator. Hotels usually add a surcharge. There are post offices in all the main towns of every State. Opening hours are 0900-1700 Monday to Friday. Stamps are often available at hotel and motel reception areas and selected news agents. Poste Restante facilities are available throughout the country; mail should be addressed to the nearest post office.
Electricity
is 240/250 volts AC, 50Hz. 3-pin plugs are in use, however, sockets are different from those found in most countries and an adapter socket may be needed. Outlets for 110 volts for small appliances are found in most hotels. Electricity 220/240 volts AC, 50Hz. Three-pin plugs are in use, however sockets are different from those found in most countries and an adaptor socket may be needed. Outlets for 110 volts for small appliances are found in most hotels. Communications
Plug Types
I
Food And Dining
There are numerous specialty dishes and foods including Sydney rock oysters, barramundi (freshwater fish), tiger prawns, macadamia nuts and yabbies (small freshwater lobsters). Beef is the most popular meat and lamb is also of a high quality. There is a wide variety of excellent fruits and vegetables. Service is European-style and varies from waitress and waiter service to self-service. Bistros, cafes, family-style restaurants and ?pub? lunches at the counter offer good food at reasonable prices. Some restaurants will allow guests to bring their own alcohol and are called ?BYO? restaurants. Australia also offers an enormous variety of cuisines, including Italian, French, Greek, Spanish, Chinese, Vietnamese, Malaysian, Thai, Japanese, Indian, African, Lebanese and Korean. The major vineyards (wineries) are outside Perth, Sydney, Melbourne, Hobart, Canberra and Adelaide. The largest single wine-growing region is in the Barossa Valley, South Australia, two hours? drive from Adelaide, where high-quality red and white wines are produced. Most restaurants and hotels are licensed to serve alcohol; private hotels and guest houses cannot be licensed by law. Australian wines are good and inexpensive. Beer is served chilled. Licensing hours in public bars are 1000-2200 Mon-Sat, however most pubs are open until 2400; Sunday hours vary. Restaurants, clubs and hotel lounges have more flexible hours. Drinking age is 18 years or over. Australian Capital Territory Restaurants and hotels serve trout from the streams and lakes of the Snowy Mountains. Beef and lamb come from the farmlands surrounding Canberra. The variety of cuisine available in Canberra is impressive, with over 300 restaurants offering food from all corners of the world, from Austria to Zanzibar.

Nightlife
Despite the daytime orderliness, nightlife is actively promoted by the large range of pubs, restaurants, nightclubs, acoustic venues and jazz, piano and wine bars. There are many film shows and a boutique casino. New South Wales Cooking in New South Wales, and Sydney in particular, reflects the State?s multicultural makeup with Thai, Vietnamese, Japanese, Greek, Italian and Indian cuisine all represented. Gourmet food and wine trails exist throughout the State. Fine red and white wines come from the Hunter Valley. General licensing hours for public bars are Mon-Sat 1000-2200 with varying hours on Sunday. Nightlife Sydney is known for being a city that never sleeps, and has a diverse selection of bars, pubs, nightclubs and music venues. Kings Cross in Sydney is an exciting nightlife area. There are also some night-time cruises offering dinner and dancing. For further information on Sydney?s nightlife see online (website: www.spraci.com or www.citysearch.com.au). Northern Territory Barramundi (fish) is the local specialty. Dining out has been made even more special by the addition of new restaurants at Cullen Bay Marina, offering outdoor dining with beautiful ocean views. Cuisine from many countries, including Creole, Greek, Indian, Japanese, Malaysian, Mongolian and Thai, is available in Darwin?s restaurants. Nightlife There is plenty of exciting nightlife in Darwin, which also boasts the MGM Grand Darwin, built in an extraordinary modern architectural style. This A$30-million casino complex also encompasses luxury accommodation, restaurants, discos and sporting and convention facilities and is surrounded by lush gardens perched along the shores of Mindil Beach. Alice Springs also has a casino. Queensland The food of the area relies to a large extent on the sea and the subtropical climate for specialties in cuisine. Local delicacies include mud crabs, king and tiger prawns, mackerel and fresh barramundi, as well as avocados, mangoes, pawpaws, pineapples, strawberries, bananas and the highly recommended local specialty, the macadamia nut. In Fortitude Valley, just out of Brisbane city center, there are a number of European, Asian and Chinese restaurants and trendy cafes. Brisbane is supplied with local wines from vineyards at Stanthorpe to the southwest, producing both red and white wines, and from other Australian vineyards. All beers on sale are brewed locally. Queensland is the home of Bundaberg Rum, a sweet rum brewed with local sugar cane. Nightlife Although much of the tourist activity is centered on the beaches and the Barrier Reef, Brisbane offers a wide selection of entertainment. Most of the large hotels have dinner and dancing facilities and there are several nightclubs in the city, especially in Southbank Parklands where discos and restaurants abound. The Gold Coast has many nightclubs, as well as Jupiter?s Casino. Townsville has the spectacular Sheraton Breakwater Casino on Sir Leslie Thiess Drive, offering a full range of gaming facilities and high-quality entertainment. South Australia The local delicacies are mainly German food in the Barossa region and, on the coast, crabs, whiting, crayfish and other seafood. Kangaroo steak is a specialty of the region and can be ordered in many Australian restaurants. Adelaide has a wide range of restaurants and cafes specializing in international cuisine, including US, Chinese, French, Greek, Italian, Indian, Indonesian, Japanese, Lebanese, Malaysian, Mexican, Mongolian and Vietnamese. Many of these offer alfresco dining. There are many excellent seafood restaurants. There are many wine and food festivals throughout the region where local wines and beers can be tasted. One of these is the Barossa Vintage Festival, reminiscent in many ways of German beer festivals in Europe. There is also a brewery in Adelaide supplying stout and lagers, although whether in Adelaide itself, the hills or the outback, the pub experience should not be missed. South Australia contains one of the most important valley regions producing wines; from the reds of Coonawarra to the Rieslings of the Eden Valley. Although specializing in table wines, the state is noted for its sparkling reds and whites. Nightlife Adelaide has an extraordinary nightlife scene. The Adelaide Casino, once a grand Victorian railway station is now a haven for baccarat and roulette players amid its magnificent Corinthian columns (Mon-Fri 1000-0400 and continuously at weekends and on public holidays). There is also a concentration of nightclubs and discos on Hindley Street in the heart of the city, opposite Rundle Mall. Large crowds also flock to the cosmopolitan atmosphere of the pubs and cafes in Rundle Street. Tasmania Some of the best seafood in the world is available in Tasmania, including Angasi oysters, crayfish, scallops, Atlantic salmon and ocean trout. Freshwater wild brown trout is caught in the Tasmanian highlands. The island?s cheese is excellent and renowned among conoisseurs. Goat, quail and venison are the area?s specialty meats, and other specialties include apples, apricots, berry fruits and liqueur honey. Tasmanian wine, favored by Sydney?s top restaurants, has won several international awards, and two popular beers are produced, Boags and Cascade. Nightlife There are casinos in Hobart and Launceston. Hobart?s waterfront area, Salamanca Place, is the home of many night-time haunts in its old stone warehouses. Small, traditional-style pubs, open all day and into the small hours of the morning, are a special feature here. Hobart boasts Australia?s oldest theater, the Royal Theater, and the city?s concert hall is the home of the Tasmanian Symphony Orchestra, generally considered to be one of Australia?s best orchestras. Victoria There is an enormous variety of cuisine available in Melbourne and restaurants offering specific types can be found in sectionalised districts: Lygon Street for Italian, Little Bourke Street for Chinese, Lonsdale Street for Greek, Victoria Street for Vietnamese, Sydney Road for Turkish and Spanish, and Acland Street for Central European. Other cuisines that are well represented in the city?s restaurants include French, American, Mexican, Lebanese, African, Malaysian, Afghan, Swiss and Mongolian. Nightlife Melbourne is home to a vibrant and varied entertainment culture that comes alive at night. There is everything from ballet, classical concerts and opera to plays in Melbourne?s ornate theaters like the Princess and Regent, and street performers. There is an eclectic array of pubs, bars and nightclubs in and around Melbourne. Whatever your taste there is something to suit everyone, whether it?s a laid-back beer in an authentic Aussie pub, a comedy night, live bands playing jazz and blues music or upmarket dance clubs. The Crown Casino Complex, located on the bank of the Yarra River in Melbourne is a complete amusement area that includes a casino, cinemas, restaurants, bowling-alley and nightclubs. Western Australia Excellent seafood comes from the coast around Perth, including king prawns, rock lobster (locals call this crayfish, dhufish, jewfish or barramundi), and special freshwater lobster called marron. There are excellent local wines in Western Australia and vineyards at Swan Valley, Mount Barker and Margaret River. A vibrant pavement coffee culture exists in Perth, and Fremantle?s South Terrace is home to the aptly named Cappuccino Strip (and to the infamous Redback lager). There is also an abundance of international cuisine and interesting dining experiences; for example, eating fish and chips from a converted tram in Fremantle, sampling the excellent Asian food in Subiaco (Perth), enjoying a seafood barbecue in the bush or partaking of a culinary feast in a riverside restaurant along the Swan River. Tropical fruits are abundant - especially banana, mango and papaya. Nightlife There are many nightclubs in the Northbridge area of Perth, which is located within easy walking distance from the bus and train stations. Here you can find club venues to cater for all music tastes, including mainstream, hardcore, gay and alternative beats. The large Burswood Resort and Casino complex is also only minutes from Perth city center. In addition there are many cinemas in Leederville, Fremantle and Perth, as well as several theaters (see the Independent Theater Association for information; website: www.theater.asn.au).
Entry departure requirements
Note Australian visa regulations (including visa application charges) change from time to time. The information provided below is valid at the time of publication, but visitors should check that this information is still current by visiting the Department of Immigration online (website: www.immi.gov.au) or by calling the Australian Immigration and Citizenship 24-hour Information Service (tel: (09065) 508 900; calls cost ?1 per minute).
Visa immigration information
Note
Australian visa regulations (including visa application charges) change from time to time. The information provided below is valid at the time of publication, but visitors should check that this information is still current by visiting the Department of Immigration online (website: www.immi.gov.au) or by calling the Australian Immigration and Citizenship 24-hour Information Service (tel: (09065) 508 900; calls cost ?1 per minute).
Passports
Valid passport required by all.
Visas
Required by all except the following:
(a) nationals of New Zealand;
(b) nationals of the following countries do not need to obtain a transit visa before travel if they are continuing their journey to a third country within eight hours of arriving in Australia: Andorra, Argentina, Austria, Belgium, Brunei, Canada, Denmark, Fiji, Finland, France, Germany, Greece, Hong Kong (SAR or BNO passport holders), Iceland, Indonesia, Ireland, Italy, Japan, Kiribati, Korea (Rep), Liechtenstein, Luxembourg, Malaysia, Malta, Marshall Islands, Mexico, Micronesia (Federated States of), Monaco, Nauru, The Netherlands, New Zealand, Norway, Papua New Guinea, The Philippines, Portugal, Samoa, San Marino, Singapore, Solomon Islands, South Africa, Spain, Sweden, Switzerland, Taiwan (if issued by the authorities in Taiwan), Thailand, Tonga, Tuvalu, UK (and its colonies), USA, Vanuatu, Vatican City and Zimbabwe.
All other nationals must obtain a transit visa before travel, irrespective of the period of transit in Australia. Transit visas are free of charge.
Note: Not all airports remain open all night; travellers should check with the airline.
Electronic Travel Authority (ETA) visas
The ETA is an electronically stored authority for travel to Australia that allows people from certain countries (see below) to visit Australia for up to three months for tourism, short-term business or elective study purposes. An ETA is invisible and therefore will not show up in your passport.
ETAs (Visitor and Business - Short Validity ETAs only) may, for some nationals, be obtained online from the main Department of Immigration and Multicultural and Indigenous Affairs (DIMIA; website: www.eta.immi.gov.au) or from over 10,000 travel agents and airline offices throughout the UK.
Please note, the Australian High Commission in London does not offer an automatic ETA service.
Only nationals of the following countries are eligible for an ETA: Andorra, Austria, Belgium, British Overseas Territories*, Brunei, Canada, Denmark, Finland, France, Germany, Greece, Hong Kong (SAR), Iceland, Ireland, Italy, Japan, Korea (Rep), Liechtenstein, Luxembourg, Malaysia, Malta, Monaco, The Netherlands, Norway, Portugal, San Marino, Singapore, Spain, Sweden, Switzerland, Taiwan*, UK, USA and Vatican City.
* Holders of these passports can only be processed for an ETA by external service providers if resident in, and applying in, their passport country.
Types of ETA and cost
Tourist Visit/Business Visit (short-term): Free of charge; Business Visit (long-term): ?25.
Note: A service fee of A$20 is charged when applying for an ETA online through the DIMIA ETA website. Some travel agents and airlines issuing ETAs also charge a processing fee.
Validity of ETAs
Tourist Visit ETAs are valid for 12 months from date of issue (or until the passport expires, whichever comes first) and permit multiple entries into Australia for a stay of up to three months on each visit. Short-term Business Visit ETAs are valid for 12 months from date of issue (or until the passport expires, whichever comes first) for a single entry of up to three months. Long-term Business Visit ETAs are valid for 10 years (or the life of the passport) and permit multiple entries for a stay of up to three months for each visit.
Other types of visa and cost
Visitors not eligible for an ETA, or seeking a longer stay than an ETA offers, may apply for Tourist Visit (Non ETA) and Temporary Business Short-stay and Temporary Business Long-stay (Non ETA) visas. Tourist Visit and Business Short-stay visas cost ?25; Business Long-stay visas cost ?70.
Validity of non-ETA visas
For non-ETA visas, the validity varies according to the type of visa, the purpose of the trip and the validity of the passport. The validity will be stated on the visa label in your passport.
Application to
ETA: Authorised travel agents or airlines, by telephone or, in some cases, online through Australian Visas Ltd (see above). Non-ETA: Australian
Embassies
, High Commissions and Consulates; see General Info section. There is a new Tourist Short-Stay visa available online for passport holders of Cyprus, Czech Republic, Estonia, Hungary, Kuwait, Latvia, Lithuania, Poland, Slovak Republic, Slovenia and the United Arab Emirates.
Application requirements
ETA: (a) Valid passport. (b) Fee (if applicable). (c) Completed application form giving details of passport number and expiry date, airline, names of travellers etc (if applying by post). Tourist Visitor (Non ETA): (a) Completed application form. Application forms for tourist and business visitor visas can be downloaded from the Department of Immigration (website: www.immi.gov.au). (b) An A4 stamped, self-addressed, registered envelope for return of passport. (c) Valid passport with two unused visa pages. (d) Fee (payable by credit card, cheque or postal order and made out to the Australian High Commission). (e) One or more recent passport photos as required. (f) Tourists over the age of 70 require a medical certificate. Business Visitor (Non ETA): (a)-(e) and, (f) Applicant must provide proof of sponsorship and business interest. Business visa forms are also available from Australian Outlook, 3 Buckhurst Road, Bexhill on Sea, East Sussex TN40 1QF, UK.
Note: (a) Prior to lodging an application, visitors should confirm the current visa fees at www.immi.gov.au. (b) All travellers to Australia, except Australian citizens and permanent residents, must satisfy health and character requirements. (c) All travellers, including minors travelling on a parent's passport, require their own visa or ETA.
Working days required
ETA: When issued through DIMIA's ETA website (website: www.eta.immi.gov.au), or through travel agents or airline offices, ETAs are usually processed and valid immediately or within three working days. Non-ETA: 24 hours to three weeks. Processing may take even longer in busy periods.
Temporary residence
Applicants for temporary residence, working holidays and long-stay business visits to Australia should contact DIMIA online (website: www.immi.gov.au) or the High Commission online (website: www.australia.org.uk).
HIV entry requirements
All applicants (15 years of age and older) for permanent Residence. Permanent applicants under 15yrs must be tested if being adopted or have a history of blood transfusions. Temporary applicants need to declare any illness or condition at their interview. Any temporary applicant who is likely to come into contact with blood must also be tested.
Departure tax
None Embassies
British High Commission
Address: British High Commission
Commonwealth Avenue
Yarralumla
Canberra,
Telephone: (61) (2) 6270 6666
Facsimile: (61) (2) 6273 3236 General
(61) (2) 6273 4360 Economic
(61) (2) 6270 6653 Chancery
Email: bhc.canberra@mail.uk.emb.gov.au
Office Hours: GMT: 2245-0230 / 0330-0700
Local Time: 0845-1230 / 1330-1700
Website: http://www.britaus.net
Consular Section Canberra
Address:
Piccadilly House
39 Brindabella Circuit
Brindabella Business Park
Canberra Airport
CANBERRA ACT 2609
Telephone: 1902 941 555 - Consular Section (Premium rate call - domestic calls only - charged at A$1.60 per minute)
1300 367 066 - Consular Section (Premium rate call - A$7.10 flat fee, credit card only)
Facsimile: (61) (2) 6257 5857
Office Hours: Apr-Oct: 2300-0500 GMT
Nov-Mar: 2200-0400 GMT
Website: http://www.britaus.net
Currency
Australian Dollar (A$) = 100 cents. Notes are in denominations of A$100, 50, 20, 10 and 5. Coins are in denominations of A$2 and 1, and 50, 20, 10 and 5 cents.
Currency restrictions
Export and import of coins/notes in Australian or foreign currency above A$10,000 must be declared to customs at the port of entry or departure. Export of local currency above A$2000 must have reserve bank approval.
Banking hours
Mon-Thurs 0930-1600, Fri 0930-1700. These hours may vary slightly throughout the country.
Currency exchange
Exchange facilities are available for all incoming and outgoing flights at all international airports in Australia. International-class hotels will exchange major currencies for guests. It is recommended that visitors change money at the airport or at city banks.
Credit cards
American Express, Diners Club, MasterCard and Visa are accepted. Use may be restricted in small towns and outback areas. Check with your credit or debit card company for details of merchant acceptability and other services which may be available.
Travellers cheques
These are accepted in major currencies at banks or large hotels. However, some banks may charge a fee for cashing travelers cheques. To avoid additional exchange rate charges, travelers are advised to take travelers cheques in a major currency.
| City/Region | City/Area code | Followed by |
| --- | --- | --- |
| Central & West Australia | (0)8 | + 8 digit subscriber nr |
| Central East Australia | (0)2 | + 8 digit subscriber nr |
| Queensland | (0)7 | + 8 digit subscriber nr |
| South East Australia | (0)3 | + 8 digit subscriber nr |