Quick Facts
Region: Europe
Full Name: Republic of Poland
Capital City: Warsaw
Language Spoken: Polish 97.8%, other and unspecified 2.2% (2002 census)
Poland Travel Insurance
Get travel insurance to Poland from Direct Travel Insurance. We offer low cost and high quality travel insurance to Poland and most of the world.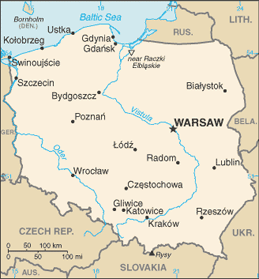 Geographic data
52 00 N, 20 00 E
Elevation Extremes
lowest point: near Raczki Elblaskie -2 m highest point: Rysy 2,499 m
Land boundaries
total: 3,056 km border countries: Belarus 416 km, Czech Republic 790 km, Germany 467 km, Lithuania 103 km, Russia (Kaliningrad Oblast) 210 km, Slovakia 541 km, Ukraine 529 km
Natural hazards
flooding
Natural resources
coal, sulfur, copper, natural gas, silver, lead, salt, amber, arable land
Land use
arable land: 40.25% permanent crops: 1% other: 58.75% (2005)
Environmental current issues
situation has improved since 1989 due to decline in heavy industry and increased environmental concern by post-Communist governments; air pollution nonetheless remains serious because of sulfur dioxide emissions from coal-fired power plants, and the resulting acid rain has caused forest damage; water pollution from industrial and municipal sources is also a problem, as is disposal of hazardous wastes; pollution levels should continue to decrease as industrial establishments bring their facilities up to EU code, but at substantial cost to business and the government
Climate
Temperate with warm summers, crisp, sunny autumns and cold winters. Snow covers the mountainous area in the south of Poland (mid-December to April). Rain falls throughout the year. Required clothing Light- to mediumweights are worn during warmer months. Medium- to heavyweights are needed during winter. Rainwear is advisable all year.
Time difference
time difference: UTC+1 daylight saving time: +1hr, begins last Sunday in March; ends last Sunday in October
Population
38,536,869 (July 2006 est.)
Age structure
0-14 years: 15.9% (male 3,142,811/female 2,976,363) 15-64 years: 70.8% (male 13,585,306/female 13,704,763) 65 years and over: 13.3% (male 1,961,326/female 3,166,300) (2006 est.)
Median age
total: 37 years male: 35.1 years female: 39 years (2006 est.)
Population growth rate
-0.05% (2006 est.)
Birth rate
9.85 births/1,000 population (2006 est.)
Death rate
9.89 deaths/1,000 population (2006 est.)
Net migration rate
-0.46 migrant(s)/1,000 population (2006 est.)
Sex ratio
at birth: 1.06 male(s)/female under 15 years: 1.06 male(s)/female 15-64 years: 0.99 male(s)/female 65 years and over: 0.62 male(s)/female total population: 0.94 male(s)/female (2006 est.)
Life expectancy at birth
total population: 74.97 years male: 70.95 years female: 79.23 years (2006 est.)
Total fertility rate
1.25 children born/woman (2006 est.)
Business Practices
Business attire is generally formal, including a suit and tie for men, and a suit or dress for women. It is customary to greet by shaking hands in Poland. A businesswoman should not be surprised if a Polish man kisses her hand upon introduction, at subsequent meetings or saying goodbye. Business cards are the norm in Poland and are generally given to each person present in a meeting. As Poles tend to bring more than one person to their meetings so visitors should bring plenty of cards. It is not necessary to have cards printed in Polish. Office hours are normally 0800-1600 Monday to Friday.
Crime
Poland has a low rate of violent crime, but a high rate of street crime in urban areas, including Warsaw, Krakow, and other major cities. Organized groups of thieves and pickpockets operate at major tourist destinations, in train stations, and on trains, trams, and buses in major cities. Thefts have occurred on overnight trains. Most pickpocketing on trains occurs during boarding; in the most common scenario, a group of well-dressed young men will surround a passenger in the narrow aisle of the train, jostling and pickpocketing him or her as they supposedly attempt to get around the passenger. (Pickpocketing often occurs in first class cars.) Thieves target the bus and tram route to and from Warsaw Frederic Chopin Airport. The tri-cities area of Gdynia, Sopot, and Gdansk has a high rate of muggings, even in broad daylight, and some of which have involved aggravated assault. Car thefts, theft from cars and carjackings are commonplace. Vehicles with foreign license plates are targeted by gangs posing as police officers, particularly in rural and tourist areas, such as the Polish lake district. Offers of assistance should be regarded with suspicion, as should attempts by motorists to flag down other drivers. Many vehicles are stolen during minor scam collisions. In case of a minor arranged collision, motorists should go to the nearest gas station, public building, or police station and report the matter. There has been an increasing incidence of thieves opening or breaking passenger-side doors and windows in slow or stopped traffic to take purses or briefcases left on the seat beside the driver. Racially motivated verbal, and on occasion, physical, harassment of foreigners and ethnic minorities may occur. There have been a few reported occurrences of racially motivated assaults against students of ethnic minority origin studying in Katowice and Lublin. Take particular care to safeguard your passport and credit/ATM cards, and do not lose sight of your credit cards during transactions. A few tourists have been the target of a scam where people claiming to be plain-clothed policemen come to their aid, usually when another person has stopped them to ask for help or directions. The "policemen" then ask to see the tourists' ID and credit cards and to be given their PIN numbers. Under no circumstances should people give out their PIN numbers. There have been problems in Warsaw, particularly at the airport, involving overcharging by non-regulated taxi drivers. Use official taxis, which have the name and telephone number of the taxi company on the side of the door and on the top of the taxi (beside the occupied/unoccupied light). Taxis with a crest but no company name are not officially registered taxis. Organized crime groups operate several taxis companies and rivalry between taxi companies can be extremely competitive: thugs on occasion stop rival cabs and order passengers to change cars. Theft of and from vehicles is common; do not leave documents or money in vehicles. There have been cases of vehicles with foreign number plates being stopped by gangs posing as policemen, particularly in rural and tourist areas such as the Polish lake district. If you are flagged down, you should exercise caution, remain in your vehicle and ask to see identification. Drivers should be wary of persons indicating they should pull over or that something is wrong with their car. Often, a second car or person is following, and when the driver of the targeted car gets out to see if there is a problem, the person who has been following gets in and drives off with the car. Do not leave drinks or food unattended, or accept drinks from strangers. There have been a small number of reports of drinks being spiked and visitors having their valuables stolen whilst intoxicated. Overall, police are ill equipped and ill prepared to confront criminals, who often outnumber and outgun them. At present, the greatest concentration of police can be found on the highways outside major cities, where traffic laws are strictly enforced and fines collected on the spot. Although the Polish police have benefited from training through international sponsored programs, the average police officer remains underpaid, under-equipped and under-trained. The expatriate community is very distrustful of the local police in relation to its inability to effect any arrest in the case of carjackings that take place against foreigners. The police emergency number is 997, fire service is 998, and ambulance service is 999. Mobile phone users can dial 112 for roadside assistance.
Hotels
First-class business hotels are available in most major Polish cities, and many are located in the heart of business districts. Some major western hotels offer air-conditioned rooms and direct dial telephone capability from rooms. Many hotels offer a business center with computers, business assistance services, and fax capability. Almost all business hotels take major credit cards. Charges and room rates are seasonal and competitive, and business travelers are advised to check and confirm rates at hotels in advance of their travel. Forte, Intercontinental, Marriott, Novotel, Holiday Inn and Orbis, among others, run hotels in Poland.
Communications
Telephone: Full IDD is available. Country code: 48. Outgoing international code: 00 Telephoning to and from Poland is much easier today than just a few years ago. AT&T, Sprint, and MCI calls can be placed from Poland. Direct dial around the world is possible and often easier than placing local calls across town. The Polish telephone system in many areas is still rotary dial, making it difficult to link-up and use some modern telephone services in the United States. Fax capabilities are generally very good, based upon the quality of the sending or receiving signal. Post office hours are 0800-1800 Monday to Friday.
Electricity
: 220 volts AC, 50Hz; Continental sockets. Electricity 220 volts AC, 50Hz; continental sockets.
Plug Types
C,E
Food And Dining
? Poland has a distinctive cuisine, with typical ingredients being dill, marjoram, caraway seeds, wild mushrooms and sour cream, which is frequently added to soups, sauces and braised meats. Polish meals start with przekaski (starters). Soups play an important part at mealtimes and are usually rich and very thick, and are often served in cups with small hot pasties stuffed with meat or cabbage. Poland is also a good country for fish (ryba). Pastries (ciastka) are also very good. Table service is the norm in restaurants. Western drinks, such as whisky, gin or brandy, can be obtained in most bars but are expensive. Wine is available but, again, is imported and expensive. The best bottled beer is zywiec, a fairly strong lager-type beer. Bars have table and/or counter service. Coffee shops are very popular in Poland and are the favorite places for social meetings from early morning to late at night. They do not close during the day and have the same function as do pubs in the United Kingdom. Alcoholic drinks are available throughout the day. National specialties
? Bigos (sauerkraut, fresh cabbage, onions and any variety of leftover meat).
? Carp served in sweet-and-sour jellied sauce.
? Poached pike with horseradish in cream.
? Salted and rolled herring fillets with pickles and onions.
? Kulebiak (a large mushroom and cabbage pasty).
? Kabanos (long, thick sausages).
? Mysliwska (sausage made from pork and game).
? Barszcz (beetroot soup, excellent with sour cream).
? Zrazy zawijane (mushroom-stuffed beefsteak rolls in sour cream).
? Kasza (buckwheat). National drink
? Vodka (w?dka, in many various flavors).
Tipping:
10 to 15 per cent is customary in restaurants and cafes. Tipping in self-service restaurants is not expected. Tips for porter's services in hotels and train stations are customary but amounts are at the traveller's discretion.
Nightlife
Warsaw also reflects the strong theatrical and musical traditions of Poland, with about 17 theaters and three opera companies. Cinemas in Poland show both Polish and foreign films. There are some discos in Poland, as well as a growing number of nightclubs and music bars in Warsaw.
Entry departure requirements
* Please see passport section
Visa immigration information
Passports
Passport valid for at least three months beyond length of stay required by all except:
1. EU/EEA nationals (EU + Iceland, Liechtenstein, Norway) and Swiss nationals holding a valid national ID card.
Note: EU and EEA nationals are only required to produce evidence of their EU/EEA nationality and identity in order to be admitted to any EU/EEA Member State. This evidence can take the form of a valid national passport or national identity card. Either is acceptable. Possession of a return ticket, any length of validity on their document, sufficient funds for the length of their proposed visit should not be imposed.
Visas
Required by all except the following for up to 90 days:
(a) nationals of countries referred to in the chart above;
(b) nationals of Andorra, Argentina, Bolivia, Brazil, Brunei, Bulgaria, Chile, Costa Rica, Croatia, El Salvador, Guatemala, Honduras, Hong Kong (SAR), Iceland, Israel, Korea (Rep), Liechtenstein, Macau (SAR), Malaysia, Mexico, Monaco, New Zealand, Nicaragua, Norway, Panama, Paraguay, Romania, San Marino, Singapore, Switzerland, Uruguay, Vatican City and Venezuela.
Types of visa and cost
Short-stay: US$45 (single-entry), US$58 (double-entry), US$72 (multiple-entry). Long-validity (more than 90 days): US$88 (single-entry), US$101 (double-entry), US$117 (multiple-entry). Airport Transit Visa: US$15 Transit: US$15 (single-entry), US$29 (double-entry), US$45 (multiple-entry). Work (one year maximum, multiple-entry): US$161 Next day service: additional US$38 Payment is non-refundable even if visa is rejected. There is a 50 per cent discount for foreign citizens who have a Polish spouse and a 25 per cent discount for children and students up to the age of 26 (proof of identity is required).
Validity
Airport Transit: two days. Transit: up to five days. Short stay: up to 90 days. Long validity: over 90 days. Work: maximum one year.
Application to
Consulate (or consular section at Embassy); see Passport/Visa Information for details.
Application requirements
(a) Passport valid for three months after planned departure from Poland with blank page to affix visa. (b) Completed application form. (c) One passport-size photo. (d) Evidence of immigration status in country of residence, endorsed in current or previous passport (if applicable). (e) Fee, payable by cash or postal order made payable to 'Consulate General of the Republic of Poland'. Short-stay: (a)-(e) and, (f) Confirmation of travel itinerary, accommodation booking or invitation from friends or family in Poland. The invitation should be entered in the register of invitations in a Regional Office. Long-validity: (a)?(e) and, (f) Letter from applicant's company or organization and original of a 'Work Promise'. Self-employed persons should produce an invitation from the business partner from Poland. If studying in Poland, an official letter from a college or university must be produced. Transit: (a)?(e) and, (f) Visa for country of destination. (g) Transport documentation, such as a rail or airplane ticket.
Note
All visitors must possess sufficient funds to cover the cost of their stay. Foreigners staying in excess of three days must possess; PLN100 per day but no less than PLN500 in total or the equivalent in foreign currency if over 16 years of age; PLN50 per day but no less than PLN300 in total or the equivalent in foreign currency if under 16 years of age. Documents required for proof of funds are: traveller's cheques, credit cards or a bank statement. Additionally, each foreigner needs to have PLN300 for each day of the visit or the equivalent in foreign currency to cover the cost of medical treatment; a letter from the insurer can be used to confirm this.
Working days required
Three. For certain passport holders it may take several weeks. Express visas: the following working-day, for an additional fee of ?22. Postal applications may take up to two weeks (no express service available).
Temporary residence
Apply to Consulate.
HIV entry requirements
No Test Required
Departure tax
None
Embassies
Embassy of the Republic of Poland in the UK
47 Portland Place, London W1B 1JH, UK
Tel: (0870) 774 2700.
Website: www.polishembassy.org.uk
Opening hours: Mon-Fri 0830-1630.
Consulate General of the Republic of Poland in the UK
73 New Cavendish Street, London W1W 6LS, UK
Tel: (0870) 774 2800.
Website: http://www.london.mfa.gov.pl/en/
Opening hours: Mon-Fri 0930-1230 (Wed 0900-1100 and Thur 1300-1600).
Embassy of the Republic of Poland in the USA
2640 16th Street, NW, Washington, DC 20009, USA
Tel: (202) 234 3800-2.
Opening hours: Mon- Fri 0900- 1600
Website: waszyngton website
2224 Wyoming Avenue, NW, Washington, DC 20008, USA
Tel: (202) 234 3800.
Most visits to Poland are trouble-free but you should be aware of the global risk of indiscriminate international terrorist attacks, which could be against civilian targets, including places frequented by foreigners.
This advice is based on information provided by the Foreign, Commonwealth & Development Office in the UK. It is correct at time of publishing. As the situation can change rapidly, visitors are advised to contact the following organizations for the latest travel advice:
Tel: (0845) 850 2829.
Website: https://www.gov.uk/foreign-travel-advice/poland
US Department of State
Website: https://travel.state.gov
Currency
Zloty (PLN) = 100 groszy. Notes are in denominations of PLN200, 100, 50, 20 and 10. The new coins are in denominations of PLN5, 2 and 1, and 50, 20, 10, 5, 2 and 1 groszy.
Currency restrictions
The import of local currency is allowed up to the equivalent of ?10,000. The import of foreign currencies exceeding ?10,000 or its equivalent in freely convertible currency must be declared. Residents and non-residents are allowed to export local currency up to the equivalent of ?10,000. Residents are allowed to export foreign currencies up to the equivalent of ?10,000. Higher amounts can be exported with permission of the Bank of Poland only. The export of foreign currencies exceeding ?10,000 or its equivalent in freely convertible currency by non-residents must be declared. Gold and platinum, metal and articles of gold, platinum or metal are subject to special regulations.
Banking hours
Mon-Fri 0900-1600, Sat 0900-1300 in main cities. In smaller towns, banking hours are more limited.
Currency exchange
Foreign currency can be exchanged at all border crossing points, hotels and bureaux de change, some of which are open 24 hours. Cash can also be obtained from Visa credit cards at banks.
Credit cards
American Express, Diners Club, MasterCard and Visa are accepted in larger establishments. Check with your credit or debit card company for details of merchant acceptability and other services which may be available.
Travellers cheques
Readily exchanged. To avoid additional exchange rate charges, travelers are advised to take traveller's cheques in Pounds Sterling.
| City/Region | City/Area code | Followed by |
| --- | --- | --- |
| Biala Podlaska | (0)83 | + 4/7 digit subscriber nr |
| Bialystok | (0)85 | + 4/7 digit subscriber nr |
| Bielsko Biala | (0)33 | + 4/7 digit subscriber nr |
| Bydgoszcz | (0)52 | + 4/7 digit subscriber nr |
| Chelm | (0)82 | + 4/7 digit subscriber nr |
| Ciechan?w | (0)23 | + 4/7 digit subscriber nr |
| Czestochowa | (0)34 | + 4/7 digit subscriber nr |
| Elblag | (0)55 | + 4/7 digit subscriber nr |
| Gdansk | (0)58 | + 4/7 digit subscriber nr |
| Gorz?w Wielkopolski | (0)95 | + 4/7 digit subscriber nr |
| Jelenia G?ra | (0)75 | + 4/7 digit subscriber nr |
| Kalisz | (0)62 | + 4/7 digit subscriber nr |
| Katowice | (0)32 | + 4/7 digit subscriber nr |
| Kielce | (0)41 | + 4/7 digit subscriber nr |
| Konin | (0)63 | + 4/7 digit subscriber nr |
| Koszalin | (0)94 | + 4/7 digit subscriber nr |
| Krak?w | (0)12 | + 4/7 digit subscriber nr |
| Krosno | (0)13 | + 4/7 digit subscriber nr |
| Legnica | (0)76 | + 4/7 digit subscriber nr |
| Leszno | (0)65 | + 4/7 digit subscriber nr |
| L?dz | (0)42 | + 4/7 digit subscriber nr |
| Lomza | (0)86 | + 4/7 digit subscriber nr |
| Lublin | (0)81 | + 4/7 digit subscriber nr |
| Nowy Sacz | (0)18 | + 4/7 digit subscriber nr |
| Olsztyn | (0)89 | + 4/7 digit subscriber nr |
| Opole | (0)77 | + 4/7 digit subscriber nr |
| Ostroleka | (0)29 | + 4/7 digit subscriber nr |
| Pila | (0)67 | + 4/7 digit subscriber nr |
| Piotrk?w Trybunalski | (0)44 | + 4/7 digit subscriber nr |
| Plock | (0)24 | + 4/7 digit subscriber nr |
| Poznan | (0)61 | + 4/7 digit subscriber nr |
| Przemysl | (0)16 | + 4/7 digit subscriber nr |
| Radom | (0)48 | + 4/7 digit subscriber nr |
| Rzesz?w | (0)17 | + 4/7 digit subscriber nr |
| Siedlce | (0)25 | + 4/7 digit subscriber nr |
| Sieradz | (0)43 | + 4/7 digit subscriber nr |
| Skierniewice | (0)46 | + 4/7 digit subscriber nr |
| Slupsk | (0)59 | + 4/7 digit subscriber nr |
| Suwalki | (0)87 | + 4/7 digit subscriber nr |
| Szczecin | (0)91 | + 4/7 digit subscriber nr |
| Tarnobrzeg | (0)15 | + 4/7 digit subscriber nr |
| Tarn?w | (0)14 | + 4/7 digit subscriber nr |
| Torun | (0)56 | + 4/7 digit subscriber nr |
| Walbrzych | (0)74 | + 4/7 digit subscriber nr |
| Warszawa | (0)22 | + 4/7 digit subscriber nr |
| Wloclawek | (0)54 | + 4/7 digit subscriber nr |
| Wroclaw | (0)71 | + 4/7 digit subscriber nr |
| Zamosc | (0)84 | + 4/7 digit subscriber nr |
| Zielona G?ra | (0)68 | + 4/7 digit subscriber nr |