Quick Facts
Region: Asia & Oceania
Full Name: Islamic Republic of Pakistan
Capital City: Islamabad
Language Spoken: Punjabi 48%, Sindhi 12%, Siraiki (a Punjabi variant) 10%, Pashtu 8%, Urdu (official) 8%, Balochi 3%, Hindko 2%, Brahui 1%, English (official and lingua franca of Pakistani elite and most government ministries), Burushaski, and other 8%
Pakistan Travel Insurance
Get travel insurance to Pakistan from Direct Travel Insurance. We offer low cost and high quality travel insurance to Pakistan and most of the world.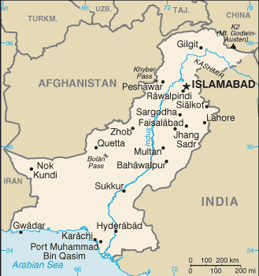 Geographic data
30 00 N, 70 00 E
Elevation Extremes
lowest point: Indian Ocean 0 m highest point: K2 (Mt. Godwin-Austen) 8,611 m
Land boundaries
total: 6,774 km border countries: Afghanistan 2,430 km, China 523 km, India 2,912 km, Iran 909 km
Natural hazards
frequent earthquakes, occasionally severe especially in north and west; flooding along the Indus after heavy rains (July and August)
Natural resources
land, extensive natural gas reserves, limited petroleum, poor quality coal, iron ore, copper, salt, limestone
Land use
arable land: 24.44% permanent crops: 0.84% other: 74.72% (2005)
Environmental current issues
water pollution from raw sewage, industrial wastes, and agricultural runoff; limited natural fresh water resources; a majority of the population does not have access to potable water; deforestation; soil erosion; desertification
Climate
Pakistan has three seasons: winter (November to March) is warm and cooled by sea breezes on the coast; summer (April to July) has extreme temperatures and the monsoon season (July to September) has the highest rainfall on the hills. Karachi has little rain. The best time to visit southern Pakistan is between November and March, when the days are cool and clear. The best time to visit northern Pakistan is from April to October. Required clothing Lightweights, with warmer clothing for upland areas in the winter. Rainwear is advised for the monsoon season.
Time difference
time difference: UTC+5
Population
165,803,560 (July 2006 est.)
Age structure
0-14 years: 39% (male 33,293,428/female 31,434,314) 15-64 years: 56.9% (male 48,214,298/female 46,062,933) 65 years and over: 4.1% (male 3,256,065/female 3,542,522) (2006 est.)
Median age
total: 19.8 years male: 19.7 years female: 20 years (2006 est.)
Population growth rate
2.09% (2006 est.)
Birth rate
29.74 births/1,000 population (2006 est.)
Death rate
8.23 deaths/1,000 population (2006 est.)
Net migration rate
-0.59 migrant(s)/1,000 population (2006 est.)
Sex ratio
at birth: 1.05 male(s)/female under 15 years: 1.06 male(s)/female 15-64 years: 1.05 male(s)/female 65 years and over: 0.92 male(s)/female total population: 1.05 male(s)/female (2006 est.)
Life expectancy at birth
total population: 63.39 years male: 62.4 years female: 64.44 years (2006 est.)
Total fertility rate
4 children born/woman (2006 est.)
Business Practices
Ties should be worn for important business appointments. Businessmen, government officials and service personnel commonly use English. Appointments should be made, remembering that businesses are usually closed on Muslim holidays. Visiting cards should be used. Men usually greet other men with a handshake. Do not use first names until invited to do so, and the only title necessary for normal use is "Doctor", and only for medical doctors. Office hours 9:00 a.m. to 1:00 p.m. Sunday through Thursday; 9:00 a.m. to 12:00 p.m. on Saturday. Banks are closed on Friday. During Ramadan, banking and business hours are 9:00 a.m. to 12:00 p.m.
Crime
Crime is a serious concern for foreigners throughout Pakistan, with violent crime increasing faster than any other category. Carjackings, armed robberies, house invasions and other violence against civilians have increased steadily in the major urban areas. Lahore and Karachi, in particular, experience high levels of crime. They are large cities beset by poverty, high unemployment, and underpaid, under-manned police forces. Travelers in Karachi are encouraged to use hotel shuttles from the airport rather than taxis, which are subject to police harassment, especially after dark. Petty crime, especially theft of personal property, is common throughout Pakistan. Karachi and the southern parts of Punjab province have experienced protracted political or sectarian violence that, although not explicitly directed at foreigners, poses a potential danger to travelers. During the Islamic religious observances of Ramadan and Moharram, sectarian rivalry and violence often increase. Northern Areas - Visitors wishing to trek in Gilgit, Hunza, Chitral and the upper Swat valley should use only licensed guides and tourist agencies. There have been occasional assaults and in 1998 a tourist who was not accompanied by a guide was murdered in Gilgit. Northwest Frontier Province - Because of dangerous security visitors are advised against travel to the tribal areas, even if traveling overland to the Khyber Pass. Substantial areas within the Northwest Frontier Province are designated tribal areas and are outside the normal jurisdiction of government law enforcement authorities. Visitors risk being caught in armed clashes between feudal tribal factions or smugglers. Carjackings and the abduction of foreigners are occasionally reported from the tribal areas. If visitors must enter the tribal areas, a permit from the Home and Tribal Affairs Department is required. The permit may stipulate that an armed escort must accompany the visitor. Even in the settled areas of the Northwest Frontier Province, there is occasional ethnic, sectarian, and political violence as well as anti-foreign rhetoric; foreigners should steer clear of such demonstrations or known areas of conflict. However, the monthly steam train excursion for tourists through the Khyber Pass is well protected by local authorities. Punjab Province - Sectarian violence decreased considerably during the first half of 1999, from the high 1998 levels of violence, which resulted in dozens of deaths. While Americans are not targets of this violence, the foreign community is not immune, as evidenced by the 1997 assassination of five Iranians in an attack widely believed to have had sectarian overtones. As a precaution against possible dangers resulting from sectarian violence, visitors are cautioned to avoid public transportation and crowded areas. Sindh Province - In the areas of Karachi and Hyderabad there have been recurring outbreaks of ethnic and sectarian violence characterized by random bombings, shootings and mass demonstrations. These have resulted in deaths and the imposition of curfews. There have also been numerous incidents of kidnappings for ransom. In rural Sindh Province, the security situation is hazardous, especially in regard to overland travel. Foreigners have occasionally been kidnapped and, in a 1995 incident, the foreign kidnap victim was killed in a subsequent gunfight between police and bandits. The Government of Pakistan has recommended that travelers limit their movements in Sindh Province to the city of Karachi. If visitors must go into the interior of Sindh Province, the Government of Pakistan requests that travelers inform police authorities well in advance of the trip so that necessary police security arrangements can be made. Baluchistan Province - The province of Baluchistan, which borders both Iran and Afghanistan, is notorious for cross-border smuggling. Armed battles between clans are frequent. Because provincial police presence is limited, travelers wishing to visit the interior of Baluchistan should consult with the province?s Home Secretary. Advance permission from provincial authorities is required for travel into some areas. Local authorities have detained travelers who lack permission. Although Quetta, the provincial capital, is quieter than the interior, it has experienced serious ethnic violence that has led to gun battles in the streets and the imposition of curfews.
Hotels
There are international-standard hotels in the major cities of Pakistan. Four and five-star hotels in business centers include the Avari Towers, Sheraton, Pearl Continental, Marriott and the Holiday Inn Crowne Plaza in Karachi; the Avari, Pearl Continental and Holiday Inn in Lahore; the Faisalabad Serena in Faisalabad; the Marriott, Holiday Inn and Best Western in Islamabad; the Pearl Continental in Rawalpindi; the Pearl Continental in Peshawar; and the Quetta Serena in Quetta.
Communications
Telephone IDD service is available and the country code is 92. The outgoing international code is 00. A fax service was introduced in 1986 by the Pakistan telephone and telegraph department and is available in most major hotels. Cellular phones are available for visiting businessmen and are at times more reliable for international communications than the local conventional telephones. Internet facility and e-mail services are currently available in all the major cities of Pakistan. General Post Offices in major cities offer 24-hour services. Important letters should be registered or insured.
Electricity
is 220 volts AC, 50Hz. Round 2- or 3-pin plugs are in use. Electricity 220 volts AC, 50Hz. Round two- or three-pin plugs are in use.
Plug Types
C,D
Food And Dining
Pakistani cuisine is based on curry or masala (hot and spicy) sauces accompanying chicken, lamb, shrimps and a wide choice of vegetables.

National specialties:
? Biryani (seasoned rice with mutton, chicken and yogurt).
? Sag gosht (spinach and lamb curry).
? Shish kebabs (charcoal-grilled meat on skewers).
? Shami-kebabs (patties of chopped meat fried in ghee or butter).
? Halwa (sweetmeat made with eggs, carrots, maize cream, sooji and nuts).
? Firni (similar to vanilla custard). National drinks: ?Tea (drunk strong with milk and often very sweet). Things to know: Alcohol may be bought at major hotels by visitors who have been issued a Liquor Permit from the Excise and Taxation Office. Wine is expensive and only available in upscale restaurants. Pakistani-brewed beer is widely available, as are canned carbonated drinks. There are no bars since there are strict laws concerning alcohol, and it is illegal to drink in public. Waiter service is provided in the larger hotels and restaurants. Visitors should avoid drinking water from the tap; bottled water is available everywhere, but it is necessary to make sure it comes in properly sealed plastic bottles.
Tipping:
Most high-class hotels and restaurants add a 10 per cent service charge. Other tipping is discretionary.
Nightlife
Top hotels have bars and dancing but there is little Western-style nightlife. Cinemas in the large cities show international as well as Pakistani films. There are plenty of cultural events featuring traditional music and dance organized by the Pakistani Arts Academy throughout the year. Festivals and annual celebrations are colorful and lively.
Entry departure requirements
Note Travelers are currently advised against travel to certain areas of Pakistan: All travel to Waziristan is strongly discouraged. All non-essential travel to northern and western Baluchistan and western North West Frontier Province (NWFP) and all border areas is advised against. Restricted entry and transit The Government of Pakistan refuses entry to nationals of Israel, even for transit. Nationals of Afghanistan are refused entry if their passports or tickets show evidence of transit or boarding in India. Holders of Taiwan (China) passports are refused entry except in transit or airport transit.
Visa immigration information
Passports
Passport valid for six months beyond the intended length of stay required by all.
Visas
Required by all except the following:
(a) holders of a Pakistan Origin Card (POC) regardless of nationality for unlimited stay;
(b) nationals of Tonga and Trinidad & Tobago for an unlimited period;
(c) nationals of Iceland, Maldives and Zambia for stays of up to a maximum of three months;
(d) nationals of Nepal and Samoa, and holders of Chinese passports issued in Hong Kong (SAR), for stays of up to 30 days;
(e) transit passengers continuing their journey within 24 hours by the same or first connecting aircraft, provided they are holding onward or return documentation and not leaving the airport;
(f) holders of UN laissez-passer.
Note
Nationals of Algeria, Bangladesh, Bhutan, India, Iraq, Israel, Libya, Nigeria, Palestinian Authority passport holders, Serbia & Montenegro, Somalia, Sri Lanka, Sudan, Tanzania, Uganda and Yemen must report to the nearest Foreigners Registration Office for registration, except for those issued Work permits/visas in the managerial category. In certain circumstances, this may also be applicable to other nationals and will be indicated on their passports.
Types of visa and cost
Price of visa varies according to nationality. For UK nationals, prices are: Single-entry: US$69 ; Double-entry: US$93 ; Multiple-entry: US$127 These prices are identical to those issued for the Visa for Media Professionals, which must be routed through the Information Division of the Pakistan High Commission. For Pakistanis holding dual nationality, prices are: Adult: US$34 ; Child (up to 18 years old): US$17 ; valid for stays of up to one year. Applicants with parents holding Pakistani passports get the same concession, provided they produce the original detailed birth certificate and their parents? Pakistani passports. Pilgrim (Single-entry): US$77 This is issued to those wishing to visit holy places (Shrines/Gurdawaras) in Pakistan and is allowed for groups of pilgrims, normally restricted to a specified period. Business: US$117 (Single-entry); US$155 (Double-entry); US$210 (Multiple-entry).
Note: An 80 pence bank surcharge per application for a visa or passport is required. Certain nationals are issued visas free of charge, but they must be obtained prior to travel. For further information, consult the High Commission or Embassy.
Validity
Single-entry/Double-entry: six months from the date of issue for stays of up to three months. Multiple-entry: six months to one year.
Application to
Consulate (or Consular section at Embassy or High Commission); see Passport/Visa Information.
Application requirements
(a) Original valid passport, plus one photocopy. (b) One application form. (c) Two passport-size photos. (d) Confirmed return/onward ticket. (e) Proof of sufficient funds for duration of stay. (f) Fee payable by cash or postal order only. (g) For business trips, a letter of invitation from a company in Pakistan.
Note
There may be slightly different application requirements for Indian nationals and the nearest Consulate/Embassy should be contacted for further information prior to travel.
Working days required
Depends on nationality (in UK, visas are normally granted within 24 to 48 hours). Enquire at the nearest Consulate or Embassy. Pilgrim visas require two months' processing time.
HIV entry requirements
Test required for anyone staying over 1 year.
Departure tax
PKR400-800 depending on the airport and class of travel. Transit passengers and children under two years of age are exempt. Departure tax is payable by cash only, credit cards are not accepted.
Embassies
High Commission for the Islamic Republic of Pakistan in the UK
34-36 Lowndes Square, London SW1X 9JN, UK
Tel: (020) 7664 9200 or 9204.
Website: www.pakmission-uk.gov.pk
Opening hours: Mon-Fri 0930-1730; 0930-1200 (visa submission); 1600-1700 (visa collection).
Consulate General of Pakistan in the UK
Pakistan House, 137 Dickenson Road, Rusholme, Manchester M14 5JB, UK
Tel: (0161) 225 2005.
Embassy of the Islamic Republic of Pakistan in the USA
3517 International Court, NW, Washington, DC 20008, USA
Tel: (202) 243 6500.
Website: http://www.embassyofpakistanusa.org/
Consulate General of the Islamic Republic of Pakistan in the USA
12 East, 65th Street, New York, NY 10021, USA
Tel: (212) 879 5800 or 517 7541.
Website: http://www.embassyofpakistanusa.org/
A large earthquake on 8 October 2005 with its epicenter near Muzaffarabad in Azad Kashmir has caused widespread damage. Infrastructure and services in northern Pakistani-administered Kashmir and surrounding areas have been severely disrupted.
All travel is advised against to the Federally Administered Tribal Areas adjacent to Afghanistan, including Waziristan and the Khyber Pass. Travelers are also advised against all travel to areas where there are ongoing military operations.
Travelers are advised against all but essential travel to the Swat Valley in the North West Frontier Province (NWFP), northern and western Baluchistan, including Quetta, and the Sui/Dera Bugti area, and to all border areas except for official crossing points. Travelers are advised against using the rail network in Baluchistan.
There is a high threat from terrorism throughout Pakistan. Previous attacks against Westerners have included bombings and kidnaps.
There is a high risk of sectarian violence throughout Pakistan. Travelers are advised to avoid places of worship and surrounding areas at busy prayer times.
Since mid-July 2005, sectarian tensions in the Gilgit area have risen sharply and have included violent attacks. Travelers should only travel to Gilgit by air, and avoid the center of town. Road travel direct from the airport north to Baltistan and the Hunza valley is possible. Caution should be exercised when traveling by road along the Karakorum Highway (KKH). Travelers are advised to join a police-guarded convoy and travel in daylight hours on the KKH.
There is also a serious risk of criminal violence, especially in Karachi. Travelers should be very careful about, and confident of their personal security arrangements throughout their visit.
If you or your father were born in Pakistan you may be considered a Pakistan national. In such circumstances, the British Government may be prevented from providing a full range of Consular assistance.
This advice is based on information provided by the Foreign, Commonwealth & Development Office in the UK. It is correct at time of publishing. As the situation can change rapidly, visitors are advised to contact the following organisaions for the latest travel advice:
British Foreign, Commonwealth & Development Office
Website: https://www.gov.uk/foreign-travel-advice/pakistan
US Department of State
Website: https://travel.state.gov/content/travel/en/international-travel/International-Travel-Country-Information-Pages/Pakistan.html
Currency
Pakistan Rupee (PKR) = 100 paisa. Notes are in denominations of PKR1000, 500, 100, 50, 10 and 5. Coins are in denominations of PKR2 and 1, and 50 and 25 paisa.
Currency restrictions
The import and export of local currency is limited to PRs100 in denominations of PRs10 or less (the import of banknotes in denominations of PRs50 and PRs100 or more is prohibited). The import and export of foreign currency are unlimited. Up to Prs500 may be reconverted into foreign currency, provided official exchange receipts are shown.
Banking hours
Mon-Sat 0900-1330, Fri 0900-1230.
Currency exchange
Credit cards
American Express is the most widely accepted card. MasterCard and Visa are also good, but Diners Club and other cards have more limited use. Check with your credit or debit card company for details of merchant acceptability and other services which may be available.
Travellers cheques
Generally accepted at most banks, 4- and 5-star hotels and major shops. To avoid additional exchange rate charges, travelers are advised to take traveller's cheques in US Dollars or Pounds Sterling.
| City/Region | City/Area code | Followed by |
| --- | --- | --- |
| Abottabad | (0)992 | + 6 digit subscriber nr |
| Attock | (0)57 | + 7 digit subscriber nr |
| Awaran | (0)856 | + 6 digit subscriber nr |
| Badin | (0)297 | + 6 digit subscriber nr |
| Bahawalnagar | (0)63 | + 7 digit subscriber nr |
| Bahawalpur | (0)62 | + 7 digit subscriber nr |
| Bajaur Agency | (0)942 | + 6 digit subscriber nr |
| Bannu | (0)928 | + 6 digit subscriber nr |
| Barkhan | (0)829 | + 6 digit subscriber nr |
| Bhakkar | (0)453 | + 6 digit subscriber nr |
| Bolan | (0)832 | + 6 digit subscriber nr |
| Buner | (0)939 | + 6 digit subscriber nr |
| Chagai | (0)825 | + 6 digit subscriber nr |
| Chakwal | (0)543 | + 6 digit subscriber nr |
| Chitral | (0)943 | + 6 digit subscriber nr |
| D.I.Khan | (0)966 | + 6 digit subscriber nr |
| Dadu | (0)25 | + 7 digit subscriber nr |
| Dera Bugti | (0)835 | + 6 digit subscriber nr |
| Dera Ghazi Khan | (0)64 | + 7 digit subscriber nr |
| Dir (lower) | (0)945 | + 6 digit subscriber nr |
| Dir (upper) | (0)944 | + 6 digit subscriber nr |
| F.R. Lakki Marwat | (0)969 | + 6 digit subscriber nr |
| Faisalabad | (0)41 | + 7 digit subscriber nr |
| Ghotki | (0)723 | + 6 digit subscriber nr |
| Gujranwala | (0)55 | + 7 digit subscriber nr |
| Gujrat | (0)53 | + 7 digit subscriber nr |
| Gwadar | (0)86 | + 7 digit subscriber nr |
| Hafizabad | (0)547 | + 6 digit subscriber nr |
| Hangu | (0)925 | + 6 digit subscriber nr |
| Haripur | (0)995 | + 6 digit subscriber nr |
| Hyderabad | (0)22 | + 7 digit subscriber nr |
| Islamabad | (0)51 | + 7 digit subscriber nr |
| Jacobabad | (0)722 | + 6 digit subscriber nr |
| Jaffarabad | (0)838 | + 6 digit subscriber nr |
| Jhal Magsi | (0)837 | + 6 digit subscriber nr |
| Jhang | (0)47 | + 7 digit subscriber nr |
| Jhelum | (0)544 | + 6 digit subscriber nr |
| K. Abdullah | (0)826 | + 6 digit subscriber nr |
| Kalat | (0)844 | + 6 digit subscriber nr |
| Karachi | (0)21 | + 7 digit subscriber nr |
| Karak | (0)927 | + 6 digit subscriber nr |
| Kasur | (0)49 | + 7 digit subscriber nr |
| Kech | (0)852 | + 6 digit subscriber nr |
| Khairpur | (0)243 | + 6 digit subscriber nr |
| Khanewal | (0)65 | + 7 digit subscriber nr |
| Kharan | (0)847 | + 6 digit subscriber nr |
| Khushab | (0)454 | + 6 digit subscriber nr |
| Khuzdar | (0)848 | + 6 digit subscriber nr |
| Khyber Agency | (0)924 | + 6 digit subscriber nr |
| Killa Saifullah | (0)823 | + 6 digit subscriber nr |
| Kohat | (0)922 | + 6 digit subscriber nr |
| Kohistan | (0)998 | + 6 digit subscriber nr |
| Kurram Agency | (0)926 | + 6 digit subscriber nr |
| Lahore | (0)42 | + 7 digit subscriber nr |
| Larkana | (0)74 | + 7 digit subscriber nr |
| Lasbela | (0)853 | + 6 digit subscriber nr |
| Layyah | (0)606 | + 6 digit subscriber nr |
| Lodhran | (0)608 | + 6 digit subscriber nr |
| Loralai | (0)824 | + 6 digit subscriber nr |
| Malakand | (0)932 | + 6 digit subscriber nr |
| Mandi Bahauddin | (0)546 | + 6 digit subscriber nr |
| Mansehra | (0)997 | + 6 digit subscriber nr |
| Mardan | (0)937 | + 6 digit subscriber nr |
| Mastung | (0)843 | + 6 digit subscriber nr |
| Mianwali | (0)459 | + 6 digit subscriber nr |
| Mirpur Khas | (0)233 | + 6 digit subscriber nr |
| Multan | (0)61 | + 7 digit subscriber nr |
| Musakhel | (0)828 | + 6 digit subscriber nr |
| Muzaffargarh | (0)66 | + 7 digit subscriber nr |
| Narowal | (0)542 | + 6 digit subscriber nr |
| Naushero Feroze | (0)242 | + 6 digit subscriber nr |
| Nawabshah | (0)244 | + 6 digit subscriber nr |
| Nowshera | (0)923 | + 6 digit subscriber nr |
| Okara | (0)44 | + 7 digit subscriber nr |
| Pakpattan | (0)457 | + 6 digit subscriber nr |
| Panjgur | (0)855 | + 6 digit subscriber nr |
| Peshawar | (0)91 | + 7 digit subscriber nr |
| Quetta | (0)81 | + 7 digit subscriber nr |
| Rahim Yar Khan | (0)68 | + 7 digit subscriber nr |
| Rajanpur | (0)604 | + 6 digit subscriber nr |
| Sahiwal | (0)40 | + 7 digit subscriber nr |
| Sanghar | (0)235 | + 6 digit subscriber nr |
| Sargodha | (0)48 | + 7 digit subscriber nr |
| Shangla | (0)996 | + 6 digit subscriber nr |
| Sheikhupura | (0)56 | + 7 digit subscriber nr |
| Shikarpur | (0)726 | + 6 digit subscriber nr |
| Sialkot | (0)52 | + 7 digit subscriber nr |
| Sibi | (0)833 | + 6 digit subscriber nr |
| South Waziristan | (0)965 | + 6 digit subscriber nr |
| Sukkur | (0)71 | + 7 digit subscriber nr |
| Swabi | (0)938 | + 6 digit subscriber nr |
| Swat | (0)946 | + 6 digit subscriber nr |
| Tank | (0)963 | + 6 digit subscriber nr |
| Tharparkar | (0)232 | + 6 digit subscriber nr |
| Thatta | (0)298 | + 6 digit subscriber nr |
| Toba Tek Singh | (0)46 | + 7 digit subscriber nr |
| Umerkot | (0)238 | + 6 digit subscriber nr |
| Vehari | (0)67 | + 7 digit subscriber nr |
| Zhob | (0)822 | + 6 digit subscriber nr |