Quick Facts
Region: Asia & Oceania
Full Name: Republic of Palau
Capital City: Melekeok
Language Spoken: Palauan 64.7% official in all islands except Sonsoral (Sonsoralese and English are official), Tobi (Tobi and English are official), and Angaur (Angaur, Japanese, and English are official), Filipino 13.5%, English 9.4%, Chinese 5.7%, Carolinian 1.5%, Japanese 1.5%, other Asian 2.3%, other languages 1.5% (2000 census)
Palau Travel Insurance
Get travel insurance to Palau from Direct Travel Insurance. We offer low cost and high quality travel insurance to Palau and most of the world.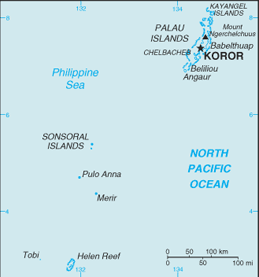 Geographic data
7 30 N, 134 30 E
Elevation Extremes
lowest point: Pacific Ocean 0 m highest point: Mount Ngerchelchuus 242 m
Land boundaries
0 km
Natural hazards
typhoons (June to December)
Natural resources
forests, minerals (especially gold), marine products, deep-seabed minerals
Land use
arable land: 8.7% permanent crops: 4.35% other: 86.95% (2005)
Environmental current issues
inadequate facilities for disposal of solid waste; threats to the marine ecosystem from sand and coral dredging, illegal fishing practices, and overfishing
Climate
Palau enjoys a pleasantly warm climate all year round with an annual average temperature of 27°C (82°F). The heaviest rainfall takes place between July and October but typhoons are rare. Required clothing Lightweight cottons and linens, with light rainwear advisable all year round.
Time difference
time difference: UTC+9
Population
20,579 (July 2006 est.)
Age structure
0-14 years: 26.3% (male 2,789/female 2,622) 15-64 years: 69.1% (male 7,664/female 6,549) 65 years and over: 4.6% (male 453/female 502) (2006 est.)
Median age
total: 31.7 years male: 32.7 years female: 30.7 years (2006 est.)
Population growth rate
1.31% (2006 est.)
Birth rate
18.03 births/1,000 population (2006 est.)
Death rate
6.8 deaths/1,000 population (2006 est.)
Net migration rate
1.85 migrant(s)/1,000 population (2006 est.)
Sex ratio
at birth: 1.06 male(s)/female under 15 years: 1.06 male(s)/female 15-64 years: 1.17 male(s)/female 65 years and over: 0.9 male(s)/female total population: 1.13 male(s)/female (2006 est.)
Life expectancy at birth
total population: 70.42 years male: 67.26 years female: 73.77 years (2006 est.)
Total fertility rate
2.46 children born/woman (2006 est.)
Business Practices
While business meetings are generally informal, many of Palau's business leaders are trained abroad, particularly in the United States and have adopted many western business practices. English is the principal business language.
Crime
The crime rate within the local community in the Republic of Palau is moderate and perhaps disproportionate to its small population. Tourists are not usually not affected but foreign residents can be the target of petty and sometimes violent crimes, as well as other random acts against person and property. Credible complaints by foreign residents persist that crimes against non-Palauans are not pursued or prosecuted by authorities with the same vigor as crimes against Palauan nationals. Crime and violence in Palau are often related to drug and alcohol abuse so bars and nightspots are best visited with caution. A common motive for theft is drug money. Within the past three years there has been one brutal murder, several sexual and physical assaults all involving expatriates. Visitors are advised to avoid local bars and to avoid any confrontation with a person who appears to be intoxicated. Expatriates should make sure their homes are well lit and windows and doors are securely locked. All valuables should be properly secured in a safe. Firearms of any kind are strictly prohibited in Palau; the penalty for possession of a firearm or ammunition is up to fifteen years imprisonment
Hotels
There are a wide variety of accommodations on Palau and the outlying islands ranging from first-class luxury resorts with most services, to the mid-price range bungalows and motels. While most resorts are located in Koror, there is quieter and more secluded accommodation available on the southern islands
Communications
Telephone IDD service is available. The country code is 680 and the outgoing international code is 011. Some hotels have fax facilities. Telex and telegram services are available in Koror. The post office located in Koror. Opening hours are 0730-1600.
Electricity
is a 110/120 volts AC, 60Hz. Plugs are the American flat 2-pin type. Electricity 115/230 volts AC, ord=adDateTimeStamp;url=adCountryStamp;document.write(''); 60 Hz.
Plug Types
A,B
Food And Dining
Many restaurants offer an eclectic mix of cuisine. Fresh local seafood is the highlight of many menus and there are many exotic local dishes in addition to the ubiquitous pizza or traditional American, Chinese or Japanese fare.
Tipping:
Optional.
Nightlife
There are several open-air cocktail lounges, some offering live entertainment or karaoke.
Entry departure requirements
* Please see passport section below # Please see visa section below
Visa immigration information
Passports
1. Passports valid for at least 30 days beyond intended period of stay required by all except US nationals holding proof of citizenship accompanied by any other photo ID document.
Visas
Required by all except:
(a) 2. nationals of Marshall Islands, Micronesia and the USA for up to one year;
(b)3. all other nationals for stays of up to 30 days; Entry Permits are issued on arrival. For longer stays, permission must be granted from the Chief of Immigration.
Types of visa and cost
Entry Permit: US$50. Extension is possible for two times 30 days if application is made no less than seven days beyond expiration of visa. Extension: US$100.
Validity
Various.
Application to
Chief of Immigration, Bureau of Legal Affairs, Ministry of Justice, PO Box 100, Koror 96940.
Note
All nationals staying longer than six months must register with the Chief of Immigration within 30 days after arrival.
Application Requirements
(a) Valid passport. (b) Vaccination certificates from those arriving from infected areas; see the Health section for details. (c) Proof of adequate funds (US$200 per week). (d) Return or onward tickets. A bond signed by the chief of Immigration prior to arrival can be accepted instead of return/onward tickets. (e) All visitors must sign a declaration stating that they are HIV-negative. (f) Fee.
Note
These application requirements do not apply to government officials, students and nationals of the Marshall Islands, Micronesia and the USA.
Working days required
Postal applications are dealt with on receipt but visas are usually issued on arrival to those who are eligible.
Temporary residence
Apply to Division of Immigration (address above).
HIV entry requirements
Test required for anyone staying longer than 6 months
Departure tax
US$20.
Embassies
UK Honorary Consulate
Bankfoot Square, Bankfoot Street, Batley, WF17 5LH
Website: https://palauconsulate.org.uk/
Palau Visitors Authority
PO Box 256, Koror, Palau 96940, Palau
Tel: 488 2793/1930.
Website: www.visit-palau.com
Embassy of the Republic of Palau in the USA
1700 Pennsylvania Avenue, Suite 400, NW, Washington, DC 20006, USA
Tel: (202) 452 6814.
Most visits to Palau are trouble-free but you should be aware of the global risk of indiscriminate international terrorist attacks, which could be against civilian targets, including places frequented by foreigners.
This advice is based on information provided by the Foreign, Commonwealth & Development Office in the UK. It is correct at time of publishing. As the situation can change rapidly, visitors are advised to contact the following organizations for the latest travel advice:
British Foreign, Commonwealth & Development Office
Tel: (0845) 850 2829.
Website: https://www.gov.uk/foreign-travel-advice/palau
US Department of State
Website: https://travel.state.gov/content/travel/en/international-travel/International-Travel-Country-Information-Pages/Palau.html
Vaccination certificates for yellow fever, cholera and smallpox are required from all travelers arriving from infected areas. Hepatitis B is endemic. Hepatitis A, typhoid fever and dengue fever can occur.
Currency
The US Dollar is in use.
Currency restrictions
There are no limits on the import and export of local or foreign currency, but amounts of more than US$5000 must be declared.
Banking hours
Mon-Thur 1000-1500; Fri 1000-1800; Sat 0900-1200.
Currency exchange
Credit cards
Most major credit cards are accepted at major visitor-orientated businesses.
Travellers cheques
Exchanged at the larger hotels and businesses.
| City/Region | City/Area code | Followed by |
| --- | --- | --- |
| Aimeliik | 544 | + 4 digits |
| Airai | 587 | + 4 digits |
| Angaur | 277 | + 4 digits |
| Kayangel | 876 | + 4 digits |
| Koror | 488 | + 4 digits |
| Melekeok | 654 | + 4 digits |
| Ngaraard | 824 | + 4 digits |
| Ngarchelong | 855 | + 4 digits |
| Ngardmau | 747 | + 4 digits |
| Ngatpang | 535 | + 4 digits |
| Ngchesar | 622 | + 4 digits |
| Ngeremlengui | 733 | + 4 digits |
| Ngiwal | 679 | + 4 digits |
| Peleliu | 345 | + 4 digits |
| Sonsorol | 255 | + 4 digits |