Quick Facts
Region: North & Central America & the Caribbean
Full Name: Republic of Panama
Capital City: Panama
Language Spoken: Spanish (official), English 14%; note - many Panamanians bilingual

Panama Travel Insurance
Get travel insurance to Panama from Direct Travel Insurance. We offer low cost and high quality travel insurance to Panama and most of the world.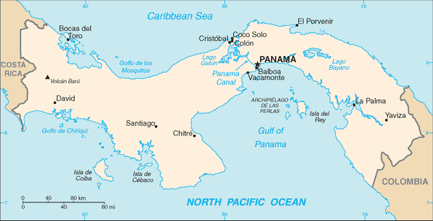 Geographic data
9 00 N, 80 00 W
Elevation Extremes
lowest point: Pacific Ocean 0 m highest point: Volcan de Chiriqui 3,475 m
Land boundaries
total: 555 km border countries: Colombia 225 km, Costa Rica 330 km
Natural hazards
occasional severe storms and forest fires in the Darien area
Natural resources
copper, mahogany forests, shrimp, hydropower
Land use
arable land: 7.26% permanent crops: 1.95% other: 90.79% (2005)
Environmental current issues
water pollution from agricultural runoff threatens fishery resources; deforestation of tropical rain forest; land degradation and soil erosion threatens siltation of Panama Canal; air pollution in urban areas; mining threatens natural resources
Climate
Temperatures are high across the whole country throughout the year, though cooler at high altitudes. The rainy season lasts from May to November. Rainfall is twice as heavy on the Pacific coast as it is on the lowlands of the Caribbean coast. Required clothing Lightweight cottons and linens are worn, with rainwear advisable, particularly in the rainy season. Warmer clothes are needed in the highlands.
Time difference
time difference: UTC-5
Population
3,191,319 (July 2006 est.)
Age structure
0-14 years: 30.3% (male 492,403/female 472,996) 15-64 years: 63.4% (male 1,025,898/female 998,926) 65 years and over: 6.3% (male 94,122/female 106,974) (2006 est.)
Median age
total: 26.1 years male: 25.8 years female: 26.5 years (2006 est.)
Population growth rate
1.6% (2006 est.)
Birth rate
21.74 births/1,000 population (2006 est.)
Death rate
5.36 deaths/1,000 population (2006 est.)
Net migration rate
-0.4 migrant(s)/1,000 population (2006 est.)
Sex ratio
at birth: 1.05 male(s)/female under 15 years: 1.04 male(s)/female 15-64 years: 1.03 male(s)/female 65 years and over: 0.88 male(s)/female total population: 1.02 male(s)/female (2006 est.)
Life expectancy at birth
total population: 75.22 years male: 72.68 years female: 77.87 years (2006 est.)
Total fertility rate
2.68 children born/woman (2006 est.)
Business Practices
Suits are normally worn for business meetings. Punctuality is appreciated and the exchange of business cards is normal. Overall, business practices and customs in Panama are a unique blend of North American methods and traditional Latin style. Foreign corporations operating in Panama are important in shaping the style and manner of doing business. Panama's official language is Spanish. However, English is widely spoken as a second language in the main cities. Most private business offices are open from 8:00 a.m. until 5:00 p.m., Monday through Friday, and Saturdays from 8:00 a.m. to 12 noon. Banks are open from 8:00 a.m. to 1:00 p.m., Monday through Friday. Most government offices are open from 8:30 a.m. to 4:30 p.m., Monday through Friday.
Crime
Crime in Panama City is moderate, but growing, particularly because of the activities of youth gangs. Colon is a high crime area. Police checkpoints have become commonplace on weekends on roads in both cities. Crimes are typical of those that plague metropolitan areas and range from rape to armed robberies, muggings, purse-snatchings, "express kidnappings" from ATM banking facilities, in which the victim is briefly kidnapped and robbed after withdrawing cash from an ATM, and petty theft. There have been reports of incidents of crimes committed against tourists, businesspeople, and residents. Visitors should be aware of their surroundings, especially at night. Based upon reported incidents by local police, the high-crime areas around Panama City are San Miguelito, Rio Abajo, El Chorrillo, Calidonia, Ancon, Curundu, Veracruz Beach, Panama Viejo, and the Madden Dam overlook. Panama City has a curfew for persons less than 18 years of age, although this law is rarely enforced. Under the law, students attending night classes must have a carnet or permit, issued by the school or, if employed, a Certificate of Employment. Minors who are picked up for a curfew violation are subject to detention at a police station until parents or legal guardians can arrange for them to be released into their custody. Parents or legal guardians may be fined up to US$50 for the violation.
Hotels
There are several international level hotels. Facilities usually include business centers, swimming pools, tennis courts, fitness centers, clothing and souvenir shops, casinos, restaurants, coffee shops and bars. Furnished apartments are available for longer stays. All large hotels offer American, European, and local cuisine. Some hotel coffee shops are open around the clock.
Communications
Telephone IDD service is available. The country code is 507 and there are no area codes. The outgoing international code: 00. Main post offices and some hotels have fax facilities. Panama has excellent local and international telephone services. Direct dialing is available to more than 150 countries worldwide. Post office hours: 0630-1745 Monday to Friday, 0700-1700 Saturday.
Electricity
is 120 volts AC, 60Hz. Plugs are the flat 2-pin American type. Electricity 120 volts AC, 60Hz. Plugs are the flat two-pin American type.
Plug Types
A,B
Food And Dining
American, French and Spanish food is available in all restaurants and hotels in Panama City and Col?n. There is a huge selection of excellent restaurants in Panama City, as well as other main cities. There are also several Oriental restaurants. Native cooking is reminiscent of creole cuisine, hot and spicy. Seafood is excellent and in abundance. The choice and availability of wines, spirits and beers in hotels, restaurants and bars is unlimited. Things to know: Waiter service is the norm.
National specialties: ?Ceviche (fish marinated in lime juice, onions and peppers).
? Patacones de pl?tano (fried plantain).
? Sancocho (Panamanian stew with chicken, meat and vegetables).
? Tamales (seasoned pie wrapped in banana leaves).
? Empanadas (turnovers filled with meat, chicken or cheese).
Tipping:
10 to 15 per cent is customary in hotels (where it is added automatically) and restaurants. Taxi drivers do not expect tips, and rates should be arranged before the trip.
Nightlife
Panama City, in particular, has a wide range of nightlife from nightclubs and casinos to folk, ballet, belly dancing and classical theater. Dancing and entertainment are available in all the big hotels, as well as many clubs. Other large towns and resorts have music, dancing, casinos and cinemas. Further details can be found in local papers.
Entry departure requirements
Note (a) No brief account of the complex Panamanian visa regulations is likely to be fully successful as passport and visa regulations are liable to change at short notice. (b) Panamanian immigration procedures are rigidly enforced and non-compliance with the regulations may result in transportation at carrier's expense to country of origin. (c) Many nationals requiring visas also require authorization from the Immigration Authorities in Panama before entry.
Visa immigration information
Passports
Passport valid for a minimum of six months required by all.
Visas
Required by all except the following for stays of up to 90 days (at the discretion of the Immigration Authorities):
(a) 1. nationals of the EU and the UK (except for UK passports issued in Hong Kong (SAR) to those who were born in Hong Kong);
(b) nationals of Andorra, Argentina, Brazil, Bolivia, Chile, Colombia, Costa Rica, El Salvador, Guatemala, Honduras, Iceland, Israel, Liechtenstein, Monaco, Norway, Korea (Rep), Korea (Dem Rep), Nicaragua, Paraguay, San Marino, Singapore, Switzerland, Uruguay and the Vatican City.
Tourist cards
A Tourist Card will be issued in lieu of a visa to the following for stays of up to 30 days (extendable to 90 days at the discretion of the Immigration Authorities):
2. nationals of Antigua & Barbuda, Aruba, Australia, The Bahamas, Barbados, Belize, Bermuda, Canada, Curacao, Dominica, Grenada, Guyana, Jamaica, Japan, Mexico, New Zealand, St Kitts & Nevis, St Lucia, St Vincent & the Grenadines, Thailand, Taiwan (China), Trinidad & Tobago, USA and Venezuela.
Types of visa and cost
Tourist: US$52 Tourist Card: Prices vary, depending on nationality and also on where the Tourist Card is obtained from (eg prior to departure, on the flight or upon arrival at the airport). Some nationals can obtain the Tourist Card free of charge (including nationals of Mexico and the USA). Enquire at the Consulate for details.
Validity
Visas and Tourist Cards are valid within a three-month period from the date of issue and allow stays for up to 30 days (extendable to 90 days at discretion of Immigration Authorities).
Application to
Consulate (or Consular section at Embassy); see Top Things To Do. A Tourist Card can be issued either by the travel agent or on the flight or at the airport.
Application requirements
(a) Passport valid for at least six months. (b) Two completed application forms. (c) Two passport-size photos. (d) Booking reservation. For countries requiring special authorization: (a)-(c) and, (d) Copies of passport. (e) Copy of return or onward ticket. (f) Letter from the person in Panama taking responsibility for applicant. (g) Proof of financial stability in cash, traveller's cheques or bank statements (at least US$500). (h) Fee, plus postage if necessary.
Working days required
Normally 24 hours if no authorization is needed; up to 40 days if authorization (which depends on nationality) is needed.
HIV entry requirements
Test required for anyone adjusting their visa status whilst in Panama
Departure tax
B20. Children under two years of age and passengers in transit to another country not leaving the airport and remaining for under nine hours are exempt.
Embassies
Embassy of the Republic of Panam? in the UK
Panama House, 40 Hertford Street, London W1J 7SH, UK
Tel: (020) 7493 4646.
Opening hours: Mon-Fri 1000-1700.
Consular Section: Tel: (020) 7409 2255.
Website: http://www.panamaconsul.co.uk/
Opening hours: Mon-Fri 0930-1730.
Can also deal with tourism enquiries.
Embassy of the Republic of Panam? in the USA
2862 McGill Terrace, NW, Washington, DC 20008, USA
Tel: (202) 483 1407.
Website: www.embassyofpanama.org
Travel to the Darien province should be conducted only with an organized group, and to recognized tourist destinations protected by the Panamanian police.
There were sporadic demonstrations in Panama City about various social and political issues in 2005. Visitors should avoid all demonstrations and monitor local radio and TV for up to date information.
Travelers should be aware of the global risk of indiscriminate terrorist attacks, which could be against civilian targets, including places frequented by foreigners.
This advice is based on information provided by the Foreign, Commonwealth & Development Office in the UK. It is correct at time of publishing. As the situation can change rapidly, visitors are advised to contact the following organizations for the latest travel advice:
British Foreign, Commonwealth & Development Office
Website: https://www.gov.uk/foreign-travel-advice/panama
US Department of State
Website: https://travel.state.gov/content/travel/en/international-travel/International-Travel-Country-Information-Pages/Panama.html
Currency
Balboa (PAB) = 100 centavos. There is no Panamanian paper currency; coins exist in denominations of PAB10 and 1, and 50, 25, 10, 5 and 1 centavos. US currency was adopted in 1904 and exists alongside the Balboa coinage: PAB1 = US$1.
Currency restrictions
There are no restrictions on the import and export of either foreign or local currency. However, amounts of over US$10,000 must be declared to immigration upon arrival.
Banking hours
Mon-Fri 0800-1500, Sat 0830-1200.
Currency exchange
Credit cards
MasterCard and Visa are the most commonly used, but American Express and Diners Club are also accepted. Check with your credit or debit Card Company for details of merchant acceptability and other services which may be available.
Travellers cheques
To avoid additional exchange rate charges, visitors are advised to take traveller's cheques in US Dollars.
| City/Region | City/Area code | Followed by |
| --- | --- | --- |
| Bocas del Toro | 7 | + 6 digits |
| Ciudad de Panama | 3 | + 6 digits |
| Colon | 4 | + 6 digits |
| Los Santos | 9 | + 6 digits |