Quick Facts
Region: South America
Full Name: Republic of Paraguay
Capital City: Asuncion
Language Spoken: Spanish (official), Guarani (official)
Paraguay Travel Insurance
Get travel insurance to Paraguay from Direct Travel Insurance. We offer low cost and high quality travel insurance to Paraguay and most of the world.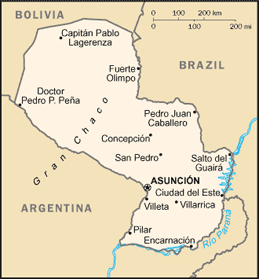 Geographic data
23 00 S, 58 00 W
Elevation Extremes
lowest point: junction of Rio Paraguay and Rio Parana 46 m highest point: Cerro Pero (Cerro Tres Kandu) 842 m
Land boundaries
total: 3,995 km border countries: Argentina 1,880 km, Bolivia 750 km, Brazil 1,365 km
Natural hazards
local flooding in southeast (early September to June); poorly drained plains may become boggy (early October to June)
Natural resources
hydropower, timber, iron ore, manganese, limestone
Land use
arable land: 7.47% permanent crops: 0.24% other: 92.29% (2005)
Environmental current issues
deforestation; water pollution; inadequate means for waste disposal pose health risks for many urban residents; loss of wetlands
Climate
Subtropical with rapid changes in temperature throughout the year. Summer (December to March) can be very hot. Winter (June to September) is mild with few cold days. Rainfall is heaviest from December to March. Required clothing Lightweight cottons and linens are worn in warmer months, with some warm clothes for spring and autumn. Mediumweights are best for winter. Rainwear is advisable throughout the year.
Time difference
time difference: UTC-4
Population
6,506,464 (July 2006 est.)
Age structure
0-14 years: 37.7% (male 1,245,149/female 1,204,970) 15-64 years: 57.5% (male 1,878,761/female 1,862,266) 65 years and over: 4.8% (male 145,899/female 169,419) (2006 est.)
Median age
total: 21.3 years male: 21.1 years female: 21.6 years (2006 est.)
Population growth rate
2.45% (2006 est.)
Birth rate
29.1 births/1,000 population (2006 est.)
Death rate
4.49 deaths/1,000 population (2006 est.)
Net migration rate
-0.08 migrant(s)/1,000 population (2006 est.)
Sex ratio
at birth: 1.05 male(s)/female under 15 years: 1.03 male(s)/female 15-64 years: 1.01 male(s)/female 65 years and over: 0.86 male(s)/female total population: 1.01 male(s)/female (2006 est.)
Life expectancy at birth
total population: 75.1 years male: 72.56 years female: 77.78 years (2006 est.)
Total fertility rate
3.89 children born/woman (2006 est.)
Business Practices
Paraguayans are informal in observing appointment times. For social events, it is customary to arrive up to 30 minutes late. Persons are normally addressed by their academic or professional title, e.g. Doctor, Engineer, or Licenciado, in the case of university graduates.
Crime
Armed robberies, car thefts, and burglaries are on the rise. Street crime, including pickpocketing and mugging, is prevalent in the cities, particularly during the evening hours in the vicinity of hotels and airports. There have been incidents of pilferage from checked airline baggage. Travelers have found it prudent to put valuables in their carry-on luggage. Because of concerns about crime in border areas, travelers should use caution when visiting Ciudad del Este or Pedro Juan Caballero. Ciudad del Este, near the borders with Brazil and Argentina, has long been known as a smuggler's haven. Consequently, firearms are readily available and crime is significantly higher and more violent than elsewhere in the country. Ciudad del Este has also been cited as a possible safehaven for Middle Eastern terrorists. Because of concerns about the lack of security in border areas, the U.S. Embassy in Asuncion requires U.S. Government personnel and their family members to provide advance notice and a travel itinerary when traveling to Ciudad del Este or Pedro Juan Caballero. Visitors are advised to take common sense precautions and avoid large gatherings or any other event where large crowds have congregated to demonstrate or protest.
Hotels
Hotels are comfortably furnished and prices are reasonable. Better hotels in Asuncion include the Sabe Center Hotel, the Cecillia and the Excelsior. Outside of the capital, the Hotel Casino Yacht Club and the Gulf Club Paraguayo provide good facilities and security for business travelers and tourists.
Communications
Telephone IDD is available and the country code is 595, however, there is a limited internal network apart from the main cities. Some hotels provide Fax facilities. And most hotels have telex facilities. The poor telecommunications infrastructure represents an important obstacle for business. Paraguay recently connected with Internet, making e-mail viable. Cellular telephony is also available.
Electricity
is 220 volts AC, 50Hz. Electricity 220 volts AC, 50Hz.
Plug Types
C
Food And Dining
There is a wide choice of restaurants in Asunci?n, most with table service. National specialties: ? Chipas (maize bread flavored with egg and cheese). ? Sopa paraguaya (soup of mashed corn, cheese, milk and onions). ? Soo-yosopy (a soup of cornmeal and ground beef). ? Palmitos (palm hearts). ? Surub? (a fish found in the Paran?). National drinks: ? Ca?a (distilled from sugar cane and honey). ? Mosto (sugar cane juice). ? Yerba mat? (tea-like drink brewed from dried leaves and stemlets for the Yerba mat? tree). Things to know: There are no strict licensing hours and alcohol is widely available. Tipping: 10 to 15 per cent is normally included in hotel, restaurant and bar bills. Nightlife In Asunci?n, there are numerous bars, casinos and discos. The parrilladas or open-air restaurants offer by far the best atmosphere, especially in Asunci?n. There is a casino at the border towns of Ciudad del Este and Encarnaci?n. The most popular traditional music in Paraguay is polcas and guaran?as which have slow and romantic rhythms and which are used as serenades.
Entry departure requirements
* Please see visa section Visa immigration information
Visa immigration information
Passports
Passport valid for six months after the intended length of stay required by all except nationals of Argentina, Brazil, Chile and Uruguay with valid ID cards entering as tourists directly from their own country.
Visas
Required by all except the following:
Required by all except the following entering as tourists for stays of up to 90 days: (a) nationals of countries indicated in the chart above; (b) nationals of Argentina, Bolivia, Brazil, Chile, Colombia, Costa Rica, Ecuador, El Salvador, Israel, Japan, Liechtenstein, Norway, Panama, Peru, South Africa, Switzerland, Uruguay and Venezuela; (c) transit passengers continuing their journey by the same or first connecting aircraft within six hours provided holding onward or return documentation and not leaving the airport.
Types of visa and cost
Tourist and Business: Single-entry: US$62 Multiple-entry: US$89
Validity
90 days from date of issue.
Application to
Consulate (or Consular section at Embassy); see Passport/Visa Information.
Application requirements
(a) Valid passport (plus two photocopies from page with personal data). (b) Two completed application forms. (c) Two passport-size photos. (d) Self-addressed envelope for postal applications (see Note below). (e) Fee, payable in cash, bank transfer (or cheque in sterling at the Consulate of Paraguay in London). The following requirements must be presented with two photocopies: (f) Proof of adequate funds (bank statement or credit card). (g) Travel tickets and copy of itinerary. For business visas: (a)-(g) and, (h) A covering letter from employer including name of contact in Paraguay (two photocopies).
Note:Postal applications are accepted only from Australia, Iceland and New Zealand and will not be processed until return post is paid or a courier service is arranged. A self-addressed envelope must be included with all postal applications.
Working days required
2 to 3 days. May take 20-30 days for countries with no diplomatic relation with Paraguay.
Temporary Residence
If you wish to stay longer than three months as a visitor you must produce a 'Certificado de Buena Conducta' (certificate of good conduct) in order to apply for a permanent residence permit. The certificate must be obtained from a local police station in the UK as the Honorary Consul cannot issue one. It must be issued in the month before leaving the UK and must be valid for six months.
HIV entry requirements
Test required for anyone applying for a residency permit
Departure tax
US$25 for international departures, US$4 for domestic departures from Asunci?n airport. Transit passengers are exempt.
Embassies
Embassy of the Republic of Paraguay in the UK
344 Kensington High Street, 3rd Floor, London W14 8NS, UK
Tel: (020) 7610 4180.
Opening hours: Mon-Fri 1000-1500.
Website: http://www.paraguayembassy.co.uk/
Embassy of the Republic of Paraguay in the USA
2400 Massachusetts Avenue, NW, Washington, DC 20008, USA
Tel: (202) 483 6960.
Website: http://www.mre.gov.py/Sitios/Home/Index/embaparusa/ENG
Travel Advice
Most visits to Paraguay are trouble-free but you should be aware of the global risk of indiscriminate terrorist attacks which could be against civilian targets, including places frequented by foreigners.
Violent crime is increasing, so travelers need to be on their guard and exercise caution at all times, particularly in cities at night.
This advice is based on information provided by the Foreign, Commonwealth & Development Office in the UK. It is correct at time of publishing. As the situation can change rapidly, visitors are advised to contact the following organizations for the latest travel advice:
British Foreign, Commonwealth & Development Office
Tel: (0845) 850 2829.
Website: https://www.gov.uk/foreign-travel-advice/paraguay
US Department of State
Website: https://travel.state.gov/content/travel/en/international-travel/International-Travel-Country-Information-Pages/Paraguay.html
Currency
Guaran? (PYG). Notes are in denominations of PYG100,000, 50,000, 10,000, 5000, 1000 and 500. Coins are in denominations of PYG500, 100, 50, 10 and 5.
Currency restrictions
There are no restrictions on the import or export of local or foreign currency.
Banking hours
Mon-Fri 0845-1500.
Currency exchange
Paraguay maintains a free monetary exchange policy and the purchase and sale of foreign currencies is not subject to any controls or regulations. US Dollars, which are more easily negotiable than Sterling, are widely accepted throughout the country. Travelers are advised to use an official bureau de change and not deal with people offering services on the street as false banknotes are common. ATMs are widespread, many accept Cirrus, Maestro and Visa cards.
Credit cards
American Express, MasterCard and Visa are widely accepted (though not in smaller hotels), while Diners Club has more limited use. ID is required, such as a passport, when making a purchase with a credit card. Check with your credit or debit card company for details of merchant acceptability and other services which may be available.
Travellers cheques
US Dollar traveller's cheques are not widely used in Paraguay.
| City/Region | City/Area code | Followed by |
| --- | --- | --- |
| Acahay | (0)535 | + 6 digit subscriber nr |
| Alberdi | (0)780 | + 6 digit subscriber nr |
| Aregua | (0)291 | + 6 digit subscriber nr |
| Asuncion | (0)21 | + 7 digit subscriber nr |
| Asuncion (Rural) | (0)92 | + 7 digit subscriber nr |
| Atyra | (0)520 | + 6 digit subscriber nr |
| Ayolas | (0)72 | + 7 digit subscriber nr |
| Bella Vista Norte | (0)38 | + 7 digit subscriber nr |
| Bella Vista Sur | (0)767 | + 6 digit subscriber nr |
| Bella Vista Sur / Fixed Rural Cellular | (0)873 | + 6 digit subscriber nr |
| Benjamin Aceval | (0)271 | + 6 digit subscriber nr |
| Caacupe | (0)511 | + 6 digit subscriber nr |
| Caaguazu | (0)522 | + 6 digit subscriber nr |
| Caazapa | (0)542 | + 6 digit subscriber nr |
| Capiata | (0)28 | + 7 digit subscriber nr |
| Capiibary | (0)453 | + 6 digit subscriber nr |
| Capitan Bado | (0)37 | + 7 digit subscriber nr |
| Capitan Miranda | (0)718 | + 6 digit subscriber nr |
| Caraguatay | (0)517 | + 6 digit subscriber nr |
| Carapegua | (0)532 | + 6 digit subscriber nr |
| Cargil | (0)644 | + 6 digit subscriber nr |
| Carmen Del Parana | (0)762 | + 6 digit subscriber nr |
| Cedrales | (0)633 | + 6 digit subscriber nr |
| Ciudad Del Este | (0)61 | + 7 digit subscriber nr |
| Colonia Fram | (0)761 | + 6 digit subscriber nr |
| Colonia Independencia | (0)548 | + 6 digit subscriber nr |
| Colonia Loma Plata | (0)918 | + 6 digit subscriber nr |
| Colonia Neuland | (0)951 | + 6 digit subscriber nr |
| Colonia Nueva Esperanza | (0)464 | + 6 digit subscriber nr |
| Colonia Obligado | (0)717 | + 6 digit subscriber nr |
| Colonia Volendam | (0)451 | + 6 digit subscriber nr |
| Colonia Yguazu | (0)632 | + 6 digit subscriber nr |
| Concepcion | (0)31 | + 7 digit subscriber nr |
| Coronel Bogado | (0)741 | + 6 digit subscriber nr |
| Coronel Oviedo | (0)521 | + 6 digit subscriber nr |
| Corpus Christi | (0)345 | + 6 digit subscriber nr |
| Curuguaty | (0)48 | + 7 digit subscriber nr |
| Emboscada | (0)529 | + 6 digit subscriber nr |
| Eusebio Ayala | (0)514 | + 6 digit subscriber nr |
| Filadelfia | (0)91 | + 7 digit subscriber nr |
| Filadelfia (Rural) | (0)94 | + 7 digit subscriber nr |
| General Delgado | (0)740 | + 6 digit subscriber nr |
| General Diaz | (0)787 | + 6 digit subscriber nr |
| General Elizardo Aquino | (0)418 | + 6 digit subscriber nr |
| General Artigas | (0)743 | + 6 digit subscriber nr |
| Guarambare | (0)293 | + 6 digit subscriber nr |
| Hernandarias | (0)631 | + 6 digit subscriber nr |
| Hoenau | (0)75 | + 7 digit subscriber nr |
| Horqueta | (0)32 | + 7 digit subscriber nr |
| Ita | (0)24 | + 7 digit subscriber nr |
| Itacurubi De La Cordillera | (0)518 | + 6 digit subscriber nr |
| Itacurubi Del Rosario | (0)41 | + 7 digit subscriber nr |
| Itape | (0)554 | + 6 digit subscriber nr |
| Itaugua | (0)294 | + 6 digit subscriber nr |
| Jose Augusto Saldivar | (0)295 | + 6 digit subscriber nr |
| Jose Domingo Ocampos | (0)527 | + 6 digit subscriber nr |
| Juan E. O?Leary | (0)674 | + 6 digit subscriber nr |
| Juan Eulogio Estigarribia | (0)528 | + 6 digit subscriber nr |
| Juan Eulogio Estigarribia / Fixed Rural Cellular | (0)871 | + 6 digit subscriber nr |
| Juan Leon Mallorquin | (0)675 | + 6 digit subscriber nr |
| Juan Manuel Frutos | (0)524 | + 6 digit subscriber nr |
| Kressburgo | (0)672 | + 6 digit subscriber nr |
| La Colmena | (0)537 | + 6 digit subscriber nr |
| La Paz | (0)763 | + 6 digit subscriber nr |
| Loreto | (0)33 | + 7 digit subscriber nr |
| Maria Auxiliadora | (0)764 | + 6 digit subscriber nr |
| Mariscal Estigarribia | (0)952 | + 6 digit subscriber nr |
| Mauricio Jose Troche | (0)550 | + 6 digit subscriber nr |
| Mayor Ota?o | (0)671 | + 6 digit subscriber nr |
| Naranjal | (0)676 | + 6 digit subscriber nr |
| Nueva Italia | (0)292 | + 6 digit subscriber nr |
| Paraguari | (0)531 | + 6 digit subscriber nr |
| Paso De Patria | (0)785 | + 6 digit subscriber nr |
| Paso Yobay | (0)552 | + 6 digit subscriber nr |
| Pedro Juan Caballero | (0)36 | + 7 digit subscriber nr |
| Pilar | (0)86 | + 7 digit subscriber nr |
| Pirapo | (0)768 | + 6 digit subscriber nr |
| Pirayu | (0)519 | + 6 digit subscriber nr |
| Piribebuy | (0)515 | + 6 digit subscriber nr |
| Pozo Colorado (Rural) | (0)93 | + 7 digit subscriber nr |
| Puente Kyha | (0)47 | + 7 digit subscriber nr |
| Quiindy | (0)536 | + 6 digit subscriber nr |
| Salto Del Guaira | (0)46 | + 7 digit subscriber nr |
| San Alberto | (0)677 | + 6 digit subscriber nr |
| San Bernardino | (0)512 | + 6 digit subscriber nr |
| San Cosme | (0)73 | + 7 digit subscriber nr |
| San Estanislao | (0)43 | + 7 digit subscriber nr |
| San Ignacio / Misiones | (0)82 | + 7 digit subscriber nr |
| San Jose De Los Arroyos | (0)523 | + 6 digit subscriber nr |
| San Juan Bautista / Misiones | (0)81 | + 7 digit subscriber nr |
| San Juan ?eembuc? | (0)784 | + 6 digit subscriber nr |
| San Juan Nepomuceno | (0)544 | + 6 digit subscriber nr |
| San Miguel / Misiones | (0)783 | + 6 digit subscriber nr |
| San Pedro Del Parana | (0)742 | + 6 digit subscriber nr |
| San Pedro Del Ycua Mandyju | (0)42 | + 7 digit subscriber nr |
| San Roque Gonzalez De Santacruz | (0)538 | + 6 digit subscriber nr |
| Santa Mar?a / Misiones | (0)781 | + 6 digit subscriber nr |
| Santa Rita | (0)673 | + 6 digit subscriber nr |
| Santa Rosa / Misiones | (0)858 | + 6 digit subscriber nr |
| Santa Rosa Del Monday | (0)678 | + 6 digit subscriber nr |
| Santiago | (0)782 | + 6 digit subscriber nr |
| Sapukai | (0)539 | + 6 digit subscriber nr |
| Tebicuary | (0)553 | + 6 digit subscriber nr |
| Tobati | (0)516 | + 6 digit subscriber nr |
| Valle Mi | (0)351 | + 6 digit subscriber nr |
| Vicente Ignacio Iturbe | (0)546 | + 6 digit subscriber nr |
| Villa Del Rosario | (0)44 | + 7 digit subscriber nr |
| Villa Florida | (0)83 | + 7 digit subscriber nr |
| Villa Hayes | (0)26 | + 7 digit subscriber nr |
| Villarrica | (0)541 | + 6 digit subscriber nr |
| Villeta | (0)25 | + 7 digit subscriber nr |
| Yaguaron | (0)533 | + 6 digit subscriber nr |
| Yataity | (0)549 | + 6 digit subscriber nr |
| Yby Ja'U | (0)39 | + 7 digit subscriber nr |
| Ybycui | (0)534 | + 6 digit subscriber nr |
| Yegros | (0)545 | + 6 digit subscriber nr |
| Ypacarai | (0)513 | + 6 digit subscriber nr |
| Ypane | (0)275 | + 6 digit subscriber nr |
| Yuty | (0)547 | + 6 digit subscriber nr |