Quick Facts
Region: Asia & Oceania
Full Name: Republic of the Philippines
Capital City: Manila
Language Spoken: two official languages - Filipino (based on Tagalog) and English; eight major dialects - Tagalog, Cebuano, Ilocano, Hiligaynon or Ilonggo, Bicol, Waray, Pampango, and Pangasinan
Philippines Travel Insurance
Get travel insurance to Philippines from Direct Travel Insurance. We offer low cost and high quality travel insurance to Philippines and most of the world.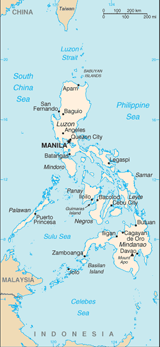 Geographic data
13 00 N, 122 00 E
Elevation Extremes
lowest point: Philippine Sea 0 m highest point: Mount Apo 2,954 m
Land boundaries
0 km
Natural hazards
astride typhoon belt, usually affected by 15 and struck by five to six cyclonic storms per year; landslides; active volcanoes; destructive earthquakes; tsunamis
Natural resources
timber, petroleum, nickel, cobalt, silver, gold, salt, copper
Land use
arable land: 19% permanent crops: 16.67% other: 64.33% (2005)
Environmental current issues
uncontrolled deforestation especially in watershed areas; soil erosion; air and water pollution in major urban centers; coral reef degradation; increasing pollution of coastal mangrove swamps that are important fish breeding grounds
Climate
Tropical climate tempered by constant sea breezes. There are three distinct seasons: the rainy season (June to September), cool and dry (October to February), and hot and mainly dry (March to May). Evenings are cooler. Typhoons occasionally occur from June to September. Required clothing Lightweight cottons and linens are worn throughout most of the year, with warmer clothes useful on cooler evenings. Rainwear or umbrellas are advisable for the rainy season.
Time difference
time difference: UTC+8
Population
89,468,677 (July 2006 est.)
Age structure
0-14 years: 35% (male 15,961,365/female 15,340,065) 15-64 years: 61% (male 27,173,919/female 27,362,736) 65 years and over: 4.1% (male 1,576,089/female 2,054,503) (2006 est.)
Median age
total: 22.5 years male: 22 years female: 23 years (2006 est.)
Population growth rate
1.8% (2006 est.)
Birth rate
24.89 births/1,000 population (2006 est.)
Death rate
5.41 deaths/1,000 population (2006 est.)
Net migration rate
-1.48 migrant(s)/1,000 population (2006 est.)
Sex ratio
at birth: 1.05 male(s)/female under 15 years: 1.04 male(s)/female 15-64 years: 0.99 male(s)/female 65 years and over: 0.77 male(s)/female total population: 1 male(s)/female (2006 est.)
Life expectancy at birth
total population: 70.21 years male: 67.32 years female: 73.24 years (2006 est.)
Total fertility rate
3.11 children born/woman (2006 est.)
Business Practices
It is customary to exchange business cards and filipinos have an American business style. English is widely spoken. The Philippine business environment is highly personalized: business matters are always best dealt with on a face-to-face basis with a warm and pleasant atmosphere. Where the Western businessperson thinks that time is gold and wants to get to the point immediately, the Filipino likes to be indirect, talk about mutual friends and family, exchange pleasantries, and joke. Only after establishing the proper atmosphere will people negotiate. No matter what the final result, the discussions should always sound cheerful. To a Filipino, cultivating a friend, establishing a valuable contact and developing personal rapport is what make business wheels turn. The Western businessperson should avoid grappling with the bureaucracy. Customs, for instance, requires dozens of signatures to clear air cargo. The Filipino approach to the problem is to use staff capable of moving through the bureaucracy. Whether getting a driver's license or registering a car, the Westerner will benefit by delegating the chore to that person paid to negotiate through a sea of desks, with a smile and the knack of delivering token gifts at Christmas. Philippine business has its own etiquette. For example, they address people by their titles (e.g. Architect Cruz, Attorney Jose) although the professional might request an informal approach. Business lunches and dinners are usually arranged personally over the phone and confirmed by the secretary. The person who invites pays. A guest does not order the most expensive items on the menu, unless the host insists otherwise. It is also customary to have a drink before sitting at a dining table. A pleasant atmosphere and a minimum of formality is the tone. Business is not usually discussed until after establishing a convivial tone, usually after soup. Dress is according to venue. It is never wrong to wear the national dress, the "barong Tagalog," a lightweight, long-sleeved shirt worn without a tie, to business and social functions. Filipinos tend to be lax in replying to RSVPs. Telephone follow-ups are best, about three days before. Party hosts usually have staff track down guests for a confirmation reply. In a formal occasion, seating is arranged. There is usually a head table for the VIPs. A guest speaker is often the highlight of the dinner. Light entertainment is not unusual. Observing office etiquette is also important. When reprimanding employees, take them aside and do it privately. Be as gentle as possible and always make it a point to end the meeting with some show of personal concern for his family to make him feel he is still part of the team and that the criticism is not personal. Christmas is also a time to show appreciation to people with whom you have regular dealings with, e.g., the security guard, doorman, messenger, as well as good customers and clients, through token gifts. Gifts range from baskets of goodies to company giveaways to plain calendars. Office hours for business firms and the Philippine Government normally are from 8:00 a.m. to 5:00 p.m. It is best to attempt to accomplish business objectives in midmorning or late afternoon. Many business deals are completed informally during meals, entertainment, or over a round of golf. Offices are generally closed on Saturdays and Sundays. Summer-weight clothing normally worn in temperate zones is suitable for the Philippines. It is acceptable for businessmen to conduct calls in short or long-sleeved shirt and ties without a coat. Either a two-piece suit or the native "barong tagalog"(a lightweight, long-sleeved shirt worn without a tie) are acceptable, ordinary business attire. Light suits and dresses are appropriate for women. Laundry and dry-cleaning facilities are available. Office hours vary, but are usually 0800-1200 and 1300-1700 Monday to Friday. Some private offices are open 0800-1200 Saturday.
Crime
Crime is of serious concern in the Philippines. Reports of homicides, kidnapping, other crimes of violence, confidence games, pickpocketing and credit card fraud are common in the local press and usually involve Filipino victims. However, foreign tourists and residents are sometimes victims of crimes as well. Visitors are urged to beware in crowds or areas not normally frequented by tourists and to be cautious when approached by strangers. Tourists frequenting lower quality nightclubs, where drugging and robbing can occur, are particularly at risk. Pickpockets are common in places where people congregate, such as busy streets, markets, shopping malls and transportation terminals. Criminals posing as police have approached foreigners on the pretext of immigration or counterfeit currency check and asked for their wallet. Unknowingly, they are relieved of money or possibly drugs may be planted to set the scene for an extortion attempt. If approached in this manner, the traveler should insist on being searched only at the nearest police station. As with most major cities, there are places that should be avoided. When walking about in the city, carry your valuables in your front pocket or use a well-secured fanny pack. Do not carry excessive amounts of currency. The use of credit cards should be avoided to the extent possible. If you do use a credit card, confine its use to large, reputable hotels. It is not uncommon for charge receipts to be used to manufacture fake cards. Travelers should avoid exchanging currency with street moneychangers. They offer higher rates but invariably cheat or attempt to cheat their customers. There have been recent reports of foreigners being approached by well-dressed couples in the larger hotels with offers of assistance or friendship. Once in an isolated location, such as a hotel room or vehicle, the unsuspecting foreigner is slipped a drug called ativan in his drink which renders him unconscious. Upon regaining consciousness, the victim is left with a splitting headache and no money or valuables. If you are in the vehicle during an attempted carjacking, do not resist as these individuals may quickly resort to extreme violence. The most popular means of public transportation in the Philippines is a small, inexpensive, colorfully decorated bus called a jeepney. Their use should be avoided. Small gangs have robbed foreigners who use jeepneys. If you find yourself becoming a victim of a robbery in a jeepney or anywhere else, it is advisable not to offer resistance. These confrontations can turn violent with little provocation. The best and safest means of transportation in the Philippines is in the modestly priced taxi. Use taxis that are marked Aircon on the side. Negotiate a price before entering the cab or demand that the meter be used. Travel on local bus lines should be avoided.
Hotels
In Manila there are 11,745 first-class hotel rooms. There are numerous smaller hotels, inns, hostels and pensions. Prices are often quoted both in Philippine Pesos and US Dollars. A complete directory of hotels is available from the Department of Tourism. The majority of establishments belong to the Hotel and Restaurant Association of the Philippines (HRAP), Room 205, Regina Building, Trasiera, Legaspi Village, Makati City, Metro Manila.
Communications
Telephone IDD service is available from main towns. The country code is 63 and the outgoing international code is 00. International calls to the smaller towns must be booked through the operator. All 3- to 5-star hotels, most government offices and most businesses have facsimile services. Post office hours are 0800-1700 Monday to Friday
Electricity
is 220 volts (110 volts in Baguio) AC, 60Hz. 110 volts is available in most hotels. Flat and round 2- and 3-pin plugs are in use. Electricity 220 volts (110 volts in Baguio) AC, 60Hz. 110 volts is available in most hotels. Flat and round two- and three-pin plugs are in use.
Plug Types
A,B,C
Food And Dining
Unlike a lot of Asian cooking, Filipino cuisine is distinguished by its moderate use of spices. American, Chinese, Japanese, Malay and Spanish influences have all left their mark in a subtle blending of cultures and flavors. All the regional dishes are available in Manila?s excellent restaurants, which, like the restaurants of all the main towns, offer a varied cuisine. For the less adventurous, there are also European-style restaurants and American fast food. Restaurants are generally informal, with table service. Rice is a staple of Filipino cuisine. Fruit is plentiful with mangoes, papayas, bananas, chicos, lanzones, guavas and rambutans. Philippine preserves like atsara (a chutney-like vegetable preserve) and numerous native desserts such as Pili nut brittle bangus (a crunchy sweet made with the luscious pili nuts found only in the Bicol region) can be purchased in local markets. Things to know: Waiter service is common in bars and there are no strict regulations regarding the sale of alcohol.
National specialties:
? Lechon (roasted whole pig) is prepared for fiestas and family celebrations.
? Kare-kare (an oxtail stew in peanut sauce served with bagoong (fermented shrimp paste)).
? Sinigang (meat or fish in a pleasantly sour broth).
? Adobo (braised pork and chicken in a tangy soy sauce with vinegar and garlic).
? Seafoods such as bangus (the bony but prized milkfish), crabs, lobsters, prawns, oysters, tuna, freshwater fish and the sweet maliputo, found in deep-water lakes. It is freshly harvested and often simply grilled, boiled, fried or steamed and served with kalamansi (the local lemon), bagoong (a fish paste) or vinegar with labuyo (the fiery native pepper). National drinks:
? Locally brewed beer, such as San Miguel.
? Philippine rum.
Tipping:
Usually 10 per cent of the bill, unless service charge is included. Hotels generally add a 15 per cent service charge, but it is customary to leave small change.
Nightlife
The choice of entertainment in Manila displays the Filipino's affinity for music. 5-star hotels offer everything from high-tech discos to lavish cultural songs and dances, as well as superb pop singers and performers, trios, show bands and classical string ensembles. On most evenings there are cultural performances by local artists or foreign groups at the many other venues for the performing arts. Free concerts are offered by several parks every week, and occasionally by banks and other corporations. The Philippines also have some unusual musical groups like the Pangkat Kawayan bamboo orchestra, which uses bamboo musical instruments, and the Rondalla group which uses tiny guitars like the ukelele. Casinos are located in Cebu, Davao, Ilocos Norte, Iloilo, Manila, Pampanga and Zamboanga.
Entry departure requirements
* Please see visa section
Visa immigration information
Passports
Passports valid for a minimum of six months beyond intended length of stay required by all.
Note
(a) Holders of Certificates of Identity, Travel Documents ('Titre de Voyage'), Documents of Identity, Taiwanese Passports and all stateless persons do require visas. (b) All children of Filipino nationality must hold individual passports. (c) Immigration Officers at ports of entry may admit those with passports only valid for at least 60 days after intended length of stay, at their discretion.
Visas
Required by all except the following:
(a) 1. bona fide foreign tourists (including business travelers) for stays of less than 21 days provided holding passports valid for a minimum of six months beyond period of stay and return or onward tickets (except nationals of Afghanistan*, Albania, Algeria*, Bangladesh, Belize, Bosnia & Herzegovina, China (PR), CIS, Croatia, Cuba, Egypt*, Estonia, Georgia, India*, Iran*, Iraq*, Jordan*, Korea (Dem Rep), Latvia, Lebanon*, Libya*, Lithuania, Macedonia (Former Yugoslav Republic of), Moldova, Nauru, Nigeria*, Pakistan*, Sierra Leone, Serbia & Montenegro, Slovenia, Sri Lanka*, Sudan*, Syrian Arab Republic*, Tonga, Vanuatu, Yemen* and holders of Palestinian* passports who do require a visa even if staying less than seven days);
(b) transit passengers continuing their journey to a third country within 72 hours provided holding onward or return documentation (some nationals are required to leave by the same or first connecting aircraft; enquire at Embassy for details).
Note
(a)* Nationals of these countries must apply for a Temporary Visitor Visa in their country of origin or place of legal residence. (b) All tourists wishing to stay longer than 21 days need a visa.
Types of visa and cost
Temporary Visitor: US$38 (three month single-entry); US$74 (six month multiple-entry); US$112 (one year multiple-entry). Restricted nationals (three months): US$52 Minors must pay PHP3,120.00 to the Immigration Officer at ports of entry.
Validity
59 days from date of issue; multiple-entry: between six months and one year from date of issue. Visas normally allow stays of up to 59 days. Extensions are possible at the discretion of the Bureau of Immigration Office, with additional payment to the Emigration Clearance Certificate and corresponding Legal Research Fee.
Application to
Consulate (or Consular section at Embassy); see Passport/Visa Information.
Application requirements
(a) One application form. (b) One passport-size photo signed on the bottom front, taken in the last six months. (c) Passport valid for at least six months beyond the intended period of stay. (d) Proof of means of support during stay, either by bank statement showing a balance of at least ?500 or letter of employment. (e) Fee, in cash or postal order only (if applying by post, fee must be paid by postal order only). (f) If applying by post, a registered, stamped, self-addressed envelope is required and the application should be signed by a notary or commissioner of oaths. (g) Onward or return tickets. (h) A utility bill for proof of address. (i) Business travelers also require a letter from the sponsoring Filipino company or from their employer, stating the purpose of the visit. (j) Proof of financial capability, eg latest bank statement, employment certificate etc. (k) Minors (under 15 years) must be accompanied by, or joining, parents to/in the Philippines. They must submit to the Immigration Officer at port of entry, an affidavit of request and consent by either parent/legal guardian (authenticated by relevant Embassy), and a clear photocopy of data page of passport of both minor and their parent(s). Application for a non-immigrant visa should be made in person.
Working days required
Two to three. Applications can be made Mon-Fri 0900-1300 and 1400-1700. Visas can be collected between 1600 and 1700.
HIV entry requirements
No Test Required
Departure tax
PHP550 for international departures. Children under two years of age and transit passengers are exempt.
Embassies
Embassy of the Republic of the Philippines in the UK
6-11 Suffolk Street, London SW1Y 4HG
(Previously 9A Palace Green, London W8 4QE, UK)
Tel: (020) 7937 1600 or (020) 7361 4640/36/42 (consular section).
Opening hours: Mon-Fri 0900-1300 and 1400-1700.
Website: http://londonpe.dfa.gov.ph/
Embassy of the Republic of the Philippines in the USA
1600 Massachusetts Avenue, NW, Washington, DC 20036, USA
Tel: (202) 467 9300.
Website: www.philippineembassy-usa.org
Travelers are advised against all travel to central, southern and Western Mindanao, and the Sulu archipelago including Basilan, Tawi-Tawi and Jolo, where there are ongoing military and police operations against insurgent groups.
The President of the Philippines declared a state of emergency on 24 February 2006, following the arrest of three people for an attempted coup. Public protests are likely. Visitors should avoid political gatherings or demonstrations.
There is a threat of kidnapping throughout the Philippines.
There is a high threat from terrorism throughout the Philippines.
In February 2005, bombs in Manila and Mindanao killed at least nine people and injured over 130 others. Attacks could be indiscriminate and against civilian targets in public places, including those frequented by foreigners.
Visitors should also be alert to the risk of street crime. Penalties for illegal drug importation and use are severe and can include the death penalty.
Visitors are advised to obtain comprehensive travel and medical insurance before traveling and to check any exclusions, and that their policy covers them for the activities they want to undertake.
This advice is based on information provided by the Foreign, Commonwealth & Development Office in the UK. It is correct at time of publishing. As the situation can change rapidly, visitors are advised to contact the following organisaions for the latest travel advice:
British Foreign, Commonwealth & Development Office
Website: https://www.gov.uk/foreign-travel-advice/philippines
US Department of State
Website: https://travel.state.gov/content/travel/en/international-travel/International-Travel-Country-Information-Pages/Philippines.html
Currency
Philippine Peso (PHP) = 100 centavos. Notes are in denominations of peso1000, 500, 100, 50, 20, 10 and 5. Coins are in denominations of peso5, 2 and 1, and 50, 25 and 10 centavos.
Currency restrictions
The import and export of local currency is limited to PHP10,000; any amount above this must be authorized by the Central Bank of the Philippines. The import and export of foreign currency is unlimited, but must be declared over PHP10,000.
Banking hours
Mon-Fri 0900-1500.
Currency exchange
Cash in pounds sterling or US dollars can be exchanged in banks, hotels and some retail outlets. Always use authorized money-changers or banks in Manila. Outside the capital there is a shortage of facilities for changing foreign currency and rates may get progressively worse as you travel further away from the city. It is advisable to carry a sufficient amount of Philippine pesos when traveling to other provinces.
Credit cards
American Express, Diners Club, MasterCard and Visa are widely accepted in major establishments throughout the big cities of the Philippines. Check with your credit or debit card company for details of merchant acceptability and other services which may be available. 24-hour ATMs are available.
Travellers cheques
Traveller's cheques and major foreign currency may be cashed at most commercial banks and Central Bank dealers. They are also accepted in most hotels, restaurants and shops. To avoid difficulties, travelers are advised to carry their receipt of purchase with them. To avoid additional exchange rate charges, travelers are advised to take traveller's cheques in US Dollars.
| City/Region | City/Area code | Followed by |
| --- | --- | --- |
| Agusan del Norte | (0)85 | + 7 digit subscriber nr |
| Aklan | (0)36 | + 7 digit subscriber nr |
| Albay | (0)5221 | + 5 digit subscriber nr |
| Bataan | (0)47 | + 7 digit subscriber nr |
| Batangas | (0)4396 | + 5 digit subscriber nr |
| Benguet | (0)74 | + 7 digit subscriber nr |
| Bohol | (0)38 | + 7 digit subscriber nr |
| Bukidnon | (0)8851 | + 5 digit subscriber nr |
| Bulacan | (0)4422 | + 5 digit subscriber nr |
| Cagayan de Oro City | (0)8822 | + 5 digit subscriber nr |
| Camarines Sur | (0)5446 | + 5 digit subscriber nr |
| Cavite | (0)46 | + 7 digit subscriber nr |
| Cebu | (0)3230 | + 5 digit subscriber nr |
| Damilag | (0)8853 | + 5 digit subscriber nr |
| Davao del Norte | (0)84 | + 7 digit subscriber nr |
| Davao del Sur | (0)82 | + 7 digit subscriber nr |
| Davao Oriental | (0)87 | + 7 digit subscriber nr |
| Eastern & Northern Samar | (0)55 | + 7 digit subscriber nr |
| Ilocos Sur | (0)77 | + 7 digit subscriber nr |
| Iloilo | (0)3397 | + 5 digit subscriber nr |
| Isabela | (0)78 | + 7 digit subscriber nr |
| Kidapawan | (0)6423 | + 5 digit subscriber nr |
| La Union | (0)72 | + 7 digit subscriber nr |
| Laguna | (0)49560 | + 4 digit subscriber nr |
| Lanao del Norte | (0)63 | + 7 digit subscriber nr |
| Leyte | (0)53 | + 7 digit subscriber nr |
| Macabebe | (0)4594 | + 5 digit subscriber nr |
| Maguindanao | (0)64 | + 7 digit subscriber nr |
| Mauban | (0)4251 | + 5 digit subscriber nr |
| Metro Manila | (0)2 | + 8/10 digit subscriber nr |
| Misamis Occidental | (0)88344 | + 4 digit subscriber nr |
| Misamis Oriental | (0)8842 | + 5 digit subscriber nr |
| Negros Occidental | (0)34691 | + 4 digit subscriber nr |
| Negros Oriental | (0)35 | + 7 digit subscriber nr |
| North Cotabato | (0)6422 | + 5 digit subscriber nr |
| Palawan | (0)48 | + 7 digit subscriber nr |
| Pampanga | (0)4597 | + 5 digit subscriber nr |
| Pangasinan | (0)75 | + 7 digit subscriber nr |
| Quezon | (0)42793 | + 4 digit subscriber nr |
| Saint Francis | (0)4463 | + 5 digit subscriber nr |
| San Narciso | (0)4765 | + 5 digit subscriber nr |
| San Pablo | (0)93 | + 7 digit subscriber nr |
| Sorsogon | (0)56 | + 7 digit subscriber nr |
| South Cotabato | (0)83 | + 7 digit subscriber nr |
| Surigao del Norte | (0)86 | + 7 digit subscriber nr |
| Surigao del Sur | (0)8622 | + 5 digit subscriber nr |
| Tawi-Tawi | (0)68 | + 7 digit subscriber nr |
| Tiaong | (0)4264 | + 5 digit subscriber nr |
| Zambales | (0)4761 | + 5 digit subscriber nr |
| Zamboanga del Norte | (0)65 | + 7 digit subscriber nr |
| Zamboanga del Sur | (0)62 | + 7 digit subscriber nr |