Quick Facts
Region: South America
Full Name: Republic of Peru
Capital City: Lima
Language Spoken: Spanish (official), Quechua (official), Aymara, and a large number of minor Amazonian languages
Peru Travel Insurance
Get travel insurance to Peru from Direct Travel Insurance. We offer low cost and high quality travel insurance to Peru and most of the world.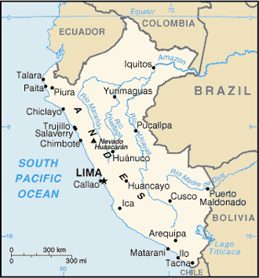 Geographic data
10 00 S, 76 00 W
Elevation Extremes
lowest point: Pacific Ocean 0 m highest point: Nevado Huascaran 6,768 m
Land boundaries
total: 7,461 km border countries: Bolivia 1,075 km, Brazil 2,995 km, Chile 171 km, Colombia 1,800 km, Ecuador 1,420 km
Natural hazards
earthquakes, tsunamis, flooding, landslides, mild volcanic activity
Natural resources
copper, silver, gold, petroleum, timber, fish, iron ore, coal, phosphate, potash, hydropower, natural gas
Land use
arable land: 2.88% permanent crops: 0.47% other: 96.65% (2005)
Environmental current issues
deforestation (some the result of illegal logging); overgrazing of the slopes of the costa and sierra leading to soil erosion; desertification; air pollution in Lima; pollution of rivers and coastal waters from municipal and mining wastes
Climate
Varies according to area. On the coast winter lasts from June to September. During this period, the mountainous areas are often sunny during the day but cold at night. Heavy rains in the mountains and jungle last from December to April. It never rains in Lima nor most of the coast, except for Tumbes and Piura, which have tropical climates. Required clothing Lightweights during summer with warmer clothes worn in upland areas. Mediumweights are advised during cooler months.
Time difference
time difference: UTC-5
Population
28,302,603 (July 2006 est.)
Age structure
0-14 years: 30.9% (male 4,456,195/female 4,300,233) 15-64 years: 63.7% (male 9,078,123/female 8,961,981) 65 years and over: 5.3% (male 709,763/female 796,308) (2006 est.)
Median age
total: 25.3 years male: 25 years female: 25.5 years (2006 est.)
Population growth rate
1.32% (2006 est.)
Birth rate
20.48 births/1,000 population (2006 est.)
Death rate
6.23 deaths/1,000 population (2006 est.)
Net migration rate
-1.01 migrant(s)/1,000 population (2006 est.)
Sex ratio
at birth: 1.05 male(s)/female under 15 years: 1.04 male(s)/female 15-64 years: 1.01 male(s)/female 65 years and over: 0.89 male(s)/female total population: 1.01 male(s)/female (2006 est.)
Life expectancy at birth
total population: 69.84 years male: 68.05 years female: 71.71 years (2006 est.)
Total fertility rate
2.51 children born/woman (2006 est.)
Business Practices
Peruvians are formal when engaged in business relations and suits and ties are the norm. Business is conducted in Spanish. Although a great number of executives in the Peruvian business community speak English, it is advisable to use interpreters for important meetings and to prepare documents in Spanish. Peruvians tend to be late for meetings, but visitors are expected to arrive on time. Business cards are widely used. Breakfast meetings are not common, but, business lunches are normally scheduled between the hours of 1:00 to 3:30 p.m. Shops and some businesses operate 10:00 a.m. to 1:00 p.m. and from 4:00 p.m. to 8:00 p.m. Business offices are closed on Saturdays. In the provinces, business hours are usually from 9:00 a.m. to 1:00 p.m. and from 4:00 p.m. to 7:00 p.m.
Crime
While violent crime is a major problem, especially in Lima, Peru is relatively safe outside the below-listed areas for the group tourist who takes appropriate precautions and does not stray from organized tour groups. The risk of street crime in downtown Lima and suburban areas frequented by tourists is high. Street crime is also prevalent in tourist cities in the interior, including Cusco, Arequipa, Puno and Juliaca. Pickpockets are common in crowded market areas. Robberies of travelers' luggage and belongings, particularly passports, are common at Lima's Jorge Chavez International Airport. Travelers arriving in the early morning after all-night flights are particularly vulnerable to airport thefts. Violent crimes, including carjacking, assault, and armed robbery, are common in Lima. Short-term armed kidnappings, in which criminals seek to obtain funds from the victims' bank accounts via automatic teller machines, occur regularly in Lima. Strict 1998 legislation that permits violent criminals, including armed gangs and kidnappers, to be tried in military courts has had some deterrent effect on such crimes. Armed assaults of passengers who hail taxis on the street occur regularly. Only telephone-dispatched radio taxis or taxis associated with hotels, which are considered safer, should be used. Outside Lima, "choke and grab" attacks against tourists occur in Cusco, particularly near the train station and on the Plaza de Armas (Main Square), and in Arequipa. Resistance to violent crime often provokes greater violence, while those who do not resist usually do not suffer serious physical harm. Travel in groups and with experienced guides during daylight hours is safer. Visitors to Peru should immediately report any criminal activity against them to the nearest police station or tourism police office. Immediate action may result in detaining the thieves and recovering stolen property. The number for the tourist police in Lima is (51-1) 225-8698 or 225-8699, or fax 476-7708. There are tourist police offices in 15 cities in the interior, including all major tourist destinations such as Cusco, Arequipa, and Puno. Visitors may register complaints on a 24-hour hotline, provided by INDECOPI (National Institute for the Defense of Competition and the Protection of Intellectual Property). In Lima, telephone 224-7888 or 224-8600. Outside Lima, callers should dial the prefix (01), then these numbers, or call the toll-free number 0-800-42579 from any private phone (the 800 number is not available from public phones). The INDECOPI hotline will assist in contacting police to report a crime, but is intended primarily to deal with non-emergency situations such as poor service from a travel agency or guide, lost property, or unfair charges The following departments/provinces are considered dangerous for travel due to insurgent and/or narcotics trafficking activities. Overland travel in or near these areas, particularly at night, is risky. Ancash: Provinces of Pallasca, Corongo, and Sihuas. Apurimac: Province of Chincheros. Ayacucho: Provinces of La Mar and Huanta. Cusco: A 20-kilometer swath of territory contiguous to the Apurimac River and Ayacucho Department. Huancavelica: Provinces of Acobamba, Castrovirreyna, Churcampa, Huancavelica, Tayacaja. Huanuco: All areas. Junin: Provinces of Satipo and Concepcion east of the Mantaro River. La Libertad: Provinces of Pataz and Sanchez Carri?n. Lambayeque: Lambayeque Province northeast of Olmos and east of the Pan-American Highway. Loreto: A 20-kilometer swath of territory contiguous to the Colombian border. Travel on the Putumayo River. Pasco: Province of Oxapampa. Piura: Province of Huancabamba south of Huancabamba City. San Mart?n: Provinces of Bellavista, Huallaga, Mariscal Caceres, and Tocache. Ucayali: Provinces of Padre Abad and Coronel Portillo west of Pucallpa City and west of the Ucayali River. Road travel from Pucallpa to Aguaytia and all cities west of Aguaytia.
Hotels
A number of new hotels have opened since 1992 and existing hotels have been renovated and expanded, so many business-class hotel rooms are currently available. Reservations should be made at least two weeks in advance. Lima has the largest choice of hotels in Peru. Other cities where international standard hotels can be found are Cuzco, Arequipa and Trujillo. In many towns the privately owned Hoteles de Turistas are available. The quality of accommodation in the provinces varies considerably, but hotels are frequently of a good standard.
Communications
Telephone IDD service is available. The country code is 51 and the outgoing international code is 00. The city code for Lima: 1, Arequipa: 54, Chiclayo: 74, Cusco: 84, Iquitos: 94, and Puno: 54. Direct or collect calls are possible from public phones. Telef?nica del Peru offers a fax service throughout the country. Small public booths and services are found in commercial areas. The communications system is being modernized following the privatization of the Telephone Company in 1994. The cost of a call to North America is approximately U.S. $1.30 per minute. The demand for better communications services is tremendous after many years of poor service and non-investment. Cellular phones are becoming very popular among businessmen in Lima and other major cities. . Cellular phones can be rented in Lima and the main cities from Telef?nica del Peru. The main post office (Correo Central de Lima) is near the Plaza de Armas. Electricity is a 220 volts AC, 60Hz.
Electricity
220 volts AC, 60Hz. (110 volts AC is available in most 4- and 5-star hotels).
Plug Types
A,B,C
Food And Dining
The hot and spicy nature of Peruvian food, created by aj? and ajo (hot pepper and garlic), has become celebrated at home and abroad. Peruvians enjoy a wide variety of vegetables; there are over 2000 kinds of indigenous and cultivated potatoes alone. Table service is the norm in hotels and restaurants and many of them also offer buffet-type lunches.
National specialties
? Tropical fruits are abundant, as are avocados.
? Ceviche is a local specialty (uncooked fish marinated in lemon or lime juice and hot chili pepper, served with fried corn, sweet potatoes, onions and flavored with coriander).
? Escabeche is a cooked fish appetizer eaten cold, served with peppers and onions.
? Corvina is sea bass, which can be prepared in a variety of ways, and is always an excellent choice.
? Scallops (conchitas), mussels (choros), octopus (pulpo) and shrimps (camarones) are plentiful and delicious.

? Chupe de camarones is a chowder-type soup made with shrimps, milk, eggs, potatoes and peppers.
? Papa a la huancaina (yellow potato with cheese and chilli sauce).
? Arroz con choclo (rice with corn).
? Cau cau (tripe cooked with potato, peppers and parsley).
? Causa relle?a (potato cakes with chicken in the center, but also cooked with avocado or crabmeat).

? Tamales (boiled corn dumplings filled with meat and wrapped in a banana leaf).
? Sopa criolla (spicy soup with beef and noodles).
? Aj? de gallina (shredded chicken in a piquant cream sauce).
? Anticuchos (strips of beef or fish marinated in vinegar and spices, then barbecued on skewers).
? Lomo saltado (pieces of beef saut?ed with onions and peppers, served with fried potatoes and rice).
? Rice and potatoes accompany virtually every dish.
? Traditional desserts are arroz con leche (rice pudding).
? Alfajores (wafer-thin spirals of shortbread dusted with icing sugar) and served with manjar blanco (a caramel sauce).

? Picarones (doughnuts served with syrup).
? Mazamorra morada (purple maize and sweet potato starch jelly cooked with lemons, dried fruits, cinnamon and cloves).
National drinks
? The most famous drink is pisco sour, made from a potent grape brandy.
? Other pisco-based drinks are algarrobina (pisco and carob syrup), chilcano (pisco and ginger ale) and capit?n(pisco and vermouth).
? Chicha de jora (fermented red or yellow corn juice) and chicha morada (non-alcoholic purple corn juice) are popular drinks dating from Inca times.
? Peruvian beers and national wines are good.
Tipping:
Service charges of 10 per cent are added to all bills. Additional tips of 5 per cent are expected. Taxi drivers do not generally expect tips. Doorkeepers should be tipped about US$1.
Nightlife:
There are many good bars, pubs, discos and casinos in the major towns and tourist resorts. Pe?as always serve snacks and some serve full meals. Here one can enjoy criolla or folk music, especially at weekends. Nightlife in Lima and Cusco has a wide array of choices. Most discos, pe?as, pubs and karaokes are open until 0300 or 0400 in the morning.
Entry departure requirements
* Please see visa section Visa immigration information
Visa immigration information
Passports
Valid passport required by all except nationals of Bolivia, Chile and Ecuador entering certain regions of Peru. Citizens of these countries are advised to contact their nearest Peruvian Consulate before traveling.
Visas
Required by all except the following:
(a) 1. nationals of countries shown in the chart above traveling as tourists for stays of up to 90 days with the exception of Malta nationals of which do require a visa; (b) nationals of Andorra, Antigua & Barbuda, Argentina, The Bahamas, Barbados, Belarus, Belize, Bolivia, Brazil, Brunei, Bulgaria, Chile, Colombia, Cook Islands, Costa Rica, Croatia, Dominica, Dominican Republic, Ecuador, El Salvador, Federated States of Micronesia, Fiji, Grenada, Guatemala, Guyana, Haiti, Honduras, Hong Kong (SAR), Iceland, Indonesia, Israel, Jamaica, Kiribati, Korea (Rep), Liechtenstein, Macedonia, Malaysia, Malta, Marshall Islands, Mexico, Moldova, Monaco, Nauru, New Zealand, Nicaragua, Niue, Norway, Palau, Panama, Papua New Guinea, Paraguay, The Philippines, Russian Federation, Serbia & Montenegro, St Kitts & Nevis, St Lucia, St Vincent & the Grenadines, Samoa, San Marino, Singapore, Solomon Islands, South Africa, Surinam, Switzerland, Taiwan, Thailand, Tonga, Trinidad & Tobago, Tuvalu, Ukraine, Uruguay, Vanuatu, Vatican City and Venezuela, provided traveling as tourists, for stays of up to 90 days; (c) transit passengers continuing their journey by the same or first connecting aircraft within 48 hours provided holding valid onward or return documentation and not leaving the airport.
Note: (a) Nationals of Bangladesh, Cuba, China (PR), Iran, Iraq, Lebanon, Morocco, Pakistan and Sri Lanka require special authorization from the Immigration Office in Lima to obtain a visa. This application could take one month (approximately) to be processed. (b) All visitors must hold return tickets or letter of guarantee from travel agency and sufficient funds for their stay.
Types of visa and cost
Tourist and Business: US$33 . Costs are subject to change according to exchange rates.
Validity
Up to 90 days.
Note: A Business visa is required for all nationals if the purpose of the visit is business. Any business-related unpaid work can be made on a tourist visa. Upon arrival in Peru, the Business visa holder must register at the Direcci?n General de Contribuciones for taxation purposes. Business visa holders can remain in Peru for 90 days. If wishing to extend the visit, an application must be lodged with the Direcci?n General de Migraciones.
Application to
Consulate (or Consular section at Embassy); see Passport/Visa Information for details.
Application requirements
a) Valid passport. (b) Return or through ticket to show the visitor will be leaving Peru. (c) Two passport-size, color photos. (d) Fee. (e) Two completed application forms. (f) Proof of economic solvency, such as latest bank statement. Business: (a)-(f) and, (g) Company letter specifying the reason for the trip, the length of stay and confirming employment status. Student: (a)-(f) and, (g) Letter from your center of studies confirming attendance.
Note:(a) All nationals are advised to check with the Peruvian Consulate prior to departure to obtain current details of any documentation which might be required. Postal visa applications are not accepted unless submitted through a travel agency. (b) Visitors traveling to areas with a tropical climate are advised to have yellow fever, smallpox and malaria vaccinations.
Working days required
At least one week before departure and no earlier than eight weeks. Applicants are encouraged to apply with plenty of time in case the application merits further scrutiny from official bodies. However, some applications may only take one day to be processed if a rush fee is paid of US$50, or equivalent. .
HIV entry requirements
No Test Required
Departure tax
US$28 from Lima's airport. Transit passengers and children under two years of age are exempt. Payment must be paid in cash prior to boarding.
Embassies
Embassy of the Republic of Peru in the UK
52 Sloane Street, London SW1X 9SP, UK
Tel: (020) 7235 1917 or 2545.
Website: www.peruembassy-uk.com
Opening hours: Mon-Fri 0930-1700.
Consular section: Tel: (020) 7838 9223.
Opening hours: Mon-Fri 0930-1300 (general enquiries); 1430-1630 (collection point only).
Embassy of the Republic of Peru in the USA
1700 Massachusetts Avenue, NW, Washington, DC 20036, USA
Tel: (202) 833 9860.
Website: www.peruvianembassy.us
Travel Advice
There has been a significant increase in the number of reported robberies, bag snatches and crimes associated with rogue taxis in the past few months. There were two reports of the rape of foreign tourists in Cusco in June and one rape in Mancora (Piura Department) in July.
Street crime is a problem, particularly in Lima, Cusco, Arequipa and Huaraz.
Travelers should be aware of the global risk of indiscriminate terrorist attacks, which could be against civilian targets, including places frequented by foreigners. The internal terrorism in Peru of the 1980s and 1990s has largely ended, but has not completely disappeared. States of Emergency remain in force in certain districts.
Street demonstrations, sometimes violent, are a common form of protest in Peru. Travelers should take care to avoid any area in which large crowds are gathering.
Peru is an earthquake zone and tremors are frequent. On 25 September 2005, there was an earthquake measuring 7.5 on the Richter scale north east of Moyobamba in San Martin department. This followed an earthquake on 13 June 2005, on the Peru/Chile border.
On 13 October, a landslide stranded 1400 tourist and residents near the Inca ruins of Machu Picchu. Train services in the area have been affected and it is not clear how long it will take to restore the service.
This advice is based on information provided by the Foreign, Commonwealth & Development Office in the UK. It is correct at time of publishing. As the situation can change rapidly, visitors are advised to contact the following organizations for the latest travel advice:
British Foreign, Commonwealth & Development Office
Website: www.gov.uk/foreign-travel-advice
US Department of State
Website: http://travel.state.gov/travel
Currency
New Sol (PEN) = 100 c?ntimos. New Sol notes are in denominations of PEN200, 100, 50, 20 and 10. Coins are in denominations of PEN5, 2 and 1, and 50, 20, 10 and 5 c?ntimos.
Currency restrictions
There are no restrictions on the import and export of local currency. The import of foreign currency is unrestricted. The export of foreign currency is limited to the amount imported. Receipts of exchange of foreign currencies into S/. must be presented when exchanging back from S/. into foreign currency.
Banking hours
Mon-Fri 0900-1800, Sat 0900-1300 (may vary during the summer).
Currency exchange
Only a few bureaux de change in Lima will exchange currencies other than US Dollars. Outside Lima, it is virtually impossible. US Dollars can be exchanged everywhere and banks, hotels and shops also readily accept US Dollars (although torn or damaged notes are usually rejected). It is not recommended to exchange money from street vendors. ATMs are now generally regarded as one of the best ways to obtain money in Peru.
Credit cards
All major credit cards are accepted, but usage may be limited outside of Lima. Check with your credit or debit card company for details of merchant acceptability and other services which may be available.
Travellers cheques
Banks will exchange traveller's cheques although it can be a slow process outside Lima. To avoid additional exchange rate charges, travelers are advised to take traveller's cheques in US Dollars. The ability to use traveller's cheques is also quite limited in some areas so you should check whether or not they will be excepted in the area your visiting prior to travel.
| City/Region | City/Area code | Followed by |
| --- | --- | --- |
| Amazonas | (0)41 | + 6 digit subscriber nr |
| Ancash | (0)43 | + 6 digit subscriber nr |
| Apur?mac | (0)83 | + 6 digit subscriber nr |
| Arequipa | (0)54 | + 6 digit subscriber nr |
| Ayacucho | (0)66 | + 6 digit subscriber nr |
| Cajamarca | (0)76 | + 6 digit subscriber nr |
| Cusco | (0)84 | + 6 digit subscriber nr |
| Huancavelica | (0)67 | + 6 digit subscriber nr |
| Hu?nuco | (0)62 | + 6 digit subscriber nr |
| Ica | (0)56 | + 6 digit subscriber nr |
| Jun?n | (0)64 | + 6 digit subscriber nr |
| La Libertad | (0)44 | + 6 digit subscriber nr |
| Lambayeque | (0)74 | + 6 digit subscriber nr |
| Lima | (0)1 | + 7 digit subscriber nr |
| Loreto | (0)65 | + 6 digit subscriber nr |
| Madre de Dios | (0)82 | + 6 digit subscriber nr |
| Moquegua | (0)53 | + 6 digit subscriber nr |
| Pasco | (0)63 | + 6 digit subscriber nr |
| Piura | (0)73 | + 6 digit subscriber nr |
| Puno | (0)51 | + 6 digit subscriber nr |
| San Mart?n | (0)42 | + 6 digit subscriber nr |
| Tacna | (0)52 | + 6 digit subscriber nr |
| Tumbes | (0)72 | + 6 digit subscriber nr |
| Ucayali | (0)61 | + 6 digit subscriber nr |