Quick Facts
Region: Asia & Oceania
Full Name: Independent State of Papua New Guinea
Capital City: Port Moresby
Language Spoken: Melanesian Pidgin serves as the lingua franca, English spoken by 1%-2%, Motu spoken in Papua region note: 820 indigenous languages spoken (over one-tenth of the world's total)
Papua New Guinea Travel Insurance
Get travel insurance to Papua New Guinea from Direct Travel Insurance. We offer low cost and high quality travel insurance to Papua New Guinea and most of the world.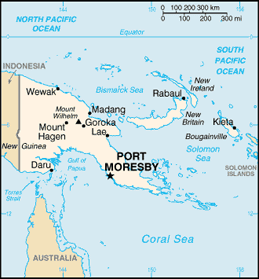 Geographic data
6 00 S, 147 00 E
Elevation Extremes
lowest point: Pacific Ocean 0 m highest point: Mount Wilhelm 4,509 m
Land boundaries
total: 820 km border countries: Indonesia 820 km
Natural hazards
active volcanism; situated along the Pacific "Ring of Fire"; the country is subject to frequent and sometimes severe earthquakes; mud slides; tsunamis
Natural resources
gold, copper, silver, natural gas, timber, oil, fisheries
Land use
arable land: 0.49% permanent crops: 1.4% other: 98.11% (2005)
Environmental current issues
rain forest subject to deforestation as a result of growing commercial demand for tropical timber; pollution from mining projects; severe drought
Climate
Hot, tropical climate at sea level, cooling towards the highlands which also cause climatic variation from one area to another, affecting the southeast trade winds and the northwest monsoons. The majority of the rain falls between December and March due to the northwest monsoon, although Port Moresby enjoys a dry season at this time. There is frost and there are occasional snow falls on the highest mountain peaks. Required clothing Tropical, lightweights and cottons are recommended. In the highlands, warmer clothing is needed. Rainwear is advised for the monsoon season (December to March).
Time difference
time difference: UTC+10
Population
5,670,544 (July 2006 est.)
Age structure
0-14 years: 37.8% (male 1,090,879/female 1,054,743) 15-64 years: 58.3% (male 1,703,204/female 1,601,224) 65 years and over: 3.9% (male 103,054/female 117,440) (2006 est.)
Median age
total: 21.2 years male: 21.4 years female: 21.1 years (2006 est.)
Population growth rate
2.21% (2006 est.)
Birth rate
29.36 births/1,000 population (2006 est.)
Death rate
7.25 deaths/1,000 population (2006 est.)
Net migration rate
0 migrant(s)/1,000 population (2006 est.)
Sex ratio
at birth: 1.05 male(s)/female under 15 years: 1.03 male(s)/female 15-64 years: 1.06 male(s)/female 65 years and over: 0.88 male(s)/female total population: 1.05 male(s)/female (2006 est.)
Life expectancy at birth
total population: 65.28 years male: 63.08 years female: 67.58 years (2006 est.)
Total fertility rate
3.88 children born/woman (2006 est.)
Business Practices
Business dress is moderately casual, befitting PNG's tropical climate. Work attire usually consists of shirt and tie or sport shirt for men, and light business suit or dress for women. In most areas, lightweight clothing is appropriate year round, but warmer clothes may be necessary in the Highlands, especially in the evening. The workday is 8:00 a.m. to 4:30 p.m. Monday to Friday for most people. Banks are open from 9:00 a.m. until 2:00 p.m. from Monday to Thursday and from 9:00 a.m. to 5:00 p.m. on Fridays. Most business and government offices do not open on the weekends. English is the official language of government and commerce and will be spoken by almost all people with whom the business traveler is likely to deal. However, the language understood by the majority of Papua New Guineans is Melanesian Pidgin.
Crime
Serious crime is particularly high in the capital, Port Moresby, and in the cities of Lae and Mt Hagen. In particular, since September 2006, there has been an increase in serious incidents in Lae and on the road between Nadzab airport and Lae, between the one and ten mile settlement areas. Armed carjackings are common in all three cities as are robberies, including those that take place inside shops and restaurants. Firearms and bush knives (machetes) are the criminals? weapons of choice. Rape and gang rape are a serious problem across the country. It is particularly dangerous to walk after dark in most major towns. The situation is generally safer away from large towns. Avoid squatter (?settlement?) areas of towns. Stay away from public protests and disputes, as these may turn violent. Avoid carrying anything you are not willing to lose. The deployment of police reinforcements for the State of Emergency in the Southern Highlands Province has resulted in fewer police officers elsewhere in Papua New Guinea. Opportunistic crime is more likely. Do not use public buses known locally as PMVs, as they are ill-maintained and see high rates of crime. There have been incidents of armed hold-ups of PMVs and of passengers being attacked and robbed of their personal belongings. There are occasional rape attacks on Port Moresby PMVs. Family, friends or hotel courtesy buses should meet you on arrival at international or domestic airports. Taxis are available in some major centers, but these can be badly maintained, and you should check about their reliability with your hotel or guesthouse. If you use a taxi, ensure that you agree a fare before getting into the taxi, irrespective of whether or not there is a meter. If you intend to walk a trail or track, including the Kokoda Trail, travel only with guides from a reputable tour company and pay the relevant fees prior to walking the Trail. There have been serious attacks and robberies at both ends of the Kokoda Trail, most recently in October 2005. Although community leaders have assured tourists of their safety and well being while walking the Kokoda Trail, exercise caution. WWII unexploded ordnance still exists in Papua New Guinea, particularly along the Kokoda Trail and at Milne Bay and Rabual.
Hotels
There are hotels of moderate to good quality in Port Moresby and other major towns. Suitable Western-style residential and business premises are available in urban areas. Rental rates are high due to the shortage of land available for lease. There are several good restaurants in Port Moresby and other major towns.
Communications
Telephone IDD service is available. The country code is 675. The outgoing international code is 05. There are no area codes in Papua New Guinea. Fax services are available at all major companies and government departments. Telegram facilities are available in main centers. Post office hours are 0800-1600 Monday to Friday and 0900-1200 Saturday.
Electricity
is 240 volts AC, 50Hz. Australian-style 3-pin plugs are in use. Some hotels provide 110-volt outlets in guestrooms. Electricity 240 volts AC, 50Hz. Australian-style three-pin plugs are in use. Some hotels provide 110-volt outlets in guest-rooms.
Plug Types
I
Food And Dining
Hotel dining rooms cater for most visitors and menus in main centers are fairly extensive. The more remote the area, the more likely it is that the menus will be basic. However, increasing use is made of fresh local meat, fish, vegetables and fruit, including pineapples, pawpaws, mangoes, passion fruit and bananas. Traditional cuisine of Papua New Guinea is based on root crops such as taro, kaukau and yams, sago and pig (cooked in the earth on traditional feasts). Mumu is a traditional dish combining pork, sweet potatoes, rice and greens. The number of European, Chinese and Indonesian restaurants is rising. Waiter service is usual. Alcohol is readily available and includes Australian and Filipino beers.
Tipping:
Not customary and discouraged.
Nightlife
Several hotels in Port Moresby have dancing in the evenings and some organize live entertainment. The Arts Theater stages regular performances. The local newspaper advertises programs. Sing-sings, tribal events on a smaller scale than the biannual festival, are sometimes held.
Entry departure requirements
Note On receipt of a stamped, self-addressed envelope, the High Commission can supply information sheets on how to apply for visas for Papua New Guinea. The information below should be considered as a guide, as visa requirements may be subject to change at short notice.
Visa immigration information
Passports
Passport valid for at least six months after entry required by all.
Visas
Required by all.
Types of visa and cost
Tourist: US$12 Business (multiple-entry): US$301 Costs vary for special categories of visitors (including consultants, yachtsmen and those engaged in medical, research or expedition activities). There will also be charges for extensions and costs incurred in processing documents.
Validity
Up to 60 days for tourists; up to 12 months for business trips with 60 days maximum per stay. Details of renewals or extensions are available from the Embassy or High Commission.
Application to
Consulate (or Consular section at Embassy or High Commission); see Passport/Visa Information. In emergency cases, Tourist visas can be obtained at Jackson International Airport in Port Moresby or at Mount Hagen on arrival, but only for a maximum period of 60 days in any 12-month period, which cannot be extended. However, visitors are strongly advised to obtain visas in advance (which is also the cheaper option).
Application requirements
Tourist: (a) Completed application form (one per passport submitted). (b) Two passport-size photos. (c) Passport with minimum one year remaining validity from date of entry. (d) Return ticket. (e) Postal applications should be accompanied by a self-addressed, stamped, registered envelope. (f) Fee, payable by postal order or bank drafts if applying by post or in cash if applying in person. Business: (a)-(f) and, (g) Confirmed itinerary from travel agent. (h) Detailed letter in support of application covering curriculum vitae and confirmation of ongoing project in Papua New Guinea. (i) For visas issued at the airport, a letter of guarantee from sponsor must have been sent in advance to the Director of Immigration at the airport. Contact the nearest Papua New Guinea representative office for further information.
Working days required
48 hours minimum for Business and Tourist visas. Temporary residence visas take up to six weeks or more. It is advisable for visa applications to be made one week or more before departure date, depending on type of visa.
Temporary residence
Available for those entering for employment purposes, usually professional persons or those undertaking research, consultancy, etc. Applications should be made to the nearest High Commission or Embassy in the first instance.
HIV entry requirements
Test required for anyone applying for work or residency permit
Departure tax
PGK30 is levied on international flights. Children under two years of age and passengers not leaving the airport are exempt.
Embassies
Papua New Guinea High Commission in the UK
14 Waterloo Place, London SW1Y 4AR, UK
Tel: (020) 7930 0922/7.
Opening hours: Mon-Fri 0900-1300 and 1400-1600.
Website: http://www.pnghighcomm.org.uk/
Papua New Guinea Embassy in the USA
1779 Massachusetts Avenue, Suite 805, NW, Washington, DC 20036, USA
Tel: (202) 745 3680.
Website: www.pngembassy.org
Law and order remains poor or very poor in many parts of the country. But most visits to Papua New Guinea are trouble-free.
Outbreaks of tribal fighting may occur without warning in the Highland Provinces and in particular in the Southern Highlands and Enga Provinces.
In the cities of Port Moresby, Lae and Mt Hagen armed carjackings, assaults, robbery, random shootings and serious sexual assaults are common. All visitors are advised to be extra vigilant whilst traveling in these cities, particularly during the hours of darkness.
Travelers should be aware of the global risk of indiscriminate terrorist attacks, which could be against civilian targets, including places frequented by foreigners.
This advice is based on information provided by the Foreign, Commonwealth & Development Office in the UK. It is correct at time of publishing. As the situation can change rapidly, visitors are advised to contact the following organizations for the latest travel advice:
British Foreign, Commonwealth & Development Office
Tel: (0845) 850 2829.
Website: https://www.gov.uk/foreign-travel-advice/papua-new-guinea
US Department of State
Website: https://travel.state.gov/content/travel/en/international-travel/International-Travel-Country-Information-Pages/PapuaNewGuinea.html
Currency
Kina (PGK) = 100 toea. Notes are in denominations of PGK50, 20, 10, 5 and 2. Coins are in denominations of PGK1, and 50, 20, 10, 5, 2 and 1 toea.
Currency restrictions
There are no restrictions on the import of local or foreign currency. The export of local currency is restricted to Kina200 and of foreign currency to Kina 10,000; if more, approval is required from the Bank of Papua New Guinea.
Banking hours
Mon-Thurs 0845-1500, Fri 0845-1600.
Currency exchange
Credit cards
American Express is the most widely accepted credit card. Holders of this and other cards should check with their credit or debit Card Company for details of merchant acceptability and other services which may be available.
Travellers cheques
Accepted by most shops and hotels. To avoid additional exchange rate charges, traveller's are advised to take travelers cheques in US Dollars, Pounds Sterling or Australian Dollars.
| City/Region | City/Area code | Followed by |
| --- | --- | --- |
| Arawa Islands | 97 | + 5 digits |
| Goroka | 73 | + 5 digits |
| Lae / Manus | 47 | + 5 digits |
| Madang/Wewak | 85 | + 5 digits |
| Mt. Hagen | 54 | + 5 digits |
| Port Moresby | 3 | + 6 digits |
| Rabaul/Kavieng Islands | 98 | + 5 digits |
| Southern Region | 64 | + 5 digits |