Quick Facts
Region: Europe
Full Name: Kingdom of Norway
Capital City: Oslo
Language Spoken: Bokmal Norwegian (official), Nynorsk Norwegian (official), small Sami- and Finnish-speaking minorities; note - Sami is official in six municipalities
Norway Travel Insurance
Get travel insurance to Norway from Direct Travel Insurance. We offer low cost and high quality travel insurance to Norway and most of the world.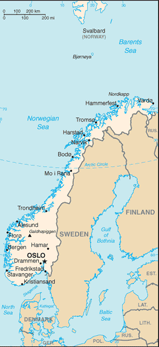 Geographic data
62 00 N, 10 00 E
Elevation Extremes
lowest point: Norwegian Sea 0 m highest point: Galdhopiggen 2,469 m
Land boundaries
total: 2,542 km border countries: Finland 727 km, Sweden 1,619 km, Russia 196 km
Natural hazards
rockslides, avalanches
Natural resources
petroleum, natural gas, iron ore, copper, lead, zinc, titanium, pyrites, nickel, fish, timber, hydropower
Land use
arable land: 2.7% permanent crops: 0% other: 97.3% (2005)
Environmental current issues
water pollution; acid rain damaging forests and adversely affecting lakes, threatening fish stocks; air pollution from vehicle emissions
Climate
Coastal areas have a moderate climate owing to the Gulf Stream and North Atlantic Drift. Inland temperatures are more extreme with hot summers and cold winters (November to March). In general, the lowlands of the south experience colder winters and warmer summers than the coastal areas. Rain is distributed throughout the year with frequent inland snowfalls during the winter. The northern part of the country inside the Arctic Circle has continuous daylight at midsummer, and twilight all day during winter. Required clothing European according to the season. Light- to mediumweights are worn in summer. Warmer clothing is required during the winter. Waterproofing is advisable throughout the year.
Time difference
time difference: UTC+1 daylight saving time: +1hr, begins last Sunday in March; ends last Sunday in October
Population
4,610,820 (July 2006 est.)
Age structure
0-14 years: 19.3% (male 455,122/female 434,009) 15-64 years: 65.9% (male 1,542,439/female 1,496,745) 65 years and over: 14.8% (male 288,509/female 393,996) (2006 est.)
Median age
total: 38.4 years male: 37.6 years female: 39.3 years (2006 est.)
Population growth rate
0.38% (2006 est.)
Birth rate
11.46 births/1,000 population (2006 est.)
Death rate
9.4 deaths/1,000 population (2006 est.)
Net migration rate
1.73 migrant(s)/1,000 population (2006 est.)
Sex ratio
at birth: 1.05 male(s)/female under 15 years: 1.05 male(s)/female 15-64 years: 1.03 male(s)/female 65 years and over: 0.73 male(s)/female total population: 0.98 male(s)/female (2006 est.)
Life expectancy at birth
total population: 79.54 years male: 76.91 years female: 82.31 years (2006 est.)
Total fertility rate
1.78 children born/woman (2006 est.)
Business Practices
Suit and tie are the norm for business meetings. Prior appointments are necessary and Norwegian business people tend to be reserved and formal. Punctuality is expected and essential to successful business dealings. English is widely spoken both by businessmen and the service industry. Calling cards are commonly exchanged at meetings. Office hours are 0800-1600 Monday to Friday.
Crime
Petty crime does occur, but at a low level compared to other European countries. Pickpockets operate in areas where crowds gather in Oslo such as Gardermoen Airport and the Central Railway Station, especially during the peak tourist season (May-September). Thieves have also begun to target dining areas in hotels, particularly buffets, and steal purses or briefcases left at a table while the diner is getting food. Violent crime, however, remains the exception; thieves or burglars almost never use weapons. The phone number for the police in Norway is 112.
Hotels
First-class hotels are to be found all over the country. Facilities in all establishments are classified, as hotels must come up to official high standards; for example, there must be a reception service, dining room, and a minimum of 30 rooms, each with full bath or shower. Many hotels are still family-run establishments.
Communications
Telephone IDD service is available in the country. The country code is 47 and the outgoing international code is 00. Fax services are available at major hotels. The telephone directories give instructions in English. There are Poste Restante facilities at post offices in all major cities. Post office hours: 0900-1700 Monday to Friday, 0900-1300 Saturday.
Electricity
is a 220 volts AC, 50Hz. Plugs are of the Continental round 2-pin type. Electricity 220 volts AC, 50Hz. Plugs are of the European round two-pin type.
Plug Types
C,F
Food And Dining
Breakfasts are often enormous with a variety of fish, meat, cheese and bread served from a cold buffet with coffee and boiled or fried eggs. Open sandwiches are topped with meat, fish, cheese and salads. Alcohol tends to be limited and expensive, although beer and wine are generally served in restaurants. Bars have table and counter service. Licensing laws are strict and alcohol is sold only by the State through special monopoly. Licensing hours are also enforced. National specialties
? Koldtbord (cold table), with smoked salmon, fresh lobster, shrimp and hot dishes.
? Roast venison.
? Ptarmigan in cream sauce.
? Wild cranberries.
? Multer (a berry with a unique flavor).
? Lutefisk (a hot, highly flavored cod fish)
? Herring.
? Reindeer meat.
? Shrimps. National drinks
? Aquavit (schnapps). Tipping : It is not customary to tip taxi drivers. Waiters expect a tip of no more than 5 per cent of the bill; porters at airports and railway stations charge per piece of luggage. Hotel porters are tipped NOK5-10 according to the number of pieces of luggage.

Nightlife
Several hotels and restaurants in Oslo stage cabaret programs and floor shows. Venues change so it is best to check in the local newspaper. Theaters, cinemas, nightclubs and discos are located in major centers. Resorts have dance music, and folk dancing is popular.
Entry departure requirements
Note On 25 March 2001 Norway became a signatory to the 1995 Schengen Agreement.
Visa immigration information
Passports
Passport valid for at least three months beyond length of stay required by all except:
1. EU/EEA nationals (EU + Iceland, Liechtenstein, Norway) and Swiss nationals holding a valid national ID card.
Note: EU and EEA nationals are only required to produce evidence of their EU/EEA nationality and identity in order to be admitted to any EU/EEA Member State. This evidence can take the form of a valid national passport or national identity card. Either is acceptable. Possession of a return ticket, any length of validity on their document, sufficient funds for the length of their proposed visit should not be imposed.
Visas
Required by all except the following for stays of up to three months:
(a) nationals shown in the chart above;
(b) nationals of Andorra, Argentina, Bermuda (only holders of BDTC (Bermuda) passports), Bolivia, Brazil, Brunei, Bulgaria, Chile, Costa Rica, Croatia, El Salvador, Guatemala, Honduras, Hong Kong (SAR), Israel, Korea (Rep), Liechtenstein, Macau (SAR), Malaysia, Mexico, Monaco, New Zealand, Nicaragua, Panama, Paraguay, Romania, San Marino, Singapore, Switzerland, Uruguay, Vatican City and Venezuela;
(c) nationals of Nordic countries (including ?rland, Faroe Islands, Greenland and Iceland).
Types of visa and cost
A uniform type of visa, the Schengen visa, is issued for tourist, business and private visits. The cost of a visa is US$43 but prices are subject to frequent change against the exchange rate. Fee is payable when visa is issued. Enquire at the nearest Embassy for further details.
Note
Spouses and children of EU or EEA nationals (providing spouse's/dependent's passport and birth certificate and [if applicable] the original marriage certificate are produced), and nationals of some other countries, receive their visas free of charge (enquire at Embassy for details).
Validity
Up to three months in any six-month period. For renewal or extension, apply to Embassy.
Application to
Consulate (or Consular section at Embassy); see Passport/Visa Information. An appointment must first be booked (tel: (09065) 540 725; for UK residents not residing in Scotland or Northern Ireland). If applying in the UK and living within the London area, all applications must be lodged in person at the Embassy. Travelers visiting just one Schengen country should apply to the Consulate of that country; travelers visiting more than one Schengen country should apply to the Consulate of the country chosen as the main destination or the country they will enter first (if they have no main destination).
Application requirements
(a) Valid passport with at least one blank page (this should not be submitted until the applicant is informed that a visa has been granted). (b) One completed application form. (c) Two recent passport-size photos. (d) Fee, payable in cash (exact money only), cheque supported by a cheque card or postal order (visa fees are non-refundable and payable on submission of the visa application). (e) Further documentation such as a letter of invitation, proof of accommodation or a letter from an employer explaining nature and duration of stay may be required, depending on purpose of visit. (f) Evidence of sufficient funds for stay (recent original bank statement, travelers cheques or credit card with credit limit statement; cash not accepted). (g) Parental consent for minors (under 18 years of age). (h) Evidence of occupation/student status. If unemployed, social security booklet must be submitted. (i) Proof of adequate and valid travel insurance (valid throughout the Schengen territory).
Working days required
The total length of processing time depends on nationality and individual circumstances.
Temporary residence
Apply to Embassy for residence and work permit if the stay exceeds three months.
HIV entry requirements
No Test Required
Departure tax
None
Embassies
Royal Norwegian Embassy in the UK
25 Belgrave Square, London SW1X 8QD, UK
Tel: (020) 7591 5500.
Website: www.norway.org.uk
Opening hours: Mon-Fri 1000-1200 visa section, 1330-1500 (visa telephone enquiries).
Norwegian commission in the UK
Royal Norwegian Embassy, 25 Belgrave Square, London, SW1X 8QD
Website: https://www.norway.no/en/uk
Royal Norwegian Embassy in the USA
2720 34th Street, NW, Washington, DC 20008, USA
Tel: (202) 333 6000.
Website: www.norway.org

Most visits to Norway are trouble-free but you should be aware of the global risk of indiscriminate international terrorist attacks, which could be against civilian targets, including places frequented by foreigners.
Travelers should not become involved with drugs of any kind. Possession of even small quantities can lead to heavy fines and/or imprisonment. This applies also to the use, possession and/or importation of khat/qat which is prohibited in Norway, though legal in the UK
This advice is based on information provided by the Foreign, Commonwealth & Development Office in the UK. It is correct at time of publishing. As the situation can change rapidly, visitors are advised to contact the following organizations for the latest travel advice:
British Foreign, Commonwealth & Development Office
Website: https://www.gov.uk/foreign-travel-advice/norway
US Department of State
Website: https://travel.state.gov/content/travel/en/international-travel/International-Travel-Country-Information-Pages/Norway.html
Currency
Norwegian Krone (NOK) = 100 ?re. Notes are in denominations of NOK1000, 500, 200, 100 and 50. Coins are in denominations of NOK20, 10, 5 and 1, and 50 ?re.
Currency restrictions
The import and export of local currency is limited to NOK25000. The export of foreign currency is unlimited, provided proof is shown that the currency was imported or obtained by conversion of other currencies.
Banking hours
Mon-Thur 0900-1600, Fri 0900-1700 and Sat 0900-1200.
Currency exchange
Eurocheque cards allow encashment of personal cheques. ATMs are widely available.
Credit cards
All major credit and debit cards are widely accepted. Check with your credit or debit card company for details of merchant acceptability and other services which may be available.
Travellers cheques
Accepted in banks, hotels, shops and by airlines.
| City/Region | City/Area code | Followed by |
| --- | --- | --- |
| Akershus | 67 | + 6 digits |
| Aust-Agder | 37 | + 6 digits |
| Buskerud | 32 | + 6 digits |
| Finnmark | 78 | + 6 digits |
| Hedmark | 62 | + 6 digits |
| Hordaland | 56 | + 6 digits |
| M?re og Romsdal | 71 | + 6 digits |
| Nordland | 76 | + 6 digits |
| Nord-Tr?ndelag | 74 | + 6 digits |
| Oppland | 61 | + 6 digits |
| Oslo | 2 | + 7 digits |
| ?stfold | 69 | + 6 digits |
| Rogaland | 52 | + 6 digits |
| Sogn og Fjordane | 57 | + 6 digits |
| S?r-Tr?ndelag | 73 | + 6 digits |
| Telemark | 35 | + 6 digits |
| Troms | 77 | + 6 digits |
| Vest-Agder | 38 | + 6 digits |
| Vestfold conuty | 33 | + 6 digits |