Quick Facts
Region: Asia & Oceania
Full Name: Kingdom of Nepal
Capital City: Kathmandu
Language Spoken: Nepali 47.8%, Maithali 12.1%, Bhojpuri 7.4%, Tharu (Dagaura/Rana) 5.8%, Tamang 5.1%, Newar 3.6%, Magar 3.3%, Awadhi 2.4%, other 10%, unspecified 2.5% (2001 census) note: many in government and business also speak English
Nepal Travel Insurance
Get travel insurance to Nepal from Direct Travel Insurance. We offer low cost and high quality travel insurance to Nepal and most of the world.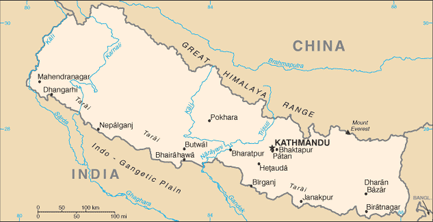 Geographic data
28 00 N, 84 00 E
Elevation Extremes
lowest point: Kanchan Kalan 70 m highest point: Mount Everest 8,850 m
Land boundaries
total: 2,926 km border countries: China 1,236 km, India 1,690 km
Natural hazards
severe thunderstorms, flooding, landslides, drought, and famine depending on the timing, intensity, and duration of the summer monsoons
Natural resources
quartz, water, timber, hydropower, scenic beauty, small deposits of lignite, copper, cobalt, iron ore
Land use
arable land: 16.07% permanent crops: 0.85% other: 83.08% (2005)
Environmental current issues
deforestation (overuse of wood for fuel and lack of alternatives); contaminated water (with human and animal wastes, agricultural runoff, and industrial effluents); wildlife conservation; vehicular emissions
Climate
Nepal?s weather is generally predictable and pleasant. There are four climatic seasons: March to May (spring), June to August (summer), September to November (autumn) and December to February (winter). The monsoon is approximately from the end of June to the middle of September. About 80 per cent of the rain falls during that period, so the remainder of the year is dry. Spring and autumn are the most pleasant seasons; winter temperatures drop to freezing with a high level of snowfall in the mountains. Summer and late spring temperatures range from 28?C (83?F) in the hill regions to more than 40?C (104?F) in the Terai. In winter, average maximum and minimum temperatures in the Terai range from a brisk 7?C (45?F) to a mild 23?C (74?F). The central valleys experience a minimum temperature often falling bellow freezing point and a chilly 12?C (54?F) maximum. Much colder temperatures prevail at higher elevations. The Kathmandu Valley, at an altitude of 1310m (4297ft), has a mild climate, ranging from 19-27?C (67-81?F) in summer, and 2-20?C (36-68?F) in winter.\nRequired clothing\nLightweight and tropical clothes with umbrella are advised for June to August. Between October and March, lightweight clothes are worn in Kathmandu, with a coat for evenings and warm clothing for the mountains.
Time difference
time difference: UTC+5.75
Population
28,287,147 (July 2006 est.)
Age structure
0-14 years: 38.7% (male 5,648,959/female 5,291,447) 15-64 years: 57.6% (male 8,365,526/female 7,925,941) 65 years and over: 3.7% (male 513,777/female 541,497) (2006 est.)
Median age
total: 20.3 years male: 20.1 years female: 20.4 years (2006 est.)
Population growth rate
2.17% (2006 est.)
Birth rate
30.98 births/1,000 population (2006 est.)
Death rate
9.31 deaths/1,000 population (2006 est.)
Net migration rate
0 migrant(s)/1,000 population (2006 est.)
Sex ratio
at birth: 1.05 male(s)/female under 15 years: 1.07 male(s)/female 15-64 years: 1.06 male(s)/female 65 years and over: 0.95 male(s)/female total population: 1.06 male(s)/female (2006 est.)
Life expectancy at birth
total population: 60.18 years male: 60.43 years female: 59.91 years (2006 est.)
Total fertility rate
4.1 children born/woman (2006 est.)
Business Practices
The main language is Nepali. However, many businessmen can speak both Hindi and English. Suits or shirt and tie are typically worn to business meetings. Office hours are 0930-1700 Sunday to Thursday. Government offices are open 1000-1600 (winter) and 1000-1700 (summer) Sunday to Thursday. The common greeting is "Namaste" (Hello), pronounced NA-MAS-TAY. Shaking hands is not a common form of greeting; the normal greeting is to press the palms together in a prayer-like gesture. A gift given to a host or hostess will probably be laid aside unopened; to open a parcel in the presence of a guest is considered uncivil.
Crime
Street crime is prevalent in Katmandu as well as in other areas frequented by foreigners. While the rate of violent crime has been historically low in Katmandu, there has generally been a significant increase in armed robberies and violence associated with Maoist guerrilla activity. On several occasions western tourists have been the victims of violence, robbery and in one case murder. Incidents of Maoist violence have also occurred in the past in the districts of Kavre, Sindhuli, Sindupalchowk, Dolaka, Dang, Dolpa, Ramechap and Kavrepalanchowk. To avoid falling victim to crime, visitors are advised to travel in groups, avoid carrying large sums of cash, exchange money only at banks and hotels, and limit shopping to daylight hours. Travelers should be especially alert at or near major tourist sights, where most pickpocketing occurs. Passports and cash should be carried in a protected neck pouch, not in a backpack.
Hotels
Katmandu has an increasing number of international-class hotels which are particularly busy during spring and autumn, when it is advisable to book well in advance. Comfortable hotels can also be found in Pokhara, and the Royal Chitwan National Park in the Terai Jungle. A government tax is added to bills, which varies according to the star rating of the hotel. Besides the officially recognized hotels, there are a number of lodges or hostels. In Katmandu these are located in the old part of the town, in the streets around the Durbar Square or in the Thamel district. The Lukla Sherpa Cooperative offers lodging to mountaineers in Sherpa country and accommodation at Paplu in the Sagarmatha zone can be provided by the Hostellerier des Sherpas.
Communications
Telephone IDD service is available to Katmandu only. All other calls go through the operator. The country code is 977 and the outgoing international code is 00. The Telecommunication Office, Tripureshnawar, deals with telephone calls and cables. The International Telephone Office is open 1000-1700 Sunday to Friday, but international telephone connections are very difficult. Many travel agents and a few hotels have fax services. The Nepal Telecommunications Corporation booth at the airport has fax services. The Central Telegraph Office offers a 24-hour international telephone and telegram service seven days a week. Postal services are available in most centers. Make sure that letters are hand-cancelled at the post office (post boxes should not be used for important communications). Main hotels will also handle mail. Post office hours: the General Post Office in Katmandu is open 1000-1700 (1600 in winter) Sunday to Friday.
Electricity
is 220 volts AC, 50Hz. There are frequent power cuts. Electricity 220 volts AC, 50Hz. There are frequent power cuts.
Plug Types
C,D,M
Food And Dining


National specialties:
? Dal Bhat (lentils and rice).
? Tarkan (spiced vegetables).
? Gurr (a Sherpa dish of raw potatoes, pounded with spices, then grilled like pancakes on a hot, flat stone ground and mixed with milk, tea or water).
? Rotis (flat pancake-like bread made from wheat or rice flour). National drinks:
? Chiya (tea brewed with milk, sugar and spices; in the mountains it is salted with yak butter).
? Arak (potato alcohol).
? Raksi (wheat or rice spirit).
? Chang (beer made from fermented barley, maize, rye or millet).

Tipping:
Only usual in tourist hotels and restaurants. Taxi drivers need only be tipped when they have been particularly helpful. 10 per cent is sufficient for all three services. Elsewhere, tipping should be avoided.

Nightlife
Kathmandu has a few cinemas featuring mainly Indian films. For Western films, see the programs of the European and US cultural centers. Most people are asleep by 2200. Nightlife is fairly limited; a few temples and restaurants offer entertainment and some tourist hotels stage Nepalese folk dances and musical shows. There are casinos with baccarat, chemin de fer and roulette, open 24 hours a day, every day, at some 5-star hotels in Kathmandu.
Entry departure requirements
Visa immigration information
Passports
Valid passport required by all except nationals of India holding proof of identity and arriving from India. (Acceptable proofs include Voter?s Identity Card issued by the Election Commission of India or Photo Identity Card issued by the state or central Government of India or Temporary Photo ID issued by the Indian Diplomatic Mission in Nepal.)
Note: Children under 10 years old traveling from India to Nepal are not required to produce photo identification.
Visas
Required by all except the following:
(a) nationals of India;
(b) transit passengers continuing their journey by the same or first connecting aircraft on the same day provided holding valid onward or return documentation and not leaving the airport.
Types of visa and cost
Tourist: US$34 (single-entry); US$94 (multiple-entry). Business: applications can be made on arrival which need to be approved by the Ministry of Industry.
Note
(a) All nationals may obtain tourist visas on arrival at the airport. Two passport-size photos are required. (b) Business can be conducted on a Tourist visa for up to 30 days.
Validity
Visas are valid for up to six months from date of issue. Visas are valid for 60 days on first visit to Nepal in a visa year, but only valid for 30 days when national is visiting Nepal for the second or more time in a visa year (Jan 1-Dec 31). They may be extended in Nepal at the Department of Immigration, Kathmandu (tel: 494 273 or 337), or the Immigration Office, Pokhara. Maximum stay in Nepal is 150 days in any calendar year. For full conditions on visa extension (including charges and conditions), contact the Consulate (or Consular section at Embassy); see Passport/Visa Information.
Application to
Consulate (or Consular section at Embassy). Visas can also be obtained on arrival from the Immigration authorities at all entry points (with fees payable in US Dollars) provided travelers are in possession of valid travel documents, two passport photos and the relevant fee. Applications for business visas must be made to the Department of Immigration (see above under Validity for address).
Application requirements
(a) One completed application form. (b) Passport valid for at least six months. (c) One passport-size photo. (d) Fee (in cash, postal order or bank draft). (e) A stamped-addressed envelope if applying by post. Business: (a)-(e) and, (f) Letter from company explaining purpose of visit, accompanying application made direct to Department of Immigration in Nepal (as above).
Working days required
Minimum 24 hours if applying in person; two weeks if applying by post.
HIV entry requirements
No Test Required
Departure tax
NRs1356 for international flights to the SAARC region (the South Asian Association for Regional Cooperation), which includes Bangladesh, Bhutan, India, the Maldives, Pakistan and Sri Lanka; NRs1695 for flights to all other countries. Children under two years are exempt.
Embassies
Royal Nepalese Embassy in the UK
12A Kensington Palace Gardens, London W8 4QU, UK
Tel: (020) 7229 1594 or 6231.
Website: www.nepembassy.org.uk
Opening hours: Mon-Fri 0900-1700; 1000-1200 (consular section).
Royal Nepalese Embassy in the USA
2131 Leroy Place, NW, Washington, DC 20008, USA
Tel: (202) 667 4550.
Website: www.nepalembassyusa.org
Royal Nepalese Consulate General in the USA
820 Second Avenue, Suite 17B, 17th Floor, New York, NY 10017, USA
Tel: (212) 370 3988/9.

Travelers are advised against all but essential travel to Nepal during the current period of enhanced tension as there is a risk of being caught up in violence on the streets. Travelers already in Nepal should decide whether their presence there is essential.
The political situation in Nepal remains tense and unpredictable and levels of violence remain high across Nepal. Despite bans, large scale demonstrations have taken place across Nepal since 6 April, many of which have turned violent. At least three people have been killed and many more have been injured as the police have used tear gas, opened fire on crowds with both plastic and real bullets and beaten protestors with batons. Protestors have been throwing bricks and blocking roads with burning tires and trees.
The political parties have extended their general strike, which began on 6 April 2006, ?until further notice?. Violent flashpoints are likely to continue during this period of instability.
The daytime curfew has been lifted in Kathmandu. The night time curfew in Kathmandu, from 2300 until 0400, has been extended to areas beyond the ring road and remains in place for an ?indefinite period?. Both day and night time curfews have been imposed in other cities and along highways around the country. The timing of the curfews vary and they are often announced at short notice. Visitors should check the timings locally. Travelers already in Nepal are advised to respect the curfews and to stay indoors during curfew hours. They should only move around outside the curfew hours with care.
The majority of problems encountered by tourists in Nepal are trekking accidents and drug-related incidents. Travelers should use a reputable travel agent and only trek with an experienced guide and in a group.
This advice is based on information provided by the Foreign & Commonwealth Office in the UK. It is correct at time of publishing. As the situation can change rapidly, visitors are advised to contact the following organizations for the latest travel advice:
British Foreign, Commonwealth & Development Office
Tel: (0845) 850 2829.
Website: https://www.gov.uk/foreign-travel-advice/nepal
US Department of State
Website: https://travel.state.gov/content/travel/en/international-travel/International-Travel-Country-Information-Pages/Nepal.html
Currency
Nepalese Rupee (NPR) = 100 paisa. Notes are in denominations of NPR1000, 500, 100, 50, 20, 10, 5, 2 and 1. Coins are in denominations of 50, 25 and 10 paisa. Note Visitors should bear in mind that foreign visitors other than Indian nationals are required to pay their airline tickets, trekking permits and hotel bills in foreign currency.
Currency restrictions
Import of local and Indian currency is prohibited, except for nationals of Nepal and India. Foreign currency is unlimited but must be declared. Export of local and foreign currency is limited to the amounts declared on arrival. Only 10 per cent of the amount exchanged into local currency will be reconverted into foreign currency on departure and all exchange receipts must be retained.
Banking hours
Banks in the Kathmandu valley are open Mon-Fri, 0900-1530. In other areas, opening hours are usually Sun-Thurs 1000-1500 and Fri 1000-1200. Licensed money changers are open 12 hours per day.
Currency exchange
It is illegal to exchange currency with persons other than authorized dealers in foreign exchange (banks, hotels and licensed money changers). Visitors should obtain Foreign Exchange Encashment Receipts when changing currency and keep them, as these will help in many transactions, including getting visa extensions and trekking permits.
Credit cards
American Express is widely accepted, with MasterCard and Visa in tourist shops, hotels, restaurants and agencies. Check with your credit or debit card company for details of merchant acceptability and other services which may be available. ATMs are widely available in Nepal.
Travellers cheques
Accepted at banks and major hotels. If trekking, it is important to bear in mind that cash is necessary. To avoid additional exchange rate charges, travelers are advised to take traveller's cheques in US Dollars or Pounds Sterling.
| City/Region | City/Area code | Followed by |
| --- | --- | --- |
| A. Khachi | (0)78 | + 6 digit subscriber nr |
| Achham | (0)97 | + 6 digit subscriber nr |
| Baglung | (0)68 | + 6 digit subscriber nr |
| Baitadi | (0)95 | + 6 digit subscriber nr |
| Bajhang | (0)92 | + 6 digit subscriber nr |
| Banke | (0)81 | + 6 digit subscriber nr |
| Bara | (0)53 | + 6 digit subscriber nr |
| Bardia | (0)84 | + 6 digit subscriber nr |
| Bhojpur | (0)29 | + 6 digit subscriber nr |
| Chitwan | (0)57 | + 6 digit subscriber nr |
| Dadeldhura | (0)99 | + 6 digit subscriber nr |
| Dailekh | (0)89 | + 6 digit subscriber nr |
| Darchula | (0)93 | + 6 digit subscriber nr |
| Dhading | (0)10 | + 6 digit subscriber nr |
| Dhankuta | (0)26 | + 6 digit subscriber nr |
| Dhanusha | (0)44 | + 6 digit subscriber nr |
| Dolkha | (0)51 | + 6 digit subscriber nr |
| Doti | (0)94 | + 6 digit subscriber nr |
| Gorkha | (0)65 | + 6 digit subscriber nr |
| Gulmi | (0)79 | + 6 digit subscriber nr |
| Ilam | (0)27 | + 6 digit subscriber nr |
| Jhapa | (0)23 | + 6 digit subscriber nr |
| Jumla | (0)87 | + 6 digit subscriber nr |
| Kailali | (0)91 | + 6 digit subscriber nr |
| Kapilvastu | (0)76 | + 6 digit subscriber nr |
| Kaski | (0)63 | + 6 digit subscriber nr |
| Kathmandu | (0)1 | + 7 digit subscriber nr |
| Khotang | (0)36 | + 6 digit subscriber nr |
| Lamjung | (0)66 | + 6 digit subscriber nr |
| Mahottari | (0)46 | + 6 digit subscriber nr |
| Morang | (0)25 | + 6 digit subscriber nr |
| Myagdi | (0)71 | + 6 digit subscriber nr |
| Okhaldhunga | (0)37 | + 6 digit subscriber nr |
| Palpa | (0)75 | + 6 digit subscriber nr |
| Panchthar | (0)24 | + 6 digit subscriber nr |
| Parbat | (0)67 | + 6 digit subscriber nr |
| Pyuthan | (0)86 | + 6 digit subscriber nr |
| Rautahat | (0)55 | + 6 digit subscriber nr |
| S. Palchok | (0)11 | + 6 digit subscriber nr |
| S. Sabha | (0)31 | + 6 digit subscriber nr |
| Sindhuli | (0)48 | + 6 digit subscriber nr |
| Siraha | (0)33 | + 6 digit subscriber nr |
| Solukhumbu | (0)38 | + 6 digit subscriber nr |
| Surkhet | (0)83 | + 6 digit subscriber nr |
| Udaypur | (0)35 | + 6 digit subscriber nr |