Quick Facts
Region: Asia & Oceania
Full Name: New Zealand
Capital City: Wellington
Language Spoken: English (official), Maori (official), Sign Language (official)
New Zealand Travel Insurance
Get travel insurance to New Zealand from Direct Travel Insurance. We offer low cost and high quality travel insurance to New Zealand and most of the world.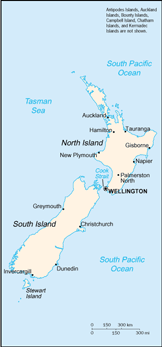 Geographic data
41 00 S, 174 00 E
Elevation Extremes
lowest point: Pacific Ocean 0 m highest point: Aoraki-Mount Cook 3,754 m
Land boundaries
0 km
Natural hazards
earthquakes are common, though usually not severe; volcanic activity
Natural resources
natural gas, iron ore, sand, coal, timber, hydropower, gold, limestone
Land use
arable land: 5.54% permanent crops: 6.92% other: 87.54% (2005)
Environmental current issues
deforestation; soil erosion; native flora and fauna hard-hit by invasive species
Climate
Subtropical in the North and temperate in the South. The North has no extremes of heat or cold but winter can be quite cool in the South, with snow in the mountains. The eastern areas often experience drought conditions in summer; the West, particularly in the South Island, has more rain.\nRequired clothing\nLightweight cottons and linens are worn in the North Island most of the year and in summer in the South Island. Mediumweights are worn during winter in the South Island. Rainwear is advisable throughout the year, and essential if visiting the South Island?s rainforest areas.
Time difference
time difference: UTC+12 daylight saving time: +1hr, begins first Sunday in October; ends third Sunday in March note: New Zealand is divided into two time zones, including Chatham Island
Population
4,076,140 (July 2006 est.)
Age structure
0-14 years: 21.1% (male 439,752/female 419,174) 15-64 years: 67.1% (male 1,374,850/female 1,361,570) 65 years and over: 11.8% (male 210,365/female 270,429) (2006 est.)
Median age
total: 33.9 years male: 33.2 years female: 34.7 years (2006 est.)
Population growth rate
0.99% (2006 est.)
Birth rate
13.76 births/1,000 population (2006 est.)
Death rate
7.53 deaths/1,000 population (2006 est.)
Net migration rate
3.63 migrant(s)/1,000 population (2006 est.)
Sex ratio
at birth: 1.04 male(s)/female under 15 years: 1.05 male(s)/female 15-64 years: 1.01 male(s)/female 65 years and over: 0.78 male(s)/female total population: 0.99 male(s)/female (2006 est.)
Life expectancy at birth
total population: 78.81 years male: 75.82 years female: 81.93 years (2006 est.)
Total fertility rate
1.79 children born/woman (2006 est.)
Business Practices
Business is usually conducted in a somewhat formal fashion similar to the US and most of Europe. Conservative suits are typically worn for meetings, though some businessmen dress in shorts and knee-length socks during summer, particularly in the North Island. Appointments are necessary and punctuality is expected. Calling cards are usually exchanged. Office hours are 0900-1700 Monday to Friday. Legal, regulatory, and accounting systems are transparent. Accounting is based on British and U.S. systems. The New Zealand Society of Accountants has developed Statements of Standard Accounting Practice (SSAP) that are mandatory for its members. All companies listed on the Stock Exchange must comply with the SSAP and issue annual reports and abbreviated half-yearly reports to shareholders. In 1994, the Financial Reporting Act of 1993 came into effect, legally requiring firms to comply with financial accounting standards set out by an Accounting Standards Review Board established by the Act. The mandatory standards vary depending on the type of firm involved. While small companies not listed on the New Zealand Stock Exchange (NZSE) may include in their constitutions measures to restrict hostile takeovers by outside interests, domestic or foreign, the NZSE does not permit such measures by companies listed in the NZSE. Foreign-owned or controlled companies are not prevented from participating in industry standards-setting organizations. The primary fact of investment in New Zealand is that foreign investment is welcomed, encouraged, and prominent in the economy.
Crime
Crime is increasing, especially robberies and assaults, but the crime rate is still considerably less than in most of the urban areas in Europe or the US. Police are well trained and professional, but sometimes slow to respond to calls. Visitors should exercise normal caution to guard valuables, including passports, lock their vehicles and properly store valuables and be especially cautious, if going out alone at night.
Hotels
New Zealand has hotels and motels of international standard, moderately priced modern hotels, private hotels and guesthouses. Rates on the whole are cheaper in rural areas, while every city and town has low-cost motels or hotels. Low-cost motels have grown greatly in popularity in recent years, and most have a wide range of facilities; they offer self-catering, and account for 75% of the accommodation. Accommodations may become difficult to arrange around the Olympics in Sydney, Australia in the summer of 2000 when travelers will likely visit New Zealand as a side trip.
Communications
Telephone IDD service is available. The country code is 64 and the outgoing international code is 00. Many hotels provide fax facilities. All main post offices and some hotels have public telex facilities. Post offices are open 0900-1700 Monday to Friday.
Electricity
is a 230 volts AC, 50Hz. Most hotels provide 110-volt AC sockets (rated at 20 watts) for electric razors only. Electricity 230 volts AC, 50Hz. Most hotels provide 110-volt AC sockets (rated at 20 watts) for electric razors only.
Plug Types
I
Food And Dining
New Zealand has a reputation as a leading producer of meat and dairy produce with lamb, beef and pork on most menus. Venison is also widely available. Locally produced vegetables, such as kumara (a natural sweet potato), are good. There is also a wide range of fish available, including snapper, grouper and John Dory. Seasonal delicacies such as whitebait, oysters, crayfish, scallops and game birds are recommended. New Zealand is also establishing a reputation for French-type cheeses: Bleu de Bresse, Brie, Camembert and Montagne Bleu.

National specialties: ?Kumara (native sweet potato) in Auckland. ?Feijoa (local fruit) and Golden fleshed Zespri Gold kiwi fruit from the Bay of Plenty. ?Battered fish and chips from Gisbourne.
? Pavlova (a large roundcake with a meringue base topped with cream and fruit) from Taranaki. ?Salmon and mussels from Marlborough
? Yams, seaweed and crayfish from Canterbury.
? Whitebait from the West Coast. ?Koura (freshwater crayfish) from Central Otago. ?Bluff Oysters and muttonbird from Southland. Things to know: Many picnic areas with barbecue facilities are provided at roadside sites. Restaurants are usually informal except for very exclusive ones. Waiter service is normal, but self-service and fast-food chains are also available. Some restaurants invite the customer to ?BYO? (bring your own liquor). National drinks: New Zealand boasts world-class domestic wines and beers, some of which have won international awards. A wide range of domestic and imported wines, spirits and beers is available from hotel bars, ?liquor stores? and wine shops.
? Merlot (Auckland and Wairarapa), Chardonnay (Bay of Plenty, Gisbourne, Wairarapa and Canterbury), Pinot Gris and Noir (Auckland, Wairarapa, Marlborough and Central Otago), Sauvignon Blanc (Marlborough and Wairarapa).
? New Zealand draught beer and lager. Things to know: Bars have counter service and public bars are very informal. Lounge bars and ?house bars? (for hotel guests only) are sometimes more formal and occasionally have table service. The minimum drinking age in a bar is 18. There is some variation in licensing hours in major cities and some hotel bars open Sunday, providing a meal is eaten. In most hotels and taverns, licensing hours are 1100-2300 except Sunday. Tipping : Service charges and taxes are not added to hotel or restaurant bills. Tips are not expected.

Nightlife
New Zealand has an active and varied entertainment industry. Theaters offer good entertainment ranging from drama, comedy and musicals to pop concerts and shows. Concert tickets can be booked online (website: www.ticketek.com). In large cities, there are often professional performers or guest artists from overseas. Visitors should check ?What?s On? in local papers. There are also cinemas and a small selection of nightclubs in larger cities.
Entry departure requirements
Visa immigration information
Passports
Passport valid for at least three months beyond the intended period of stay required by all. Some governments are not recognized by New Zealand and citizens in doubt should check with the New Zealand Immigration Service (see Passport/Visa Information).
Visas
Required by all except the following:
(a)nationals of the EU and nationals of countries referred to in the chart above for stays of up to three months, except nationals of the UK who may stay for up to six months and nationals of Australia who may stay indefinitely;
(b) nationals of Andorra, Argentina, Bahrain, Brazil, Brunei, Chile, Hong Kong (SAR), Iceland, Israel, Korea (Rep), Kuwait, Liechtenstein, Malaysia, Mexico, Monaco, Norway, Oman, Qatar, San Marino, Saudi Arabia, Singapore, South Africa, Switzerland, United Arab Emirates, Uruguay and Vatican City for stays of up to three months;
(c) transit passengers continuing their journey by the same or first connecting aircraft within 24 hours, providing they hold onward or return documentation and are not leaving the airport and are not transiting to or from a South Pacific Island or a national of the Kingdom of Nepal;
(d) those in transit whose next or final destination is Australia and the traveller holds a current Australian visa.
(e) nationals traveling on a UN laissez-passer for stays of up to three months.
Types of visa and cost
Visitor: US$86 Transit: US$94 Student: US$137 Business visitors discussing or negotiating business arrangements and staying for up to three months can travel using a visitor visa.
Validity
Visitor Permit: nine months in any 18 month period. This can be extended by a further three months in certain circumstances. Visitors must then remain outside New Zealand for a period of time equal to that they spent inside New Zealand, before applying for another visa.
Application to
Consulate (or Consular section at Embassy or Immigration Service at High Commission); see Passport/Visa Information.
Application requirements
Visitor Permit/Transit Visa: (a) Completed application form. (b) One recent passport-size photo of each person named in the application. (c) Passport valid for three months beyond the date of departure. (d) Proof of sufficient funds for duration of stay, approximately NZ$1000 per person per month, or NZ$400 per person per month when accommodation has been paid for in advance (eg recent bank statements). (e) Onward or return ticket, or declaration by New Zealand sponsor that cost of travel back to home country will be met. (f) Fee (payable in cash or by bank/building society cheque, credit card accepted by some offices, money order or bank draft). Student: (a)-(f) and, (i) Confirmation of placement and payment of fees at an approved educational institution.
Note
Applicants must prove themselves to be in good health (ie not suffering from ill health that may become a burden to the New Zealand health services) and of good character (by providing a police certificate showing a good record. Those applying for a visa may also be asked to undergo an interview and/or a medical examination prior to travel, or by the Immigration Officer at port of entry.
Working days required
Two weeks, but this may vary depending on type of visa required and nationality of the applicant.
Temporary residence
Enquire at the nearest New Zealand High Commission or Immigration Service for details.
HIV entry requirements
No Test Required
Departure tax
Up to NZ$25 (depending on airport) plus NZ$5 security tax; children aged under 12 are exempt (except at Wellington where only passengers under two years of age are exempt and passengers aged two to 11 pay NZ$10).Transit passengers are exempt for 24 hours.
Embassies
New Zealand Immigration Service in the UK
Mezzanine Floor, New Zealand House, 80 Haymarket, London SW1Y 4TE, UK
Tel: (09069) 100 100 (visa information and immigration service; calls cost ?1 per minute).
Opening hours: Mon-Fri 1000-1545.
Website: www.immigration.govt.nz
New Zealand High Commission in the UK
Second Floor, New Zealand House, 80 Haymarket, London SW1Y 4TQ, UK
Tel: (020) 7930 8422.
Website: www.nzembassy.com
Opening hours: Mon-Fri 0900-1700.
New Zealand Embassy in the USA
37 Observatory Circle, NW, Washington, DC 20008, USA
Tel: (202) 328 4800.
Travel Advice
If you are visiting remote areas, travelers should ensure that their journey details are made known to local authorities or friends/relatives before setting out. New Zealand weather can be treacherous, especially in winter.
Most visits to New Zealand are trouble-free but you should be aware of the global risk of indiscriminate international terrorist attacks, which could be against civilian targets, including places frequented by foreigners.
This advice is based on information provided by the Foreign, Commonwealth & Development Office in the UK. It is correct at time of publishing. As the situation can change rapidly, visitors are advised to contact the following organizations for the latest travel advice:
British Foreign, Commonwealth & Development Office
Tel: (0845) 850 2829.
Website: https://www.gov.uk/foreign-travel-advice/new-zealand
US Department of State
Website: https://travel.state.gov/content/travel/en/international-travel/International-Travel-Country-Information-Pages/NewZealand.html
Currency
New Zealand Dollar (NZD; symbol: NZ$) = 100 cents. Notes are in denominations of NZ$100, 50, 20, 10 and 5. Coins are in denominations of NZ$2 and 1, and 50, 20, 10 and 5 cents.
Currency restrictions
There are no restrictions on the import and export of foreign or local currency.
Banking hours
Mon-Fri 0900-1630.
Currency exchange
Exchange facilities are widely available throughout New Zealand.
Credit cards
American Express, Diners Club, MasterCard and Visa are widely accepted. Check with your credit or debit card company for details of merchant acceptability and other services that might be available.
Travellers cheques
Can be exchanged at official rates at trading banks, large hotels and some shops. To avoid additional exchange rate charges, travelers are advised to take traveller's cheques in US Dollars, Pounds Sterling or Australian Dollars.
| City/Region | City/Area code | Followed by |
| --- | --- | --- |
| Antarctica | (0)2 | + 7 digit subscriber nr |
| Auckland and upper North Island | (0)9 | + 7 digit subscriber nr |
| Central North Island | (0)7 | + 7 digit subscriber nr |
| Lower North Island | (0)6 | + 7 digit subscriber nr |
| South Island (incl. Chatham and Stewart Islands) | (0)3 | + 7 digit subscriber nr |
| Wellington | (0)4 | + 7 digit subscriber nr |