Quick Facts
Region: Europe
Full Name: Kingdom of the Netherlands
Capital City: Amsterdam
Language Spoken: Dutch (official), Frisian (official)
Netherlands Travel Insurance
Get travel insurance to Netherlands from Direct Travel Insurance. We offer low cost and high quality travel insurance to Netherlands and most of the world.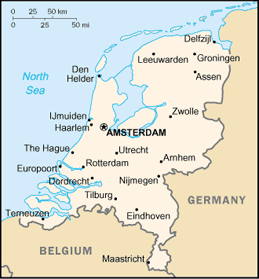 Geographic data
52 30 N, 5 45 E
Elevation Extremes
lowest point: Zuidplaspolder -7 m highest point: Vaalserberg 322 m
Land boundaries
total: 1,027 km border countries: Belgium 450 km, Germany 577 km
Natural hazards
flooding
Natural resources
natural gas, petroleum, peat, limestone, salt, sand and gravel, arable land
Land use
arable land: 21.96% permanent crops: 0.77% other: 77.27% (2005)
Environmental current issues
water pollution in the form of heavy metals, organic compounds, and nutrients such as nitrates and phosphates; air pollution from vehicles and refining activities; acid rain
Climate
Mild, maritime climate. Summers are generally warm with changeable periods, but excessively hot weather is rare. Winters can be fairly cold with the possibility of some snow. Rainfall is prevalent all year. Required clothing European according to season, with light- to mediumweights worn in warmer months and medium- to heavyweights in winter. Rainwear is advisable all year.
Time difference
time difference: UTC+1 daylight saving time: +1hr, begins last Sunday in March; ends last Sunday in October note: The Hague (seat of government)
Population
16,491,461 (July 2006 est.)
Age structure
0-14 years: 18% (male 1,515,123/female 1,445,390) 15-64 years: 67.8% (male 5,656,448/female 5,525,481) 65 years and over: 14.2% (male 994,723/female 1,354,296) (2006 est.)
Median age
total: 39.4 years male: 38.6 years female: 40.2 years (2006 est.)
Population growth rate
0.49% (2006 est.)
Birth rate
10.9 births/1,000 population (2006 est.)
Death rate
8.68 deaths/1,000 population (2006 est.)
Net migration rate
2.72 migrant(s)/1,000 population (2006 est.)
Sex ratio
at birth: 1.05 male(s)/female under 15 years: 1.05 male(s)/female 15-64 years: 1.02 male(s)/female 65 years and over: 0.73 male(s)/female total population: 0.98 male(s)/female (2006 est.)
Life expectancy at birth
total population: 78.96 years male: 76.39 years female: 81.67 years (2006 est.)
Total fertility rate
1.66 children born/woman (2006 est.)
Business Practices
Conservative business attire is recommended at all times. Business appointments are also required and visitors are expected to be punctual. It is best to refrain from using first names until a firm relationship has been formed. English usually can be used in commercial correspondence however, some expressions and terms may have different meanings. There are many secretarial agencies in The Netherlands, such as International Secretaries, who will be able to supply short-term help to visiting business travelers. Office hours are 0830-1700 Monday to Friday.
Crime
While the rate of violent crime in the Netherlands is low, tourists are occasionally targeted, usually in conjunction with robbery attempts. Visitors to larger cities frequently fall prey to pickpockets, bag snatchers, and other petty thieves. Throughout the Netherlands, thefts of bicycles and of personal belongings from automobiles are very common. Gangs of thieves, who often work in pairs, particularly plague the train from Schiphol Airport to Amsterdam Central Station. In those instances, one thief distracts the victim, often by asking for directions, while an accomplice moves in on the victim's momentarily unguarded handbag, backpack, or briefcase. The thieves typically time their thefts to coincide with train stops so they may quickly exit. Within Amsterdam, thieves are very active in and around the Central Train Station, the red light district, in restaurants, and on public transportation, especially Trams One, Two, and Five between the Central Station and the Museum District. Thieves sometimes enter restaurants with the excuse of selling you something or looking for someone. Bags have been known to be stolen from between people's feet while they were distracted. Ensure you keep your valuables safely with you at all times and do not leave them unattended or hanging on the back of a chair. The police departments in the Netherlands are modern, well equipped and very capable of providing rapid and effective assistance to any incident.
Hotels
The Netherlands has a wide range of accommodation, from luxury hotels in big towns to modern motels along motorways. The Netherlands Board of Tourism issues a shield to all approved hotels. This must be affixed to the front of the hotel in a conspicuous position. Hotels which display this sign conform to the official standards set by Dutch law on hotels, which protects the tourist and guarantees certain standards of quality.
Communications
Full telephone IDD service is available in the Netherlands. The country code is 31, (followed by 20 for Amsterdam, 10 for Rotterdam and 70 for The Hague), and the outgoing international code is 09. Telephone information is given in French, English and German. Calls can be made from public booths or post offices. Booths accept 25 cents, NLG1 and NLG2.5 coins or cards. Post offices are open 0830-1700 Monday to Friday. Some major post offices are open 0830-1200 Saturday. There are all-night post offices in Amsterdam (Niedwezijds Voorburgwal, behind the Royal Palace) and Rotterdam (Coolsingel).
Electricity
is a 220 volts AC, 50Hz, 2-pin European-style plugs are in use. Electricity 220 volts AC, 50Hz. Two-pin European-style plugs are in use.
Plug Types
C,F
Food And Dining
There are few dishes that can be described as quintessentially Dutch, and those that do fall into this category are a far cry from the elaborate creations of French or Italian cuisine. Almost every large town, however, has a wide range of restaurants specializing in their own brands of international dishes including American, Balkan, British, Chinese, French, German, Italian and Spanish. Indonesian cuisine, a result of the Dutch colonization of the East Indies, with its use of spices and exotic ingredients, is particularly delicious. Restaurants usually have table service. Bars and cafes generally have the same, though some are self-service. There are no licensing laws and drink can be bought all day. Bars open later and stay open until the early hours of the morning at weekends. National specialties
? A typical Dutch breakfast usually consists of several varieties of bread, thin slices of Dutch cheese, prepared meats and sausage, butter and jam or honey and often a boiled egg.
? A working lunch would be koffietafel, once again with breads, various cold cuts, cheese and conserves. There will often be a side dish of omelette, cottage pie or salad.
? Broodjes (sandwiches) are a common daytime snack, served in the ubiquitous sandwich bars ? broodjeswinkels.
? Lightly salted 'green' herring can be bought from street stalls (they are held by the tail and slipped down into the throat).
? Erwtensoep (thick pea soup served with smoked sausage, cubes of bacon, pig's knuckle and brown or white bread).
? Groentensoep (clear consomm? with vegetables, vermicelli and meatballs).
? Hutspot (potatoes, carrots and onions).
? Klapstuk (an accompaniment of stewed lean beef).
? Boerenkool met rookworst (frost-crisped kale and potatoes served with smoked sausage).
? Seafood dishes are often excellent, particularly in Amsterdam or Rotterdam, and include gebakken zeetong (fried sole), lekkerbekjes (fried whiting), royal imperial oysters, shrimps, mussels, lobster and eel (smoked, filleted and served on toast or stewed or fried).
? Flensjes or pannekoeken (25 varieties of Dutch pancake) are a favorite Dutch dessert.
? Wafels met slagroom (waffles with whipped cream).
? Offertje (small dough balls fried and dusted with sugar).
? Spekkoek (alternate layers of heavy buttered sponge and spices from Indonesia), which translated means 'bacon cake'. National drinks:
? Coffee, tea, chocolate and fruit juice are drunk at breakfast.
? The local spirit is jenever (Dutch gin), normally taken straight and chilled as a chaser with a glass of beer, but it is sometimes drunk with cola or vermouth; it comes in many varieties depending on the spices used. Favored brands are Bols, Bokma, Claeryn and De Kuyper.
? Dutch beer is excellent. It is a light, gassy pils type beer, always served chilled, generally in small (slightly under half a pint) glasses. The most popular brand in Amsterdam is Amstel. Imported beers are also available, as are many other alcoholic beverages.
? Dutch liqueurs are excellent and include Cura?ao, Parfait d'Amour, Triple Sec (similar to Cointreau) and Dutch-made versions of cr?me de menthe, apricot brandy and anisette. Tipping : All hotels and restaurants include 15 per cent service and VAT. It is customary to leave small change when paying a bill. ?0,5-1,00 is usual for porters and doormen, and around 10 per cent for taxi drivers and waiters. Hairdressers and barbers have inclusive service prices. Note Bulbs and plants may not be exported except by commercial growers, or by individuals with a health certificate from the Plant Disease Service. A reasonable number of bulbs for own personal use are allowed.

Nightlife
Large cities have sophisticated nightclubs and discos, but late opening bars and cafes are just as popular in provincial towns. There are theaters and cinemas in all major towns. Amsterdam is a cosmopolitan city, with some of the liveliest nightlife in Europe. There are legal casinos in Amsterdam, Breda, Eindhoven, Den Haag, Groningen, Nijmegen, Rotterdam, Scheveningen, Valkenburg and Zandvoort; all have an age limit of 'over 18' (passports must be shown).
Entry departure requirements
Note The Netherlands is a signatory to the 1995 Schengen Agreement.
Visa immigration information
Passports
Passport valid for at least three months beyond length of stay required by all except:
(a) 1. EU/EEA nationals (EU + Iceland, Liechtenstein, Norway) and Swiss nationals holding a valid national ID card.
Note: EU and EEA nationals are only required to produce evidence of their EU/EEA nationality and identity in order to be admitted to any EU/EEA Member State. This evidence can take the form of a valid national passport or national identity card. Either is acceptable. Possession of a return ticket, any length of validity on their document, sufficient funds for the length of their proposed visit should not be imposed.
(b) nationals of Andorra, Monaco and San Marino holding a valid national ID card.
Note: It is now Dutch law that everyone over the age of 14 must produce a valid identity document to police officers and other law enforcement authorities on their request.
Visas
Required by all except the following for stays of up to three months:
(a) nationals referred to in the chart and under passport exemptions above;
(b) nationals of Andorra, Argentina, Bolivia, Brazil, Brunei, Bulgaria, Chile, Costa Rica, Croatia, El Salvador, Guatemala, Honduras, Iceland, Israel, Korea (Rep), Liechtenstein, Malaysia, Mexico, Monaco, New Zealand, Nicaragua, Norway, Panama, Paraguay, Romania, San Marino, Singapore, Switzerland, Uruguay, Vatican City and Venezuela;
(c) transit passengers continuing their journey to/from other Schengen countries within 72 hours by the same or first connecting aircraft, provided holding onward or return documentation and not leaving the airport.
Note
Nationals of Afghanistan, Angola, Bangladesh, Congo (Dem Rep), Eritrea, Ethiopia, The Gambia, Ghana, Guinea, Iran, Iraq, Nigeria, Pakistan, Sierra Leone, Somalia, Sri Lanka, Sudan and the Syrian Arab Republic passing through The Netherlands always require an airport transit visa even though they do not actually enter Dutch territory, unless holding a Residence Permit for the USA or EEA countries, UK or temporary residence permit for Canada and the USA, valid on the departure date from The Netherlands, with a confirmed onward ticket and are not leaving the transit lounge. Transit passengers are advised to check transit regulations with the relevant Embassy or Consulate before traveling.
Types of visa and cost
A uniform type of visa, the Schengen visa, is issued for the relevant Schengen member nationals, for tourist, business and private visits. Short-stay (for up to three months), Multiple-entry (for three months, one year or five years) and Transit visas are available for a handling fee of approximately US$41 , although prices are subject to change. You may also have to pay other costs incurred in processing the application. Costs must be paid in local currency. The Consulate (or Consular section at Embassy) can be contacted for further details.
Note
Spouses and children (under 21 years) and/or dependents of EU nationals (providing spouse's passport and the original marriage/birth certificate, mentioning name of parents with certified translation in English for Embassy in London are produced) receive their visas free of charge (enquire at Embassy or Consulate for details). Nationals of the Dominican Republic, Ghana, India, Nigeria and Pakistan should have their marriage and birth certificates verified and legalized by the relevant Netherlands Embassy or a visa fee will be charged.
Validity
Visas are normally valid for the duration of stay, with a maximum of three months (90 days) per six months. The visa issuing authorities will want to see the flight tickets to check arrival and departure dates. Transit visas are valid for single- or multiple-entries of maximum five days per entry, including the day of arrival. Visas cannot be extended; a new application must be made each time.
Application to
Consulate (or Consular section at Embassy); see Passport/Visa Information. Applications should be made in person. Travelers visiting just one Schengen country should apply to the Consulate of that country; travelers visiting more than one Schengen country should apply to the Consulate of the country chosen as the main destination or the country they will enter first (if they have no main destination).
Application requirements
(a) Passport (valid for at least three months longer than the validity of the visa requested) containing a blank page to affix the visa, or official travel document accepted by Schengen countries. If traveling on a new passport, the old one must also be submitted. A residence permit should be endorsed in your current valid passport and must still be valid on departure from the Schengen area. (b) Completed application form, listing full address and daytime telephone number. For minors under 18 years, it is necessary to submit approval from both parents or legal guardians, submitting a copy of each parent's/guardian's passport. (c) One passport-size photo. (d) Fee, where applicable (payable in cash or by postal order). (e) Travel insurance policy covering medical expenses, including emergency hotel treatment and repatriation, taken out in the UK, valid for the duration of stay and with a minimum cover of ?30,000. (f) Evidence of sufficient funds for period of stay (eg bank statements or travelers cheques), the amount considered 'enough' will depend on the purpose of visit, accommodation and duration of visit, but usually ?34 per person per day or a letter of guarantee from a national of the Netherlands who has a net annual income of ?11,000, some consulates may require both. Business: (a)-(f) and, (g) An invitation from a Dutch company confirming duration and purpose of stay, and a recent letter from the applicant's employer, solicitor, bank manager or local Chamber of Commerce, plus last payslip. If unemployed, submit a letter from a solicitor, accountant or Company House or Social Security booklet. Student: (a)-(f) and, (g) A letter from the applicant's school, college or university. Airport Transit: (a)-(f) and, (g) Confirmed non-refundable and non-endorsable airline ticket.
Note
(a) The number of forms and photos required may vary according to the nationality of the applicant. (b) The applicant may also be asked to provide further relevant documentation in certain cases. (c) Applications must be made in person for those residing in the vicinity of London, UK, and appointments to do so must be made in advance by telephoning the automated telephone appointments booking service (tel: (09065) 540 720; calls cost ?1 per minute). For those married to a Dutch national, it is not necessary to telephone the automated booking service. Those married to Dutch nationals may visit the Embassy in London from 0900-1100 on any working day, or visit another of the Dutch consulates in the UK. An original marriage certificate and original passport of Dutch spouse must be submitted. Postal applications are not accepted.
Working days required
Normally processes within 48 hours, but can take up to two months for certain nationals. It is essential to apply with plenty of time to spare (three weeks at the very least).
Temporary residence
Work permit and residence permit required for non-EU nationals. Enquire at Consulate (or Consular section at Embassy) for further information; see General Info section or visit Ministrie van Justice, Immigratie-en Nationalisatiedienst (website: www.ind.nl).
HIV entry requirements
No Test Required
Departure tax
None
Embassies
Royal Netherlands Embassy in the UK
38 Hyde Park Gate, London SW7 5DP, UK
Tel: (020) 7590 3200 or (09065) 508 916 (visa information line; calls cost ?1 per minute).
Website: www.netherlands-embassy.org.uk
Opening hours: Mon-Fri 0900-1700; 0900-1200 (passport and visa section; by appointment only).
The passport and visa section is closed on the first Wednesday of every month.
Royal Netherlands Embassy in the USA
4200 Linnean Avenue, NW, Washington, DC 20008, USA
Tel: (202) 244 5300.
Website: www.netherlands-embassy.org
Consulate General of The Netherlands in the USA
1 Rockefeller Plaza, 11th Floor, New York, NY 10020
Tel: (212) 246 1429.
Website: www.cgny.org

Most visits to The Netherlands are trouble-free but you should be aware of the global risk of indiscriminate international terrorist attacks, which could be against civilian targets, including places frequented by foreigners.
This advice is based on information provided by the Foreign, Commonwealth & Development Office in the UK. It is correct at time of publishing. As the situation can change rapidly, visitors are advised to contact the following organizations for the latest travel advice:
British Foreign, Commonwealth & Development Office
Tel: (0845) 850 2829.
Website: https://www.gov.uk/foreign-travel-advice/netherlands
US Department of State
Website: https://travel.state.gov/content/travel/en/international-travel/International-Travel-Country-Information-Pages/Netherlands.html
Currency
The Euro is now the official currency of 12 EU member states (including The Netherlands). The first Euro coins and notes were introduced in January 2002; the Dutch Guilder was in circulation until 28 January 2002, when it was completely replaced by the Euro. Euro (?) = 100 cents. Notes are in denominations of ?500, 200, 100, 50, 20, 10 and 5. Coins are in denominations of ?2 and 1, and 50, 20, 10, 5, 2 and 1 cents.
Currency restrictions
There are no restrictions on the import and export of either local or foreign currency.
Banking hours
Mon 1300-1600; Tues-Fri 0900-1600. GWK offices are open seven days a week.
Currency exchange
Exchange offices are indicated by the letters GWK. GWK is a national organization with currency exchange offices at major railway stations, at Schiphol Airport and at the border crossings with Germany and Belgium. Hotels tend to charge high commissions. Verkoopt means sell, while Koopt means buy.
Credit cards
American Express, Diners Club, MasterCard and Visa are accepted, as well as Eurocheque cards. Check with your credit or debit card company for details of merchant acceptability and other services which may be available. ATMs are widely available.
Travellers cheques
Widely accepted. To avoid additional exchange rate charges, travelers are advised to take traveller's cheques in Euros, Pounds Sterling or US Dollars.
| City/Region | City/Area code | Followed by |
| --- | --- | --- |
| Aalsmeer | (0)297 | + 6 digit subscriber nr |
| Alkmaar | (0)72 | + 7 digit subscriber nr |
| Almelo | (0)546 | + 6 digit subscriber nr |
| Almere | (0)36 | + 7 digit subscriber nr |
| Alphen aan den Rijn | (0)172 | + 6 digit subscriber nr |
| Amersfoort | (0)33 | + 7 digit subscriber nr |
| Amsterdam | (0)20 | + 7 digit subscriber nr |
| Ane | (0)524 | + 6 digit subscriber nr |
| Apeldoorn | (0)55 | + 7 digit subscriber nr |
| Appingedam | (0)596 | + 6 digit subscriber nr |
| Arnhem | (0)26 | + 7 digit subscriber nr |
| Balk | (0)514 | + 6 digit subscriber nr |
| Barneveld | (0)342 | + 6 digit subscriber nr |
| Beilen | (0)593 | + 6 digit subscriber nr |
| Bemmel | (0)481 | + 6 digit subscriber nr |
| Bennekom | (0)318 | + 6 digit subscriber nr |
| Bergen Op Zoom | (0)164 | + 6 digit subscriber nr |
| Best | (0)499 | + 6 digit subscriber nr |
| Beverwijk | (0)251 | + 6 digit subscriber nr |
| Boxtel | (0)411 | + 6 digit subscriber nr |
| Breda | (0)76 | + 7 digit subscriber nr |
| Brouwershaven | (0)111 | + 6 digit subscriber nr |
| Coevorden | (0)534 | + 6 digit subscriber nr |
| Cuijk | (0)485 | + 6 digit subscriber nr |
| Culemborg | (0)345 | + 6 digit subscriber nr |
| Dedemsvaart | (0)523 | + 6 digit subscriber nr |
| Delft | (0)15 | + 7 digit subscriber nr |
| Den Bosch | (0)73 | + 7 digit subscriber nr |
| Den Burg | (0)222 | + 6 digit subscriber nr |
| Den Haag | (0)70 | + 7 digit subscriber nr |
| Den Helder | (0)223 | + 6 digit subscriber nr |
| Deurne | (0)493 | + 6 digit subscriber nr |
| Deventer | (0)570 | + 6 digit subscriber nr |
| Dieren | (0)313 | + 6 digit subscriber nr |
| Doetinchem | (0)314 | + 6 digit subscriber nr |
| Dokkum | (0)519 | + 6 digit subscriber nr |
| Doorn | (0)343 | + 6 digit subscriber nr |
| Dordrecht | (0)78 | + 7 digit subscriber nr |
| Drachten | (0)512 | + 6 digit subscriber nr |
| Dreumel | (0)487 | + 6 digit subscriber nr |
| Dronten | (0)321 | + 6 digit subscriber nr |
| Eersel | (0)497 | + 6 digit subscriber nr |
| Eindhoven | (0)40 | + 7 digit subscriber nr |
| Elburg | (0)525 | + 6 digit subscriber nr |
| Emmeloord | (0)527 | + 6 digit subscriber nr |
| Emmen Dr | (0)591 | + 6 digit subscriber nr |
| Enkhuizen | (0)228 | + 6 digit subscriber nr |
| Enschede | (0)53 | + 7 digit subscriber nr |
| Epe | (0)578 | + 6 digit subscriber nr |
| Franeker | (0)517 | + 6 digit subscriber nr |
| Goes | (0)113 | + 6 digit subscriber nr |
| Goor | (0)547 | + 6 digit subscriber nr |
| Gorinchem | (0)183 | + 6 digit subscriber nr |
| Gouda | (0)182 | + 6 digit subscriber nr |
| Grave | (0)486 | + 6 digit subscriber nr |
| Groenlo | (0)544 | + 6 digit subscriber nr |
| Groningen | (0)50 | + 7 digit subscriber nr |
| Haarlem | (0)23 | + 7 digit subscriber nr |
| Harderwijk | (0)341 | + 6 digit subscriber nr |
| Heerlen | (0)45 | + 7 digit subscriber nr |
| Heervenveen | (0)513 | + 6 digit subscriber nr |
| Helmond | (0)492 | + 6 digit subscriber nr |
| Hengelo Ov | (0)74 | + 7 digit subscriber nr |
| Hillegom | (0)252 | + 6 digit subscriber nr |
| Hilversum | (0)35 | + 7 digit subscriber nr |
| Hoogeveen | (0)528 | + 6 digit subscriber nr |
| Hoogezand | (0)598 | + 6 digit subscriber nr |
| Hoorn Nh | (0)229 | + 6 digit subscriber nr |
| Hulst | (0)114 | + 6 digit subscriber nr |
| IJmuiden | (0)255 | + 6 digit subscriber nr |
| Irnsum | (0)566 | + 6 digit subscriber nr |
| Leeuwarden | (0)58 | + 7 digit subscriber nr |
| Leiden | (0)71 | + 7 digit subscriber nr |
| Lelystad | (0)320 | + 6 digit subscriber nr |
| Lochem | (0)573 | + 6 digit subscriber nr |
| Maarssen | (0)346 | + 6 digit subscriber nr |
| Maastricht | (0)43 | + 7 digit subscriber nr |
| Meppel | (0)522 | + 6 digit subscriber nr |
| Middelburg | (0)118 | + 6 digit subscriber nr |
| Middelharnis | (0)187 | + 6 digit subscriber nr |
| Middenmeer | (0)227 | + 6 digit subscriber nr |
| Naaldwijk | (0)174 | + 6 digit subscriber nr |
| Neede | (0)545 | + 6 digit subscriber nr |
| Nijmegen | (0)24 | + 7 digit subscriber nr |
| Noorden | (0)173 | + 6 digit subscriber nr |
| Noord-Scharwoude | (0)226 | + 6 digit subscriber nr |
| Oldenzaal | (0)541 | + 6 digit subscriber nr |
| Ommen | (0)529 | + 6 digit subscriber nr |
| Oostburg | (0)117 | + 6 digit subscriber nr |
| Oosterhout Nb | (0)162 | + 6 digit subscriber nr |
| Oosterwolde Fr | (0)516 | + 6 digit subscriber nr |
| Oss | (0)412 | + 6 digit subscriber nr |
| Oud-Beijerland | (0)186 | + 6 digit subscriber nr |
| Peelo | (0)592 | + 6 digit subscriber nr |
| Purmerend | (0)299 | + 6 digit subscriber nr |
| Raalte | (0)572 | + 6 digit subscriber nr |
| Ridderkerk | (0)180 | + 6 digit subscriber nr |
| Rijen | (0)161 | + 6 digit subscriber nr |
| Rijssen | (0)548 | + 6 digit subscriber nr |
| Roermond | (0)475 | + 6 digit subscriber nr |
| Roosendaal | (0)165 | + 6 digit subscriber nr |
| Rotterdam | (0)10 | + 7 digit subscriber nr |
| Schagen | (0)224 | + 6 digit subscriber nr |
| Schipperskerk | (0)48 | + 7 digit subscriber nr |
| Sint Annaparochie | (0)518 | + 6 digit subscriber nr |
| Sittard | (0)46 | + 7 digit subscriber nr |
| Sliedrecht | (0)184 | + 6 digit subscriber nr |
| Sneek | (0)515 | + 6 digit subscriber nr |
| Spijkenisse | (0)181 | + 6 digit subscriber nr |
| Stadskanaal | (0)599 | + 6 digit subscriber nr |
| Steenbergen Nb | (0)167 | + 6 digit subscriber nr |
| Steenwijk | (0)521 | + 6 digit subscriber nr |
| Terborg | (0)315 | + 6 digit subscriber nr |
| Terneuzen | (0)115 | + 6 digit subscriber nr |
| Tholen | (0)166 | + 6 digit subscriber nr |
| Tiel | (0)344 | + 6 digit subscriber nr |
| Tilburg | (0)13 | + 7 digit subscriber nr |
| Twello | (0)571 | + 6 digit subscriber nr |
| Uddel | (0)577 | + 6 digit subscriber nr |
| Utrecht | (0)30 | + 7 digit subscriber nr |
| Veenwouden | (0)511 | + 6 digit subscriber nr |
| Veghel | (0)413 | + 6 digit subscriber nr |
| Venlo | (0)77 | + 7 digit subscriber nr |
| Venray | (0)478 | + 6 digit subscriber nr |
| Vianen Zh | (0)347 | + 6 digit subscriber nr |
| Waalwijk | (0)416 | + 6 digit subscriber nr |
| Wageningen | (0)317 | + 6 digit subscriber nr |
| Warffum | (0)595 | + 6 digit subscriber nr |
| Weert | (0)495 | + 6 digit subscriber nr |
| Weesp | (0)294 | + 6 digit subscriber nr |
| West-Terschelling | (0)562 | + 6 digit subscriber nr |
| Winschoten | (0)597 | + 6 digit subscriber nr |
| Winterswijk | (0)543 | + 6 digit subscriber nr |
| Woerden | (0)348 | + 6 digit subscriber nr |
| Wolvega | (0)561 | + 6 digit subscriber nr |
| Zaandam | (0)75 | + 7 digit subscriber nr |
| Zaltbommel | (0)418 | + 6 digit subscriber nr |
| Zetten | (0)488 | + 6 digit subscriber nr |
| Zevenaar | (0)316 | + 6 digit subscriber nr |
| Zevenbergen | (0)168 | + 6 digit subscriber nr |
| Zoetermeer | (0)79 | + 7 digit subscriber nr |
| Zuidhorn | (0)594 | + 6 digit subscriber nr |
| Zutphen | (0)575 | + 6 digit subscriber nr |
| Zwolle | (0)38 | + 7 digit subscriber nr |