Quick Facts
Region: Africa
Full Name: Republic of Namibia
Capital City: Windhoek
Language Spoken: English 7% (official), Afrikaans common language of most of the population and about 60% of the white population, German 32%, indigenous languages (Oshivambo, Herero, Nama)
Namibia Travel Insurance
Get travel insurance to Namibia from Direct Travel Insurance. We offer low cost and high quality travel insurance to Namibia and most of the world.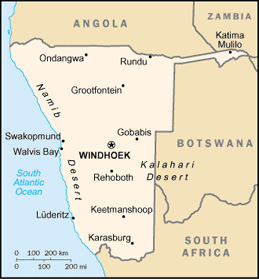 Geographic data
22 00 S, 17 00 E
Elevation Extremes
lowest point: Atlantic Ocean 0 m highest point: Konigstein 2,606 m
Land boundaries
total: 3,936 km border countries: Angola 1,376 km, Botswana 1,360 km, South Africa 967 km, Zambia 233 km
Natural hazards
prolonged periods of drought
Natural resources
diamonds, copper, uranium, gold, lead, tin, lithium, cadmium, zinc, salt, hydropower, fish note: suspected deposits of oil, coal, and iron ore
Land use
arable land: 0.99% permanent crops: 0.01% other: 99% (2005)
Environmental current issues
very limited natural fresh water resources; desertification; wildlife poaching; land degradation has led to few conservation areas
Climate
The cold Benguela current keeps the coast of the Namib Desert cool, damp and free of rain for most of the year, with a thick coastal fog. Inland, all the rain falls in summer (November to April). Summer temperatures are high while the altitude means that nights are cool. Winter nights can be fairly cold, but days are generally warm and pleasant. Required clothing Light cottons, with slightly heavier cottons or light woolens for evening. Inland, shoes are essential during the day as the ground is very hot.
Time difference
time difference: UTC+1 daylight saving time: +1hr, begins first Sunday in September; ends first Sunday in April
Population
2,044,147 note: estimates for this country explicitly take into account the effects of excess mortality due to AIDS; this can result in lower life expectancy, higher infant mortality and death rates, lower population and growth rates, and changes in the distribution of population by age and sex than would otherwise be expected (July 2006 est.)
Age structure
0-14 years: 38.2% (male 393,878/female 387,147) 15-64 years: 58.1% (male 596,557/female 591,350) 65 years and over: 3.7% (male 34,245/female 40,970) (2006 est.)
Median age
total: 20 years male: 19.8 years female: 20.1 years (2006 est.)
Population growth rate
0.59% (2006 est.)
Birth rate
24.32 births/1,000 population (2006 est.)
Death rate
18.86 deaths/1,000 population (2006 est.)
Net migration rate
0.47 migrant(s)/1,000 population (2006 est.)
Sex ratio
at birth: 1.03 male(s)/female under 15 years: 1.02 male(s)/female 15-64 years: 1.01 male(s)/female 65 years and over: 0.84 male(s)/female total population: 1.01 male(s)/female (2006 est.)
Life expectancy at birth
total population: 43.39 years male: 44.46 years female: 42.29 years (2006 est.)
Total fertility rate
3.06 children born/woman (2006 est.)
Business Practices
Business meetings are generally formal and suits should be worn in winter, safari suits in summer. Namibia has a well-established and professional business community. Western customs prevail and normal courtesies should be shown. Prior appointments are necessary. English is widely spoken in business circles. Office hours are 0800-1700 Monday to Friday.
Crime
Incidents of violent crime directed against visitors to Namibia are rare, but petty crime is on the increase, particularly in urban areas. The most common criminal offenses committed in Windhoek are non-violent crimes of opportunity including pick-pocketing, purse snatching, vehicle theft, and vehicle break-ins. Commonsense measures such as not leaving valuables unattended in plain sight in parked cars, safeguarding purses, keeping wallets in front pockets, and being alert to one's surroundings are the best deterrents against becoming a victim of criminal activity. Avoid using taxis if possible, and never enter one on your own. Do not enter townships at night unless accompanied by someone with local knowledge. If possible, secure your passport and other valuable documents in a hotel safe. Carry separately a copy of valuable documents, for example passports and driving licenses. Exercise extra caution when traveling near the Angolan border, where banditry is a problem. Visitors should avoid purchasing diamonds and other protected resources outside of licensed retail establishments. The police in Windhoek are poorly trained and poorly paid. An immediate response to criminal activity is not guaranteed. After an incident police might be called and not only might they not respond in a timely manner, they may not respond at all. There have been reports of both.
Hotels
Visitors to the business centers of Windhoek and Walvis Bay/Swakopmund will find modern, well-equipped hotels with telephone and fax facilities. Secondary business centers all have adequate facilities. The main business hotels in Windhoek (The Safari Court Hotel and the Windhoek Country Club and Safari Hotel in Windhoek) and the Mokuti Lodge (at Etosha) all provide modern conference facilities. In Swakopmund the better hotels are the Swakopmund Hotel and Leisure Center, the Hansa Hotel. The Canyon Hotel is a good choice in Keetmanshoop.
Communications
Telephone IDD service is available in Namibia. The country code is 264 and the outgoing international code is 09. Most hotels have fax facilities. Good telex facilities are in all major centers.
Electricity
is a 220/240 volts AC. Outlets are of the 3-pin type. Electricity 220 volts AC, 50hz. Outlets are of the three-pin type.
Plug Types
D,M
Food And Dining
Restaurants and cafes reflect the German influence on Namibia, and most dining rooms offer a reasonable choice of local and continental cuisine.

National specialties:
? Biltong (air-dried meat).
? Rauchfleisch (smoked meat).
? Asparagus.
? Kalahari truffle.
? Seafood, especially oysters. National drinks:
? Tafel lager.
? Windhoek lager. Tipping : 10 per cent is customary.

Nightlife
In the central area of Windhoek, there are restaurants, cafes, a cinema and a theater.
Entry departure requirements
* Please see visa section below
Visa immigration information
Passports
Passport valid for a minimum of six months after the date of departure from Namibia required by all.
Visas
Required by all except the following for stays of up to 30 days:
(a) 1. nationals of countries shown in the chart above, except nationals of Cyprus, Czech Republic, Estonia, Greece, Hungary, Latvia, Lithuania, Malta, Poland, Slovak Republic and Slovenia who do require a visa;
(b) nationals of Angola, Botswana, Brazil, Cuba, Iceland, Kenya, Lesotho, Liechtenstein, Malawi, Malaysia, Mozambique, New Zealand, Norway, Russian Federation, Singapore, South Africa, Swaziland, Switzerland, Tanzania, Zambia and Zimbabwe;
(c) those continuing to a third country and not leaving the airport transit area.
Types of visa and cost
Tourist, Business and Transit: US$34
Validity
Valid up to three months from date of issue for stays of up to three months from date of entry. Extensions for a further three months are available from the Ministry of Home Affairs in Windhoek.
Application to
Consulate (or Consular section at High Commission); see Passport/Visa Information section.
Application requirements
(a) Valid passport. (b) Completed application form. (c) Two passport-size photos. (d) Return or onward ticket or proof of accommodation. (e) Fee. Private: (a)-(e) and, (f) Letter of invitation from Namibian resident. Business: (a)-(e) and, (f) Company letter. (g) Letter from sponsoring company in Namibia.
Working days required
Three.
Temporary residence
Apply to the High Commission or Embassy; see Passport/Visa Informationsection.
HIV entry requirements
No Test Required
Departure tax
None
Embassies
High Commission for the Republic of Namibia in the UK
6 Chandos Street, London W1G 9LU, UK
Tel: (020) 7636 6244.
Website: http://www.namibiahc.org.uk/
Opening hours: Mon-Fri 0900-1300 and 1400-1700.
Embassy of the Republic of Namibia in the USA
1605 New Hampshire Avenue, NW, Washington, DC 20009, USA
Tel: (202) 986 0540.
Website: www.namibianembassyusa.org

Most visits to Namibia are trouble-free but you should be aware of the global risk of indiscriminate international terrorist attacks, which could be against civilian targets, including places frequented by foreigners.
If traveling along the Caprivi Strip, travelers should stick to the well-traveled routes.
Wildlife and livestock pose a serious hazard; travelers should avoid driving at night.
This advice is based on information provided by the Foreign, Commonwealth & Development Office in the UK. It is correct at time of publishing. As the situation can change rapidly, visitors are advised to contact the following organisaions for the latest travel advice.
British Foreign, Commonwealth & Development Office
Website: www.gov.uk/foreign-travel-advice
US Department of State
Currency
The Namibian Dollar (NAD; symbol N$) is in note denominations of N$200, 100, 50, 20 and 10. Coins are in denominations of N$5, N$1, 50 cents, 10 cents and 5 cents. It is linked to the South African Rand (R) on a 1:1 basis (South African Rand = 100 cents). The South African Rand is also acceptable as currency in Namibia.
Currency restrictions
The import and export of local currency is limited to NAD50,000. The import of foreign currency is unlimited, provided declared on arrival. Export of foreign currency is unlimited up to amount imported and declared as long as the departure is within 12 months. No limits exist for travel between Botswana, Lesotho, Namibia, South Africa and Swaziland as these countries are members of the same common monetary area.
Banking hours
Mon-Fri 0900-1530, Sat 0900-1100.
Currency exchange
Available in banks and at bureaux de change. A better rate of exchange can be obtained on travelers cheques than on cash.
Credit cards
American Express, Diners Club, MasterCard and Visa are accepted. Check with your credit or debit card company for details of merchant acceptability and other services which may be available. Credit cards are not usually accepted at petrol stations.
Travellers cheques
To avoid additional exchange rate charges, travelers are advised to take traveller's cheques in US Dollars or South African Rand.
| City/Region | City/Area code | Followed by |
| --- | --- | --- |
| Abenab | (0)67 | + 6 digit subscriber nr |
| Aminuis | (0)63 | + 6 digit subscriber nr |
| Anamulenge | (0)65 | + 6 digit subscriber nr |
| Aranos (party line) | (0)6642 | + 4 digit subscriber nr |
| Asab | (0)668 | + 5 digit subscriber nr |
| Babi-Babi | (0)62 | + 6 digit subscriber nr |
| Bagani | (0)66 | + 6 digit subscriber nr |
| Grenslyn | (0)632538 | + 2 digit subscriber nr |
| Helmeringhausen(party line) | (0)6362 | + 4 digit subscriber nr |
| Hobas | (0)6342 | + 4 digit subscriber nr |
| Keetmanshoop (party line) | (0)638 | + 5 digit subscriber nr |
| Koes (party line) | (0)632532 | + 2 digit subscriber nr |
| Kumakams | (0)6638 | + 4 digit subscriber nr |
| Omaere | (0)628 | + 5 digit subscriber nr |
| Oshikango Rurtel | (0)6751 | + 4 digit subscriber nr |
| Prosit | (0)658 | + 5 digit subscriber nr |
| Walvis Bay | (0)64 | + 6 digit subscriber nr |
| Windhoek | (0)61 | + 6 digit subscriber nr |