Quick Facts
Region: Africa
Full Name: Federal Republic of Nigeria
Capital City: Abuja
Language Spoken: English (official), Hausa, Yoruba, Igbo (Ibo), Fulani
Nigeria Travel Insurance
Get travel insurance to Nigeria from Direct Travel Insurance. We offer low cost and high quality travel insurance to Nigeria and most of the world.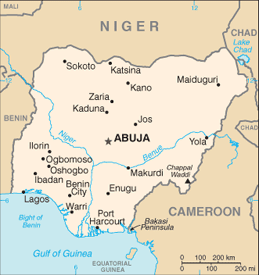 Geographic data
10 00 N, 8 00 E
Elevation Extremes
lowest point: Atlantic Ocean 0 m highest point: Chappal Waddi 2,419 m
Land boundaries
total: 4,047 km border countries: Benin 773 km, Cameroon 1,690 km, Chad 87 km, Niger 1,497 km
Natural hazards
periodic droughts; flooding
Natural resources
natural gas, petroleum, tin, iron ore, coal, limestone, niobium, lead, zinc, arable land
Land use
arable land: 33.02% permanent crops: 3.14% other: 63.84% (2005)
Environmental current issues
soil degradation; rapid deforestation; urban air and water pollution; desertification; oil pollution - water, air, and soil; has suffered serious damage from oil spills; loss of arable land; rapid urbanization
Climate
Varies from area to area. The southern coast is hot and humid with a rainy season from March to November. During the dry season, the Harmattan wind blows from the Sahara. The north's rainy season is from July to September. Nights can be cold in December and January.\nRequired clothing\nLightweight cottons and linens are worn, with a warm wrap advisable in the north. Rainwear is essential during the rainy season.
Time difference
time difference: UTC+1
Population
131,859,731 note: estimates for this country explicitly take into account the effects of excess mortality due to AIDS; this can result in lower life expectancy, higher infant mortality and death rates, lower population and growth rates, and changes in the distribution of population by age and sex than would otherwise be expected (July 2006 est.)
Age structure
0-14 years: 42.3% (male 28,089,017/female 27,665,212) 15-64 years: 54.6% (male 36,644,885/female 35,405,915) 65 years and over: 3.1% (male 1,930,007/female 2,124,695) (2006 est.)
Median age
total: 18.7 years male: 18.7 years female: 18.6 years (2006 est.)
Population growth rate
2.38% (2006 est.)
Birth rate
40.43 births/1,000 population (2006 est.)
Death rate
16.94 deaths/1,000 population (2006 est.)
Net migration rate
0.27 migrant(s)/1,000 population (2006 est.)
Sex ratio
at birth: 1.03 male(s)/female under 15 years: 1.02 male(s)/female 15-64 years: 1.04 male(s)/female 65 years and over: 0.91 male(s)/female total population: 1.02 male(s)/female (2006 est.)
Life expectancy at birth
total population: 47.08 years male: 46.52 years female: 47.66 years (2006 est.)
Total fertility rate
5.49 children born/woman (2006 est.)
Business Practices
Business visitors should be well dressed for meetings. Casual dress may convey a casual attitude, especially to European-trained Nigerians. English is spoken in business circles. Titles should be used, particularly the honorific titles of traditional leaders. Company representatives should be flexible in business dealings and able to make decisions on contractual matters without lengthy referral to their home offices. In Nigeria, important business is conducted face-to-face. No worthwhile transactions can be completed quickly or impersonally. Follow-up visits are common. Business appointments preferably are made through personal calls or hand-delivered messages, since the telephone/fax system is unreliable and the mail is slow. Nigerians are not known for punctuality. Visitors should make their contacts well before departure from the United States. Office hours are 0730-1530 Monday to Friday for government offices and 0830-1700 for private businesses.
Crime
Violent assault, armed robbery, rape and car-jacking occur throughout Nigeria, especially in Lagos, but also in the capital, Abuja. Criminals have been known to pose as police, military personnel, injured or pregnant women and bogus greeters at the airport. Travelers should: - remain within the confines of the airport when transiting (rather than venturing out) - avoid traveling alone, particularly in taxis - avoid traveling at night - keep car windows closed and car doors locked at all times - take particular care in and around the international airports, especially Lagos (where possible, arrange to be met) - take particular care on the road between the airport and Lagos. There have been incidents where visitors have been collected from their hotel by imposters claiming to represent the company where they had an appointment or by calling hotel rooms to tell travelers "your flight is departing early, I will pick you up." The visitors have then been abducted, robbed and in some cases murdered. It is advisable to make sure you can identify any person picking you up from your hotel and to be suspicious of any last minute changes in arrangements. Personal information should not be disclosed unnecessarily. Travelers should only carry sufficient cash for their daily needs, secure their valuables against theft and avoid displays of wealth at all times. Photocopies of valuables such as passport, tickets, drivers license and travelers checks should be kept separately from the originals. There have been reports of phone calls that are made to relatives of travelers from alleged hospitals or doctors in Nigeria claiming that a traveler has been injured and money is needed before medical treatment. Relatives should ensure that the contact is genuine as this is a common method of extorting money. Any requests for money from Nigeria should be treated with caution. Credit card fraud is a problem. Facilities for changing traveler's checks are very limited. Travelers should secure US Dollars or British Pounds prior to their visit, as these are the easiest to exchange and are often fairly accepted.
Hotels
Hotels in major Nigerian cities are adequate. Business, 5-star or deluxe hotels of U.S. or European standard should not be expected, however. Accommodation reservations must be made well in advance. Hotels demand an advance cash deposit at the time of booking for the entire period being reserved. Some hotels require a deposit to cover meals as well. Tipping is optional, as most hotels have a 5 percent valued added tax (VAT) and 10 percent service charge, but staff expects gratuities nevertheless. Air conditioning and hot water are often a problem in hotels, in addition to the frequent breakdown of elevators. Few hotels have working smoke detectors, and emergency exists are often sealed. Telephone service is erratic, often making contact even within the hotel difficult, as well as creating obstacles to confirming or changing onward reservations. Room laundry service is usually offered. The Central Bank of Nigeria has embarked on strict enforcement of directives that foreign visitors to Nigeria must pay for hotel accommodations in foreign currency. Port Harcourt is the center of the national oil industry and offers a large selection of accommodation to the industry.
Communications
Full telephone IDD service is available. The country code is 234 and the outgoing international code is 009. International telegraph and telex services are operated by Nigerian Telecommunications Limited (NITEL) in all large cities. GSM 900 and 1800 cellular networks are used Network operators include Econet Wireless Nigeria Ltd and NITEL GSM. Airmail to Europe is unreliable and takes up to three weeks. Delivery may be more reliable through international couriers who are represented in major towns.
Electricity
is 220/250 volts AC, 50Hz, single phase. Electricity 240 volts AC, 50Hz. Single phase.
Plug Types
D,G
Food And Dining
There are restaurants of all varieties in Lagos and the major towns. European and Oriental food is readily available. Although there are self-service cafes, mainly in department stores, most restaurants have table service. Nigerian food is typical of that found throughout West Africa, with regional variations. In the north, meat is more popular than in other areas. Spirits are expensive. Larger hotels and clubs have bars and cocktail lounges

National specialties:
? Yam.
? Sweet potatoes.
? Plantain and pepper soup.
? Suya (barbecued liver and beef on sticks) and kilishi (spiced dried meat).
? In the east egussi soup (stew of meat, dried fish and melon seeds).
? In the south, goat meat and bush meat - particularly antelope - are considered a delicacy. National drinks
? There are many brands of locally brewed and bottled beer which are very good.
? Nigerian brewed Guinness is available. Tipping : Unless a service charge has been included, 10 per cent is expected for most services. Note that for taxi drivers the fare including a tip should be agreed before the journey. Airport porters are usually tipped per case.

Nightlife
There are nightclubs in many of the hotels in Lagos and in the Surulere district. There is nightlife in other towns, however, due to socio-cultural and religious differences, some areas have a more subdued nightlife. Some clubs have live entertainment, details of which are given in the local newspapers. North of Oyo in Ogbomosho, there is a lively market, particularly in the evenings. Local festivals which generally take place in the summer months provide a good opportunity to see dancing, music and traditional costumes.
Entry departure requirements
Visa immigration information
Passports
Passport valid for a minimum of six months beyond the date of departure required by all.
Visas
Required by all except the following:
(a) nationals of Benin, Burkina Faso, Cameroon, Cape Verde, Chad, C?te d'Ivoire, The Gambia, Ghana, Guinea, Guinea-Bissau, Liberia, Mali, Mauritania, Niger, Senegal, Sierra Leone and Togo for stays of up to 90 days;
(b) transit passengers continuing their journey by the same or first connecting aircraft, provided holding valid onward or return documentation and not leaving the airport, except for nationals of the USA who require a transit visa.
Note
Children under 16 years of age accompanying their parents residing in Nigeria (provided the name of such a child is entered in the passport of one of the parents) do not require visas, but must, however, complete one application form accompanied by a photo. All children holding their own passport must have separate visas or re-entry permits.
Types of visa and cost
Tourist, Business: US$69 (single-entry); US$120 (six-month multiple-entry); US$155 (one-year multiple-entry); US$206 (two-year multiple-entry). Transit: US$69 The prices quoted are for UK nationals; visa costs depend on nationality. Nationals of some African countries receive visas free of charge. Contact High Commission or Consular section at Embassy for further information.
Application to
Consulate (or Consular section at Embassy or High Commission); see Passport/Visa Information.
Application requirements
(a) One completed application form. (b) Valid passport. (c) One passport-size photo. (d) Fee, payable by postal order or credit/debit card. (e) Onward or return ticket for Tourist visas. (f) Paid and registered return-postage envelope if applying by post. (g) Letter of invitation from Nigeria, addressed to Visa Section, Nigeria High Commission, London, accepting full immigration/evidence of sustaining self while in Nigeria. (h) Photocopy of Inviter's passport. Business: (a)-(f) and, (g) Letter of introduction from a company or a resident of Nigeria, accepting immigration responsibility for applicant; any Nigerian inviting a visitor must attach photocopies of the first five pages of his/her own passport, while a resident must enclose a copy of his/her residence permit.
Note: In addition to the normal visa requirements, minors must also provide: original birth certificate plus one photocopy; a letter of consent from parents; and photocopies of parents' passports.
Working days required
Two if applying in person; 10 for postal applications.
HIV entry requirements
No Test Required
Departure tax
None
Embassies
High Commission for the Federal Republic of Nigeria in the UK
9 Northumberland Avenue, London WC2N 5BX, UK
Tel: (020) 7839 1244.
Website: www.nigeriahc.org.uk
Opening hours: Mon-Fri 1000-1200 (visa submission); 1530-1630 (visa collection).
Nigerian Consular Section in the UK
56-57 Fleet Street, London EC4 1BT, UK
Tel: (020) 7353 3776.
Website: www.nigeriahc.org.uk
Opening hours: Mon-Fri 1000-1200 (visa submission); 1530-1630 (visa collection).
Embassy of Nigeria in the USA
3519 International Court, NW, Washington, DC 20008, USA
Tel: (202) 986 8400 (ext 1005 for Consular and immigration section).
Website: www.nigeriaembassyusa.org
Nigerian Consulate General in the USA
828 Second Avenue, 10th Floor, New York, NY 10017, USA
Tel: (212) 850 2200.
Website: www.nigeria-consulate-ny.org

All travel to the Bakassi Peninsula is advised against. All but essential travel by boat and road to the riverine areas in Rivers, Bayelsa and Delta States is also advised against.
Localised outbreaks of civil unrest can occur at short notice.
Violent crime is prevalent in the south of the country, including Lagos.
Travelers should be aware of the threat from terrorism in Nigeria. A statement issued by Usama Bin Laden in February 2003 called for an uprising by Muslims in a number of countries including Nigeria.
Travelers should be aware of the global risk of indiscriminate terrorist attacks, which could be against civilian targets.
This advice is based on information provided by the Foreign, Commonwealth & Development Office in the UK. It is correct at time of publishing. As the situation can change rapidly, visitors are advised to contact the following organizations for the latest travel advice:
British Foreign, Commonwealth & Development Office
Website: https://www.gov.uk/foreign-travel-advice/nigeria
US Department of State
Website: https://travel.state.gov/content/travel/en/international-travel/International-Travel-Country-Information-Pages/Nigeria.html
Currency
Naira (NGN) = 100 kobo. Notes are in denominations of NGN500, 200, 100, 50, 20, 10 and 5. Coins are in denominations of NGN1 kobo 25, 10, 5 and 1.
Currency restrictions
Import of local currency is limited to N20 in notes and must be declared on arrival. Export of local currency is restricted to N20 in notes. Import of foreign currency is unlimited, but it must be declared on arrival; export is limited to N100 per adult over 16 and must be declared. Penalties for black market transactions are severe.
Banking hours
Mon 0800-1500, Tue-Fri 0800-1330. The Government owns a large percentage of all foreign banks.
Currency exchange
The Government of Nigeria has fixed an artificially high rate for local currency (the Naira) in terms of its value in exchange for foreign currencies. However, trading on the black market is extremely dangerous and could lead to arrest. Therefore, visitors are advised to exchange currency at the official rate and at approved exchange facilities, which often include major hotels. Inter-bank transfers are frequently difficult, if not impossible, to accomplish.
Credit cards
American Express, Diners Club, MasterCard and Visa are rarely accepted in Nigeria and, because of the prevalence of credit card fraud, their use is ill-advised.
Travellers cheques
Facilities for changing traveller's cheques are limited to Abuja and larger towns.
| City/Region | City/Area code | Followed by |
| --- | --- | --- |
| Aba | (0)82 | + 6 digit subscriber nr |
| Abakaliki | (0)43 | + 6 digit subscriber nr |
| Abeokuta | (0)39 | + 6 digit subscriber nr |
| Ado-Ekiti | (0)30 | + 6 digit subscriber nr |
| Agbor | (0)55 | + 6/7 digit subscriber nr |
| Ahoada | (0)86 | + 6 digit subscriber nr |
| Akure | (0)34 | + 6 digit subscriber nr |
| Asaba | (0)56 | + 6 digit subscriber nr |
| Auchi | (0)57 | + 6/7 digit subscriber nr |
| Awka | (0)48 | + 6 digit subscriber nr |
| Azare | (0)71 | + 6/7 digit subscriber nr |
| Bauchi | (0)77 | + 6/7 digit subscriber nr |
| Benin | (0)52 | + 6 digit subscriber nr |
| Brinin-Kebbi | (0)68 | + 6/7 digit subscriber nr |
| Calabar | (0)87 | + 6 digit subscriber nr |
| Enugu | (0)42 | + 6 digit subscriber nr |
| Gombe | (0)72 | + 6/7 digit subscriber nr |
| Gusau | (0)63 | + 6 digit subscriber nr |
| Hadejia | (0)78 | + 6 digit subscriber nr |
| Ibadan | (0)2 | + 7/8 digit subscriber nr |
| Ijebu-Ode | (0)37 | + 6 digit subscriber nr |
| Ikare | (0)50 | + 6 digit subscriber nr |
| Ile-Ife | (0)36 | + 6 digit subscriber nr |
| Ilorin | (0)31 | + 6 digit subscriber nr |
| Jalingo | (0)79 | + 6 digit subscriber nr |
| Jos | (0)73 | + 6/7 digit subscriber nr |
| Kaduna | (0)62 | + 6 digit subscriber nr |
| Kafanchan | (0)61 | + 6/7 digit subscriber nr |
| Kano | (0)64 | + 6 digit subscriber nr |
| Katsina | (0)65 | + 6/7 digit subscriber nr |
| Kontagora | (0)67 | + 6/7 digit subscriber nr |
| Lafia | (0)47 | + 6/7 digit subscriber nr |
| Lagos | (0)1 | + 7/8 digit subscriber nr |
| Lokoja | (0)58 | + 6 digit subscriber nr |
| Maiduguri | (0)76 | + 6 digit subscriber nr |
| Makurdi | (0)44 | + 6/7 digit subscriber nr |
| Minna | (0)66 | + 6 digit subscriber nr |
| New Bussa | (0)33 | + 6 digit subscriber nr |
| Ogoja | (0)45 | + 6 digit subscriber nr |
| Okitipupa | (0)59 | + 6 digit subscriber nr |
| Onitsha | (0)46 | + 6 digit subscriber nr |
| Oshogbo | (0)35 | + 6 digit subscriber nr |
| Owerri | (0)83 | + 6 digit subscriber nr |
| Owo | (0)51 | + 6/7 digit subscriber nr |
| Oyo | (0)38 | + 6 digit subscriber nr |
| Pankshin | (0)70 | + 6/7 digit subscriber nr |
| Port-Harcourt | (0)84 | + 6 digit subscriber nr |
| Sapele | (0)54 | + 6/7 digit subscriber nr |
| Sokoto | (0)60 | + 6 digit subscriber nr |
| Umuahia | (0)88 | + 6 digit subscriber nr |
| Uyo | (0)85 | + 6 digit subscriber nr |
| Warri | (0)53 | + 6 digit subscriber nr |
| Wukari | (0)41 | + 6 digit subscriber nr |
| Yenogoa | (0)89 | + 6 digit subscriber nr |
| Yola | (0)75 | + 6 digit subscriber nr |
| Zaria | (0)69 | + 6 digit subscriber nr |