Quick Facts
Region: Asia & Oceania
Full Name: Democratic People's Republic of Korea
Capital City: Pyongyang
Language Spoken: Korean
North Korea Travel Insurance
Get travel insurance to North Korea from Direct Travel Insurance. We offer low cost and high quality travel insurance to North Korea and most of the world.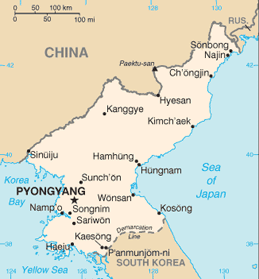 Geographic data
40 00 N, 127 00 E
Elevation Extremes
lowest point: Sea of Japan 0 m highest point: Paektu-san 2,744 m
Land boundaries
total: 1,673 km border countries: China 1,416 km, South Korea 238 km, Russia 19 km
Natural hazards
late spring droughts often followed by severe flooding; occasional typhoons during the early fall
Natural resources
coal, lead, tungsten, zinc, graphite, magnesite, iron ore, copper, gold, pyrites, salt, fluorspar, hydropower
Land use
arable land: 22.4% permanent crops: 1.66% other: 75.94% (2005)
Environmental current issues
water pollution; inadequate supplies of potable water; waterborne disease; deforestation; soil erosion and degradation
Climate
Moderate with four distinct seasons. The hottest time is July to August, which is also the rainy season; coldest is from December to January, winters in the far north can be very severe. Spring and autumn are mild and mainly dry. Required clothing Lightweight cottons and linens are worn during the summer. Light- to mediumweights are advised in the spring and autumn, and medium- to heavyweights in the winter. Waterproofs are advisable during the rainy season.
Time difference
time difference: UTC+9
Population
23,113,019 (July 2006 est.)
Age structure
0-14 years: 23.8% (male 2,788,944/female 2,708,331) 15-64 years: 68% (male 7,762,442/female 7,955,522) 65 years and over: 8.2% (male 667,792/female 1,229,988) (2006 est.)
Median age
total: 32 years male: 30.7 years female: 33.4 years (2006 est.)
Population growth rate
0.84% (2006 est.)
Birth rate
15.54 births/1,000 population (2006 est.)
Death rate
7.13 deaths/1,000 population (2006 est.)
Net migration rate
0 migrant(s)/1,000 population (2006 est.)
Sex ratio
at birth: 1.05 male(s)/female under 15 years: 1.03 male(s)/female 15-64 years: 0.98 male(s)/female 65 years and over: 0.54 male(s)/female total population: 0.94 male(s)/female (2006 est.)
Life expectancy at birth
total population: 71.65 years male: 68.92 years female: 74.51 years (2006 est.)
Total fertility rate
2.1 children born/woman (2006 est.)
Business Practices
Soviet-style business practices continue to predominate in North Korea. Business meetings are formal affairs and suits are expected. Meetings are generally held after normal hours in restaurants or clubs as outsiders are typically not permitted to visit government office buildings. Security personnel may at times place foreign visitors under surveillance. Hotel rooms, telephones and fax machines may be monitored, and personal possessions in hotel rooms may be searched.
Crime
Expatriates residing in Pyongyang report that while street crime is rare, petty theft is increasing, especially at the airport in Pyongyang. Worsening economic conditions in North Korea may result in increased crime rates.
Hotels
Pyongyang has five first-class hotels where foreigners stay, although groups cannot know in advance which one will be used. All other towns have one first-class hotel for use by groups.
Communications
Telephone IDD service available, although there is a very sparse internal network. Country code: 850. Outgoing calls must be made via the International Operator. Telex and telegram services are available in all Pyongyang hotels. Postal services are extremely slow and limited outside the capital. Post office hours: 0900-2100 Monday to Saturday.
Electricity
is 110/220 volts AC, 60Hz. Electricity 110/220 volts AC, 60Hz.
Plug Types
A,C
Food And Dining
Reasonable restaurants can be found in the main towns and cooking is usually based on the staple food: rice. In hotels and restaurants it is better to stick to the Chinese, Japanese or Korean items on the menu as experience of Western and Russian cooking is limited. Eating out is arranged by the guide. Tipping : Officially frowned upon although some hotel staff may expect a tip.

Nightlife
A night at the revolutionary opera provides a unique experience. There are also circuses and musical events of a high quality.
Entry departure requirements
Note Tourism in Korea (Dem Rep) is currently permitted only in officially organized groups of minimum one person. Visas can be obtained through officially recognized travel companies or the nearest Korea (Dem Rep) embassy.
Visa immigration information
Passports
Valid passport required by all, including nationals of Korea (Dem Rep).
Visas
Required by all, including nationals of Korea (Dem Rep).
Types of visa and cost
Ordinary and Tourist: US$52
Application to
Consular section of the General Delegation of the DPRK or of the nearest Korean (Dem Rep) Embassy. Applications should be made by an officially recognized tour operator.
Application requirements
(a) Valid passport. (b) One passport-size photo. (c) One completed application form. (d) Tour confirmation from recognized travel company. (e) Proof of sufficient funds to cover stay. (f) Copy of applicant's passport.
Working days required
Approximately 20 days.
Note
For stays of over 24 hours registration with the MFA is required, although most hotels and travel agents will automatically do this for the visitor. It is advisable to contact the nearest embassy prior to departure for further details.
It is not possible to enter the Korea (Dem Rep) from the Republic of Korea (South Korea).
The threat from terrorism in Korea (Dem Rep) is low, but you should be aware of the global risk of indiscriminate terrorist attacks, which could be against civilian targets, including places frequented by foreigners.
Travellers should register with their embassy in Pyongyang on arrival.
Travel within Korea (Dem Rep) is severely restricted.
This advice is based on information provided by the Foreign, Commonwealth & Development Office in the UK. It is correct at time of publishing. As the situation can change rapidly, visitors are advised to contact the following organizations for the latest travel advice:
British Foreign, Commonwealth & Development Office
Website: https://www.gov.uk/foreign-travel-advice/north-korea
US Department of State
Website: https://travel.state.gov/content/travel/en/international-travel/International-Travel-Country-Information-Pages/KoreaDemocraticPeoplesRepublicof.html
HIV entry requirements
No Test Required
Departure tax
None
Embassies
British Embassy
Munsu-dong Diplomatic Compound
Pyongyang
Democratic People's Republic of Korea
Telephone: +850 2 381 7980 International dialling
(0) 2 382 7980 Local dialling
There is a Duty Officer rota for out of hours emergencies - to contact use international dialling
Facsimile: +850 2 381 7985 International dialling
Email: postmaster.PYONX@FCDO.gov.uk
Office Hours: GMT:
Mon-Fri: 0000-0830
Local Time:
Mon-Fri: 0900-1730
Currency
Currency Won (KPW) = 100 chon. Notes are in denominations of KPW100, 50, 10, 5 and 1. Coins are in denominations of KPW1, and 50, 10, 5 and 1 chon. Note Hotels tend to only accept cash payments in local currency whilst shops prefer US Dollars.
Currency exchange
Currencies may be changed at the Trade Bank (Mon-Sat 0900-1200 and 1400-1700) or at some hotels. Convertible currencies include Australian, Hong Kong and US Dollars, Euros, Pounds Sterling and Yen.
Currency restrictions
The import and export of local currency is prohibited. The import and export of foreign currency is unrestricted, subject to declaration on arrival.
Banking hours
Currency exchange
Credit cards
Main hotels in Pyongyang will accept credit and debit cards such as Mastercard and Visa. However, American Express is not usually accepted.
Travellers cheques
Generally not accepted. However, US Dollars are often accepted as an alternative method of payment.
| City/Region | City/Area code | Followed by |
| --- | --- | --- |
| Hamchon | (0)9 | + 7 digit subscriber nr |
| Pyongyang | (0)2 | + 3/9 digit subscriber nr |