Quick Facts
Region: Africa
Full Name: Republic of Niger
Capital City: Niamey
Language Spoken: French (official), Hausa, Djerma
Niger Travel Insurance
Get travel insurance to Niger from Direct Travel Insurance. We offer low cost and high quality travel insurance to Niger and most of the world.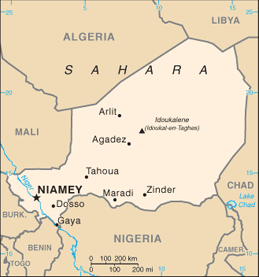 Geographic data
16 00 N, 8 00 E
Elevation Extremes
lowest point: Niger River 200 m highest point: Mont Bagzane 2,022 m
Land boundaries
total: 5,697 km border countries: Algeria 956 km, Benin 266 km, Burkina Faso 628 km, Chad 1,175 km, Libya 354 km, Mali 821 km, Nigeria 1,497 km
Natural hazards
recurring droughts
Natural resources
uranium, coal, iron ore, tin, phosphates, gold, molybdenum, gypsum, salt, petroleum
Land use
arable land: 11.43% permanent crops: 0.01% other: 88.56% (2005)
Environmental current issues
overgrazing; soil erosion; deforestation; desertification; wildlife populations (such as elephant, hippopotamus, giraffe, and lion) threatened because of poaching and habitat destruction
Climate
Summers are extremely hot. The dry season is from October to May. Heavy rains with high temperatures are common in July and August. Required clothing Lightweight cottons and linens are required most of the year. Warmer clothes during the cool evenings, especially in the north, are essential. Rainwear is advisable.
Time difference
time difference: UTC+1
Population
12,525,094 (July 2006 est.)
Age structure
0-14 years: 46.9% (male 2,994,022/female 2,882,273) 15-64 years: 50.7% (male 3,262,114/female 3,083,522) 65 years and over: 2.4% (male 150,982/female 152,181) (2006 est.)
Median age
total: 16.5 years male: 16.5 years female: 16.4 years (2006 est.)
Population growth rate
2.92% (2006 est.)
Birth rate
50.73 births/1,000 population (2006 est.)
Death rate
20.91 deaths/1,000 population (2006 est.)
Net migration rate
-0.61 migrant(s)/1,000 population (2006 est.)
Sex ratio
at birth: 1.03 male(s)/female under 15 years: 1.04 male(s)/female 15-64 years: 1.06 male(s)/female 65 years and over: 0.99 male(s)/female total population: 1.05 male(s)/female (2006 est.)
Life expectancy at birth
total population: 43.76 years male: 43.8 years female: 43.73 years (2006 est.)
Total fertility rate
7.46 children born/woman (2006 est.)
Business Practices
A lightweight suit and tie are generally acceptable. Knowledge of French is essential, as interpreters are not readily available and executives seldom speak English. Nigerien culture is largely traditional and Muslim, and most potential business partners are practicing Muslims. Getting to know individuals is very important, and taking time for visits and meals together is recommended. Rushing matters is unseemly and may only serve to destroy confidence in a foreigner's good intentions. Under the 1990 investment code (and amendments) industrial investments enjoy tax and customs exoneration and even, in some cases, exemptions from the value added tax (vat). All investors benefit from periods of special tax treatment and tariff protection, which vary with the level and type of investment. The investment code contains no provisions for screening and guarantees equal treatment to any foreign investor, regardless of nationality. Total foreign ownership is permitted in all sectors except those few restricted for national security purposes like arms and munitions dealing and private security forces. Office hours are 0730-1230 and 1500-1800 Monday to Friday, 0730-1230 Saturday (winter); 0730-1230 and 1530-1830 Monday to Friday, 0730-1230 Saturday (summer).
Crime
Crime has become a significant problem in Niamey as well as in certain remote areas. Visitors should not walk alone around the Gaweye Hotel, National Museum, and on or near the Kennedy Bridge at any time. This area is especially prone to muggings (day and night) and should be avoided. Recent criminal events in Niger have included carjackings, home invasions, and muggings. Armed bandits are still active in northern and eastern Niger, especially on roads between major cities. Caution and common sense must be used at all times in order to avoid thieves and pick-pockets.
Hotels
Niamey has one modern four star hotel (Sofitel Gaweye) and several lesser accommodations. Regional cities have modest accommodations, but these are below the standards that most western business people are accustomed to.
Communications
Telephone IDD service is available in the country. The country code is 227 and there are no area codes. The outgoing international code is 00. Telegram services are available from the Chief Telegraph Office, Niamey, some hotels and other telegraph offices. There are three rates of charge. Airmail to Western Europe takes up to two weeks. Post offices are generally open 0730-1230 and 1530-1800.
Electricity
is 220/380 volts AC, 50Hz. Electricity 220 volts AC, 50Hz.
Plug Types
A,B,C,D,E,F
Food And Dining
Although Niger has concentrated on improving its agriculture, shortages of locally produced foodstuffs are common, owing to drought. Traditional dishes tend to be less varied than in countries further south and are usually based around millet, rice or nieb?, a type of bean that has become an important crop. Beef and mutton are common in the Hausa country and the nomadic regions of the north. In both areas, brochettes are sold in the streets. Foura, which consists of small balls of ground and slightly fermented millet crushed with milk, sugar and spices, is a specialty. African, Asian and European dishes are also served, particularly in Niamey, using local fish, meat and vegetables. Niger's most popular drink is tea, which is available everywhere from street stalls. There is also a good selection of imported beverages. Alcohol is available, but there are restrictions because of Muslim beliefs and traditions. Tipping : Expected for most services, usually 10 per cent. Most hotels add a 10 to 15 per cent service charge.

Nightlife
In Niamey, there are several nightclubs with music and dancing. There are also three open-air cinemas in the capital.
Entry departure requirements
* Please see visa section below
Visa immigration information
Passports
Passport valid for six months required by all, except holders of National ID Cards issued to Benin, Burkina Faso, C?te d'Ivoire, Mali, Mauritania, Nigeria, Senegal and Togo, and holders of a UN laissez-passer.
Visas
Required by all except the following:
(a) 1. nationals of Benin, Burkina Faso, Cape Verde, Central African Republic, Chad, C?te d'Ivoire, Denmark, Finland, The Gambia, Ghana, Guinea, Guinea-Bissau, Liberia, Mali, Mauritania, Morocco, Nigeria, Norway, Rwanda, Senegal, Serbia & Montenegro, Sierra Leone, Togo and Tunisia;
(b) alien residents holding a valid 'Permis de S?jour' or 'Visa de S?jour';
(c) transit passengers continuing their journey within 24 hours and who do not leave the airport. Some nationals do require a visa for transit. Contact Consular section at Embassy for further information.
Note
Visa exemptions generally apply for periods of up to three months. However, it is advised to contact the nearest Embassy/Consulate for further details as this may vary according to nationality.
Types of visa and cost
Ordinary: US$59 (up to three-month stay).
Validity
Up to three months, depending on purpose of stay.
Application to
Nearest Consulate (or Consular section at Embassy); see General Info section.
Application requirements
(a) Valid passport. (b) Three completed and signed application forms. (c) Three passport-size photos. (d) A return or onward ticket. (e) Proof of sufficient funds (eg bank letter). (f) Yellow fever vaccination certificate (cholera also required if traveling from a neighboring country which has reported an outbreak). (g) Postal applications should be accompanied by a stamped, self-addressed, registered envelope. (h) Fee, payable by cash or money order. Tourist: (a)-(h) and, (i) Copy of letter from travel agent certifying round-trip ticket has been purchased. (j) Bank statement or proof of at least US$500 (for road travelers). Transit: (a)-(i) and, (j) Photocopy of round-trip ticket and/or itinerary.
Working days required
Two. A visa can be processed within 24 hours for an extra fee of ?16.
Exit permit
Must be obtained from the Immigration Department in Niamey before departure (except for nationals who do not require an entry visa).
Note
Passports must be presented to the police in each town where an overnight stay is intended. Passports are stamped at each town, so blank pages will be required. It is prohibited to travel by any route other than that stamped in the passport by the police.
HIV entry requirements
Test required for foreigners seeking to marry nationals of Niger
Departure tax
None
Embassies
Embassy of the Republic of Niger in the USA
2204 R Street, NW, Washington, DC 20008, USA
Tel: (202) 483 4224/5/6/7.
Website: http://www.embassyofniger.org/
Travel Advice
Travelers are advised against all travel to the A?r Massif, T?n?r? and Kaouar regions due to clashes between the Nigerien security forces and armed groups. It is possible, however, to travel north from Agadez as far as the tree of T?n?r? and south as far as the Termit Massif.
Travelers are advised against all travel to the Azawagh area, particularly the area between the Malian and Algerian borders and the Nigerien towns of Tahoua and Ingall, and to the east of the A?r Massif and the area north of Iferouane up to the Algerian border.
Border areas are generally insecure and travelers are advised to avoid a 200km-deep zone along the borders with Mali, Algeria/Libya and Chad.
Travelers are advised against all but essential travel on the Agadez-Arlit road. Certain roads are permanently closed to tourists without special authorization.
Travelers should always use local guides and seek local advice when traveling outside of the main towns and in desert areas, and avoid traveling after dark.
Niger is facing a serious food crisis affecting up to 2.5 million people. A major international relief operation is underway. Visitors considering traveling outside major towns should ensure they take adequate provisions.
Terrorists are active in countries neighboring Niger, including Algeria and Chad. Travelers should be aware of the global risk of indiscriminate terrorist attacks, which could be against civilian targets, including places frequented by foreigners.
This advice is based on information provided by the Foreign, Commonwealth & Development Office in the UK. It is correct at time of publishing. As the situation can change rapidly, visitors are advised to contact the following organizations for the latest travel advice:
British Foreign, Commonwealth & Development Office
Tel: (0845) 850 2829.
Website: https://www.gov.uk/foreign-travel-advice/niger
US Department of State
Website: https://travel.state.gov/content/travel/en/international-travel/International-Travel-Country-Information-Pages/Niger.html
Currency
CFA (Communaut? Financiaire Africaine) Franc (XOF) = 100 centimes. Notes are in denominations of XOF10,000, 5000, 2500, 1000 and 500. Coins are in denominations of XOF250, 100, 50, 25, 10, 5 and 1. Niger is part of the French Monetary Area. Only currency issued by the Banque des Etats de l'Afrique de l'Ouest (Bank of West African States) is valid; currency issued by the Banque des Etats de l'Afrique Centrale (Bank of Central African States) is not. The CFA Franc is tied to the Euro.
Currency restrictions
The import of local currency is unrestricted. Export of local currency is limited to XOF25,000. The import and export of foreign currency is unlimited.
Banking hours
Mon-Fri 0800-1100 and 1600-1700.
Currency exchange
Currency can be exchanged at the airport as well as at main banks and hotels.
Credit cards
Diners Club and MasterCard are both accepted on a limited basis. Check with your credit or debit card company for details of merchant acceptability and other services which may be available.
Travellers cheques
Accepted by hotels, restaurants, most shops and airline offices. To avoid additional exchange rate charges, travelers are advised to take traveller's cheques in Euros.