Quick Facts
Region: Asia & Oceania
Full Name: verseas Lands of French Polynesia
Capital City: Papeete
Language Spoken: French 61.1% (official), Polynesian 31.4% (official), Asian languages 1.2%, other 0.3%, unspecified 6% (2002 census)
French Polynesia Travel Insurance
Get travel insurance to French Polynesia from Direct Travel Insurance. We offer low cost and high quality travel insurance to French Polynesia and most of the world.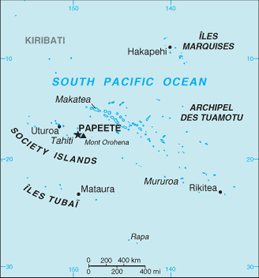 Geographic data
15 00 S, 140 00 W
Elevation Extremes
lowest point: Pacific Ocean 0 m highest point: Mont Orohena 2,241 m
Land boundaries
0 km
Natural hazards
occasional cyclonic storms in January
Natural resources
timber, fish, cobalt, hydropower
Land use
arable land: 0.75% permanent crops: 5.5% other: 93.75% (2005)
Environmental current issues
NA
Climate
Temperate, but cooled by sea breezes. Two main seasons: humid (hot and wet) from November to March, cool and dry from April to October. Required clothing Lightweight cottons and linens are worn, with a warm layer for cooler evenings. Rainwear is advisable.
Time difference
time difference: UTC-10
Population
274,578 (July 2006 est.)
Age structure
0-14 years: 26.1% (male 36,541/female 34,999) 15-64 years: 67.9% (male 96,769/female 89,593) 65 years and over: 6.1% (male 8,428/female 8,248) (2006 est.)
Median age
total: 27.9 years male: 28.2 years female: 27.5 years (2006 est.)
Population growth rate
1.48% (2006 est.)
Birth rate
16.68 births/1,000 population (2006 est.)
Death rate
4.69 deaths/1,000 population (2006 est.)
Net migration rate
2.85 migrant(s)/1,000 population (2006 est.)
Sex ratio
at birth: 1.05 male(s)/female under 15 years: 1.04 male(s)/female 15-64 years: 1.08 male(s)/female 65 years and over: 1.02 male(s)/female total population: 1.07 male(s)/female (2006 est.)
Life expectancy at birth
total population: 76.1 years male: 73.69 years female: 78.63 years (2006 est.)
Total fertility rate
2.01 children born/woman (2006 est.)
Business Practices
French Polynesia has a moderately developed economy, which is dependent on heavily taxed imported goods, tourism, and the financial assistance of mainland France. Business meetings are generally casual and friendly. Business lunches are rare as most businessmen go home at lunchtime. Offices and shops are usually open from 8 am to 12 noon and from 1.30 PM to 5 or 5.30 PM. In the suburbs, smaller family corner stores may not close until 10 PM. Shops close at 11 am on Saturdays. Banking hours are 7:45 am to 3:30 PM Monday to Friday, and some banks are open on Saturday from 7:45 to 11:30 am.
Crime
There are no known threats to foreigners traveling to French Polynesia. However, petty crimes such as pick pocketing and purse snatching do occur. Travelers are advised to take precautions such as guarding personal belongings and avoiding crowded areas such as markets and transportation hubs.
Hotels
Accommodations vary from air-conditioned, carpeted, deluxe rooms with telephones and room service, to thatched-roofed bungalows called "pensions" where the bathroom is shared and may be outdoors with cold showers. Luxury hotels include the Hotel Bora Bora, the Bora Bora Lagoon Resort.
Communications
Telephone IDD service is available in the country and the country code is 689. The telephone system in Tahiti is excellent and very hi-tech. There are many public phones all over town and most of them are operated with phone cards ( telecarte ) which can be purchased at the airport coffee shop, in some bars (bar- tabacs), at some magazine stands and of course at the Post Office. These phone cards are priced according to time unites preloaded in a microchip embedded in the card. The phone box debits the card and tells you how many units you have left as you are talking. There are cards priced at 1, 2 and 5 thousand Pacific Francs depending on the number of units. The standard current is 220 volts AC with European-style plugs.
Electricity
110/220 volts AC, 60Hz. US-style two-pin plugs are in use.
Plug Types
Food And Dining
All the classified hotels have good restaurants. Chinese, French, Italian and Vietnamese food is served, as well as the Polynesian specialties; Papeete is noted for Chinese and French cuisine. Tahitian food can be found in some hotels. Trucks or lunch wagons parked on the waterfront sell steak, chips, chicken, poisson cru, brochettes and shish kebabs. A full range of alcoholic drinks are available. Things to know: A key to how expensive a restaurant will be is often indicated by dollar signs; for instance, $$$$ will indicate an expensive restaurant, whereas $ will indicate a budget restaurant.
National specialties:
? Smoked breadfruit.
? Mountain bananas.
? Fafa (spinach) served with young suckling pig.
? Poisson cru (marinated fish, for example raw tuna served with coconut cream and limes).
? Poe (starchy pudding made of papaya, mango and banana). National drinks:
? Noni Juice comes from the Noni tree and is famous for its health-enhancing effects.
? Hinano is the beer of Tahiti.
Tipping:
In general not practiced but tolerated, since it is contrary to the Tahitian idea of hospitality.
Nightlife
Papeete is full of life in the evenings with many restaurants and nightclubs. Most hotels feature Tahitian dance shows, bands and other traditional entertainment.
Entry departure requirements
* Please see notes within Passport section
Visa immigration information
Passports
Passport valid for at least three months beyond applicant's last day of stay required by all except the following:
1. nationals of France, providing they are traveling from other French Overseas Territories in the Pacific with a National Identity Card or an expired passport (maximum five years).
Visas
Required by all except the following:
(a) nationals of countries referred to in the chart above: 2. for stays up to three months; 3. for stays of up to one month; 4. for stays of up to three months; except 5. nationals of France who can stay for an unlimited period;
(b) nationals of Andorra, Brazil, Bulgaria, Holy See, Hong Kong (SAR), Iceland, Liechtenstein, Macau (SAR), Monaco, Norway, San Marino and Switzerland for stays of up to three months;
(c) nationals of Argentina, Bolivia, Brunei, Chile, Costa Rica, Croatia, El Salvador, Guatemala, Honduras, Korea (Rep), Malaysia, Mexico, New Zealand, Nicaragua, Panama, Paraguay, Singapore and Uruguay for up to one month;
(d) transit passengers continuing their journey by the same or first connecting aircraft, provided holding valid onward or return documentation and not leaving the airport.
Types of visa and cost
All visas, regardless of duration of stay and number of entries permitted, cost US$41 In most circumstances, no fee applies to students, recipients of government fellowships and citizens of the EU and their family members.
Validity
Short-stay visas (up to 30 days): valid for two months (single- and multiple-entry). Short stay visas (31 to 90 days and double- or multiple-entry): valid for a maximum of six months from date of issue. Transit visas: valid for single- or multiple-entries of maximum five days per entry, including the day of arrival.
Application to
French Consulate General (for personal visas), or Consular section at Embassy (for diplomatic or service visas); see Passport/Visa Information for France. All applications must be made in person.
Application requirements
(a) Valid passport with blank page to affix the visa. Minors traveling alone must submit notarized parental authorization, signed by both parents, plus one copy. (b) Up to two completed application forms. (c) One passport-size photo on each form. (d) Fee, to be paid in cash or credit card (American Express and Diners Club are not accepted). (e) Evidence of sufficient funds for stay. (f) Letter from employer, or proof of stay in country of residence. (g) Proof of address. (h) Medical insurance. (i) Return ticket and travel documents for remaining journey. (j) Proof of accommodation during stay. (k) Detailed itinerary, including reservations and round-trip airline tickets (only required when visa is issued), plus one copy. (l) Proof of employment (eg last payslip or letter from employer). (m) Proof of valid health/travel insurance with worldwide coverage, plus copy. Business: (a)-(m) and, (n) Business invitation guaranteeing payment of travel expenses, plus one copy.
Working days required
One day to three weeks depending on nationality.
Temporary residence
If intending to work or stay for longer than 90 days, nationals should contact the long stay visa section of the Consulate General or Embassy (tel: (020) 7073 1248).
HIV entry requirements
No Test required
Departure tax
None
Embassies
Embassy of The French Republic in the UK
58 Knightsbridge, London SW1X 7JT, UK
Tel: (020) 7073 1000.
Website: www.ambafrance-uk.org
French Consulate General in the UK
21 Cromwell Road, London SW7 2EN, UK
Visa section: 6A Cromwell Place, London SW7 2EW, UK
Tel: (020) 7073 1200 (Consular section) or 1250 (visa section) or 7073 1295 (visa applications in progress; 1500-1700 only) or (09065) 508 940 (visa information service; calls cost ?1 per minute) or 266 654 (24-hour visa application form request service; calls cost ?1.50 per minute) or 540 700 (24-hour automated visa appointment booking service).
Website: www.ambafrance-uk.org or www.consulfrance-londres.org
Embassy of the French Republic in the USA
4101 Reservoir Road, NW, Washington, DC 20007, USA
Tel: (202) 944 6195.
Website: www.ambafrance-us.org or www.consulfrance-washington.org (Consular section).
Most visits to French Polynesia are trouble-free but you should be aware of the global risk of indiscriminate international terrorist attacks, which could be against civilian targets, including places frequented by foreigners.
This advice is based on information provided by the Foreign, Commonwealth & Development Office in the UK. It is correct at time of publishing. As the situation can change rapidly, visitors are advised to contact the following organizations for the latest travel advice:
British Foreign, Commonwealth & Development Office
Tel: (0845) 850 2829.
Website: www.gov.uk/foreign-travel-advice
US Department of State
Currency
French Pacific Franc (XPF) = 100 centimes. Notes are in denominations of XPF10,000, 5000, 1000 and 500. Coins are in denominations of XPF100, 50, 20, 10, 5, 2 and 1. The French Pacific Franc is tied to the Euro.
Currency restrictions
See France section.
Banking hours
Mon-Fri 0745-1530. Some are open Saturday 0745-1130.
Currency exchange
Exchange facilities are available at the airport, major banks and at authorized hotels and shops in Papeete.
Credit cards
American Express, Diners Club, MasterCard and Visa are all accepted. Check with your credit or debit card company for details of merchant acceptability and other services which may be available. ATMs are common on Tahiti, with a few on the smaller islands.
Travellers cheques
The recommended means of importing foreign currency. To avoid additional exchange rate charges, travelers are advised to take traveller's cheques in US Dollars or Euros.