Quick Facts
Region: Asia & Oceania
Full Name: Republic of the Fiji Islands
Capital City: Suva (on Viti Levu)
Language Spoken: English (official), Fijian (official), Hindustani
Fiji Travel Insurance
Get travel insurance to Fiji from Direct Travel Insurance. We offer low cost and high quality travel insurance to Fiji and most of the world.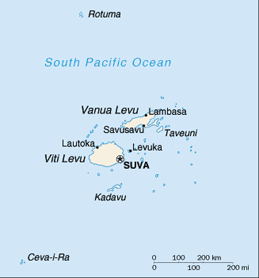 Geographic data
18 00 S, 175 00 E
Elevation Extremes
lowest point: Pacific Ocean 0 m highest point: Tomanivi 1,324 m
Land boundaries
0 km
Natural hazards
cyclonic storms can occur from November to January
Natural resources
timber, fish, gold, copper, offshore oil potential, hydropower
Land use
arable land: 10.95% permanent crops: 4.65% other: 84.4% (2005)
Environmental current issues
deforestation; soil erosion
Climate
Tropical. Southeast trade winds from March to November bring dry weather. The rainy season is from December to April. On average there are 15 cyclones per decade, affecting some part of Fiji, and two to four actually cause severe damage. They occur from November to April and with greatest frequency in January and February. There is more risk in the outlying north-west island groups. Required clothing Lightweight for summer, rainwear for the wet season.
Time difference
time difference: UTC+12
Population
905,949 (July 2006 est.)
Age structure
0-14 years: 31.1% (male 143,847/female 138,061) 15-64 years: 64.6% (male 293,072/female 292,312) 65 years and over: 4.3% (male 17,583/female 21,074) (2006 est.)
Median age
total: 24.6 years male: 24.1 years female: 25 years (2006 est.)
Population growth rate
1.4% (2006 est.)
Birth rate
22.55 births/1,000 population (2006 est.)
Death rate
5.65 deaths/1,000 population (2006 est.)
Net migration rate
-2.94 migrant(s)/1,000 population (2006 est.)
Sex ratio
at birth: 1.05 male(s)/female under 15 years: 1.04 male(s)/female 15-64 years: 1 male(s)/female 65 years and over: 0.83 male(s)/female total population: 1.01 male(s)/female (2006 est.)
Life expectancy at birth
total population: 69.82 years male: 67.32 years female: 72.45 years (2006 est.)
Total fertility rate
2.73 children born/woman (2006 est.)
Business Practices
It is advisable to re-confirm business appointments and meeting arrangements. However, U.S. business people should not be disappointed when kept waiting for several minutes beyond scheduled times. Business meetings are generally informal. Ties are suitable but optional. Very casual attire should be avoided. Evening functions are normally informal (Bula/Aloha shirts or shirt and tie), unless otherwise specified. It is appropriate to discuss business over lunch and dinner, less so at cocktail or evening receptions. Standard business hours in Fiji are generally from 8:00 a.m. to 4:30 p.m., Monday to Friday inclusive. Most retail outlets are open five and one-half days a week. Most non-essential services are closed on Sunday.
Crime
Robberies, thefts and assaults have occurred against foreigners in Fiji, particularly at night, with most of the incidents occurring in urban areas. Theft from hotel rooms and purse snatching or pick-pocketing are the most common crimes against tourists. Store your valuables in a hotel safe where available. Take particular care to safeguard your passport and credit/ATM cards. Do not carry large amounts of cash with you or openly wear expensive items of clothing or jewellery. Take care when withdrawing money from ATMs, as the incidence of thefts at these outlets is reportedly on the increase. Crime statistics for the first five months of 2006 showed a large increase in burglaries in Fiji. There has also been an increase in robberies and violent home invasions carried out by large gangs. To avoid robbery and/or assault, when taking a taxi, use one from a reputable firm, preferably booked by phone or arranged by your hotel. Avoid traveling alone in the center of Suva or Nadi late at night. Do not enter a taxi that already has a passenger, and do not permit a driver to pick up another fare.
Hotels
The major towns provide a wide range of hotel accommodations, housing facilities and shopping centers. There are a good number of luxury hotels, the majority of which are located in Nadi, Sigatoka, Douba, Suva, Raki Raki, Tavua and Lautoka and off Viti Levu at Savusavu and Ovalau. There are also many small, inexpensive hotels throughout the islands. Small resort islands include Beachcomber, Treasure, Castaway, Mana and Plantation Islands. A hotel tax is levied on all services charged to guests? accounts, including meals in hotel restaurants.
Communications
Telephone IDD service is available to Fiji. The country code is 679. International calls can be made from hotels via an operator, or from the Fiji International Telecommunications (FINTEL) office in Victoria Parade in Suva. The FINTEL office in Victoria also offers fax services. Major hotels have facilities. The national telephone service has over 64,000 installed lines. This works out to 8 lines per 100 population, of which 40 per cent are business customers and 60 per cent residential. There are over 500 cardphones located around the country and approximately 83 in rural areas. 19.6 million items were posted in Fiji for delivery to local addresses in addition to 4.76 million items posted for overseas destinations making total posting of 24.45 million items in 1995. There are currently 50 major post offices and 108 postal agencies.
Electricity
is 240 volts AC, 50Hz. Larger hotels also have 110-volt razor sockets. Electricity 240 volts AC, 50Hz. Larger hotels also have 110-volt razor sockets. Social conventions Fijians are a very welcoming, hospitable people and visitors should not be afraid to accept hospitality. The ethnic variety of Fiji society can be seen mainly in the towns. There are powerfully built Fijians dressed in wrap-around sulus, numerous Indians, men in Western clothes, women wearing colorful saris and a scattering of European, Chinese and other Pacific Islanders. One celebrated tradition is the practice of fire-walking; the Indian variant is performed for religious reasons. Tourists can pay to see these ceremonies but the ritual remains a religious penance and not merely a tourist attraction. Informal casual wear is generally acceptable. Smoking is only restricted where specified. Tips about visiting villages: Before visiting, it is customary to purchase a bundle of unpounded yaqona (kava) ? the traditional sevusevu (gift); half a kilo, which is an appropriate amount for a gift, costs approximately $20. When approaching the village, visitors should not enter immediately but wait until someone comes to greet them and ask the purpose of their visit. They will then be taken to the Chief or Turaga Ni Koro (Headman), to whom the kava should be offered. Visitors who are accepted by the Chief will be assigned a guide and host. Once inside the village, please also note the following: visitors should dress modestly and not wear shorts or hats and women should not have their shoulders bare; shoes should always be taken off when entering someone?s house or any other village building; visitors should speak softly and not raise their voices too much as this may be interpreted as expressing anger; visitors should show respect but be cautious about praise as Fijians will feel obliged to make a gift of an object if visitors show too much liking for it; Fijians will always, out of custom, ask visitors to stay or eat with them, but if one has already been invited, new invitations should be politely declined and possibly arranged for a later date; visitors who spend a night in the village should reward their host with a useful gift of similar value for each member of the party; it is not recommended to give money.
Plug Types
I
Food And Dining
International cuisine is available, but the local cooking is Fijian and Indian. Table service is normal, although some establishments offer buffet-style food at lunchtime. Hotels often serve meals to non-residents. Bars and cocktail lounges have table and/or counter service. Only licensed restaurants, clubs and hotel bars can serve alcohol.

National specialties:
? Kakoda (a marinated local fish steamed in coconut cream and lime).
? Rourou (a taro leaf dish).
? Kassaua (tapioca, often boiled, baked or grated and cooked in coconut cream with sugar and mashed bananas).
? Duruka (an unusual asparagus-like vegetable in season during April and May).
? Breadfruit.
? lovo (feast of meat, fish, vegetables and fruit cooked in covered pits). National drinks:
? A wide range of drinks is available including the traditional kava. Traditionally, the drink was prepared by virgins, who chewed the root into a soft pulpy mass before adding water. It is made from the root of the pepper plant and the yaqona drinking ceremony is still important in the Fijian tradition, although it has also become a social drink.
? Carlton (a local beer brewed in Suva).
? Fiji Bitter (brewed in Lautoka).
? Meridan Moselle and Suvanna Moselle (local wines).
? Booth?s Gin, Bounty Fiji Golden Rum, Cossack Vodka and Old Club Whisky (produced by South Pacific Distilleries).

Tipping:
Give small tips only for special services.

Nightlife
Major hotels and resorts have live bands and dancing. There are also nightclubs with entertainment, especially in Suva. Cinemas show English-language and Indian films. Most social activity, however, is in private clubs and visitors can obtain temporary membership through hotels. Hotels offer Fijian entertainment (meke). Suva has many bars, nightclubs and restaurants. Just off Victoria Parade travelers will find various places to while the night away. There is a jazz and blues bar, a pizzeria and even an Irish-themed pub. The many nightclubs include Signals, The Planet and Purple Haze, playing an eclectic mix of music.
Entry departure requirements
Restricted entry Entry will be denied to persons who have been deported or removed from another country.
Visa immigration information
Passports
Passport valid for at least six months beyond intended period of stay required by all except nationals of Fiji when holding a Certificate of Identity including a photograph of the bearer. Holders of the certificate must obtain approval from the Fiji Immigration Department before arrival.
Visas
Required by all except the following who are issued a visitor?s permit valid for one month (extendable to four months) on arrival:
(a) nationals of countries shown in the chart above, except 1. nationals of Lithuania who do need a visa;
(b) 2. nationals of Commonwealth countries (except nationals of Cameroon, Mozambique, Namibia and Sri Lanka who do need a visa);
(c) nationals of Argentina, Brazil, Bulgaria, Chile, Colombia, Iceland, Indonesia, Israel, Kenya, Korea (Rep), Liechtenstein, Marshall Islands, Mexico, Micronesia (Federated States), Moldova, Monaco, Norway, Paraguay, Peru, The Philippines, Romania, Russian Federation, Switzerland, Taiwan (China), Thailand, Tunisia, Turkey, Ukraine, Uruguay, Venezuela, Vatican City and Zimbabwe;
(d) transit passengers continuing their journey to a third country within three hours, provided holding valid onward or return documentation and not leaving the airport.
Note
All visitors must hold onward or return tickets and sufficient funds to cover stay.
Types of visa and cost
Single-entry: US$77 Multiple-entry: US$137
Validity
Visas are valid for stays of up to three months, but can be extended on application to: Immigration Dept, Level 3, Suvavou House, Victoria Parade, Suva (street address); or PO Box 2224, Government Buildings, Suva, Fiji (postal address) (tel: 331 2622).
Application to
Consular section of High Commission or Embassy; see Passport/Visa Information.
Application requirements
(a) Valid passport. (b) Completed application form. (c) Three passport-size photos. (d) Onward/return air ticket. (e) Copy of travel ticket/itinerary. (f) Fee payable by banker's draft, bank cheque or by cash (if application is made in person). (g) Police clearance report (proof of no criminal record) from local police station (must be in English). (h) Sufficient funds for duration of stay.
Note
Applicants must make their own arrangements for collection/return of passport.
Working days required
Seven to 21.
Temporary residence
Enquiries should be directed to the High Commission or Embassy of Fiji.
HIV entry requirements
Test required for anyone staying longer than 6 months
Departure tax
F$30. Children under 12 years of age and transit passengers leaving within 12 hours are exempt.
Embassies
Fiji High Commision in the UK
34 Hyde Park Gate, London SW7 5DN, UK
Tel: (020) 7584 3661.
Website: www.fijihighcommission.org.uk
Opening hours: Mon-Thurs 0930-1300, 1400-1700, Fri 0930-1300, 1400-1600; Mon-Fri 0930-1230 (consular section).
Embassy of the Republic of Fiji in the USA
Suite 240, 2233 Wisconsin Avenue, NW, Washington, DC 20007, USA
Tel: (202) 337 8320.
Website: http://www.fijiembassydc.com/
Travel Advice
Penalties for possession of any amount of marijuana carry a mandatory prison sentence.
There has been an increase in robbery, theft and assault. Travelers should take appropriate precautions.
The threat from terrorism in Fiji is low, but you should be aware of the global risk of indiscriminate terrorist attacks, which could be against civilian targets, including places frequented by foreigners.
This advice is based on information provided by the Foreign, Commonwealth & Development Office in the UK. It is correct at time of publishing. As the situation can change rapidly, visitors are advised to contact the following organizations for the latest travel advice:
British Foreign, Commonwealth & Development Office
Tel: (0845) 850 2829.
Website: www.gov.uk/foreign-travel-advice
US Department of State
Currency
Fijian Dollar (FJD; symbol F$) = 100 cents. Notes are in denominations of F$50, 20, 10, 5 and 2. Coins are in denominations of F$1, and 50, 20, 10, 5, 2 and 1 cents.
Currency restrictions
There are no restrictions on the import of foreign or local currency, provided declared on arrival. Unspent local currency can be re-exchanged on departure up to the amount of foreign currency imported. The export of local currency is limited to F$500. The export of foreign currency as cash is limited to the equivalent of F$500.
Banking hours
Mon-Thurs 0930-1500, Fri 0930-1600. Restricted Foreign Exchange Dealers (authorized to issue foreign currency and traveller's cheques for travel-related purposes only): Mon-Fri 0830-1700, Sat 0830-1200.
Currency exchange
Exchange facilities are available at the airport, at trading banks and at most hotels. ATMs may not accept foreign credit cards.
Credit cards
American Express, Diners Club, MasterCard and Visa are accepted at a number of establishments. Check with your credit or debit card company for details of merchant acceptability and other services which may be available. American Express, Diners Club, Visa, JCB International and MasterCard have representatives in Suva. American Express and Visa can replace lost and stolen credit cards and traveller's cheques.
Travellers cheques
To avoid additional exchange rate charges, travelers are advised to take traveller's cheques in Australian Dollars or Pounds Sterling.
| City/Region | City/Area code | Followed by |
| --- | --- | --- |
| Labasa | 88 | + 5 digits |
| Sigatoka | 67 | + 5 digits |
| Suva | 34 | + 5 digits |