Quick Facts
Region: Europe
Full Name: Republic of Finland
Capital City: Helsinki
Language Spoken: Finnish 92% (official), Swedish 5.6% (official), other 2.4% (small Sami- and Russian-speaking minorities) (2003)
Finland Travel Insurance
Get travel insurance to Finland from Direct Travel Insurance. We offer low cost and high quality travel insurance to Finland and most of the world.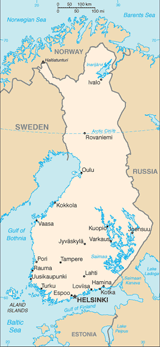 Geographic data
64 00 N, 26 00 E
Elevation Extremes
lowest point: Baltic Sea 0 m highest point: Haltiatunturi 1,328 m
Land boundaries
total: 2,681 km border countries: Norway 727 km, Sweden 614 km, Russia 1,340 km
Natural hazards
NA
Natural resources
timber, iron ore, copper, lead, zinc, chromite, nickel, gold, silver, limestone
Land use
arable land: 6.54% permanent crops: 0.02% other: 93.44% (2005)
Environmental current issues
air pollution from manufacturing and power plants contributing to acid rain; water pollution from industrial wastes, agricultural chemicals; habitat loss threatens wildlife populations
Climate
Temperate climate, but with considerable temperature variations (see below). Summer is warm with relatively mild weather in spring and autumn. Winter, which lasts from November to mid-March, is very cold. In the north (see the chart for Sodankyla), the snow cover lasts from mid-October until mid-May, but, in the brief Arctic summer, there may be up to 16 hours of sunshine a day. Rainfall is distributed throughout the year with snow in winter, but the low humidity often has the effect of making it seem warmer than the temperature would indicate (even in Lapland, the temperature can rise to over 30°C). During warm weather, gnats and mosquitos can be a hazard, particularly in the north of the country. Bring a good supply of insect repellant. The Twilight season lasts for two months in the north during winter. Required clothing Light- to mediumweights in warmer months. Medium- to heavyweights in winter, with particularly warm clothing needed for the Arctic north. Waterproofing is essential throughout the year.
Time difference
time difference: UTC+2 daylight saving time: +1hr, begins last Sunday in March; ends last Sunday in October
Population
5,231,372 (July 2006 est.)
Age structure
0-14 years: 17.1% (male 455,420/female 438,719) 15-64 years: 66.7% (male 1,766,674/female 1,724,858) 65 years and over: 16.2% (male 337,257/female 508,444) (2006 est.)
Median age
total: 41.3 years male: 39.7 years female: 42.8 years (2006 est.)
Population growth rate
0.14% (2006 est.)
Birth rate
10.45 births/1,000 population (2006 est.)
Death rate
9.86 deaths/1,000 population (2006 est.)
Net migration rate
0.84 migrant(s)/1,000 population (2006 est.)
Sex ratio
at birth: 1.04 male(s)/female under 15 years: 1.04 male(s)/female 15-64 years: 1.02 male(s)/female 65 years and over: 0.66 male(s)/female total population: 0.96 male(s)/female (2006 est.)
Life expectancy at birth
total population: 78.5 years male: 74.99 years female: 82.17 years (2006 est.)
Total fertility rate
1.73 children born/woman (2006 est.)
Business Practices
Businessmen are expected to dress smartly. Most Finnish business people speak English and/or German. Punctuality is essential for business and social occasions. The exchange of business cards is common. Overall business protocol is similar to that in the Europe and North America. Relationships are important within the social and business world, as Finns prefer to deal with people they know and trust. Office hours are 0800-1615 Monday to Friday.
Crime
The crime rate in Finland is low compared to most countries. While crime has increased in recent years, Finland remains quite safe. Foreigners visiting Finland are seldom the victims of crime, but visitors should not be complacent regarding personal safety or the protection of valuables. The same precautions employed in any large cities should be followed in Finish cities. Finnish police services are excellent; however, some police officers speak little English. The telephone number for police and other emergency services throughout Finland is (112). All forms of public transportation are considered safe and taxi service is normally honest. Street crimes such as muggings are uncommon, but pickpocketing occurs occasionally. It is wise to restrict walking trips to well-traveled areas until familiar with local conditions.
Hotels
Hotels and other accommodations are plentiful in Finland. The price level varies from district to district, being higher in Helsinki and some areas of Lapland. Many hotels and motels usually include breakfast in their rates.
Communications
Full telephone IDD is available. Country code: 358. Outgoing international code: 999 or 990. Finland is in the forefront of development and usage of telecommunications. Telephone calls can be made from Finland to almost 200 countries, and Finland has one of the most extensive mobile phone networks in the world. The Central Post Office is open 0800-2100 Monday to Friday; 0900-1800 Saturday; and 1100-2100 Sunday. Generally, post offices are open 0900-1700 Monday to Friday, closed Saturday. During winter many town offices are open 0900-1800.
Electricity
is 220 volts AC, 50Hz. Continental 2-pin plugs are standard. Electricity 220 (230) volts AC, 50Hz. Continental two-pin plugs are standard.
Plug Types
C,F
Food And Dining
Potatoes, meat, fish, milk, butter and rye bread are the traditional mainstays of the Finnish diet, but food in Finland has been greatly influenced both by Western (French and Swedish) and Eastern (Russian) cooking. Tourists can expect excellent fresh fish dishes such as pike, trout, perch, whitefish, salmon and Baltic herring. All are in abundance most of the year. Each region has its own traditional dishes. In restaurants (ravintola), the menu is continental with several Finnish specialties. Inexpensive lunches are served at places called kahvila and baari (the latter is not necessarily a licensed bar). Things to know: Restaurants are divided into two classes: those serving all kinds of alcohol and those serving only beers and wines. Waiter service is common although there are many self-service snack bars. Bars and cafes may have table and/or counter service and all internationally known beverages are available. In restaurants, beer is served from 0900 and other liquor from 1100. All alcohol is served until half an hour before the restaurant closes. Nightclubs are open to serve drinks until 0200 or 0400. Service begins at 1100 and continues until the restaurant closes. The age limit for drinking is 18 years, but consumers must be 20 before they can buy the stronger alcoholic beverages. There are strict laws against drinking and driving.
National specialties:
? The province of ?land has Sk?rg?rdssmak, or 'Island flavors', and features mainly local fish.
? Karelia ? la carte focuses on the Karelian buffet traditions and wholesome stews and casseroles.
? Lapland ? la carte features reindeer meat, smoked or in other forms, fish and Lapp puikula potatoes, with cloudberries for desert, often served with hot toffee sauce.
? Kalakukko, a kind of fish and pork pie, baked in a rye flour crust, and karjalan piirakat, a pastry of rye flour stuffed with rice pudding or potato and eaten with egg butter.
? Various kinds of thick soups are also popular.
? Crayfish is available from July to August. National drinks:
? Koskenkorva or Finlandia vodka schnapps, traditionally drunk with lamprey, Baltic herring or other cold fish.
? The Finnish berry liqueurs, mesimarja (arctic bramble), lakka (cloudberry) and polar (cranberry).
? Finnish vodka, usually served ice-cold with meals.
? Finnish beer is of a high quality and mild beers are served in most coffee bars.
Tipping:
Tipping, once non-existent in Finland, is becoming common. A 15 per cent service charge is included in the bill in hotels. Restaurants and bars have a 14 per cent service charge weekdays and 15 per cent on weekends and holidays. The obligatory cloakroom or doorman fee is usually clearly indicated. Taxi drivers are not normally tipped. Restaurant classification Prices for alcohol vary according to the restaurant's classification. E: Elite price category. G: General price category. S: Self-service price category. A: Fully licensed. B: Licensed for beer and wine.
Entry departure requirements
Note Finland is a signatory to the 1995 Schengen Agreement.
Visa immigration information
Passports
Passport valid for at least three months beyond length of stay required by all except:
1. EU/EEA nationals (EU + Iceland, Liechtenstein, Norway) and Swiss nationals holding a valid national ID card.
Note: EU and EEA nationals are only required to produce evidence of their EU/EEA nationality and identity in order to be admitted to any EU/EEA Member State. This evidence can take the form of a valid national passport or national identity card. Either is acceptable. Possession of a return ticket, any length of validity on their document, sufficient funds for the length of their proposed visit should not be imposed.
(b) nationals of San Marino holding a valid national ID card.
Visas
Required by all except the following for a period of up to 90 days:
(a) EU nationals and all nationals listed in the chart and under passport exemptions (with national ID cards) above;
(b) nationals of Andorra, Argentina, Bolivia, Brazil, Brunei, Bulgaria, Chile, Costa Rica, Croatia, El Salvador, Guatemala, Honduras, Hong Kong (SAR), Israel, Korea (Rep), Macau (SAR), Malaysia, Mexico, Monaco, New Zealand, Nicaragua, Panama, Paraguay, Romania, Singapore, Uruguay, Vatican City and Venezuela. Visas are required for stays exceeding 90 days and by all who wish to work during their stay except nationals of Denmark, Iceland, Norway and Sweden;
(c) holders of a UN or EU laissez-passer.
Types of visa and cost
The Schengen visa, is issued for tourist, business and private visits. All visas are US$41 (US$41 ), regardless of duration of stay or whether single-, double- or multiple-entry. Visa fees may vary with the rate of exchange. The transfer of a visa costs US$24
Note
Spouses and children of EU nationals (providing spouse's passport and the original marriage certificate/children's full birth certificate is produced), and nationals of some other countries, receive their visas free of charge (enquire at Embassy for details).
Validity
Transit visas are valid for up to five days. Single-entry and double-entry visas are valid for up to 90 days within a six-month period. Multiple-entry visas are valid for up to one year. Applications for renewal or extension should be made to the Embassy or Authorities in Finland.
Application to
Consulate (or Consular section at Embassy); see Passport/Visa Information. Visas must be applied for in person at Embassy of Schengen country visited. If visiting more than one Schengen country, apply to the Embassy of the main destination or to the Embassy of the country entered first (if there is no main destination).
Note
Nationals must apply in person at the London Embassy if they are applying for a visa in the UK and reside in the vicinity of London.
Application requirements
(a) One completed, signed application form. (b) One passport-size photo. (c) Passport valid for at least three months from the date of return. An alien's spouse and children under 16 years may travel with passport holder if their names and dates of birth are in the passport, plus photo of spouse and photos of any children under seven years. (d) Re-entry permit into the UK valid for at least 90 days (for applicants applying at the Finnish Embassy in London). (e) Valid travel insurance other than EHIC. (f) Hotel reservation or original invitation from either a family or company in Finland. (g) Reservation of travel tickets (possibly original return tickets also) and proof of funds. (h) Fee (non-refundable; payable in advance in cash or by postal order only). (i) For minors under 18 years, letter from college/university and written permission from both parents, plus copy of parents' passports. (j) Proof of funds (eg bank statement, credit card). Business: (a)-(j) and, (k) Letter of invitation from the Finnish company confirming length and purpose of stay and a letter from current employer. If Student, letter from educational institution.
Note
All documents should be submitted both in their original form and with photocopy attached.
Working days required
Up to two weeks, although sometimes longer.
Temporary residence and work
Apply to Finnish Embassy. Work permits and Residence permits should be arranged well in advance. EU nationals and nationals of Iceland, Liechtenstein, Norway and Switzerland are allowed to live and work in Finland without visas or permits for up to 90 days; for periods exceeding 90 days, they can obtain a residence permit (a work permit is not required) from the local police station. Contact the Directorate of Immigration for more information (website: www.uvi.fi).
Note
Those wishing to visit the CIS from Finland are advised to obtain their visa in their country of origin; applications made in Helsinki take at least eight working days.
HIV entry requirements
No Test required
Departure tax
None
Embassies
Embassy of Finland in the UK
38 Chesham Place, London SW1X 8HW, UK
Tel: (020) 7838 6200.
Website: www.finemb.org.uk
Opening hours: Mon-Fri 0830-1230, 1330-1630; 0900-1200 (consular affairs in person), 1400-1600 (consular telephone enquiries).
Embassy of Finland in the USA
3301 Massachusetts Avenue, NW, Washington, DC 20008, USA
Tel: (202) 298 5800.
Website: www.finland.org
Travel Advice
Most visits to Finland are trouble-free but you should be aware of the global risk of indiscriminate international terrorist attacks, which could be against civilian targets, including places frequented by foreigners.
This advice is based on information provided by the Foreign, Commonwealth & Development Office in the UK. It is correct at time of publishing. As the situation can change rapidly, visitors are advised to contact the following organizations for the latest travel advice:
British Foreign, Commonwealth & Development Office
Tel: (0845) 850 2829.
Website: www.gov.uk/foreign-travel-advice
US Department of State
Currency
The Euro is now the official currency of 12 EU member states (including Finland). The first Euro coins and notes were introduced in January 2002; the Finnish Markka was still in circulation until 28 February 2002, when it was completely replaced by the Euro. Euro (?) = 100 cents. Notes are in denominations of ?500, 200, 100, 50, 20, 10 and 5. Coins are in denominations of ?2 and 1, and 50, 20, 10, 5, 2 and 1 cents.
Currency restrictions
Unrestricted export and import of local and foreign currency.
Banking hours
Mon-Fri 0915-1615 (regional variations may occur).
Currency exchange
Foreign currency and traveller's cheques can be exchanged in banks and at bureaux de change at ports, stations and airports.
Credit cards
American Express, Diners Club, MasterCard and Visa are widely accepted, as are Eurocheque cards. Check with your credit or debit card company for details of merchant acceptability and other services which may be available. Up-to-date information is available in Helsinki from American Express (tel: (9) 6132 0400) or Diners Club (tel: (9) 693 991).
Travellers cheques
Traveller's cheques are also accepted in banks and some shops. To avoid additional exchange rate charges, travelers are advised to take traveller's cheques in Euros, Pounds Sterling or US Dollars.
| City/Region | City/Area code | Followed by |
| --- | --- | --- |
| H?me | (0)3 | + 4/10 digit subscriber nr |
| Keski-Suomi | (0)14 | + 5/10 digit subscriber nr |
| Kuopio | (0)17 | + 5/10 digit subscriber nr |
| Kymi | (0)5 | + 4/10 digit subscriber nr |
| Lappi | (0)16 | + 4/10 digit subscriber nr |
| Maarianhamina | (0)18 | + 4/10 digit subscriber nr |
| Mikkeli | (0)15 | + 4/10 digit subscriber nr |
| Oulu | (0)8 | + 4/9 digit subscriber nr |
| Pohjois-Karjala | (0)13 | + 4/10 digit subscriber nr |
| Turku ja Pori | (0)2 | + 4/10 digit subscriber nr |
| Uusimaa I | (0)9 | + 4/9 digit subscriber nr |
| Uusimaa II | (0)19 | + 4/10 digit subscriber nr |
| Vaasa | (0)6 | + 4/10 digit subscriber nr |