Quick Facts
Region: South America
Full Name: Department of Guiana
Capital City: Cayenne
Language Spoken: N/A
French Guiana Travel Insurance
Get travel insurance to French Guiana from Direct Travel Insurance. We offer low cost and high quality travel insurance to French Guiana and most of the world.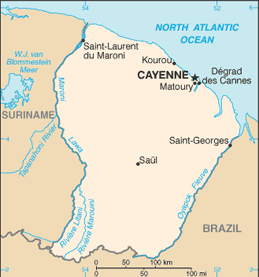 Geographic data
4 00 N, 53 00 W
Elevation Extremes
lowest point: Atlantic Ocean 0 m highest point: Bellevue de l'Inini 851 m
Land boundaries
total: 1,240.4 km border countries: Brazil 730.4 km, Suriname 510 km
Natural hazards
high frequency of heavy showers and severe thunderstorms; flooding
Natural resources
bauxite, timber, gold (widely scattered), petroleum, kaolin, fish, niobium, tantalum, clay
Land use
arable land: 0.13% permanent crops: 0.04% other: 99.83% (90% forest, 10% other) (2005)
Environmental current issues
NA
Climate
Tropical. Dry season is August to December; rainy season is December and January and April to July. Hot all year round, with cooler nights. Average temperature is 27°C (85°F). Required clothing Tropical lightweights and rainwear.
Time difference
time difference: UTC-3
Population
199,509 (July 2006 est.)
Age structure
Median age
total: 28.6 years male: 29.6 years female: 27.4 years (2006 est.)
Population growth rate
1.96% (2006 est.)
Birth rate
20.46 births/1,000 population (2006 est.)
Death rate
4.88 deaths/1,000 population (2006 est.)
Net migration rate
4.01 migrant(s)/1,000 population (2006 est.)
Sex ratio
Life expectancy at birth
total population: 77.27 years male: 73.95 years female: 80.75 years (2006 est.)
Total fertility rate
2.98 children born/woman (2006 est.)
Business Practices
Meetings are generally formal, but lightweight suits are the norm. English will be understood by practically everyone, although a working knowledge of French may be of assistance. The best time to visit is August to November. Office hours are generally 0800-1300 and 1500-1800 Monday to Friday.
Crime
Petty theft, such as pickpocketing and purse-snatching, does occur, but is not as prevalent as in some other Latin American countries. Visitors are advised to safeguard all valuables in hotel safe-deposit boxes and to carry only the cash and credit cards needed on any given day. In October 2005, the French tourism ministry offered to send French police experts to liaise with the local force and boost security. Drug-related crime has jumped dramatically in the last few years.
Hotels
Since French Guiana was chosen as a site for European space development, a number of business-class hotels have been built but are expensive. Cayenne, Kourou and St Laurent du Maroni all offer excellent accommodation.
Communications
Telephone IDD service is available. The country code is 594 and the outgoing international code is 19 (16 for France). Fax facilities are widely available. Telex facilities are available in Cayenne.
Electricity
is at 220/127 volts AC, 50Hz. Electricity 220/127 volts AC, 50Hz.
Plug Types
C,D,E
Food And Dining
There is a fairly good selection of restaurants and hotel dining rooms offering a number of different cuisines. The majority of them are in Cayenne, although French, Continental, Vietnamese, Chinese, Creole and Indonesian restaurants can be found elsewhere. National specialties: ? A local specialty is the bouillon d?aoura, a dish of smoked fish, crab, prawns, vegetables and chicken, served with aoura, the fruit of Savana trees. ? The forest also provides a rich supply of game such as, collard peccary, paca and tapir. These are usually eaten as a fricassee and are accompanied by rice and kidney beans. National drinks: ? Ti' Punch, a traditional aperitif of lime, sugar cane syrup and rum usually accompanied by cod rolls and black pudding. Nightlife There are nightclubs in Cayenne, Kourou and St Laurent du Maroni. Cayenne also has one cinema featuring French-language films. Cinemas can also be found in Kourou and St Laurent.
Visa immigration information
Passports
Passport valid for at least three months beyond applicant's last day of stay required by all except the following: 1. nationals of EU, EEA, Monaco and Switzerland who are holders of national identity cards.
Visas
Required by all except the following:
(a) nationals of countries referred to in the chart above for stays of up to three months; (b) nationals of Andorra, Argentina, Bermuda, Brunei, Chile, Costa Rica, Croatia, El Salvador, Ecuador, Guatemala, Honduras, Iceland, Korea (Rep), Liechtenstein, Malaysia, Mexico, Monaco, New Zealand, Nicaragua, Norway, Panama, Paraguay, San Marino, Singapore, Switzerland, Uruguay and Vatican City for stays of up to three months; (c) Holders of French residence permits. Note (a) Nationals of the EU and EEA, and Monaco do not need a a long-stay visa (trips exceeding three months). (b) 2. Nationals of Canada, Cyprus, Japan, Korea (Rep), Malaysia, Malta, Mexico, Singapore, USA and Venezuela should apply for a visa if they are to receive a salary, even if their trip is a short stay. (c) 3. US nationals need a visa if they are crew members, or journalists on assignments, or students enrolled at schools and universities in any of the French Overseas Departments.
Types of visa and cost
All visas, for stays or up to 90 days, regardless of the number of entries permitted, cost US$41 For visas valid for more than 90 days the cost is US$117 Visas must be paid for in local currency. In most circumstances, no fee applies to students, recipients of government fellowships and citizens of the EU and their family members.
Validity
Short-stay (up to 30 days). Short-stay (31 to 90 days and single- or multiple-entry): valid for six months, one year or two to five years from date of issue. Long-stay (90 days plus). Transit: valid for single- or multiple-entries of maximum five days per entry, including the day of arrival. Airport Transit Visa: Allows transit through the airport.
Application to
French Consulate General (for personal visas), or Consular section at Embassy (for diplomatic or service visas); see Passport/Visa Information for France. All applications must be made in person.
Application requirements
a) Valid passport with blank page to affix the visa. Minors traveling alone must submit notarized parental authorization, signed by both parents, plus one copy. (b) Up to two completed application forms. (c) One passport-size photo on each form. (d) Fee, to be paid in cash or by credit card. (e) Evidence of sufficient funds for stay (two last bank statements, plus copy, or other proof of funds equivalent to US$100 for each day of trip). (f) Letter from employer, or proof of stay in country of residence. (g) Proof of address. (h) Medical insurance. (i) Return ticket and travel documents for remaining journey. (j) Proof of accommodation during stay. (k) Detailed itinerary, including reservations and round-trip airline tickets (only required when visa is issued), plus one copy. (l) Proof of employment (eg last payslip or letter from employer). (m) Proof of valid health/travel insurance with worldwide coverage, plus copy. Business: (a)-(m) and, (n) Business invitation guaranteeing payment of travel expenses, plus one copy.
Working days required
One day to three weeks, depending on nationality.
HIV entry requirements
No Test Required
Departure tax
None
Embassies
Embassy of The French Republic in the UK
58 Knightsbridge, London SW1X 7JT, UK
Tel: (020) 7073 1000.
Website: www.ambafrance-uk.org
French Consulate General in the UK
French Consulate General in the UK
21 Cromwell Road, London SW7 2EN, UK
Tel: (020) 7073 1200 (consular section) or 508 940 (visa information service; calls cost ?1 per minute) or (09065) 540 700 (automated telephone appointment booking) or (020) 7073 1295 (visa applications in progress; Mon-Thurs 1500-1700 only) or (09065) 266 654 (24-hour visa application form request service; calls cost ?1.50 per minute).
Visa section: 6A Cromwell Place, London SW7 2EW, UK
Opening hours: Mon-Wed 0845-1500, Thurs-Fri 0845-1200 (general enquiries); Mon-Fri 0845-1130 (visa applications).
Website:www.consulfrance-londres.org
Embassy of the French Republic in the USA
4101 Reservoir Road, NW, Washington, DC 20007, USA
Tel: (202) 944 6195.
Website: www.ambafrance-us.org or www.consulfrance-washington.org (consular section).
Travel Advice
Most visits to French Guiana are trouble-free but you should be aware of the global risk of indiscriminate international terrorist attacks, which could be against civilian targets, including places frequented by foreigners.
Please note that travelers must produce a yellow fever certificate on arrival.
This advice is based on information provided by the Foreign, Commonwealth & Development Office in the UK. It is correct at time of publishing. As the situation can change rapidly, visitors are advised to contact the following organizations for the latest travel advice:
British Foreign, Commonwealth & Development Office
Tel: (0845) 850 2829.
Website: www.gov.uk/foreign-travel-advice
US Department of State
Currency
Since 1 January 1999, the Euro, which was introduced in January 2002, has been the official currency for the French Overseas Departments (D?partements d'Outre-Mer) French Guiana, Guadeloupe, Martinique and R?union. For further details, exchange rates and currency restrictions, see France section.
Currency restrictions
The import and export of local and foreign currency is unrestricted. Amounts over &Euro; 7600 must be declared.
Banking hours
Mon-Fri 0730-1200, 1430-1730.
Currency exchange
There is a bureau de change at Rochambeau airport and in Cayenne (Change Cara?bes, Change Minas and Guyane Change). They will exchange money every day except Saturday.
Credit cards
American Express, Carte Bleue, Diners Club, MasterCard and Visa are accepted. Check with your credit or debit card company for details of merchant acceptability and other services which may be available. ATMs can be found in Cayenne, Ile de Cayenne, Kourou and Saint Laurent du Maroni.
Travellers cheques
These are accepted in a few places in Cayenne and Kourou. To avoid additional exchange rate charges, travelers are advised to take traveller's cheques in Euros, US Dollars or Pounds Sterling.
| City/Region | City/Area code | Followed by |
| --- | --- | --- |
| French Guiana | 594 | + 6 digits |